Pleated skirt, glitter, biker look, velvet obsession … We tell you how to wear all the spotlight pieces of the new season.
How to wear a pleated skirt ?
To go to the office, twist the goody-goody and bad boy spirits by enhancing it with an embroidered pullover featuring a preppy collar and patent leather booties.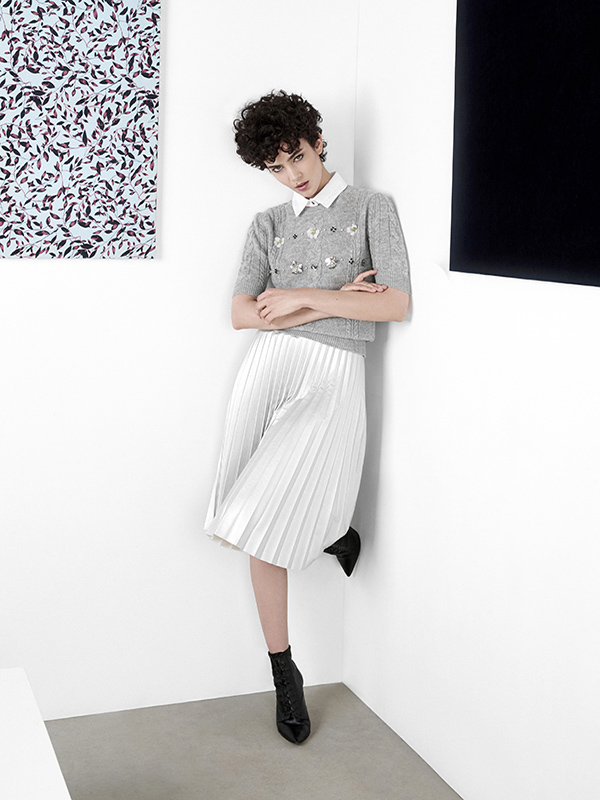 The Sophie collar 69€
The Charlie pullover 99€
The Claudia skirt 139€
How to wear a Sixties dress ?
By wagering on a brooch with an extravagant bow and golden sandals to convey peps. A super comfortable look at a very sweet price, to go to work or to a party!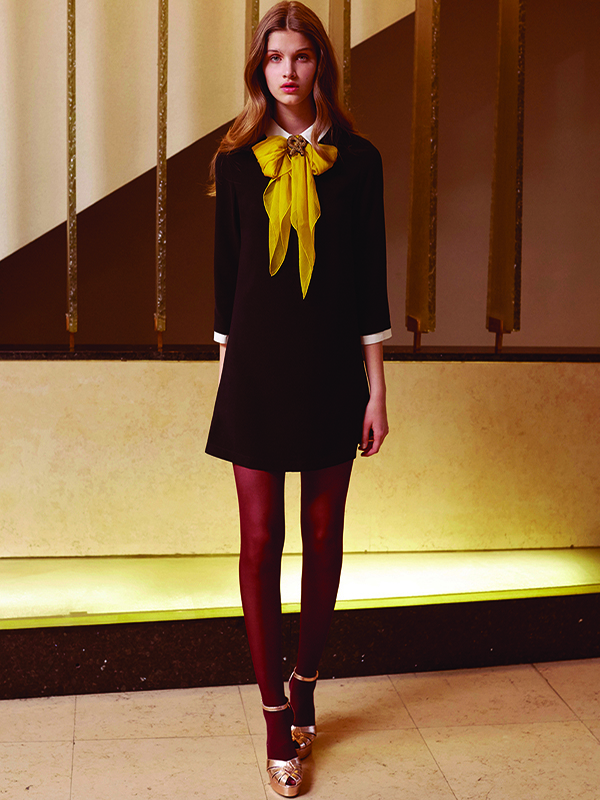 'Cyrielle' dress in cotton and polyester, 99€
'Aubry' brooch in glass and polyester, 10€
How to wear glitter ?
Wager everything on the glitter mini-skirt and give it a chic touch by wearing it with a sophisticated ruffle blouse and evening pumps. Glam, but never vulgar…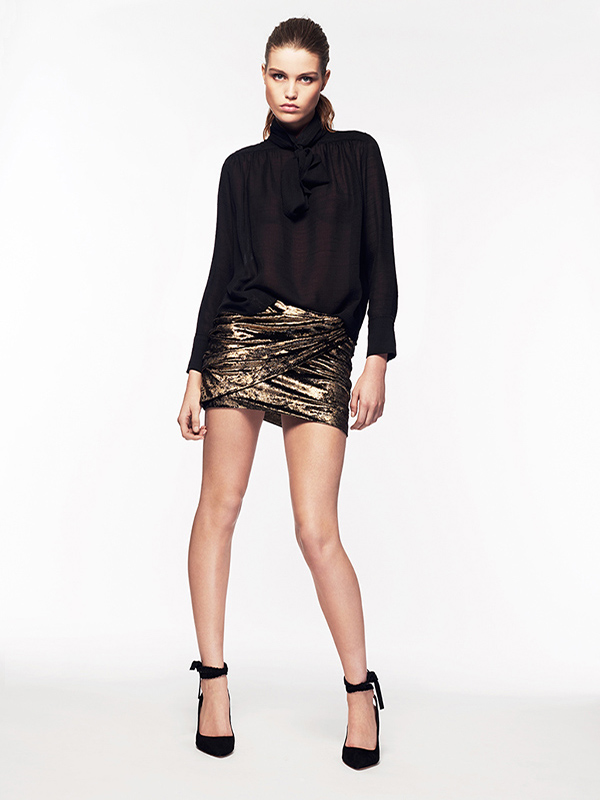 'Nana' blouse in fluid polyester with high collar 170€
'Gloire' mini-skirt with metallic effect in polyester, 180€
How to wear a high waist pair of jeans ?
Like at Carven, play the street wear look punctuated with couture details. Belt raw denim and create a cuff that makes legs longer that will give you a young girl allure.
On top, a cute dressy sweatshirt and a very well-cut blazer will clearly make you stand out from the crowd while remaining divinely comfortable.
To be at ease: mandatory comfy heels, worn with pretty socks for the fashionista touch.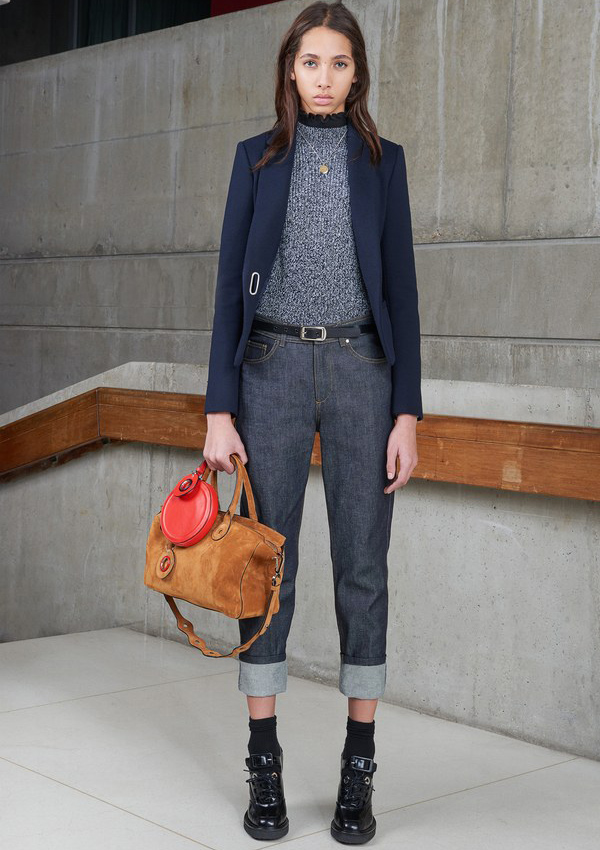 Short belted jacket, 490€
Tan top in fine knit, 290€
Knit pullover, 290€
Boyfriend jeans, 220€
Thin leather belt, 190€
Zipped tote bag, 490€
Zipped round pouch, 270€.
Derbies with heels, 490€
Necklace, 90€
How to wear a biker blouson ?
Go for ranger boots before breaking the biker spirit with a very chic extra wide pair of pants and a pretty minimalistic top.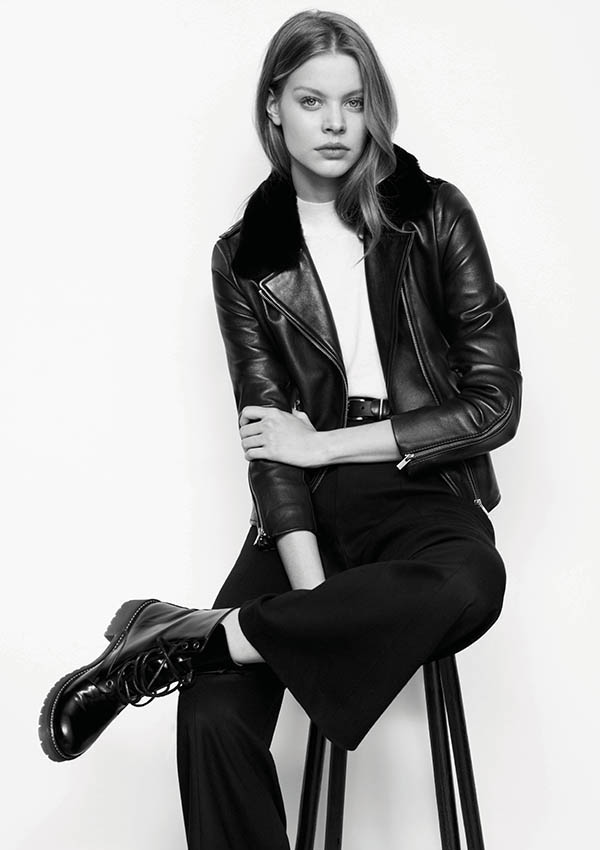 'Becane' leather biker blouson, removable collar in rabbit fur, 395,00 €
'Benoit' sleeveless turtle neck top in cotton and cashmere, 95€
'Babrico' wide trousers in flannel, 165€
'Bambou' leather belt, 65€
'Benjamin' high ranger boots in black leather, 195,00 €
How to wear a houndstooth pattern ?
If you want to follow the fashion shows and the very English style of Sherlock Holmes, rush to Monoprix and pick up their great overcoat in houndstooth pattern ? To be accessorized eyes closed with a thin leopard leather belt.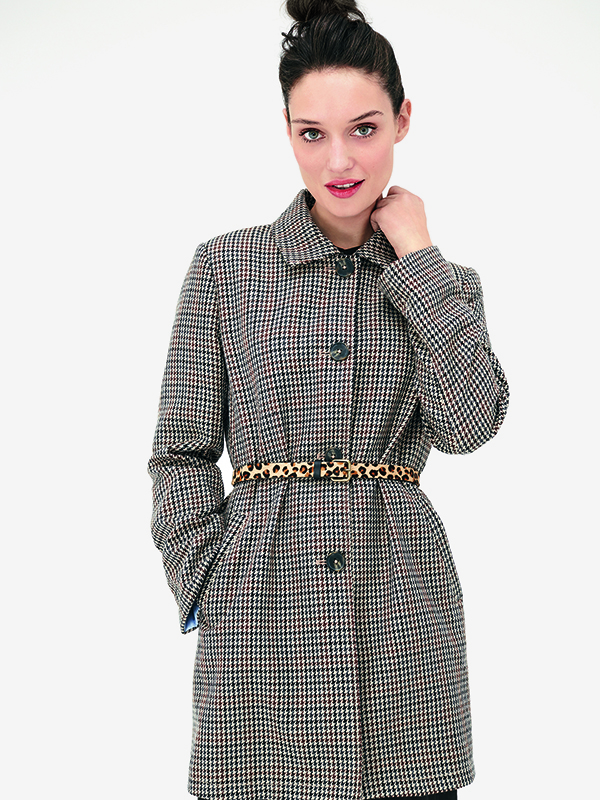 Houndstooth trenchcoat in polyester, 89,99 €.
Leather leopard belt, 19,99 €.
How to wear velvet as a total look ?
Do not hesitate to invest in a high waist Vanessa Bruno pant suit that gives amazing allure and ensures a radiant complexion in the dead of Winter. Go all the way by playing the colour card with a duck blue shirt or a strong colour.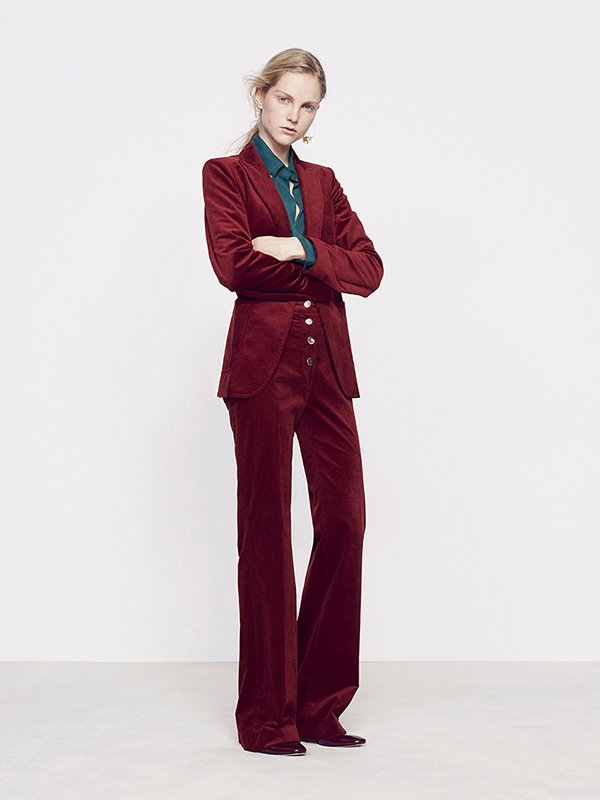 'Fulvio' velvet jacket 385€
'Druyat' shirt in cotton voile 255€
'Fylis' velvet pants 280€
How to wear red vinyl (without looking vulgar) ?
By wearing it on an unexpected piece with a furiously classic connotation such as this great looking Sessun pea jacket, much more Jane Birkin than night-time Pigalle.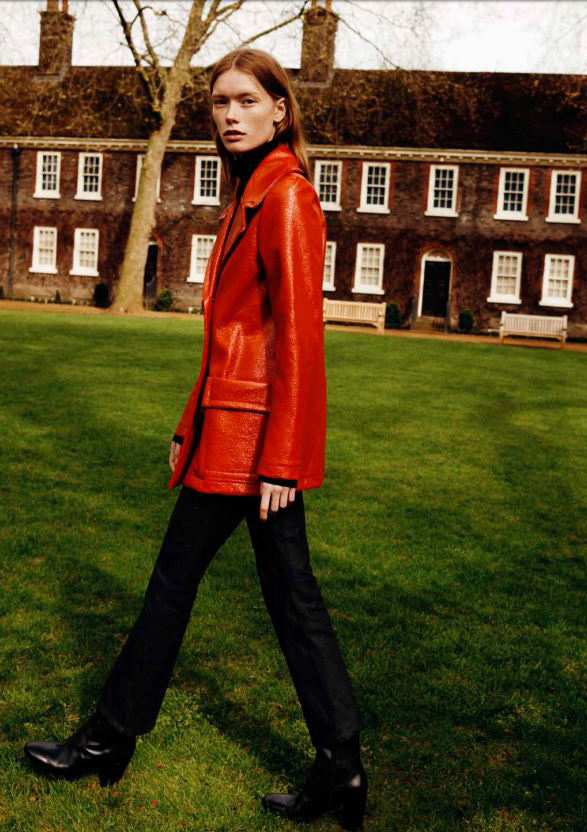 Red vinyl pea jacket, 247€
Wool turtle neck pull-over, 105€
Leather boots, 270,00 €
Pants, price NC
How to wear a cute while pullover ?
Do away with the goody-goody touch of this romantic pullover by wearing it with high-thighs in suede leather and a choker that is a total reminder of the Agatha period.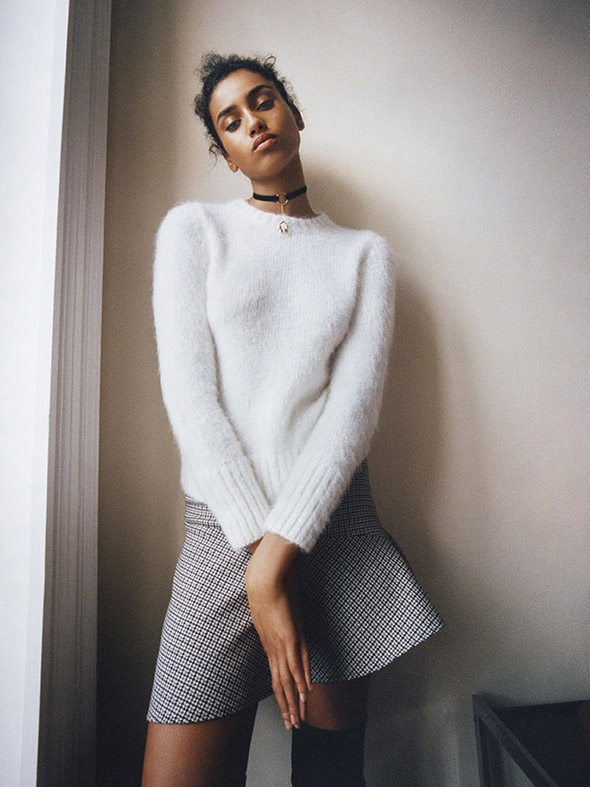 'Marne' pullover with off-white moss stitch knit 175€
'Jonce' short checked skirt, 165€
Nemi' necklace in velvet and inlaid brass,75€
'Fuisy' high thighs in suede, 500€
How to wear a printed shirt ?
Inspire yourself from the latest Athé collection, the second line of Vanessa Bruno and play at being a young college girl in a straight skirt with red MaryJane shoes …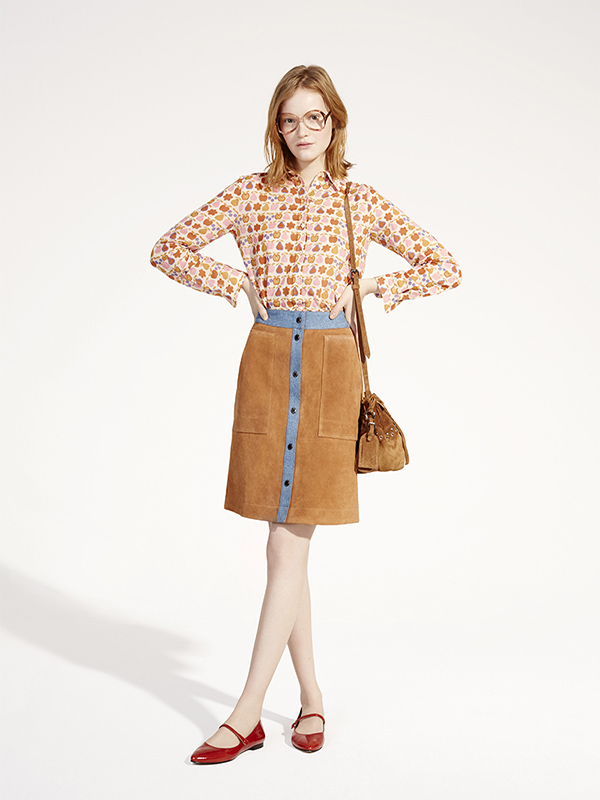 'Fritsa' printed shirt in light cotton 190,00 €
Small bucket bag in calfskin, eyelets and studs 395€
Skirt in cowskin leather 395€
Cotton shirt, 190€
Goatskin leather shoes, 250€