Paris is a party! Mainly seated around a seafood platter in a festive atmosphere and a stylish restaurant. Between the craze for sea food bars and the special attention paid to sustainable fisheries and small producers: this is the great revival of the seafood platter ... with the new precise codes of the sharp foodie.
Crazy sourcing, mix and match of vintages and shellfish , association with natural wines , short circuits: our best addresses to feast on a new gen 'seafood platter.
the most festive : Le collier de la Reine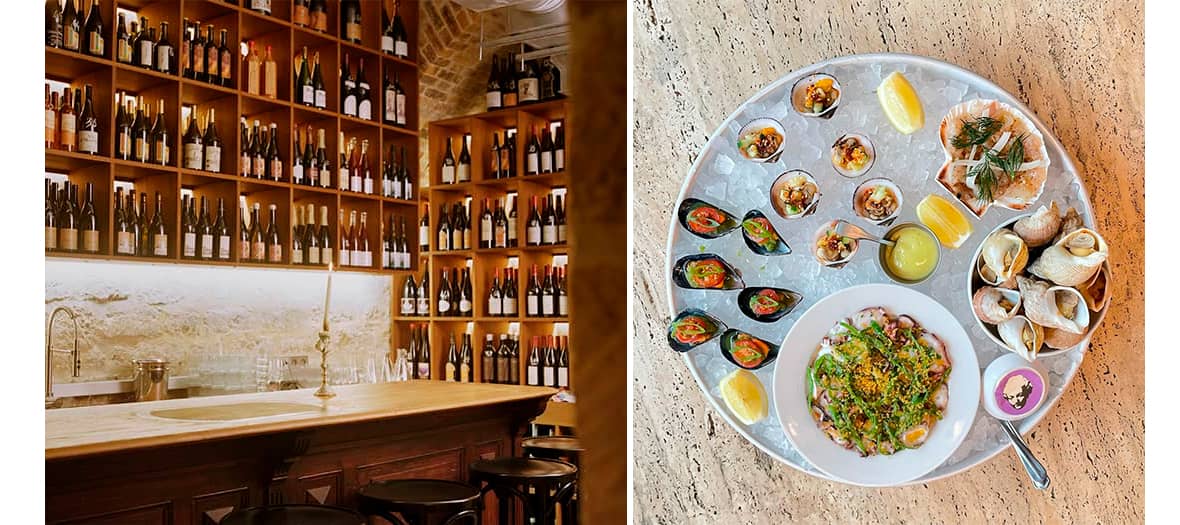 Behind this successful address, we find Arnaud Lacombe (Savoir Vivre) and his always crazy team of Deviant, Vivant, Da Graziella and the Bourbon Hotel where the (very) good hyper sourced, beautiful people and natural wine are concentrated, the winning equation of the taste of the time. The same recipe for success as in the previous establishments since its opening, where models, journalists, directors, producers, actors, gallery owners, agents and stylists all come aboard this very hot worldly brasserie.
When a sexy brasserie reinvents the seafood platter spiced up with raw food, we applaud! The result is 24 Breton oysters from Crénéguy, 9 mussels, an octopus carpaccio, 6 scampi and some terrific whelks with tarragon mayonnaise (King platter, 86 €).
Le collier de la Reine, 57 rue Charlot, Paris 3e, open Monday to Friday from 7pm to 1.45am, Saturdays and Sundays from 12pm to 3pm and from 7pm to 1.45am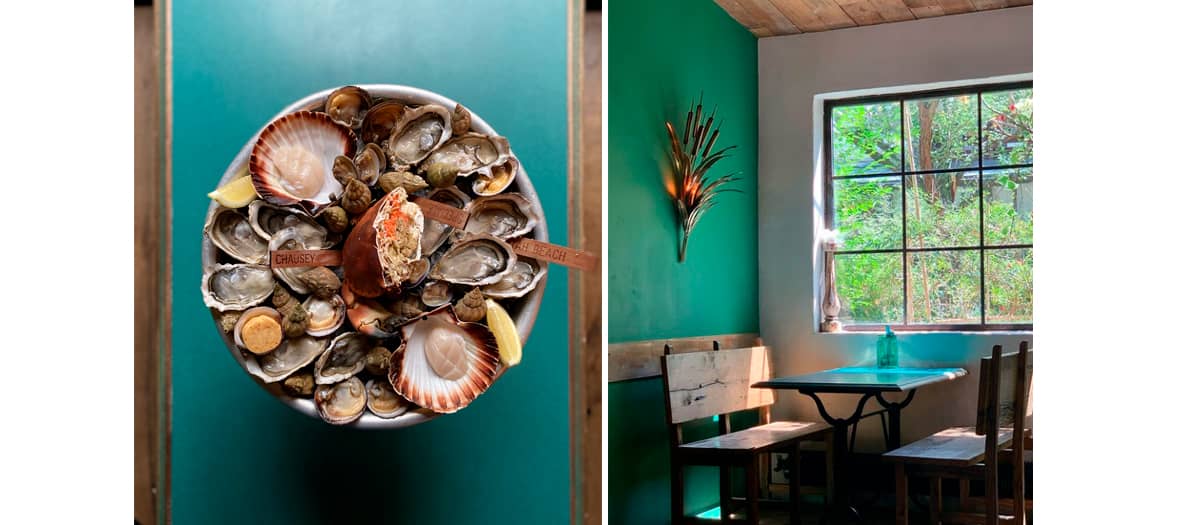 There are those who know. And the others who have not yet had the chance to sit down there because the experience is unforgettable. We no longer present Clamato , the little sea sister of Septime , rue de Charonne, where Bertrand Grébaut heckles the sea like no one else in a bohemian-fairy atmosphere, with the help of a fishing as remarkable as it is responsible, freshly delivered every morning. from Concarneau, the island of Yeu or Saint-Jean-de-Luz. This gives a menu based on black mullet ceviche, butternut squash, raw cuttlefish from Oléron, sesame and chili, sea urchins from Galicia or a tarama of smoked cod egg and zaatar, washed down with cocktails and natural wines.
The very good news is that their cult seafood platter for 2 (crab, 12 oysters, boulot, clam, almonds, miso mayo, espelette pepper butter) is also available in click & collect at 65 € to be nabbed on the 24th and 31st on site. The must-eat for the holidays!
Clamato , 80 rue de Charonne, Paris 11th
Open from 26 in the evening until 31 December, then reopen on 5 January in the evening.
The most at home: La Ferme des Baleines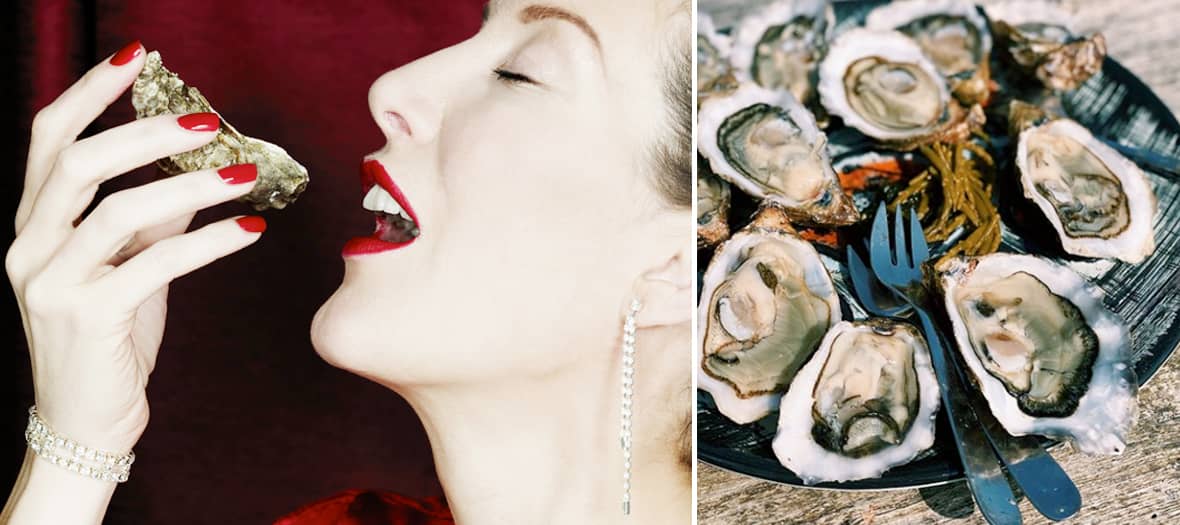 No need to live by the sea to enjoy the exquisite sensation of oysters straight from the producer. On Île de Ré , La Ferme des Baleines by Benjamin Courtadon offers deliveries to Parisians within 24 hours, watch in hand. The oyster baskets of incomparable finesse barely come out of the water, towards the family banquet, escorted by some difficult to find organic vegetables (sea lettuce, salicornia and maceron) and other imperial shrimps or clams.
You don't even have to break your PEL to taste these exceptional products raised in marshes, in the traditional way: count 36 € for a basket of 48 Special De Claire N ° 4 oysters, 28.50 € for N ° 5 and 68 € for the N ° 2 very fleshy. And to equip yourself, we add to the basket an ultra-manoeuvrable, efficient and green knife made from crushed shells (5 €). Count 19 € for delivery in Chronofresh .
La Ferme des Baleines , Route des Portes, 17590 St-Clément-des-Baleines, Île de Ré.
Book online or on 05 46 29 54 43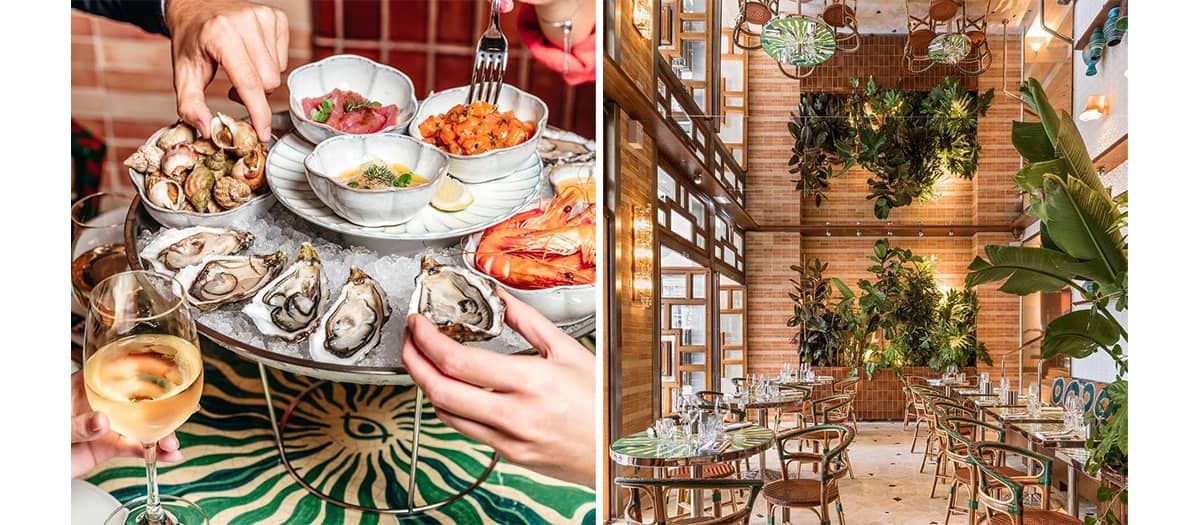 It is the most popular social and festive address in the West of Paris. Laura Gonzalez revives this mythical address in the 16th district to better resuscitate it in an ultimately glam 'rendezvous, with very pop and 70's vibes. Deep in the new passion for seafood bars and good cocktails that is invading Paris, the PVH (for Petit Victor Hugo ) is displayed as the most stylish marine brasserie of the moment with a remarkable sourcing between parilla, grilled lobster, carpaccio de Saint -Jacques and remarkable ceviches!
Special mention to its extraordinary seafood platter 2.0 deep in the raw with a mix and match of oysters from Joël Dupuch and Christian Gillardeau , shellfish and crustaceans (lobsters, whelks) but also a Scottish salmon tartare Label Rouge and tuna and yellowtail sashimi (€ 55 per tray).
PVH , 143 avenue Victor Hugo, Paris 16th
Open every day, from 8 a.m. to 2 a.m.
The most starred: Dessirier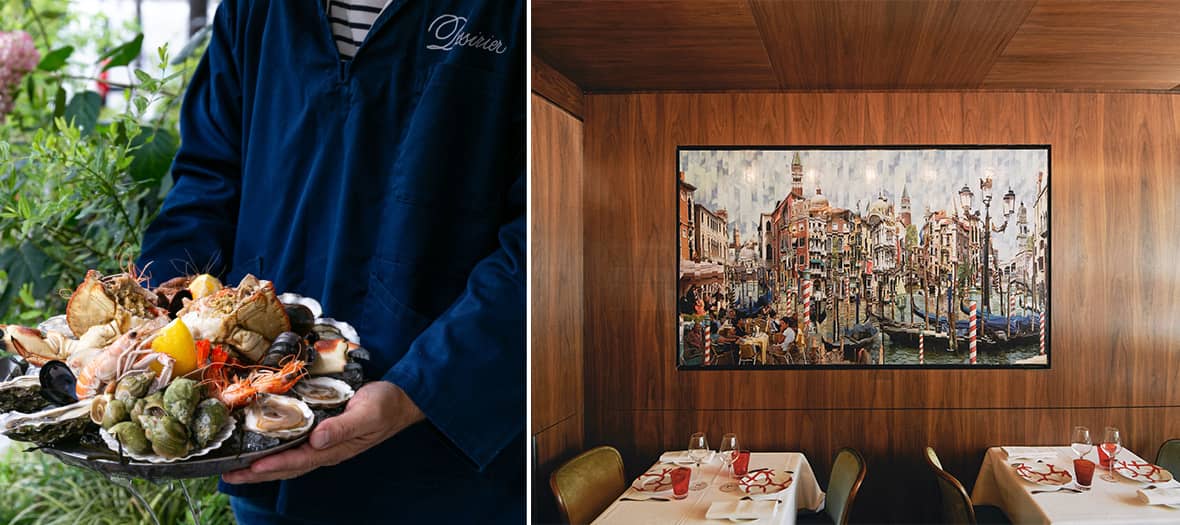 If you dreamed of an atmospheric table for a swim in the sea, know it: Dessirier , the cult seafood brasserie of the starred chef Michel Rostang, offers a Pantagruélique platter to be delivered in Paris and in the inner suburbs, less than do not prefer to feast from the restaurant benches or one of the lounges that can be privatized .
The cream of the oyster farmers is at the rendezvous: Yvon Madec , Jean-Paul Guernier , David Hervé , not to mention lobsters, cakes, shrimps or whelks from small responsible producers who arrive with sardine rillettes, house mayo, shallot vinegar and bread too good ... Trays from € 36 per person.
Dessirier , 9 place du Maréchal Juin, Paris 17th
Open every day, from 12 p.m. to 2.15 p.m., and from 7 p.m. to 11 p.m. (10 p.m. on Sundays)
And also…
Stéphane Minot

, Meilleur Ouvrier de France at

La Fine Marée

in the 17th district, who delivers everywhere in Paris. It remains

to create a tailor-made tray with all your favorites

(whelks-mayo, organic shrimp and Gillardeau oysters, Breton lobster, spider crab, fines de claire, langoustines, etc.).





The platters of

Lorraine

and

Alsace

, the

legendary brasseries of Paris where you can enjoy a seafood platter after a movie screening but also take the best of the tide to take away. Oyster, prawns, clams, whelks, lobster, crab, lobsters… All from

€

16.50.


Terroirs d'Avenir

,

the food collective that supplies the finest tables in Paris (Eric Frechon and the Fooding gang are big fans), offers the best seafood products to buy directly from their super

fishmonger

on rue du Nil. On the program: Saint-Jacques de Saint Malo and Saint-Quay-Portrieux, Utah Beach oysters, Saint-Jean-de-Luz red tuna, Banka trout from the Basque Country… The ideal place to shop!



Also discover 5 kebabs that will make you addicted and where to have lunch for less than 10 euros