Notice to foodies who wish to test the cuisine of the chefs of the moment. The Champagne House is back with a new season of Ruinart Baskets in limited series. It's time to book!
A canon concept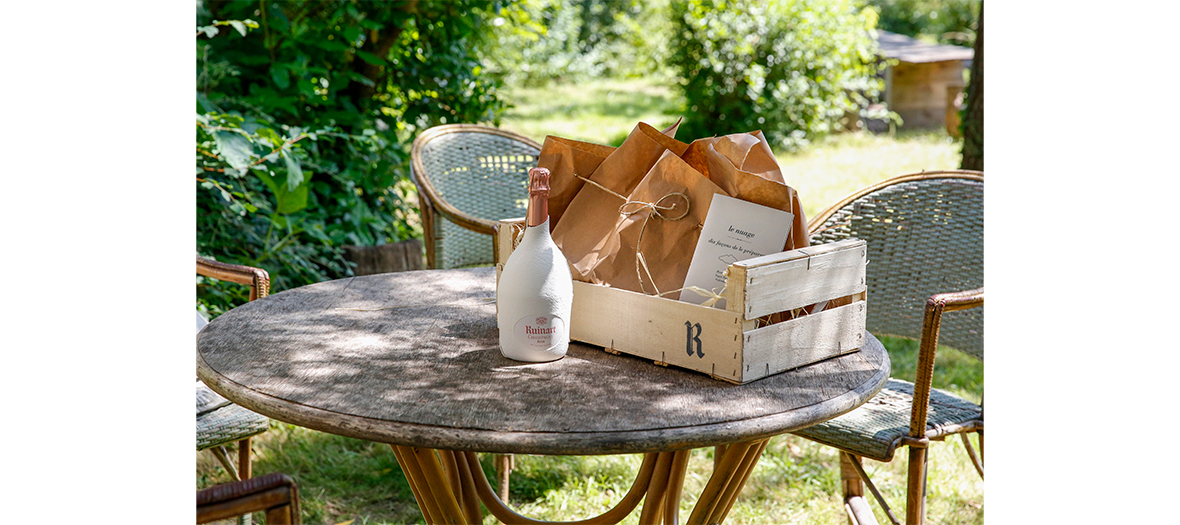 After a launch with chefs Céline Pham , Antonin Bonnet and Cathy Paraschiv , Maison Ruinart has called on two rising stars from the new young generation of chefs to incubate these highly anticipated culinary events (130 € for 2, champagne included ).
Headlining this time: names that embody the taste of the time . Sugio Yamaguchi , specialist in vegetable cuisine, cofounder of Botanique in the 11th arrondissement and the chef Cybèle Idelot , pioneer of locavorism and cooking in favor of zero waste at Domaine les Bruyères .

The two chefs went to find exceptional producers in the farm to table spirit: direct from the farm, directly on our plates!
A true pop-up of chefs at home, the brilliant concept remains unchanged. In the basket to reserve delivered at home (everywhere in France), we find all the ingredients necessary for the realization of a gourmet lunch or dinner for two people, starting with the products sourced from the producers, easy recipe cards with the tips from the chefs and explanatory videos. And, of course , a bottle of Ruinart champagne accompanied by its tasting notes.
Sugio Yamaguchi's basket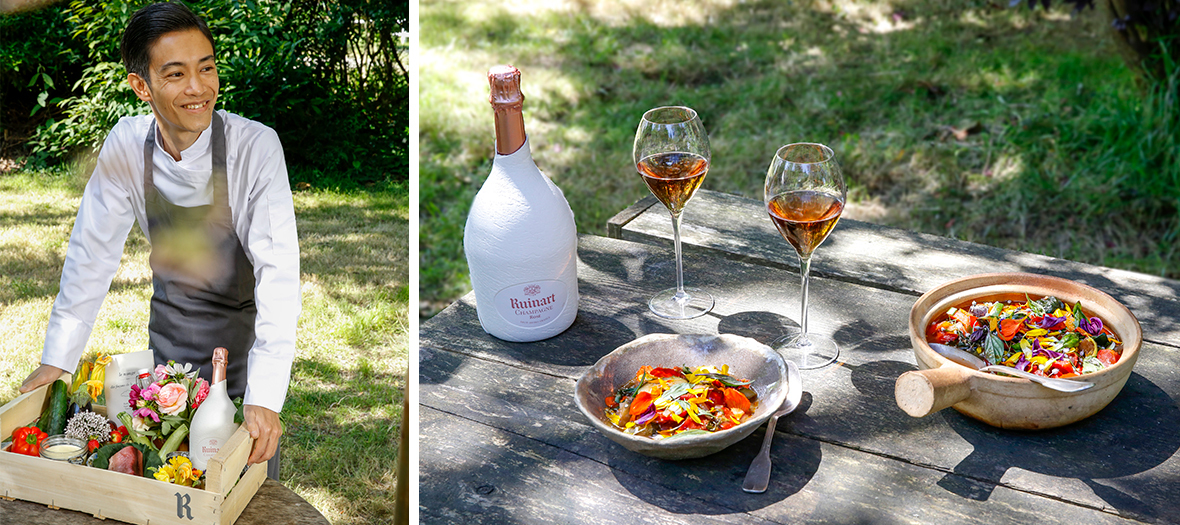 We recognize at first glance his fresh cuisine, his very colorful plates and the delicacy of the edible flowers that he places there. The Ruinart Rosé accompanies or matches the work of Sugio Yamaguchi, and particularly the edible flowers of the Jardin de la Chéraille , a unique place where its varieties are cultivated.

On the menu: to start, a Gaspa-touille of summer vegetables, halfway between ratatouille and gazpacho with a tuna tartare associated with rose petals, herbs and other condiments for a clean, precise and floral taste. Creation for dessert with a marinade of seasonal red fruits and a multitude of petals.
Sugio Yamaguchi's discovery gift: a bouquet of edible flowers and a collection of recipes written by the chef.
Basket for 2 people, 130 € in limited edition to order here
Cybele's basket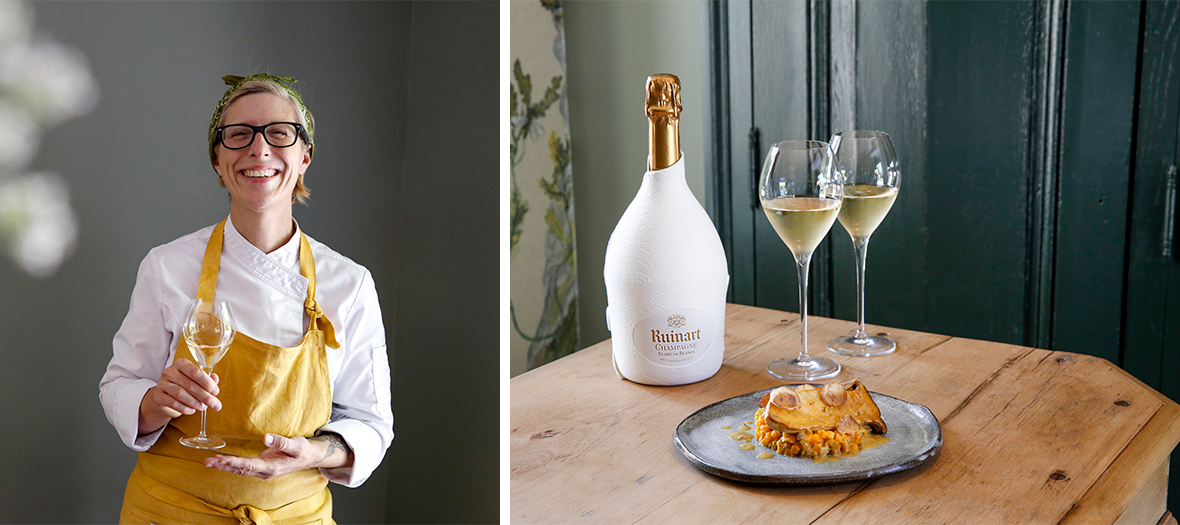 It was in California, her native region, that her natural appetite for ultra-short circuit militant cuisine was born. Her perfect sourcing , Cybèle Idelot ensures it herself in the heart of her permaculture vegetable garden. Products close to nature that go well with Ruinart Blanc de Blanc.
On the menu: a sublime c rudo scallop seasoned with green apple, fennel, sorrel oil and hazelnuts. Then place her Eryngii squash and mushroom risotto, before a citrus pavlova , verbena with a diplomatic cream with heliantis.
Cybèle Idelot's discovery gift: her miso, (fermented soybean paste), concocted by the chef herself in the kitchens of Domaine Les Bruyères.
Basket for 2 people, 130 € in limited edition to order here
Ruinart limited edition basket, € 130
Order until September 20
Delivery on September 24 and 25
Ruinart limited edition basket, € 130
Order until October 25
Delivery on October 29 and 30
All the info on www.ruinart.com
ALCOHOL ABUSE IS DANGEROUS FOR HEALTH. TO CONSUME WITH MODERATION.