Notice to annoyed foodies not to frequent the most prominent tables of the moment. Can't go to a restaurant anymore? Ruinart is reinventing the gastronomic experience at home this season .

This is the most anticipated pheno food of autumn. Each month, a new limited-series Ruinart basket is available for booking. A real rendezvous, this basket offers to bring a real chef's dinner to life at home. Hurry, we reserve the one for the month of November now!

To do this, the champagne house sought out the new generation of the most prominent chefs of the moment to embody the taste of the time .
UNCONVENTIONAL chefs ... at home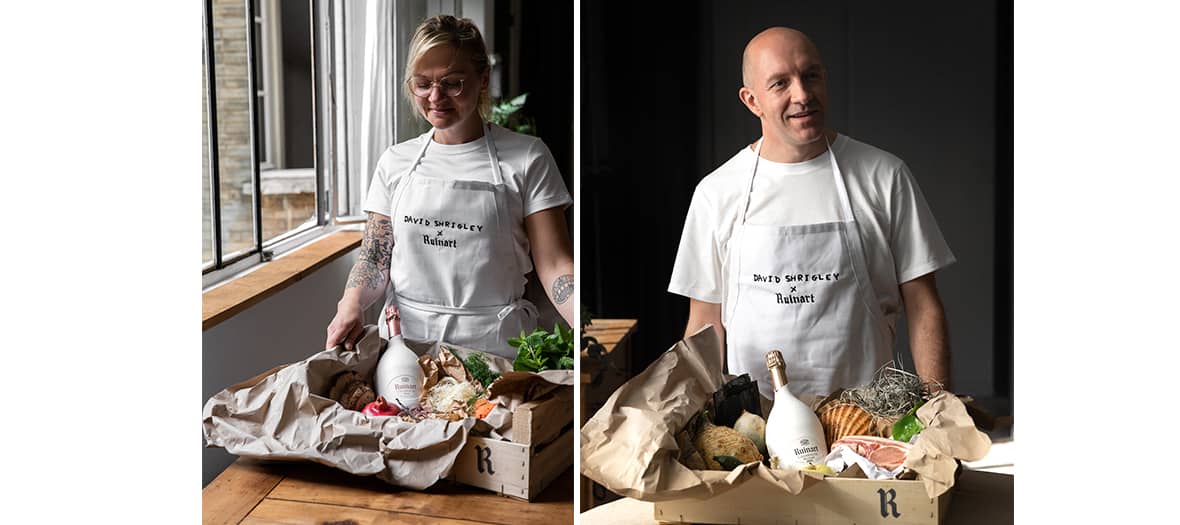 After the success of Céline Pham's performance in October, Ruinart offers in November a carte blanche to Cathy Paraschiv , the chef who caused a sensation at Ibrik , and in December to Antonin Bonnet , the bistronome who made Saint-Germain-des-Prés vibrate. with Quinsou
These unique hats have created UNCONVENTIONAL menus, easily reproduced at home by exploring their worlds, their favorite producers, their cooking secrets and inspirations. As if we were sneaking #InRealLife into their kitchen.
The principle is simple: we find all the ingredients necessary for the realization of this unique meal for two people, recipe sheets and explanatory videos with tips from chefs. And, of course , a bottle of Ruinart champagne accompanied by its tasting notes, at 130 € for 2 people.
An avant-garde concept that is part of Ruinart's FOOD FOR ART program , led this year by artist David Shrigley and two-star chef Alexandre Gauthier .
CATHY PARASCHIV's basket with Ruinart Rosé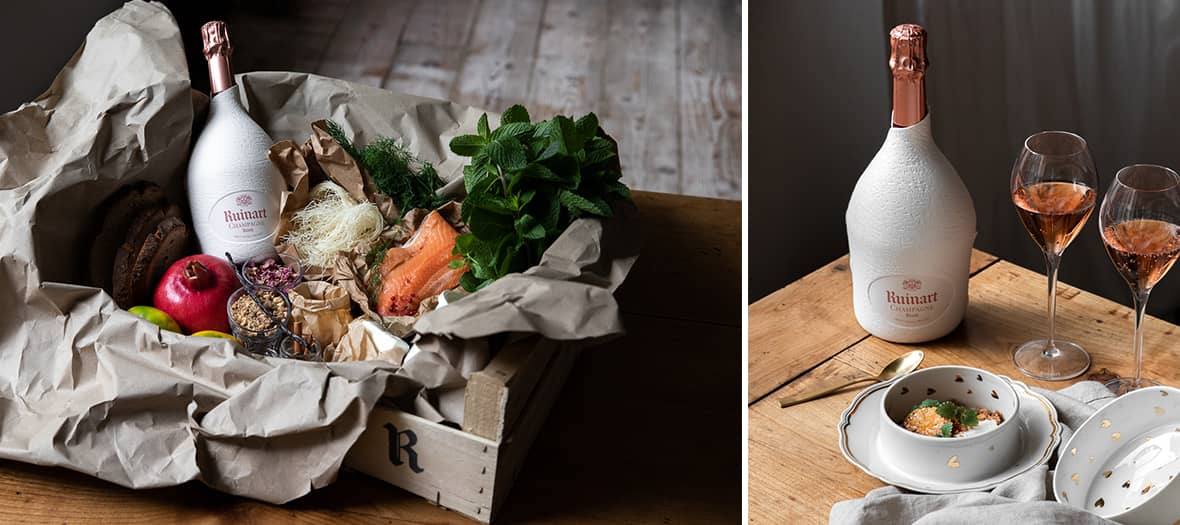 This is the basket to get before November 17 and will be delivered on the 21st!
In the kitchen: Ecaterina Paraschiv, known as Cathy Paraschiv , the passionate chef of Ibrik Kitchen , in the 2nd, the restaurant which celebrates the Balkans around raw cuisine centered around nature. For Ruinart , she imagines a basket of recipes based on the Ruinart Rosé cuvée.
On the menu: soft-boiled egg, roasted polenta, feta cream, dehydrated caviar, kadaïf as a starter. Before an incredible trout infused with rose, pomegranate water and peppermint. For the cheese: a dung from Ferme du Chatain served with bread from Nadia Sammut to enhance the pink bubbles. And in the end, a magical cinnamon and mandarin crumble with a Greek yogurt ice cream.
Worried about missing the pomegranate water seasoning? Nothing could be simpler: " Lightly crush the pomegranate seeds with the mint, oil and salt, place the rose petals and let infuse. Mix in a blender and filter Chinese ", advises Cathy.
Ruinart x Cathy Paraschiv basket for 2 guests, € 130. Delivery on November 21. Available only in Paris and near suburbs.
The UNCONVENTIONAL dinner of ANTONIN BONNET with R de Ruinart 2011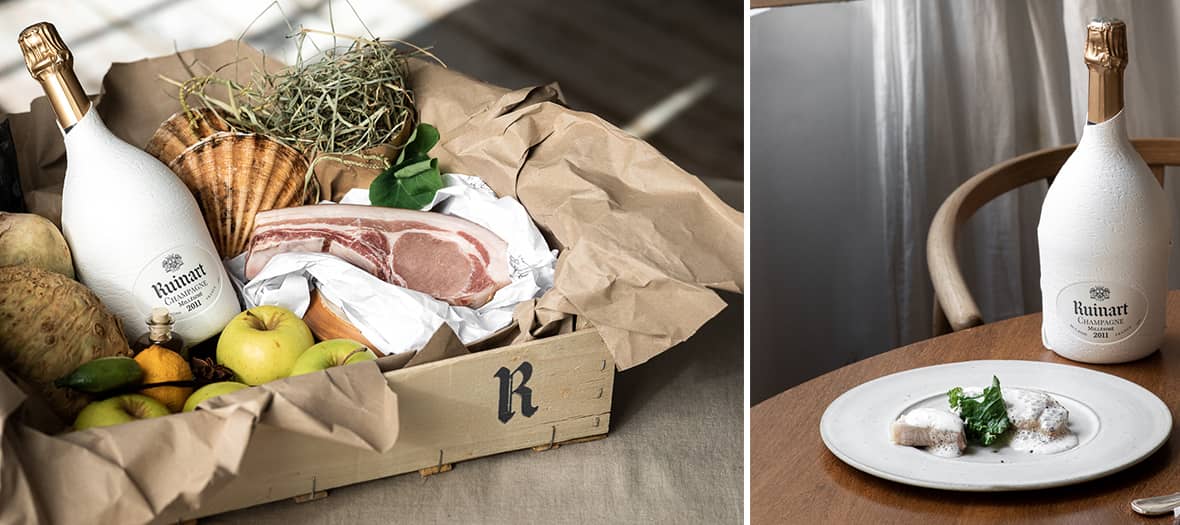 The other meeting that makes die-hard foodies salivate is that of Antonin Bonnet , chef entrepreneur of Quinsou and La Boucherie Grégoire , trained at Michel Bras, which will be delivered on December 12.
" The idea is to offer a sophisticated and balanced menu which is gaining momentum crescendo, which however remains technically accessible and will certainly allow both budding and experienced cooks to have fun" , laughs Antonin Bonnet. The chef's secret to discover: cooking with hay , an amazing technique to enhance the taste of pork.
Entrance
Saint-Jaques carpaccio, sour cream & lemon caviar, green-meat radish scales, nori powder

Dish
Pork side roasted on hay, smoked celeriac cream, yellow wine sauce and kale leaf

Cheese
Homemade bread by Antonin Bonnet / Saint-Nectaire from the festival boy
Dessert
Star anise tarte tatin
Ruinart x Antonin Bonnet recipe basket for 2 guests, € 130. Order until December 8. Delivery on December 12. Available only in Paris and near suburbs.
THE ABUSE OF ALCOHOL IS DANGEROUS FOR YOUR HEALTH. TO CONSUME WITH MODERATION.