It's the chef's great surprise! Yannick Alléno opens Pavyllon, a new gourmet and accessible table at the Pavillon Ledoyen. Whether you are a veggie or a fan of hunting feasts, this socialite brasserie will certainly appeal to elegant trendies. Explanations.
The new table everyone is talking about
After setting up his 3 star and an amazing sushi bar at the heart of his mythical address on the lower part of the Champs-Élysées,Yannick Alléno, owner of the Pavillon Ledoyen, has just inaugurated a new venue with the very bistronomic accent that was cruelly lacking between Concorde and the Grand Palais. The counter spirit is at the center of the deluxe contemporary scenography signed by leading decorator Chahan Minassian.
Check it out: you settle in front of a more than 15 meter-long bar which gives onto an open kitchen in order to watch the show of the masterful brigade. A real spectacle. More discreet, a few tables in the back at the garden level provide a discreet option for business or political rendezvous in the area.
An instinctive cuisine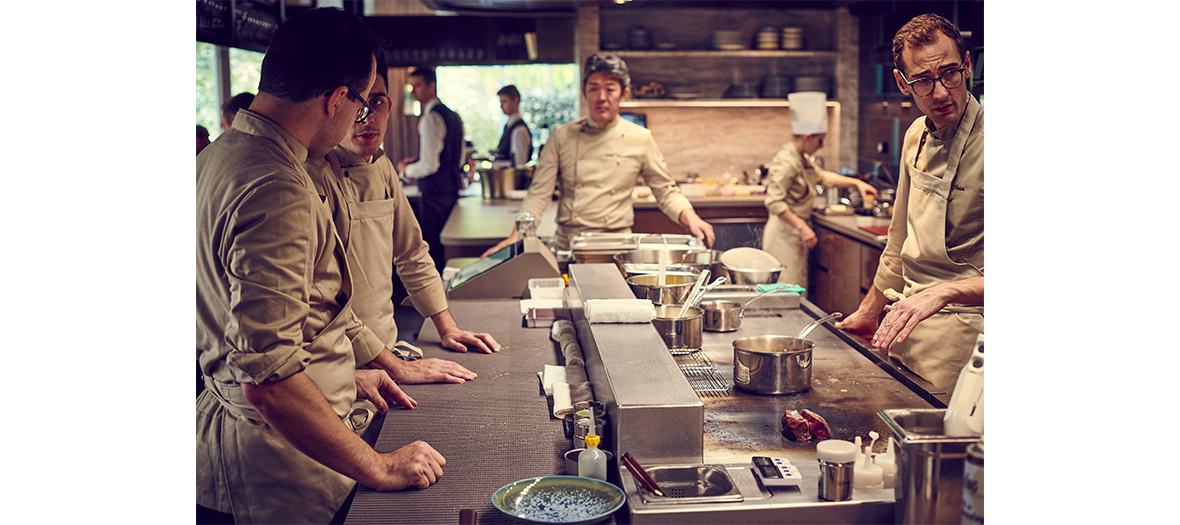 The chef seems to have no biased concept nor obligation. With Pavyllon, he wants to taste the mood of the times as it comes and as we like it: feely and without having to "choose."
Thus diners have several options: veggie, no gluten, pasta obsessions, the urge for tasty meat dishes typical of Parisian brasseries, but also small portions to share!
On the menu: a smoked knife-cut beef tartare (€29), a steam-cooked cheesesoufflé with foie gras (€33). More vegetal: a sandwich of spinach leaves (€26). Without forgetting a pithiviers of hare (€46) or the hearty Strogonoff of Wagyu and matchstick potatoes.
As side dishes, tempuras of crunchy vegetables to be dipped in a dashi set the pace. At dessert time, we oscillate between an ode of 100 % green  lightness or the Ambassador ice cream with Paris butter, double cream and Amarena cherries (€22).
Even the beer tart with brown sugar served as a small treat with coffee is a foodporn revelation.
A tempting menu at €68
It's the small luxury that will certainly appeal to Parisiennes looking for gastronomic sensations … Aside from the more expensive à la carte option, a terrific lunch menu is the  occasion to test the cuisine of a 3 star chef with an affordable tab.
A must: the spicy eggplant dish, runny avocado topping and small golden refined croutons or small tortelli.
Inspired by signature and very tasty hunting dishes: pigeon served on a baguette, grilled, covered with a sauce of wild herbs before a delicate dessert: the pear boudoir with a mousse of whipped milk…
Also discover La Poule au Pot, the cult brasserie in Les Halles taken over by Jean-François Piège.