A new decoration obsession , the bathroom is no longer just a room in the house but a real ode to lifestyle in which every detail must be taken care of.
Jungle touches with bromeliads , inspirations and exotic materials , vibrant details and stylish shower curtains: all our tips to make your home sweet home a place conducive to well-being worthy of a trip to Bali or Brazil ... one thing is certain: you will never brush your teeth like this again!
Make a bromeliad forest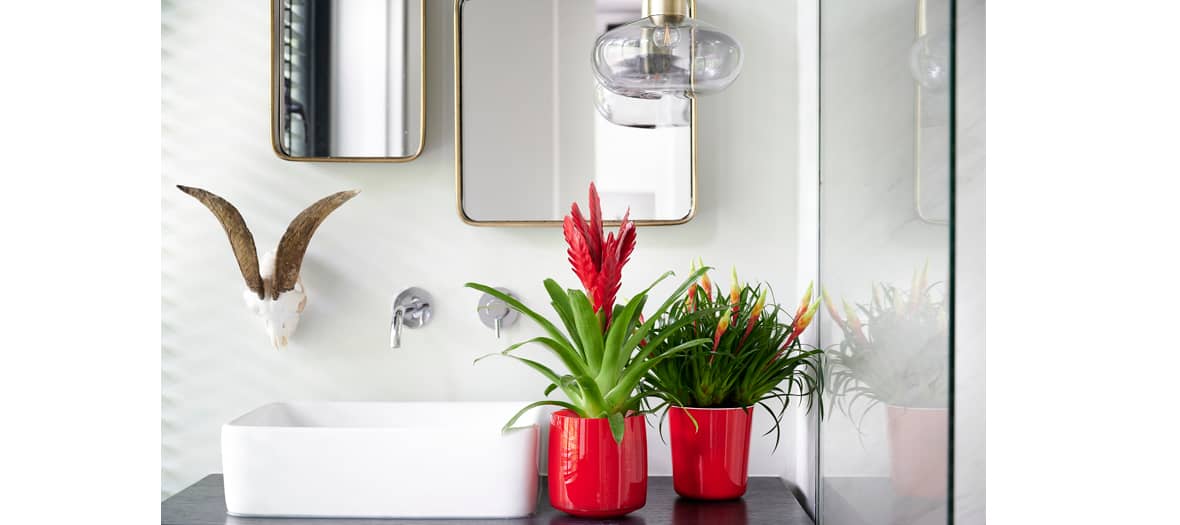 Bringing tropical vibes into your bathroom is the first golden rule of a jungle bathroom inspired by the rooms of the most desirable boutique hotels in Tulum or Rio . The detail that makes all the difference? The accumulation of stylish vegetation that creates an immediate outdoor feeling.
The right plant: bromeliad . Survivor of the jungle, this extraordinary houseplant which turns out to be particularly robust, adores damp places and requires the minimum of maintenance ... In addition to its practical and wild side, its ultra-vitamin variations (pink, red, orange ... ) allow you to play a mix and match of colors, sizes and pots. A wow effect for plants at an ultra-reasonable price ...
The good idea? Create a bromeliad plant wall in front of your shower or surround your bathtub in a studio or master bedroom . The effect of a mini-jungle creates a natural and minimalist delineation.
Bromeliad : count 6 to 15 € per bromeliad depending on its size.


Focus on XXL prints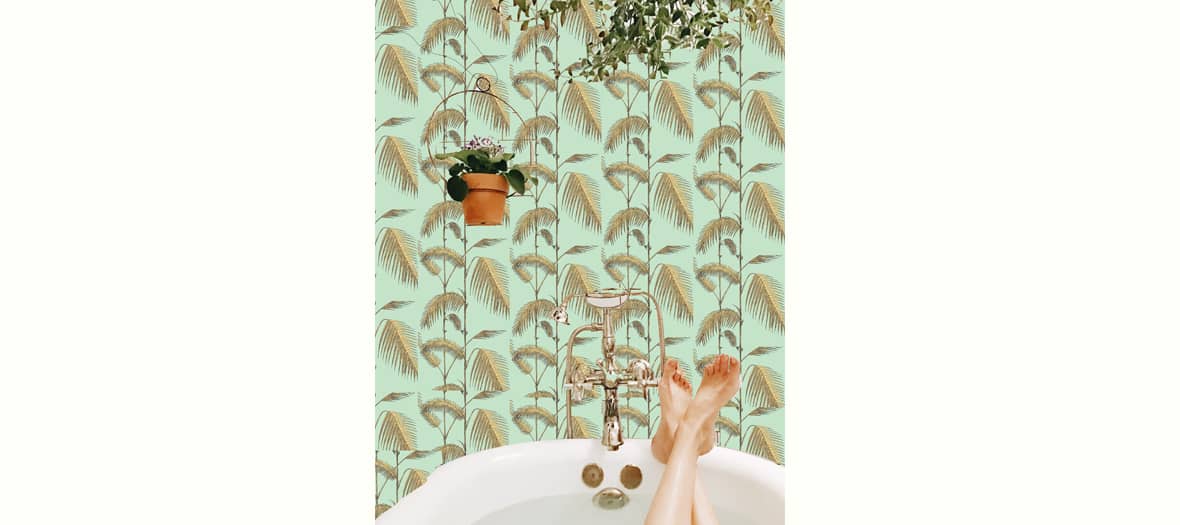 Another sure bet: big prints to perfect the wow effect of the jungle bathroom . A small paradise of flamboyant greenery that infiltrates the 2020 decor with tropical patterns: we say yes.
The printed voucher : the wallpaper non-woven Palm Leaves all pastel, yellow sand and mint water, which combines so well softness and luxuriance in a dense design, thought to resist humidity. 125 € the 52 cm width. Destination the sun! To mix with a beautiful 100% linen Oeko-Tex shower curtain, purchased on Etsy , from € 65.42. And if we prefer the abstract, we opt for the artisanal wallpaper Banig by Pierre Frey , in the colors of Indonesia, like exotic leaves , which will do the job perfectly.

The good idea ? Contrast with a plain or brick-colored wall in beautiful harmony with the bromeliad forest. Not to mention the checkered floor or a pretty custom-made tile by Story Tiles , the pros of illustrated ceramics, for a most successful mix and match .
Fill up on natural materials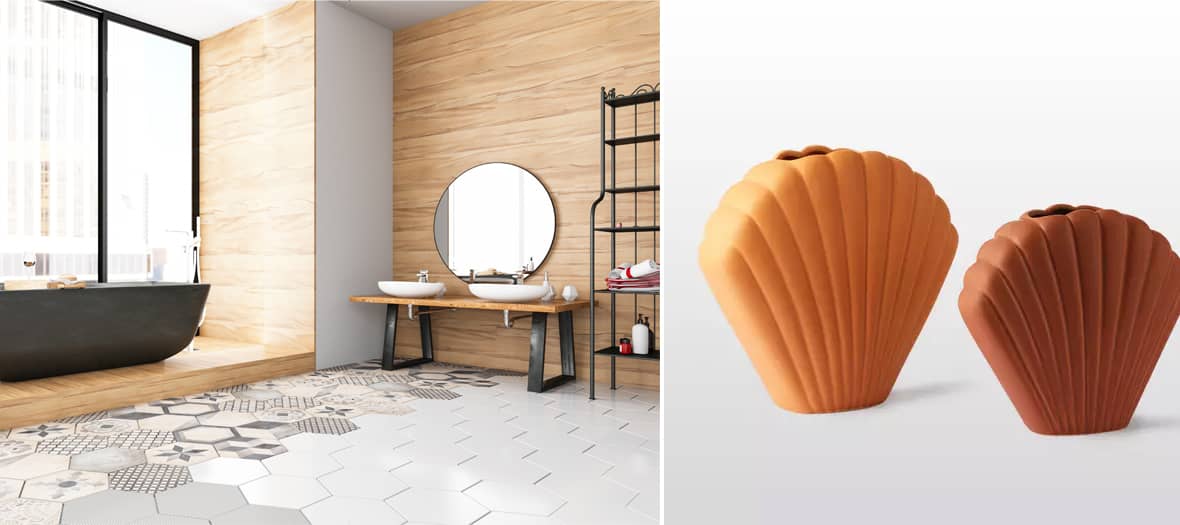 In lack of nature? Never mind ! We bring it differently, via pretty furniture in wood , rattan or wicker , for a zen decor at will. In other words, natural materials which actively participate in the very grrr effect of the tropical bathroom.

The right combination : a light wooden ladder (€ 91.90), found at The Socialite Family , to store your bathroom linen (in cotton gauze of course) and a beautiful rattan mirror from the 1960s (€ 120) , occasionally on Selency , all in roundness. And if you are the proud owner of a beautiful bathtub, you dress it with a small acacia wood tray (€ 35.99), very Instagrammable, to accommodate your favorite scented candles and, why not, a little well-deserved aperitif.

The good idea ? Spice up your natural decor with fun and colorful little objects, like this seashell vase HKliving in terracotta (€ 15) and this hand-painted mini tiger Dodo Toucan (€ 42), as cute as they are graouu for a good mood shot in the morning!