Looking to redecorate? Here are the addresses to keep in mind to add a touch of soul to your interior.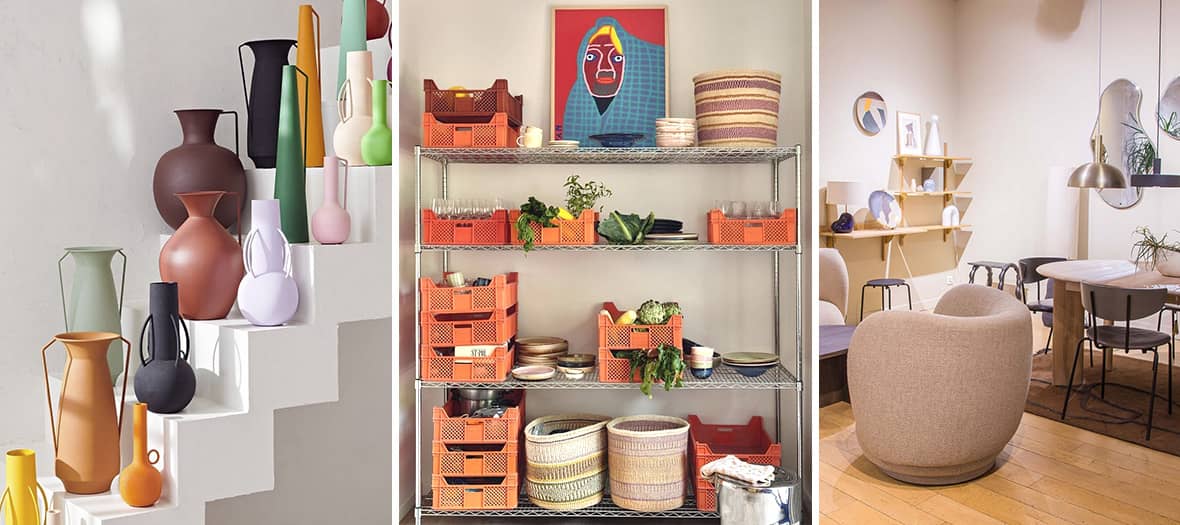 Its five shops have taken over rue Sainte-Croix de la Bretonnerie. Furniture, lighting, tableware, candles - all the latest trends are available to shop in Fleux stores. Full of surprises, they are all located close to each other in this small street in the Marais district, making for an ultra-efficient shopping spree. Each store has its own theme: one is dedicated to fun and quirky items, one to urban lifestyle, another for all things craft and natural, one for furniture and lighting, and the last for children's and baby items. The perfect place to find a last-minute gift or turn your living room into a truly colorful deco mood board worthy of Danish influencers.
We love: the scented candle that can be recycled as a stemmed glass (€24.90), the famous colored storage crates (€6), the cocktail posters (€34.90), the banana vase (€40) or even the marshmallow table (€125).
Fleux, Rue Sainte-Croix de la Bretonnerie, Paris 4th arrondissement. Open Monday to Friday from 11am to 8:15pm, Saturday from 10:30am to 8:30pm, and Sunday from 12pm to 8pm.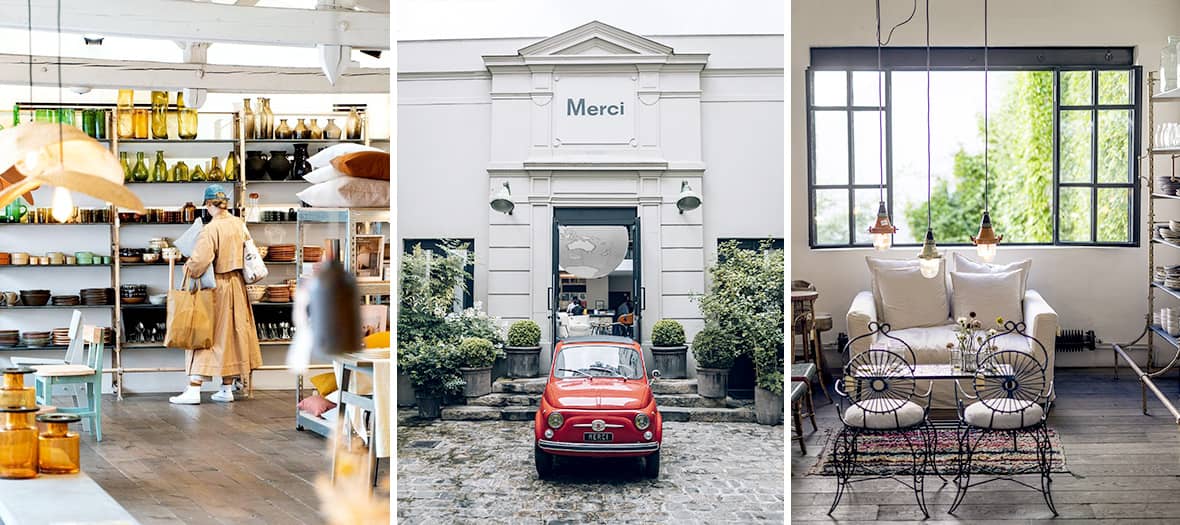 Once you enter the courtyard, you will see a small red Fiat. You have arrived! Welcome to Merci, the must-visit concept store of the moment. In this joyful and colorful boutique, you will want to buy everything: fruit-shaped candles, Italian tableware, super comfortable linen sofas... After shopping, take a break at the Cantine Flor on the ground floor or at the Tommaso café outside, or opt for a lunch among books at the Used Book Café.
We love: the fried egg candle (€17), the blue zigzag wall mirror (€65.95), the large square wall clock (€75), the blue white red Merci plate (€19), the smiley lamp (€29) or even the yellow Roly Poly armchair (€520).
Merci, 111 Boulevard Beaumarchais, Paris 3rd arrondissement. Open Monday to Thursday from 10:30am to 7:30pm, Friday and Saturday from 10:30am to 8pm, and Sunday from 11am to 7pm.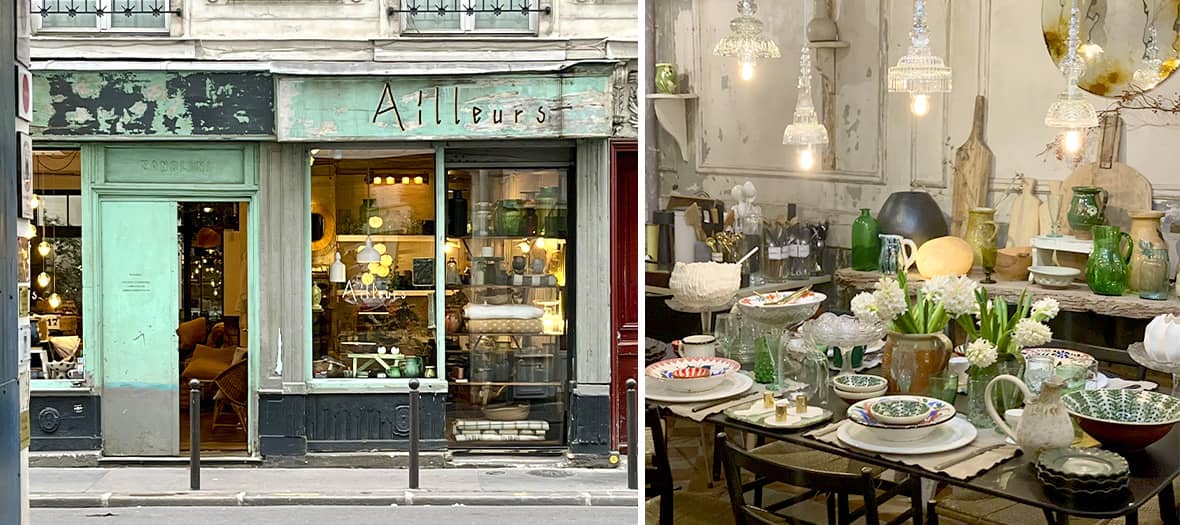 In this vintage-looking shop, one gets the impression of landing in the countryside or in a house by the water. The atmosphere that emanates from this store is magical, and one can find artisanal, vintage or design furniture and decor, where each piece is carefully selected to offer a high-quality selection. Regis Godon-Dilla runs this Ali Baba's cave and uncovers small treasures to give your home sweet home that special something.
We love: the white and green checkered ceramic plates (24 €), beautiful oil lamps (45 €), a pink enamel pitcher (30 €), striped earthenware bowls (19 €), and Inout Guéridon stools (439 €).
Ailleurs, 17 rue Saint-Nicolas, Paris 12th. Open on Monday from 2 pm to 7 pm and from Tuesday to Saturday from 11 am to 7 pm.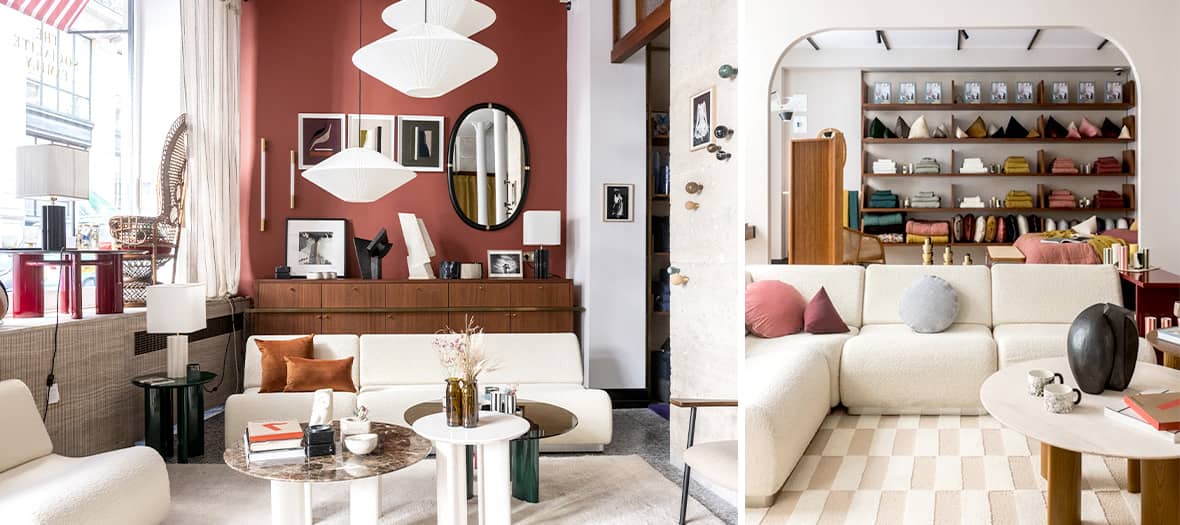 For those who love color or want to add a touch of it, The Socialite Family is the address not to be missed. It is the inspiration decoration brand for modern and connected families that has been creating its own collections since 2017, made in Europe. One can find everything from furniture, decor, or even paint to redo their decor from A to Z, creating warm interiors where one feels good.
We love: the pink and green ceramic vase (170 €), two terracotta cups (35 €), the floral quilt (270 €), the berlingot cushions (42 €), and the Gioia lamp (450 €).
The Socialite Family, 12 rue Saint-Fiacre, Paris 2nd. Open from Tuesday to Saturday from 11 am to 7 pm.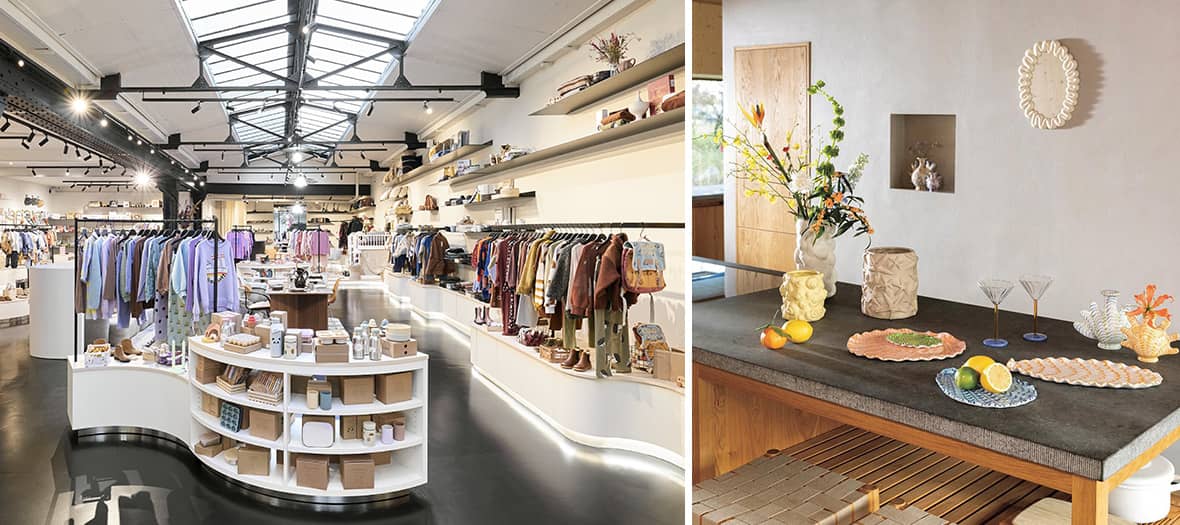 This concept store located just a stone's throw from the Bon Marché offers a wide range of super trendy home decor items... and more! For ultra-stylish families, Smallable mainly selects ready-to-wear clothing from various brands for babies, teens, men, and women. You'll also find a wide range of decor, rugs, lighting, mirrors, and outdoor decoration. The spacious and luminous 300m² store immerses you in a shopping atmosphere surrounded by the best products from the website, so if you're looking for inspiration, you're in the right place.
Our favorites: the zigzag ceramic planters (€60), the hashtag trivet (€30), Boy Smells candles (€98), the cane chair (€582), and the soft checkered rug (€155).
Smallable, 81 rue du Cherche-Midi, Paris 6th. Open Monday from 2pm to 7pm and Tuesday to Saturday from 11am to 7pm.
© David Foessel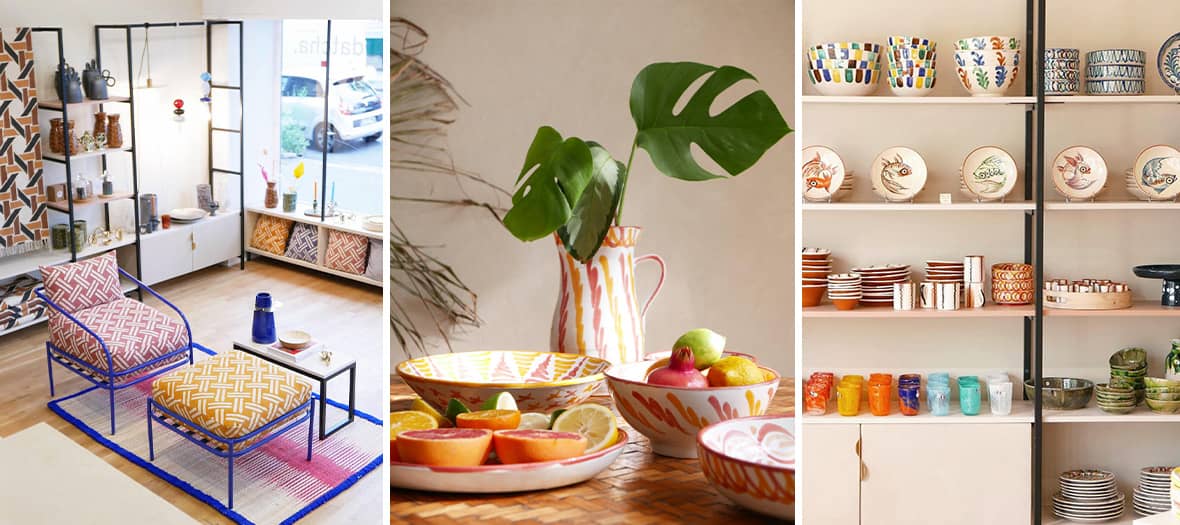 Datcha is the decoration studio founded by Amandine Furhmann and Mériadek Caraës located just a stone's throw from the Samaritaine. The brilliant creative duo has a large enough space to showcase its entire collection: tableware, linens, lighting, decorative objects, and recently furniture. All designed in Paris and crafted by artisans with forgotten skills.
Our favorites: the soap bubble enamel plates from Spain (€18), Murano glasses "made in France", mouth-blown by an Italian artisan living in France (€16), and hand-painted salad bowls from Morocco (€40).
Datcha, 20 quai de la Mégisserie, Paris 1st. Open Monday to Saturday from 10:30am to 7pm.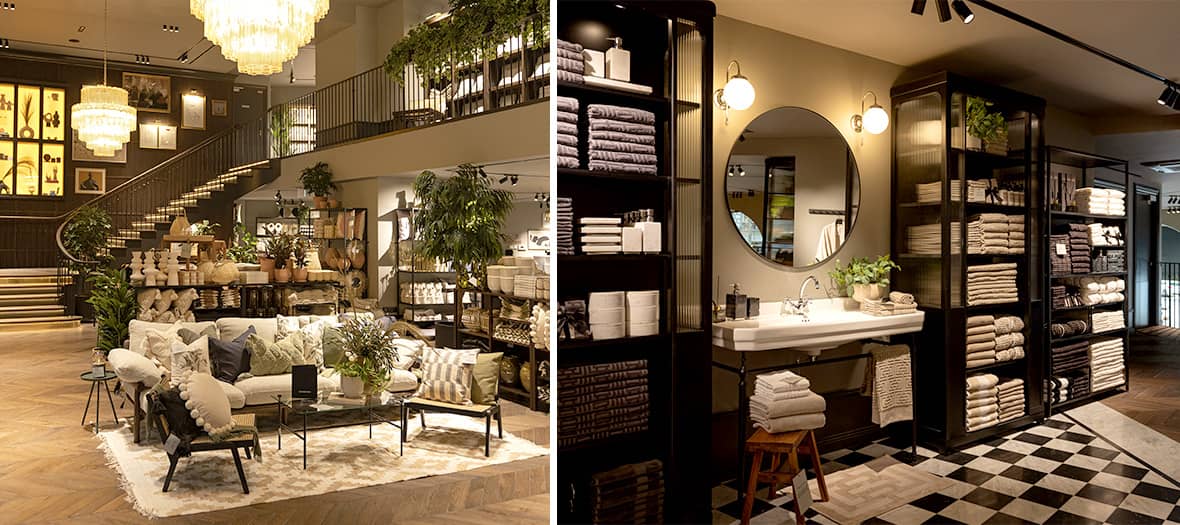 Welcome home. Or rather an XXL mansion with a majestic staircase and impressive Haussmannian heights, filled with distinct spaces dedicated to home decor. H&M Home, the French concept store exclusively devoted to affordable home decor in an inspiring setting. What a profusion! Bedrooms, bathrooms, living rooms, and dining rooms will all find happiness, provided you choose soft tones rather than bold ones.
We love: the hotel-worthy bedding or pretty floral prints on the 1st floor (€49.99), rattan baskets (€39.99), a porcelain serving dish (€14.99), a pink and orange velvet cushion cover (€19.99), a fluffy armchair (€239), a side table (€19.99), and tableware that is sometimes retro, sometimes very chic, not to mention a beautiful selection of cachepots (€14.99) and glass vases (€34.99), as well as dried flowers of all kinds.
H&M Home, 14 Boulevard de Capucines, Paris 9th. Open Monday to Saturday from 10am to 8pm and Sunday from 11am to 7pm.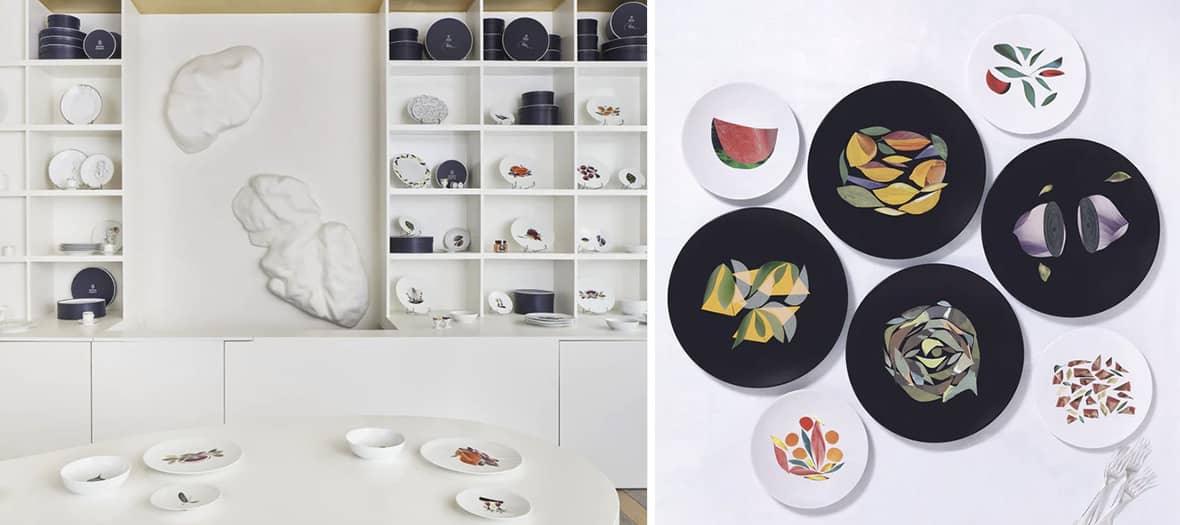 Its wildly arty plates are just as at home on trendy tables as they are on the walls of stylish apartments. And for good reason, the Maison Fragile label, founded by Mary Castel, breathes new life into the art of table setting with panache. Here, Limoges porcelain is like a blank canvas, serving as a support for expression for prominent artists, emerging designers, calligraphers, and renowned chefs.
We love: the cult plate duo by Sonia Sieff (€127), the Coco Chanel coffee cup by Jean-Michel Tixier (€64), and the purple onion dish by Alain Passard (€110).
Maison Fragile, 4 Rue de Jarente, Paris 4th. Open Tuesday to Friday from 10am to 8pm, Saturday from 11am to 8pm, Sunday from 2pm to 6pm, and Monday from 10am to 7pm.
© Michel Giesbrecht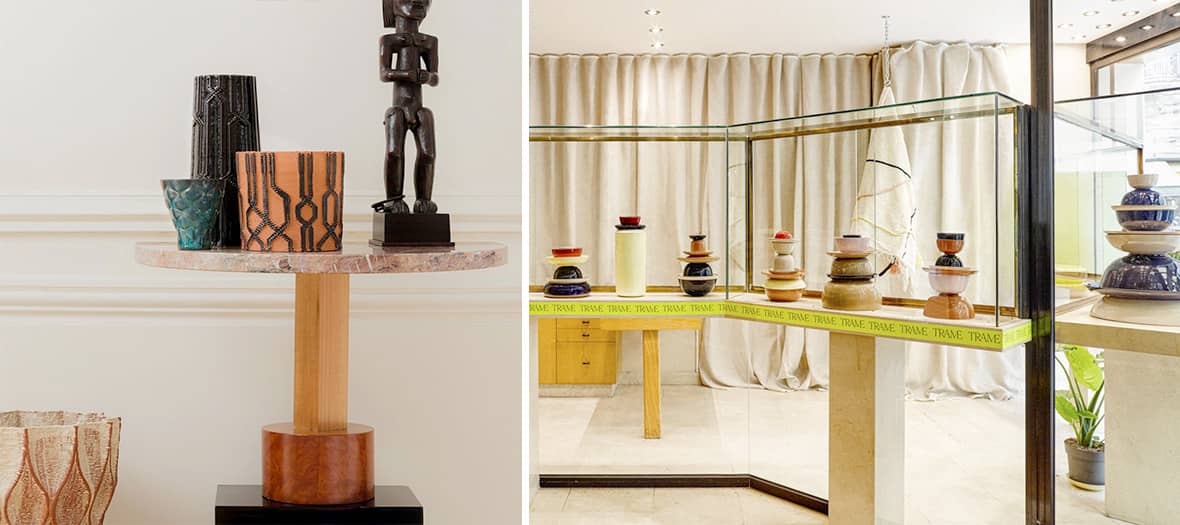 Pooling talents is the stroke of genius behind this young decor label, initiated by Ismail Tazi. Specifically, Trame invites trendsetting designers to immerse themselves in the culture and know-how of foreign artisans, in order to establish a creative dialogue between them. Their collaborative work gives rise to unique contemporary pieces handmade using ancient techniques. The first two collections, created in Morocco and Calabria (Italy), are to be discovered in the atypical setting of a former Marais jewelry store, revamped by Sophie Dries.
We love: the trendy colored plates (€38), ceramic candleholders by Julie Richoz (€52), and pompom rugs (€690).
Trame, 17 Rue de Poitou, Paris 3rd. Open Thursday to Sunday from 11am to 7pm.
© Matthieu Salvaing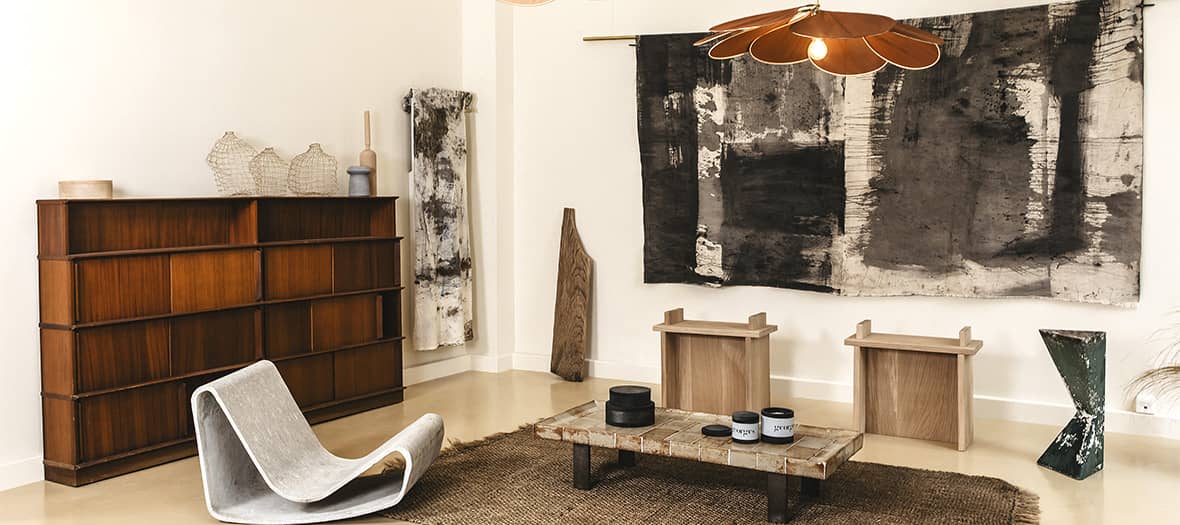 A small French artisanal gem tucked away in a secret courtyard of Saint-Germain-des-Prés, Georges, leaves nothing to chance when it comes to creating its nomadic and modular decor pieces. Using natural materials, local sourcing, upcycling, and recycling, one can reinvent their apartment's decor every day. Mylène Niedzialkowski's world is simply magical, with dried flower cuttings for the perfume laboratory, lighting fixtures made on the central table inspired by brutalist architecture, vintage objects, sewing space, decorative accessories, and minimalist furniture with bold curves.
We love: the iconic Pale lighting fixture inspired by retro fans (starting at €250), Magnolias, small pink stainless steel mesh flowers delicately hung above the couch or to decorate a staircase (starting at €145), and scented candles made from French organic rapeseed wax and Grasse perfume extracts, nestled in a burnt wood case, making for a chic and Zen decorative item (starting at €65).
Georges, 19 rue Jacob, Paris 6th and is open Tuesday to Saturday from 10am to 6pm.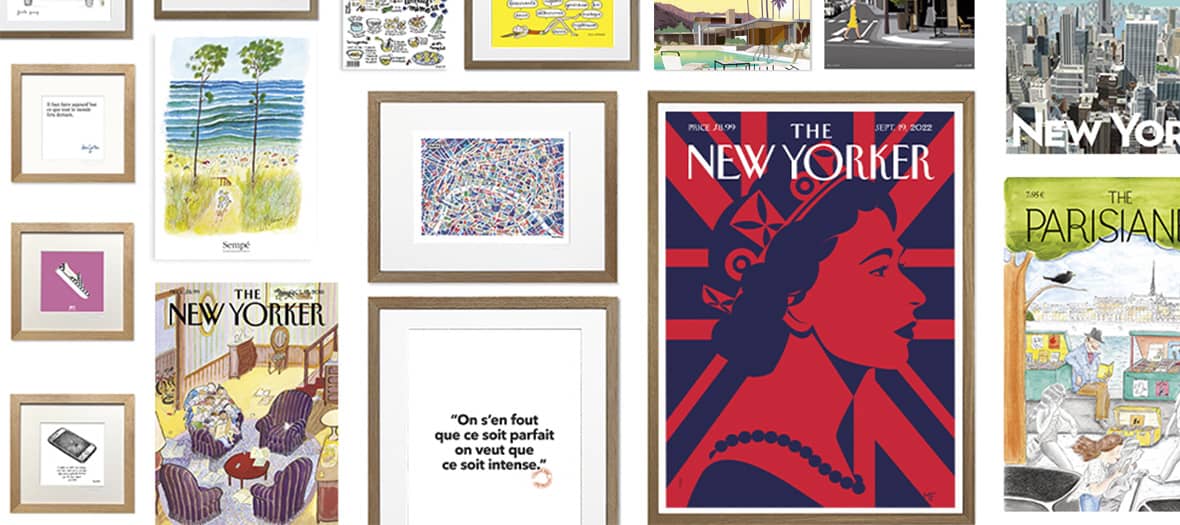 From Sempé to Soledad, and including Darcel and the mythical covers of The New Yorker, are a hit. The Parisian publisher already has a presence in all the leading concept stores and has its own shop on the street in the heart of Saint-Germain-des-Prés. On-site, one can find an insane selection of prints to add style to their walls, with the only difficulty being choosing among them!
Favorites include Loïc Prigent's pithy phrases in black and white ("I was so hungry I forgot to Instagram my meal"), Exergian's graphic images referencing our favorite cult series, and inspiring covers of the imaginary Parisianer magazine (starting at €49).
Image Republic is located at 4 rue du Cherche-Midi, Paris 6th, and is open Tuesday to Friday from 10am to 1pm and 2pm to 6pm, and on Saturday until 7pm.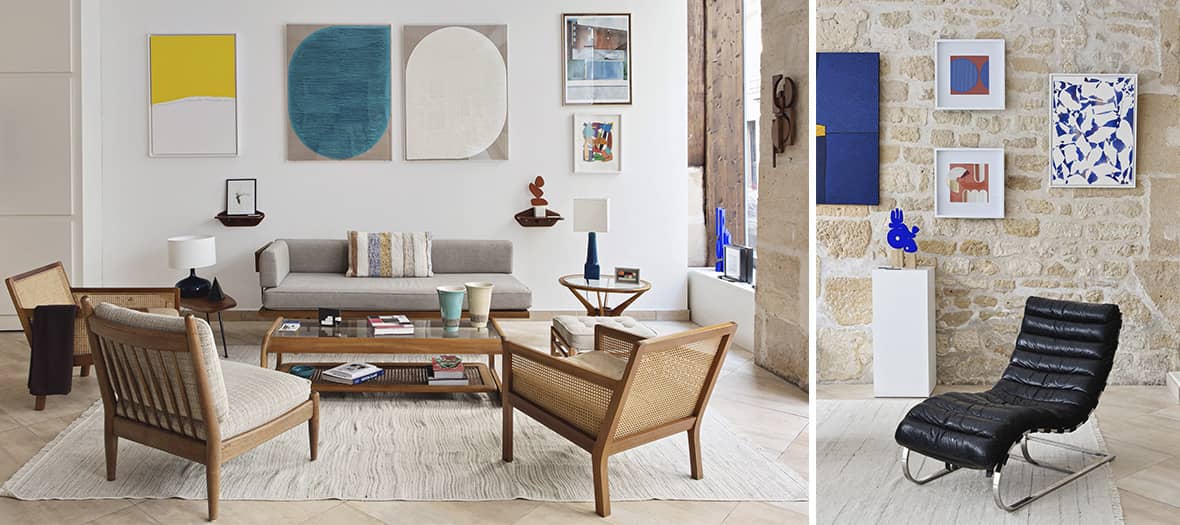 After working for prestigious auction houses, Fanny Saulay and Olivia De Fayet decided to quit and start Wilo and Grove, their new generation art gallery, where emotions prevail over speculation. The two friends break the codes of the market by offering works by international artists at prices ranging from 50 to 7,500 €. A concept that hits the mark as they are located in the Sentier, an inspiring and furnished place where everything is for sale.
We love: Vanessa Bouzigues' loop patterns, wooden and woolen wall compositions (from €280), fashion series by photographer Hervé de Mestier (from €280), and delicate drawings by Hubert Mardi (from €250).
Wilo and Grove, 40 rue des Petits Carreaux, Paris 2nd. Open from 11am to 7pm from Tuesday to Saturday
© Hervé Goluza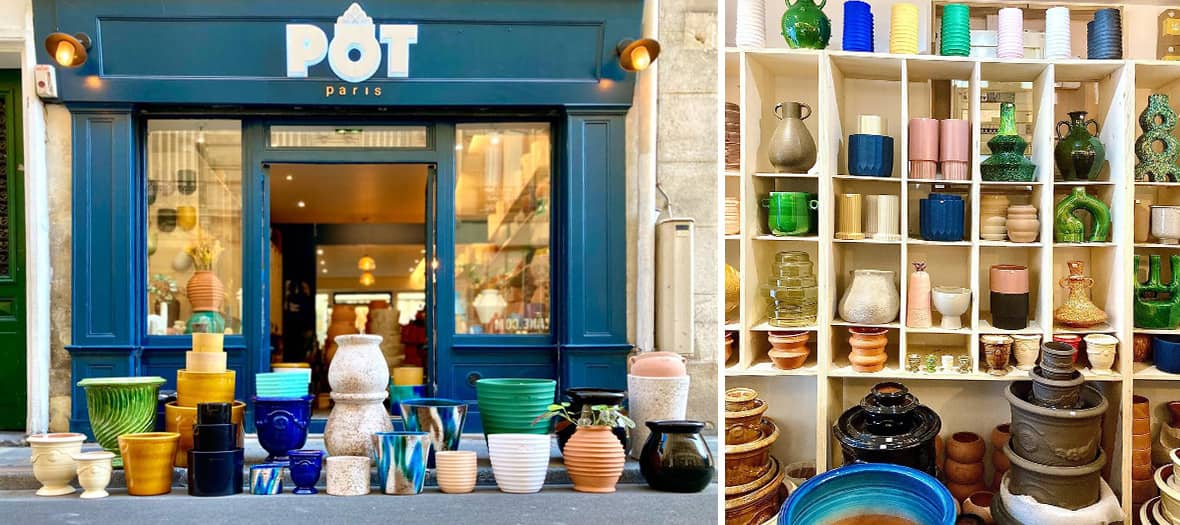 As its name suggests, the micro-boutique in the Marais, Pot, has bet everything on... pots! Sizes, shapes, styles, colors, there is something for every taste and budget. But how does one become a pot dealer? Not finding a container worthy of the laurel received for his housewarming party, Thibault decided to embark on the adventure alongside his "buddy" Jean. While giving pride of place to French pottery artisans, the two accomplices also present pieces from European designers every month.
We love: the coffee cup pot (€19), the pot with feet (from €29), and the possibility of ordering a 100% custom-made pot (from €39 per custom-made pot). You could hit the jackpot!
Pot, 32 rue des Blancs Manteaux, Paris 4th. Open from Tuesday to Saturday from 10:30am to 7:30pm and Sunday and Monday from 12pm to 7:30pm.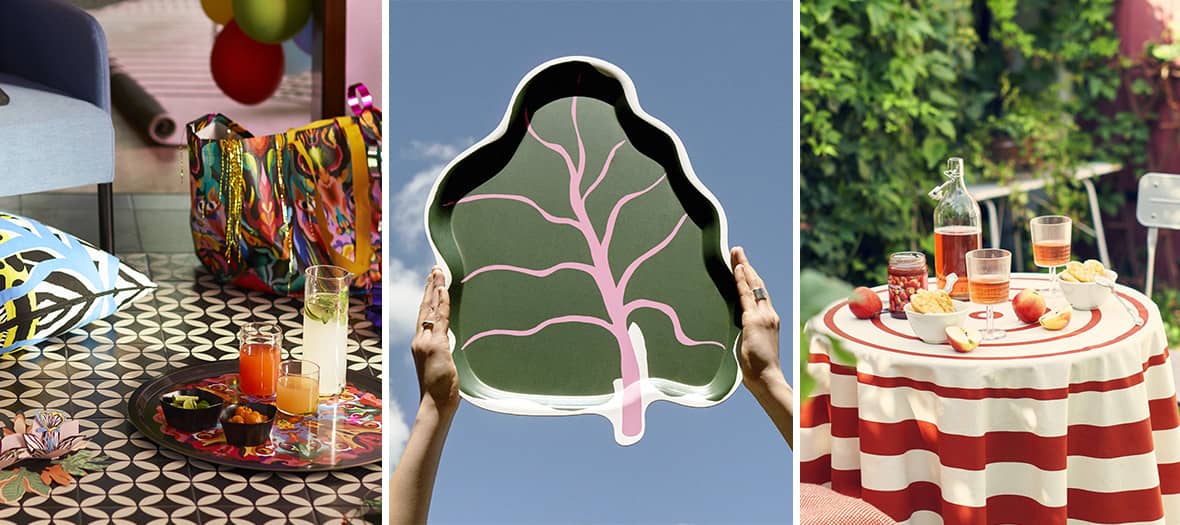 No need to take the car or wait in line at the Madeleine store to enjoy Ikea's mini prices, thanks to the Rue de Rivoli store, just across from the Samaritaine. With its 2,900m² on 3 levels, it's an opportunity to find a condensed version of what is most popular with Parisians, namely accessories and decorative objects: plants, storage, bed linen, tableware, and lighting.
We love: succulent plants in pots (€3), orchids (€5.99) or large coconut palm (€9.99), a rattan armchair (€79.99), a beautiful handmade rug (€279), a scandi coffee table (€44.99), a beautiful Mad Men-style armchair (€299), or a great selection of bed linens, including a blue and white checkered one.
Ikea, 144 rue de Rivoli, Paris 1st. Open Monday to Saturday from 10am to 8pm and Sunday from 11am to 8pm
© Julien Hay
Also discover the new La Redoute Interiors boutique in the Sentier and the coolest hardware store in Paris.