Want to redecorate? Here are the addresses to remember to give an extra soul to your interior.

Herbarium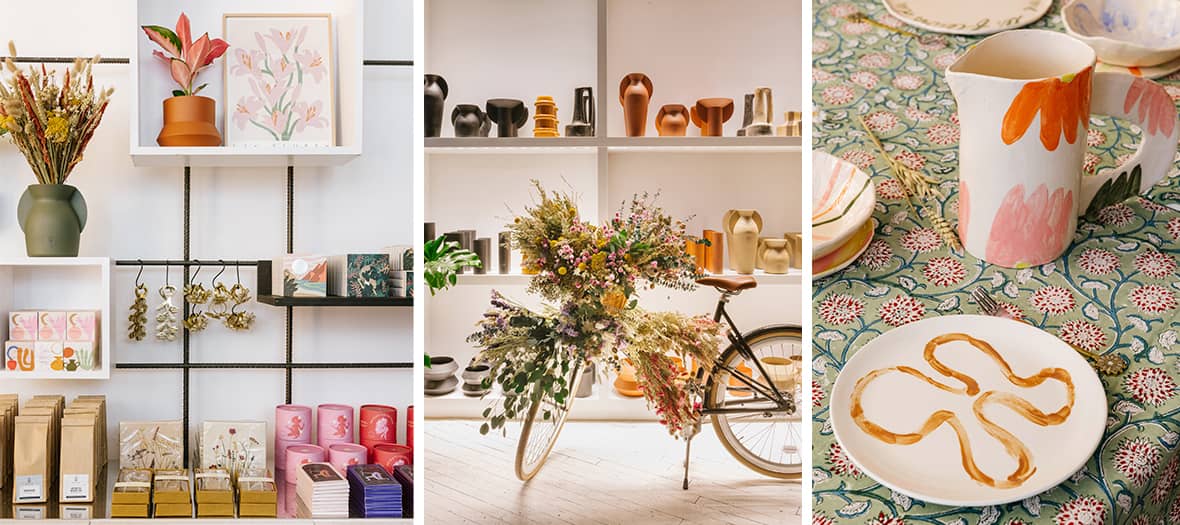 For those who wish to put more greenery in their lives, Herbarium has opened its new pop-up store with 150 m² in the heart of the Marais. Founded in 2017 by the Ruilhat sisters and then bought by By Charlot customizable plants , it is the first French herbal brand. We forget the traditional versions to make them real essential pieces of decoration. Seasonal flowers are pressed then framed to dress all interiors with a vegetal and urban atmosphere in always fresh tones. The little extra: you can attend workshops every week with, on the program, painting on ceramics, dried flowers and many other ideas...
We like: the compositions of bouquets of dried flowers (starting at €35), the sober and elegant cache-pots (starting at €15), the personalized initial herbarium (€75), the flower plate in Samantha Kerdine x Herbarium ceramics (€35), the begonia pot (€17), leather gardening gloves (€29) and workshops to offer or to do with friends (from €35).
Available until June 19, at 23 rue du Pont aux Choux, Paris 3rd
Dacha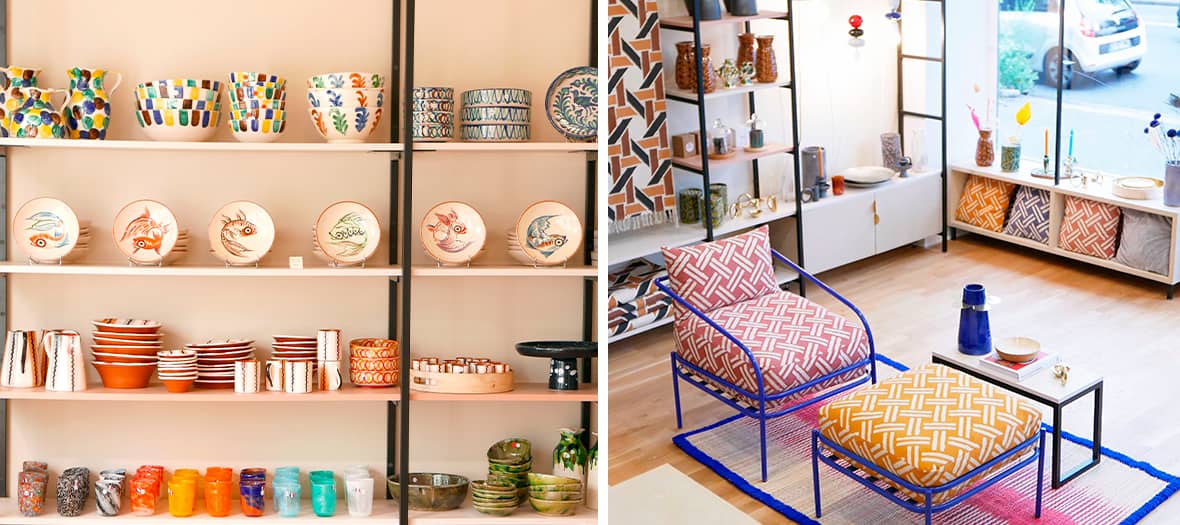 Dacha changes house! The decoration studio founded 5 years ago by Amandine Furhmann and Mériadek Caraës has just moved into a new setting located a stone's throw from La Samaritaine . The brilliant creative duo now has a space large enough to present all of its collections: crockery, household linen, lighting, decorative objects, and recently furniture. All designed in Paris and manufactured by craftsmen with forgotten know-how.
We like: the plates enamelled with soap bubbles in Spain (€18), the " made in France " Murano glasses , mouth-blown by an Italian craftsman living in France (€16) and the mud print cushions printed by hand. mud in India (€40).
20 Quai de la Mégisserie, Paris 1st
H&M Home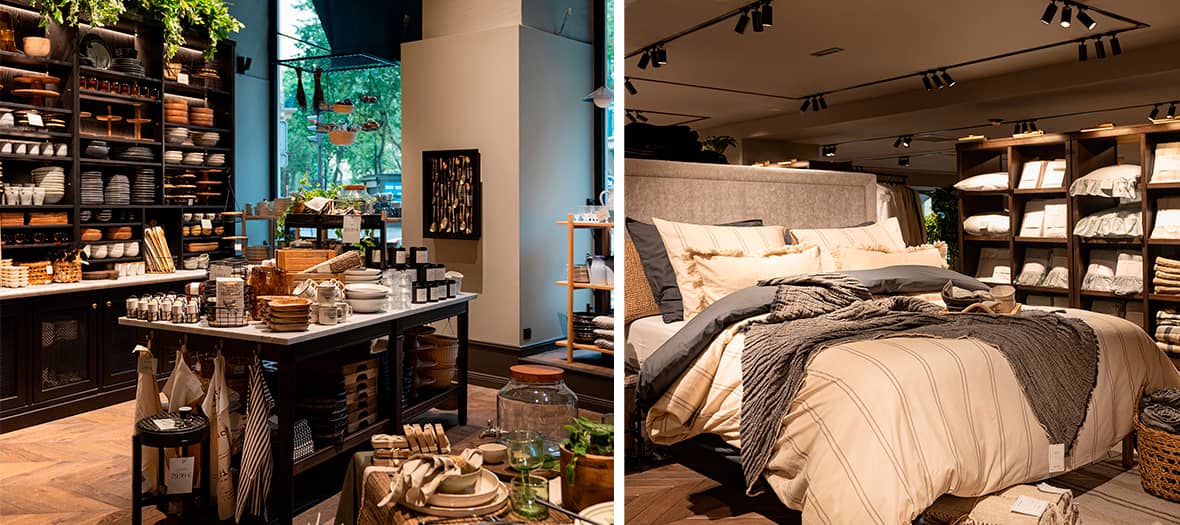 Welcome to the house. Or rather an XXL mansion with majestic staircase and impressive Haussmannian heights, filled with distinct spaces dedicated to the house. H&M Home inaugurates its very first French concept store dedicated solely to low-cost decoration in an inspiring setting. What profusion! Bedroom, bathroom, living room, dining room will find what they are looking for, provided you focus on very soft rather than marked tones. Note: some great collabs' like with the stationery Season Paper , the perfumes of the Robertet house and the cool illustrations of Sacrée Frangine.
We like: the bed sets worthy of a luxury hotel or with pretty floral prints on the 1st floor (€49.99), the rattan baskets (€29.99), a porcelain serving dish (12.99 €), a Matisse -effect blue cushion cover (€4.99), a cane armchair (€249), a side coffee table (€49.99) and dinner services that are sometimes retro, sometimes very chic, without forgetting a fine selection of cache-pots (€14.99) and glass vases (€34.99) as well as dried flowers of all kinds.
14 boulevard de Capucines, Paris 9th
Fragile House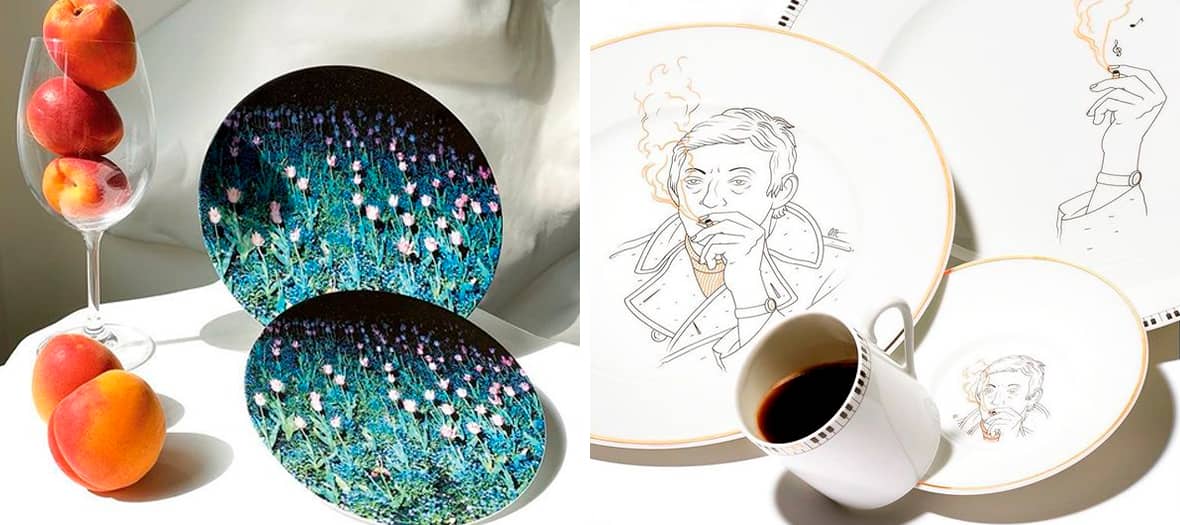 His wildly arty dishes are displayed on trendy tables as well as on the walls of stylish apartments. And for good reason, the Maison Fragile label founded by Mary Castel dusts off the art of the table with panache. Here, Limoges porcelain is like a blank canvas, thus serving as a medium of expression for prominent artists, emerging designers , calligraphers and renowned chefs.
We like: the cul-te plate by Sonia Sieff , the Coco Chanel coffee cup by Jean-Michel Tixier and the orange artichoke bowl from the collage by Alain Passard .
32, rue de Turenne, Paris 3rd
© Michel Giesbrecht
Trame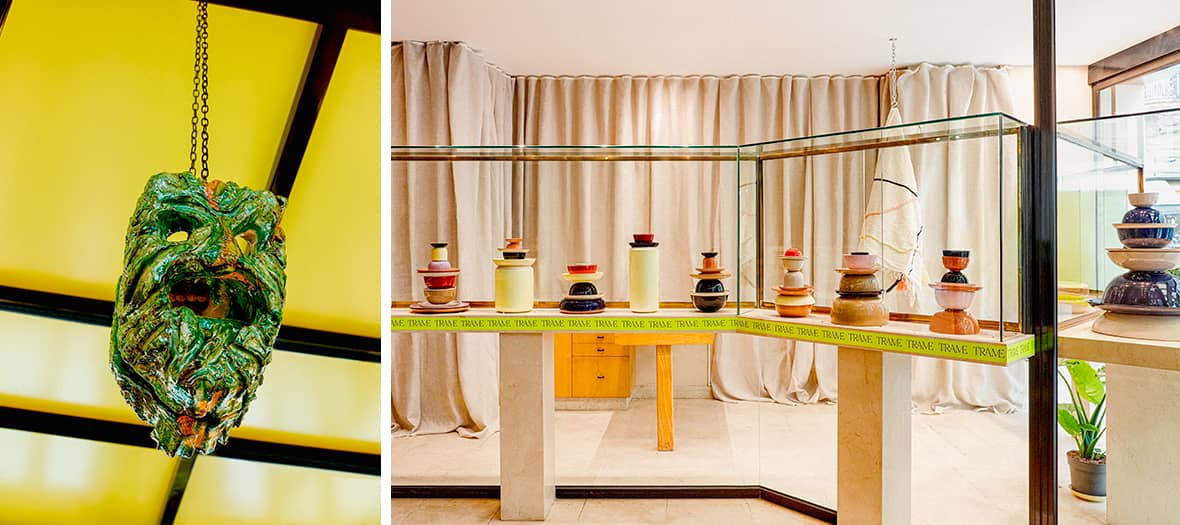 Pooling talents is the genius idea of this young decoration label , driven by Ismail Tazi . Concretely, Trame invites fashionable designers to immerse themselves in the culture and know-how of foreign craftsmen , in order to establish a creative dialogue between them. From their collaborative work are born unique contemporary pieces made by hand using ancient techniques. The first two collections made in Morocco and Calabria (Italy) can be discovered in the atypical decor of an old jewelry store in the Marais , revamped by Sophie Dries.
We like: the plates in trendy colors (€19), the ceramic candlesticks inspired by Italian bracelets (€75) and the arty Berber rugs (€940).
119 rue du Temple, Paris 3rd.
© Matthieu Salvaing
George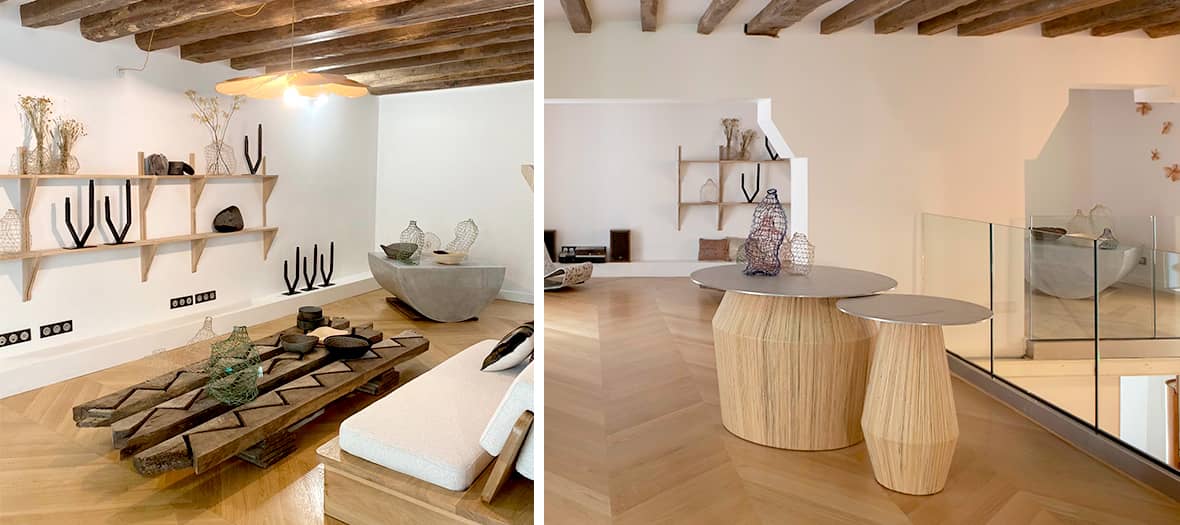 Hidden in a small secret courtyard in Saint-Germain-des-Prés, Georges , a little gem of French craftsmanship , leaves nothing to chance: natural materials , local sourcing , upcycling and recycling , we reinvent the decor of our apartment every day. thanks to these nomadic and modular pieces. Let it be said, the world of Mylène Niedzialkowski is simply magical: cutting dried flowers for the perfume laboratory , making lights on the central table inspired by brutalist architecture , antique objects, sewing space, decorative accessories , minimalist furniture with assumed curves…
We like: Pale , the iconic light inspired by retro fans (starting at €190); Magnolias , small flowers in pink stainless steel mesh that you delicately hang above your sofa or to decorate a staircase (starting at €145); the Soma line of furniture in solid oak (€1,170 for a stool, €2,900 for a double bed); scented candles made from French organic rapeseed wax and perfume extracts from Grasse , nestled in a case of burnt wood to make them a zen and chic decorative object (from €65).
19 rue Jacob, Paris 6e
Image Republic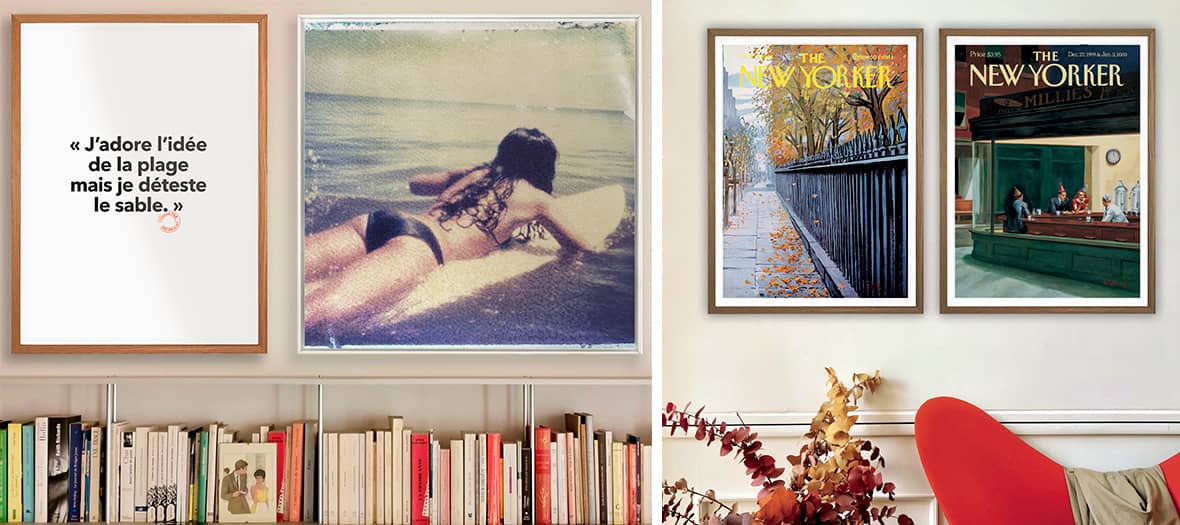 From Sempé to Soledad , via Darcel and the legendary covers of The New Yorker , Image Republic posters are a hit. Already present in all the concept stores that matter, the Parisian publisher is finally opening its own shop on the street in the heart of Saint-Germain-des-Prés . On site, there is an insane choice of prints to pimp your walls with style, the hardest thing is to choose!
We like: Loïc Prigent 's spicy phrases written in black on white (" I was so hungry, I forgot to instagram my meal "), the graphic images of Exergian in reference to our favorite cult series and the inspiring covers of the imaginary magazine Parisianer (starting at €45).
4 rue du Cherche-Midi, Paris 6e
Wilo and Grove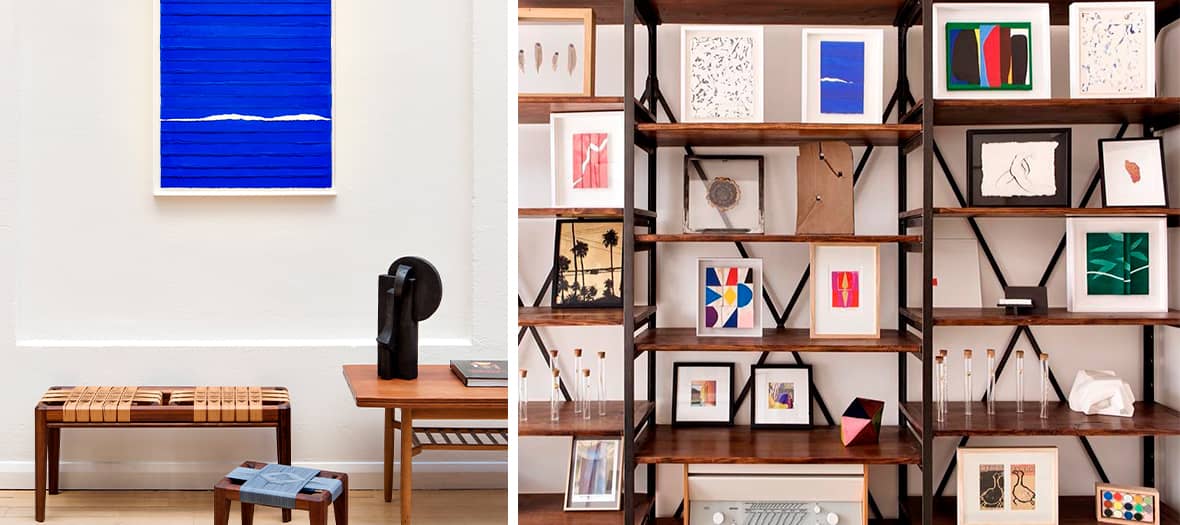 After having officiated in prestigious auction houses, Fanny Saulay and Olivia De Fayet decided to slam the door to set up Wilo and Grove , their new generation art gallery , where emotions prevail over speculation. For four years now, the two friends have been breaking market codes by offering works by international artists at prices between €50 and €5,000. A concept that hits the mark as they inaugurate their first permanent space in the Sentier , an inspiring and furnished place where everything is for sale (opening September 17).
We like: Vanessa Bouzigues' loop patterns, wall compositions in wood and wool (starting at €220), fashion series by photographer Hervé de Mestier (starting at €450) and Hubert's delicate designs Tuesday (from €250).
40 rue des Petits Carreaux, Paris 2nd
© Herve Goluza
JAR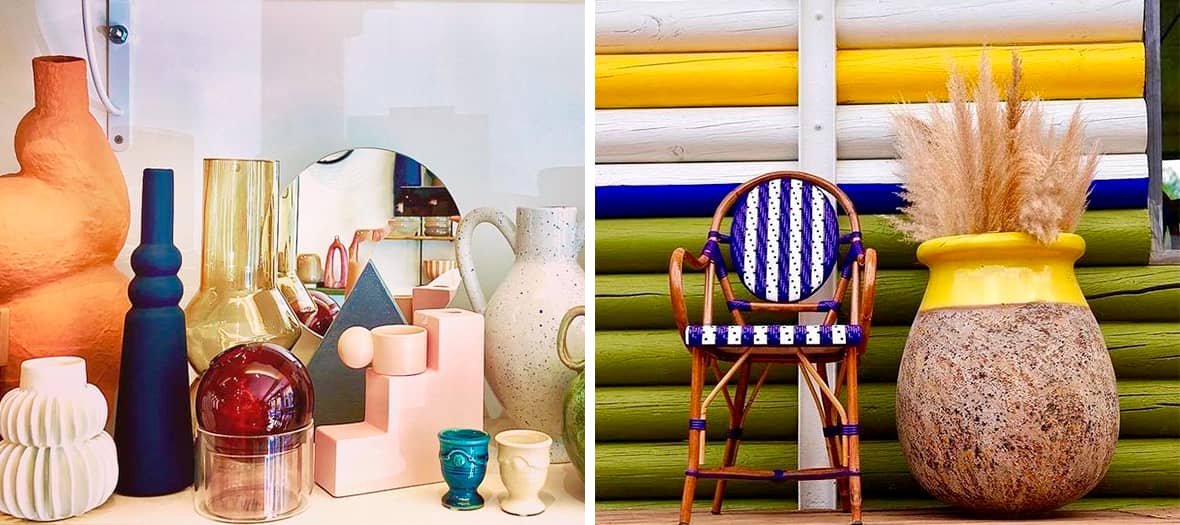 As its name suggests, the Marais Pot micro-boutique has bet everything on... pots ! Sizes, shapes, styles, colors, there is something for every taste and every budget. But by the way, how do you become a pot dealer? Not finding a container worthy of the laurel received for his housewarming party, Thibault decided to embark on the adventure alongside his " buddy " Jean. While they give pride of place to French potters , the two companions also present pieces by European designers each month .
We like: the Anduze jars , from the XXL version to the small egg cup, and the possibility of ordering a 100% made-to-measure jar (starting at €39 for a made-to-measure jar). The jackpot is yours!
32 rue des Blancs Manteaux, Paris 4th
Ikea Rivoli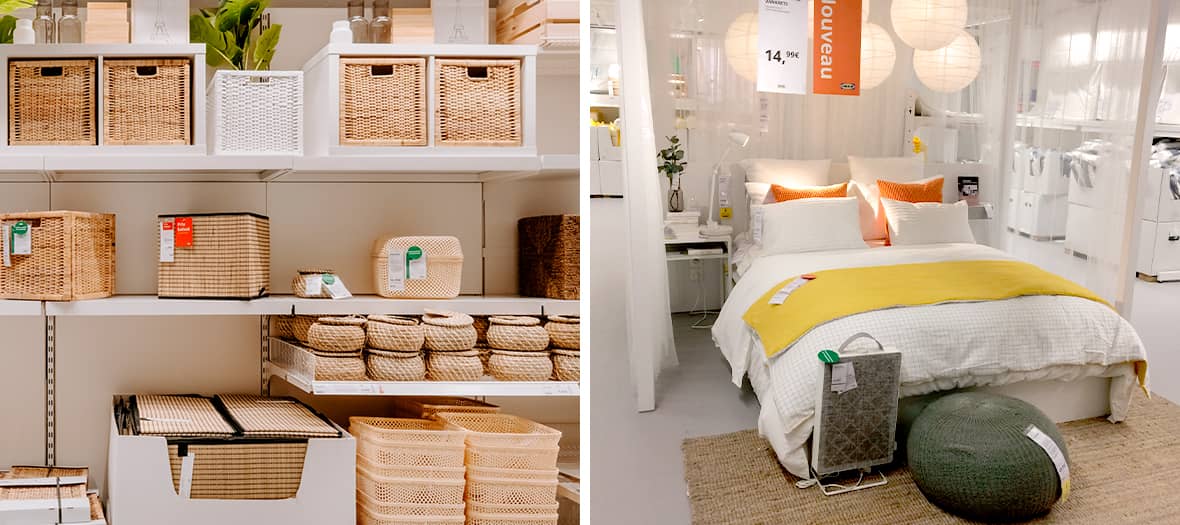 No need to take the car or queue at the Madeleine store to take advantage of the mini prices Ikea , which has just opened a brand new storefront address on rue de Rivoli , just opposite La Samaritaine . With its 2,900m² on 3 levels, it is an opportunity to find a summary of what is most popular with Parisians, namely accessories and decorative objects: plants, storage, bed linen, art table and light fixtures .
We like: potted succulents (€2.99), orchids (€4.99) or a large coconut palm tree (€9.99), a rattan armchair (€139), very Bali-style pendant lights, a beautiful handmade rug (€299), a scandi coffee table (€49.99), a beautiful Mad Men -style armchair (€259) or even a great selection of bed sets, including a blue and white checkered one.
144 rue de Rivoli, Paris 1st
© Julien Hay
Also discover the new La Redoute Interiors boutique in the Sentier and the coolest hardware store in Paris.