If the perspective of spit-roasted chicken rejoices you and that the appealing fragrance of this Sunday dish makes your mouth water all the other days of the week, your wish is going to come true !
Chicken thigh or leg ?
Poulet Rouge is the new rôtisserie that has just landed at Batignolles. Directly from their workshop: top notch chicks… More exactly red label made in France farm range chickens.
Their fowls come with pedigrees—they are served as we like them. A nice plump chicken with its cooking juice  (€19), all served with a choice of roasted small potatoes with thyme (€3), yummy veggies as well as pilaf rice or quinoa...
A fowl for every taste
Here, chicken is not just served granny style.
Hurray for French-style Wing: with an organic roasted wing marinated with herbs, in a spicy version, with mustard or lemon-ginger. It comes with fries irresistible fries (€2.50) to dip in a French ketchup, mayonnaise, a BBQ sauce chipotle piment.
Let's not forget: the yummy veggie sandwich (€5) for a hunger pang or the delicious cold roasted chicken with a house mayo and  chips (€9.50 for one portion.)
Deliver on the dot
Forget burgers and sushis, Poulet Rouge, is truly the best friend of your el Netflix evenings. Everything has been thought out for top delivery and pretty packaging...
The must? Having a nice "complete" dinner delivered, along with wine (€ 15 per bottle) and a terrific dessert when you friend show up. Just slip the chicken and potatoes in the oven as though you had baked it yourself.
To finish on a high note: delicious regressive desserts : rice pudding, chocolate delight or their incredible roasted fruits (€25) really look great when you serve them along with their mortal sauces: caramel chocolate or milk jam.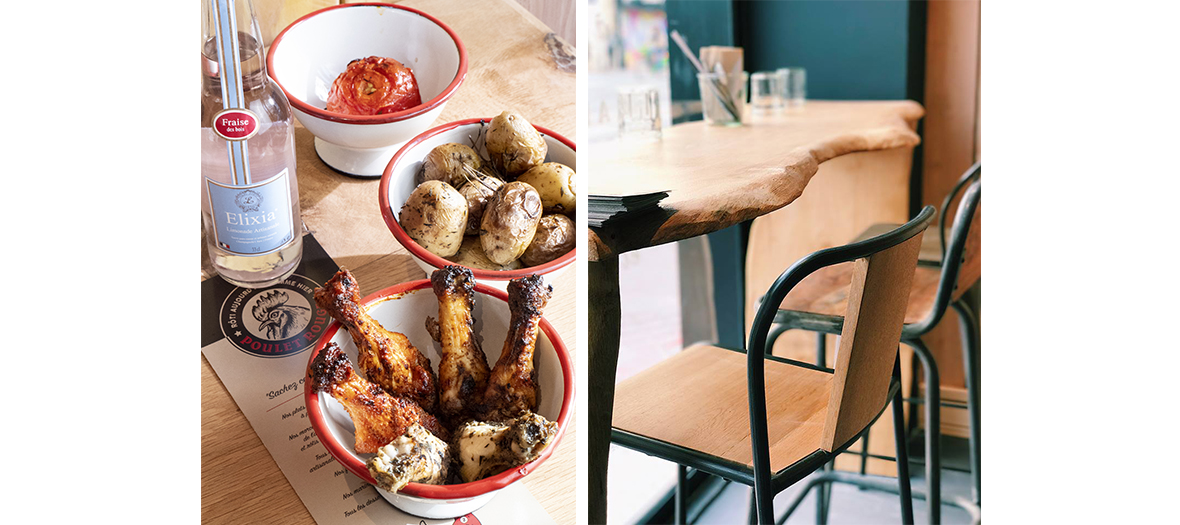 Delivery handled by Deliveroo, UberEats, Glovo in the 17th, 18th, Levallois, Clichy, Saint Ouen.
Also discover the best coquillettes with truffle in Paris.