It's tempting to keep this hideaway all to ourselves because it's really a haven of peace far from the urban jungle. But our professional conscience took over…
It's in the courtyard of Klay, the ultra select club of Montorgueil, where all the hottest bodies of the capital come to workout, that one discovers this amazing heated skylight replacing the former DEPUR.
In other words, here is the refuge of beautiful people, except that this lush Winter garden is open to all starting in the morning and until late at night…
It's the ideal venue to impress your date, because, in addition to the very caliente tropical decor (cactus, ferns, banana trees), the food is divine.
At lunch time, depending on your appetite, there is a choice of two menus (3 dishes, 30€; 5 dishes 60€): delicate raw sea bass tartare or cèpes mushrooms egg; seared scallops, free range fowls or a savory veal chop—as well as savory desserts: an amazing caramel pear stuffed with refreshing vanilla cream and lemon dash.
We love: coming to flirt at the bar in the evening around a cocktail as though one were in Rio or Sao Paolo and drink though the night signature potions concocted by a talented mixologist (Caterpillar gin, ginger beer, mint, cucumber; Cachapolitain cachaca, Cointreau, cranberry, green lemon; starting at 12€).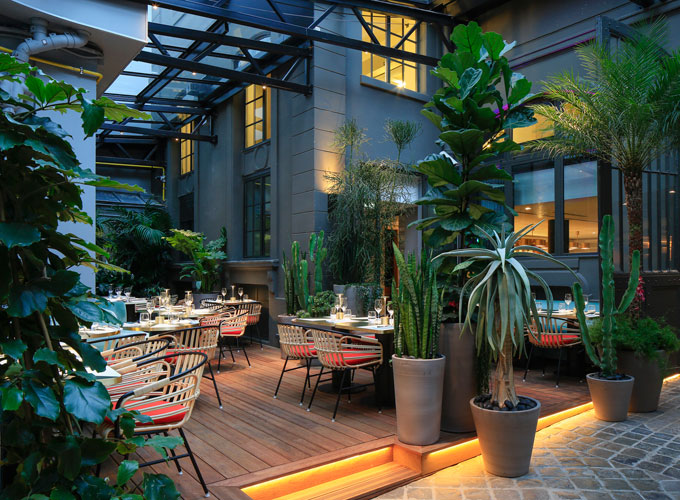 Careful: since the skylight does not open, cigarettes are forbidden.
Garance menu at lunch from Monday to Friday 30€. Sinople menu at lunch and dinner 60€. Closed on Sunday night.
Also discover Citron, the café of Jacquemus and Kaspia everyone is talking about.