Simon Stone, the Australian film director known in France for his theatrical productions such as Medea, is creating the buzz this season. His latest production? A funny, brilliant and super contemporary version of the famous opera by Verdi (remember Pretty Woman with Julia Roberts in her long red dress …).
Inspired by Alexandre Dumas' novel, La Dame aux Camélias, this opera in 3 acts offers a very modern take on feminine tragic by Verdi.
A Traviata where selfies, influencers, Whatsapp conversations and social networks are part of the show. How does it work? Explanations.
The feminine tragic by Verdi
Acte I - Champagne galore. The curtain rises on a socialite evening where Violetta Perry, a sulfurous party girl, meets young bourgeois Alfredo, totally infatuated by her, interpreted by Benjamin Bernheim. Despite her quest for freedom, Violetta is smitten.

But this idyll falls apart when Giorgio (Ludovic Tézier), father of Alfredo, implores Violetta to give up this scandalous liaison which, according to him, compromises the family reputation and the wedding of his daughter. Violetta sacrifices herself. Despite millions of followers, how is it possible to survive such grief?
Make room for the sublime "Addio del passato" between sequins and runny mascara, under the direction of maestro Michele Mariotti. Fantastic!
A scenography in Kardashian land
Simon Stone, remarkably transports the work of Verdi into the 21st century by introducing Violetta Perry as a super connected gal, 24h/24 on the social networks, muse for a perfume brand, very concerned with her image.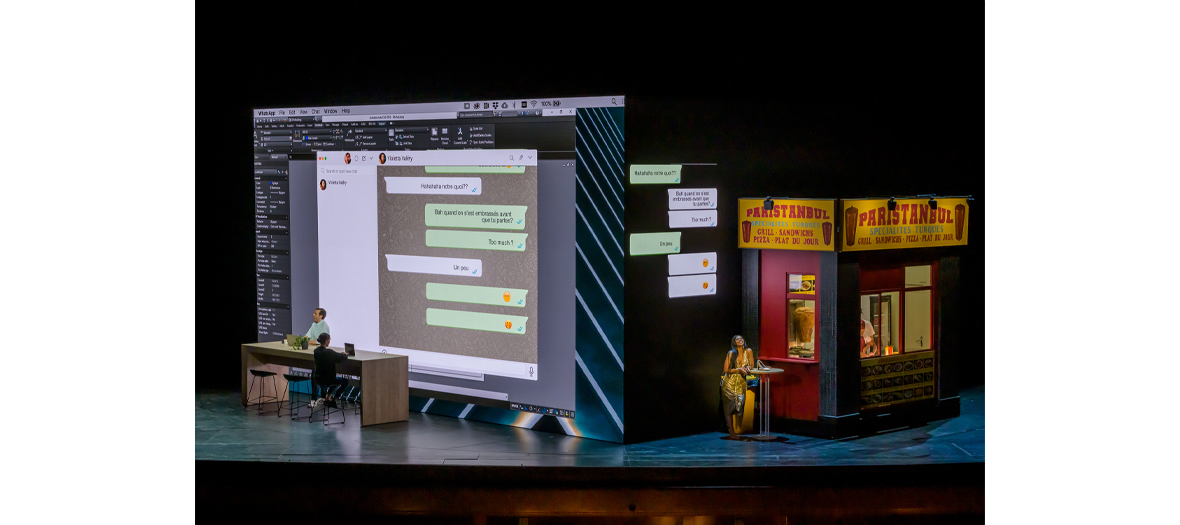 Between duckface Instagram selfies, party photos, the character of Violetta is brilliantly renewed through the large screen projections of her Facebook posts and SMS conversations on the Palais Garnier stage.
Pretty Yende, the new star of the Opéra
Pretty Yende, the South African soprano star, perfectly incarnates the part of Violetta: a woman more than ever in keeping with the times, super digital and independent.
Rewarded with the1st prize at Operalia, this 34-year-old artist is already a worldwide lyrical revelation with a strong willingness: bringing diversity to the Opéra. Because the origin has no influence on what she refers to as the voice "gift". A nice demonstration that shows it was not better before.
At the Palais Garnier, until the 16th of October, starting at €25 per seat.
© Charles Duprat / OnP
Also discover the must-see exhibitions.