"We must stand out," hammers Shiri Slavin, founder of Super Vintage. No doubt, this stylist, who trained at Studio Berçot, formerly in charge of the home selection for the Merci concept-store, cultivates difference. The address she has just opened in the trendy 10th with her designer husband combines fashion, accessories and retro decoration in a studied off-the-wall spirit. Get ready for an eyeful.
The Palace years are making a comeback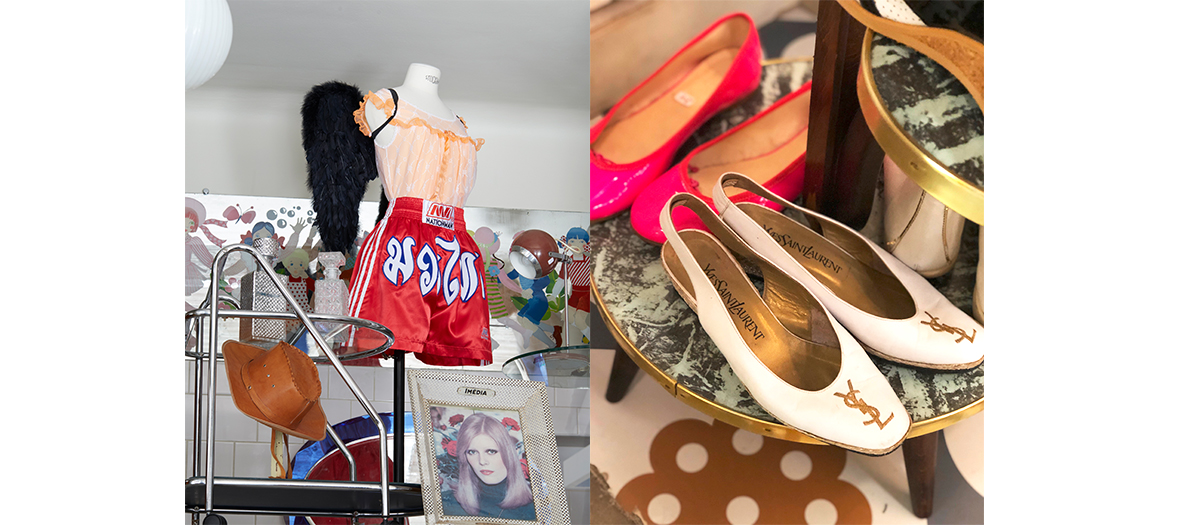 Fashion is a perpetual renewal, right? Passionate about antiquing and tag sales, Shiri has an eagle eye when it comes to spotting nuggets from the 50s-80s furiously in keeping with the times. Her hobby? The "camp" movement, theme chosen for the MET gala last May—showcasing extravagance and fantasy.
Result: strong pieces, often off-beat, such as wild Seventies jumpsuits worthy of evenings at the Palace disco, an evening bag inlaid with rhinestones (€28), body tops in lurex such as  those worn by wrestlers from Glow, a Donald cartoon t-shirt (€20) and a wide array of clip-on earrings. More "sober"? Pretty long dresses in Victorian-style lace, kimonos, label scarves (Dior, Givenchy…), bourgeois YSL shoes (€75), travel bags and suitcases from the former UTA airline. All at tiny prices.
Same thing for men with soccer shirts glorifying the former stars of the round ball
(€10-18), houndstooth shirts or with fancy V-necks as well as brand new polos, with the original tags.
Kitsch is the new black
To boring minimalistic decoration, Shiri prefers curiosities "that make people smile". Example? A very realistic ceramic bulldog, nude bimbos on water glasses, bowling pins (€5), spade and diamond-shaped pitchers … and even garden dwarfs! A great way to bring a touch of fantasy to your home sweet home.

Open Monday to Saturday from noon to 7:30pm. More info on the Instagram account @supervintageparis.
Also discover where to rent deluxe brands in Paris.