If there is a gastronomic address to name-drop this winter, it's for sure Maison du Danemark, an institution on the Champs Elysées. Aside from its mythical name, everything has changed, starting with the owners, Groupe Bertrand, quite adamant to give a new life to this rendezvous more than ever in keeping with the times. Finally a really mundane and Parisian rendezvous on the Champs. The concept remains unchanged: on the ground floor, one still finds Flora Danica, a super chic and accessible brasserie with a cocktails bar. On the first floor: the upscale Copenhague (we are wagering on an upcoming star).
To ensure a major lifting: GamFratesi, the iconic couple of Danish design, has imagined a decor that is at the same time warm, filled with light, minimalist, twisting copper, velvet and marble. Leading couturier Raf Simons even imagined couture textiles for the house.
Another big surprise: chef Andreas Moller, international rising star, is behind the ovens at the Copenhague. The spirit of Jean-François Piège with a Scandinavian touch. This talented tattooed 30-year-old concocts a "New Nordic" avant-garde cuisine, never oily, and just the taste we enjoy. We are warning you, it's explosive… totally unforgettable. So if you like salmon, apple, aniseed, raw eats…You are going to love it. 70€ for the chef's menu with 5 dishes. 6 dishes signature menu for 115€ in the evening.
We like: the secret indoor terraces (very very heated). The first one is next to Flora Danica. Ideal for die-hard smokers with a cocktail (12€) and a delicious Smørrebrød, their famous toast (17€), in stay warm on the terrace mode. The heated terrace of the gastronomic restaurant on the 1st floor is tops. A must for cigar smokers.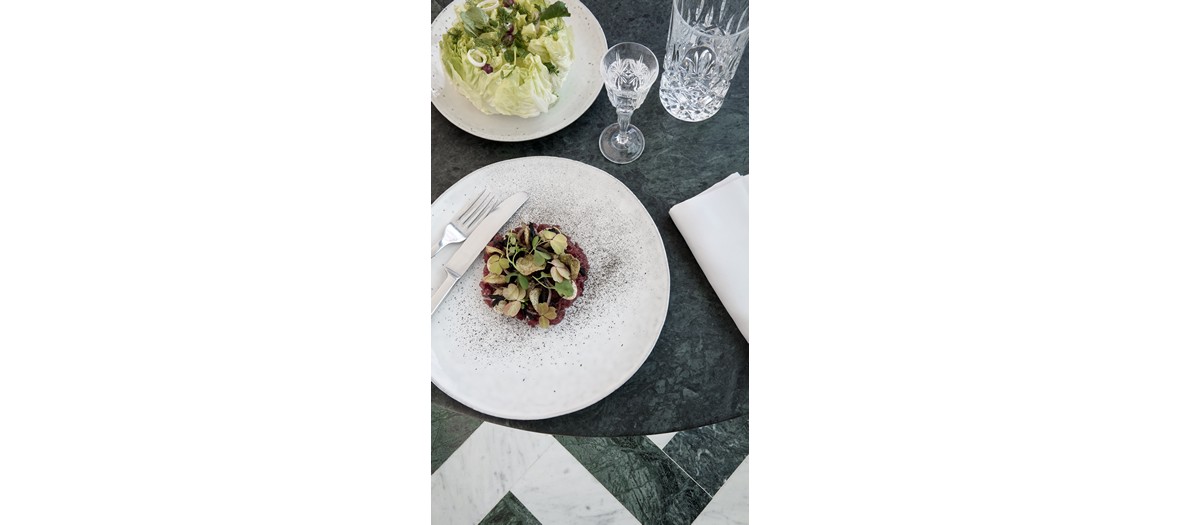 Flora Danica : open everyday from noon to midnight. Le Copenhague: open Monday to Friday lunch and dinner.
Also discover the Café Smörgas, the best swedish bar for tartines in Paris.