Brioches, the departure from Versailles, Axel de Fersen—we thought we knew the whole story… Well not really in fact, there is more!
What become of Princess Marie Thérèse, aka  Madame Royale, after her parents, Marie-Antoinette and Louis XVI, were decapitated and the death of her younger brother?
Suspense! This is exactly the pitch of this fabulous novel signed Sylvie Yvert; "Mousseline La Sérieuse", her little surname… Imagined like an intimated diary of a princess in exile, this intimate story retraces the destiny of a woman such as we had not imagined. The story of a little girl brought up amidst the splendour of Versailles, imprisoned during 3 years in awful conditions before being sent to joint the family of her mother in Vienna and never finding herself a true motherland …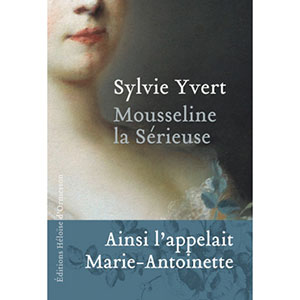 We adore: rediscovering all very realistic anecdotes with a Marie Antoinette, horrified at the time of the Revolution, through the eyes of her little girl...
by Elodie Rouge @elorouge
Mousseline la sérieuse by Sylvie Yvert aux Editions Héloise d'Ormesson.  18€