In the mood for ultra fresh home made dishes, a fun ambiance and an occasion to chill on a maxi sunny terrace? Head for Café Dad in the up and coming 17th, a skip and a hop from Batignolles, for a simple but efficient foodie rendezvous
Don't let yourself be fooled by the refined modern decoration (special kudos for the tiling and the Soledad Bravi framed illustrations), this is just the kind of brasserie we like.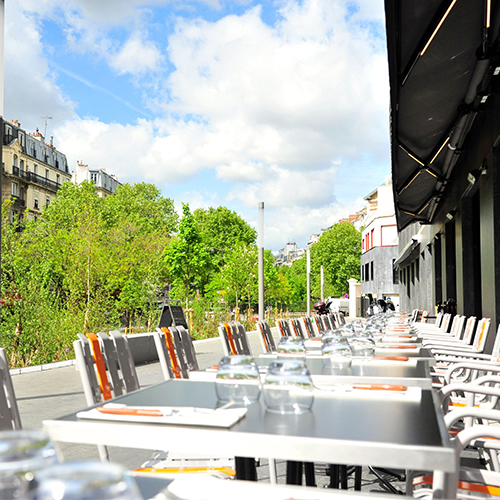 On the table! Bistro dishes, Gravlax salmon option (8€), salad, warm goat cheese and Parma ham bricks (13€) or knife cut raw tartare of beef (15€), with  a daily seasonal market driven menu  on the slate! Very fresh.
Tops: the southern exposure terrace that allows you to work on your tan any time of day. Also a great place for a happy hour afterwork with the gals to sip a cocktail at 6,5€ from 5:30 pm to 7:30.
We adore: their great Yankee brunch (eggs, pancakes, farmer cheese…) at 23€.
Open non-stop Monday to Saturday (very practical for late lunches), and on Sunday from 11:30am to 6:30pm.