© Steven Meisel pour la campagne Chloé SS18
Asymmetrical cuts, pastel colours, streetwear prints, preppy silhouettes … What are we going to nab from leading couturiers this season? Here are the six trends spotted during the show, ready to be worn.
Play the asymmetrical card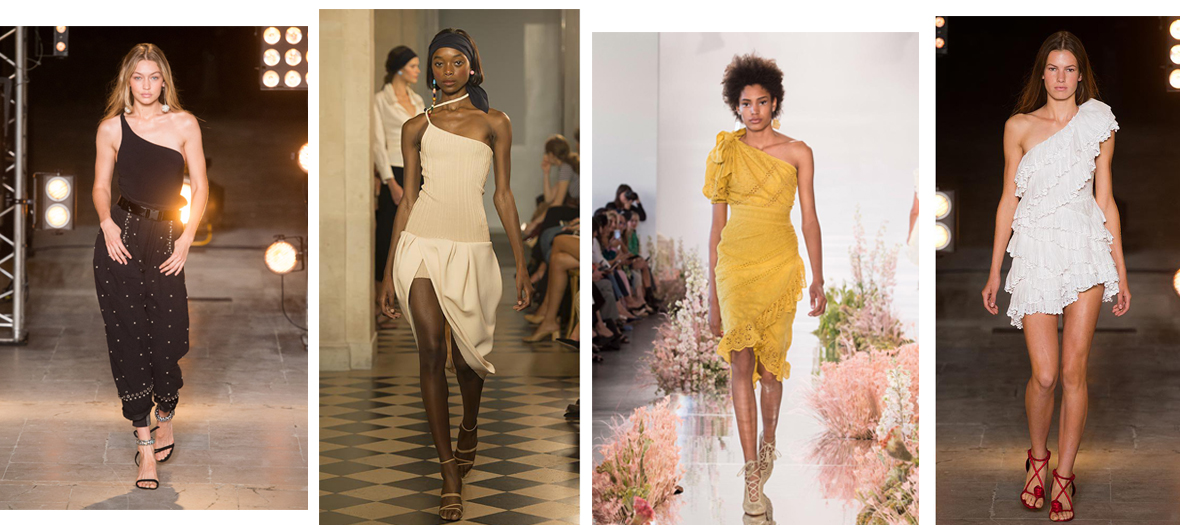 Devilishly erotic, the shoulder is making its coming out this season, looking for a kiss, thanks to asymmetrical cuts. The proof, Isabel Marant, Jacquemus and Saint Laurent have made it their seduction asset on the catwalks. The cool options? Fluid tops to slip into a pair of pants or a vamp red lace dress to be belted.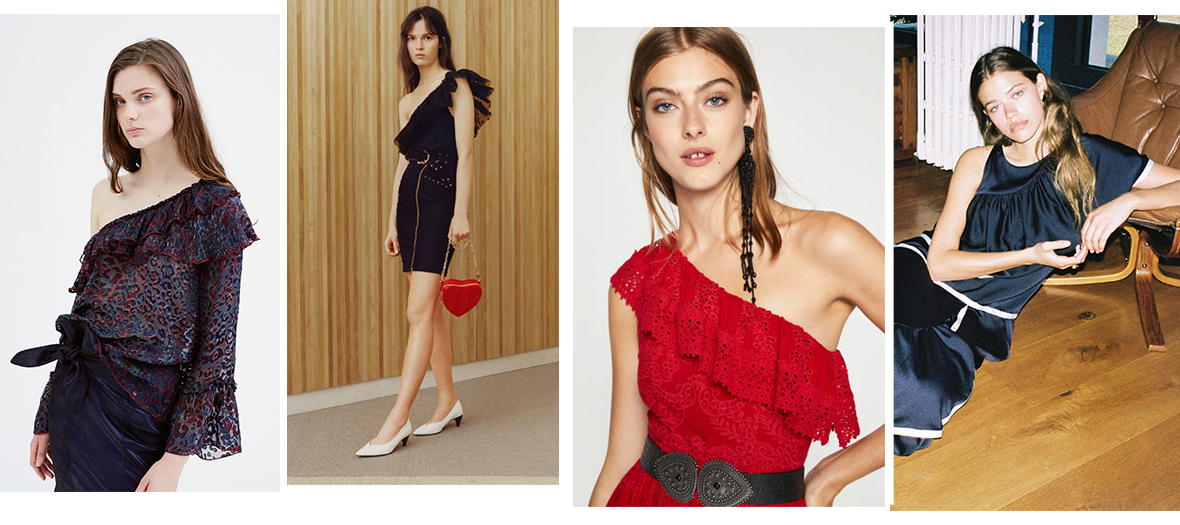 Asymmetrical Barrowl top with leopard print, Iro, €175.
Body Lowers in polyamid, Maje, 195 €. Available in boutiques on the 6th of March. Zipped skirt with studs and embroideries, €175; heart-shaped knapsack in quilted leather, €225, all by Maje.
Red dress with asymmetrical English embroidery, The Kooples, €278. Belt with fantasy buckle, The Kooples, €158.
Blue dress in polyester crepe, Maison Père, €395. Reader info: www.maisonpere.com
Whip out the one-piece pantsuit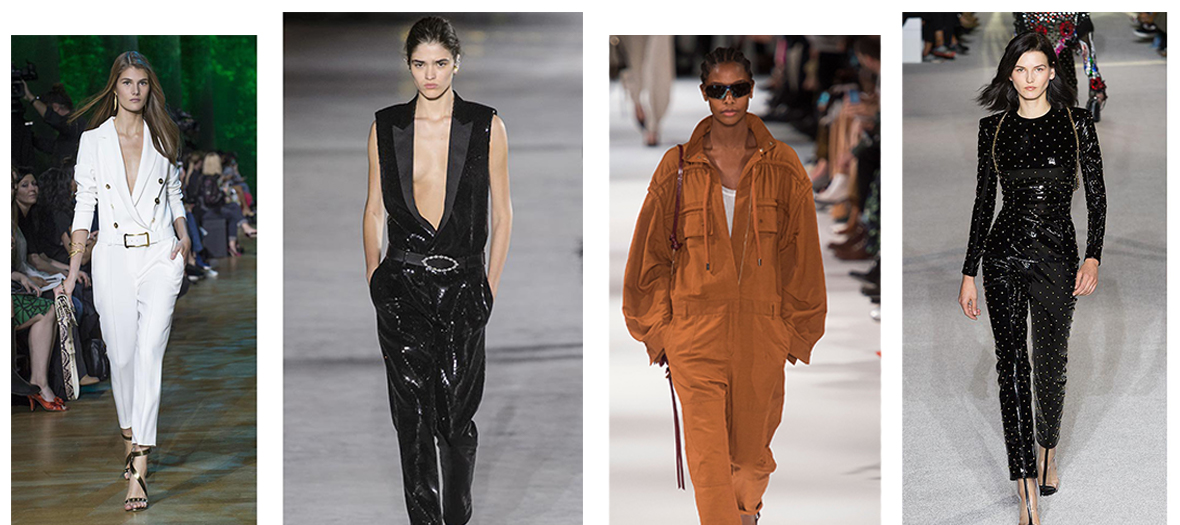 For a rock biker allure or the silhouette of a trendy posh Parisienne, the one-piece pantsuit is without a doubt the piece that gives most character to a half-season look. Globetrotter at Stella McCartney, super chic at Elie Saab and even SM mistress at Balmain, its chameleon side seduces all the leading designers. We adopt it for a day version with moccasins and for the evening, pimped with wowie stilettos.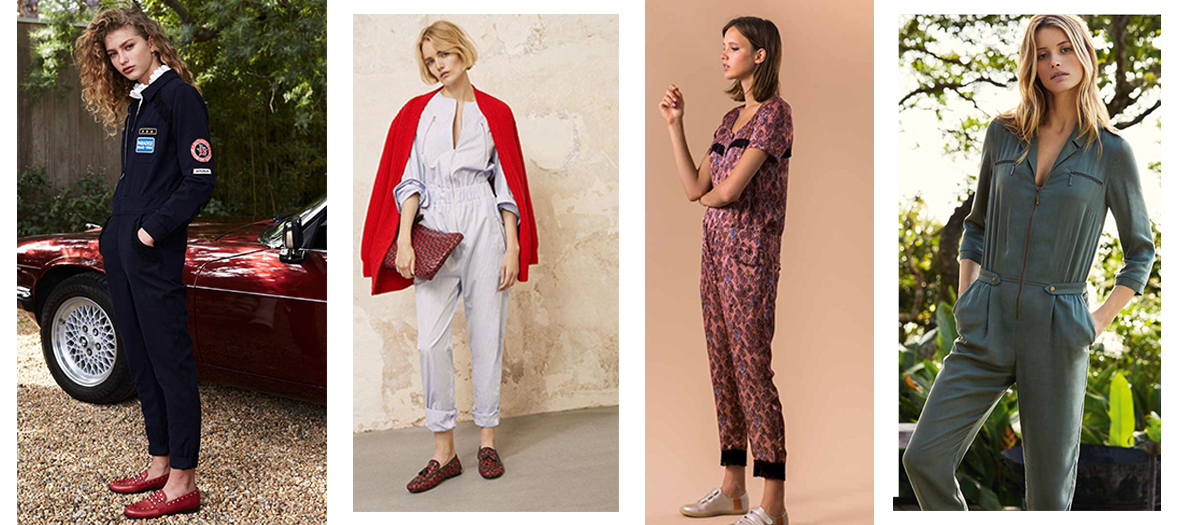 Jimini one-piece suit, €265; moccasins in red studded leather, Claudie Pierlot, €225.
One-piece suit €490; waistcoat €590; pouch €290; moccasins €330, all by Laurence Bras. List of resellers www.laurencebras.com.
Woods one-piece suit with leaf print, Heimstone, €450.
One-piece suit in Tencel, Etam €79.99 Soon available on the eshop.
Go for the XXL logo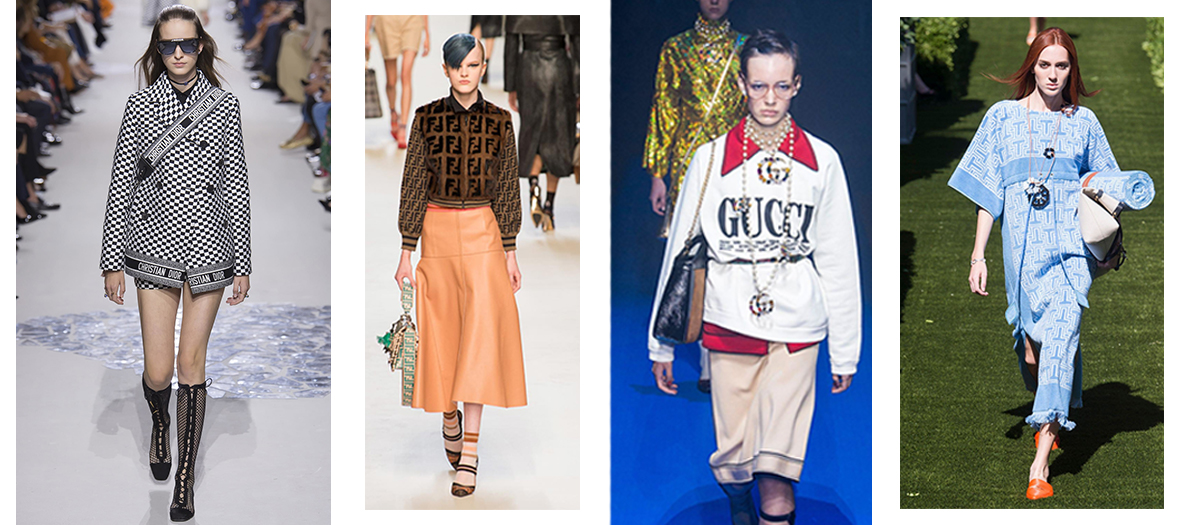 The fans of the years 2000 can rejoice : nevery as the XXL logo been so fashionable. It's a great way to showcase your favourite brand, like on the catwalks of Gucci, Fendi or Dior. The bigger, the better. And if we don't dare the monogrammed t-shirt, it still get street cred' thanks to a jogging outfit in the same vein ensemble. It's the daring touch that will get you noticed during Paris Fashion Week.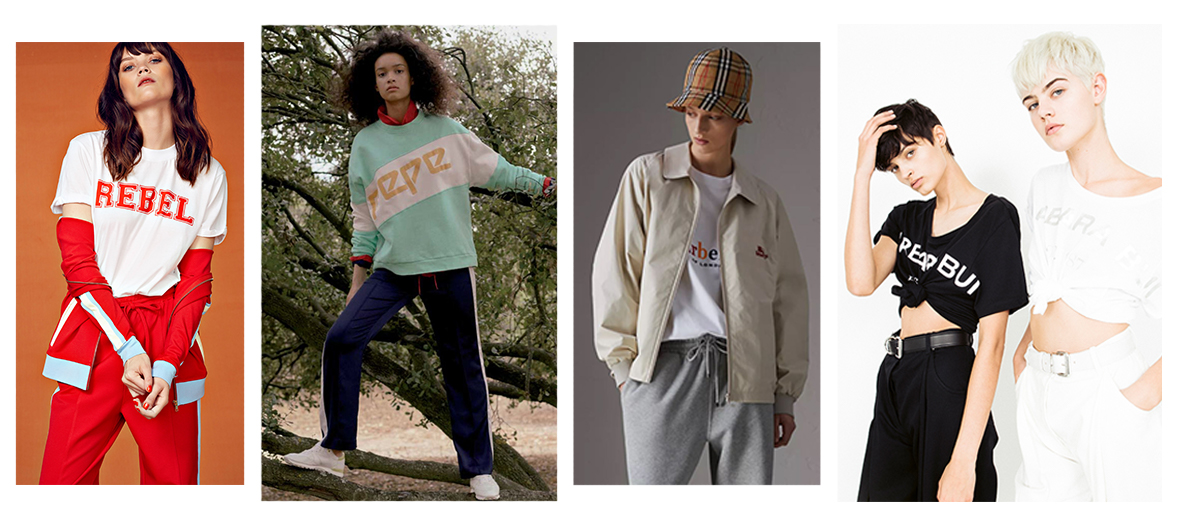 Jacket in jersey €145; pants in jersey €145; t-shirt in cotton €55, all by Essentiel Antwerp.
Sweat inspiration vintage Angela, Pepe Jeans, €75.
T-shirt in revisited cotton €210; jogging pants in jersey with archive logo €520; sandals in patent leather with Vintage check motif €480; Harrington jacket in revisited cotton, Burberry, €1150, all by Burberry.
T-shirt with logo in cotton, Barbara Bui, €120.
Dare the total look in denim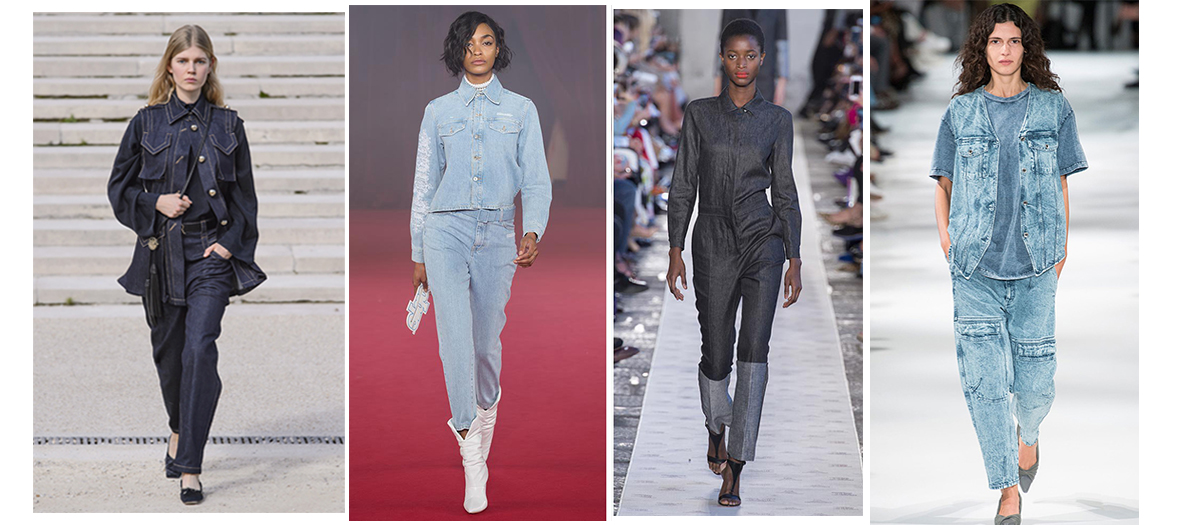 There is a resolutely Thelma and Louise touch in this new trend that is in the spotlight this season, as seen at Nina Ricci, Off-white et Max Mara. To dare the total denim look, two options : either an all-blue outfit or contrasted. The must: accessories. Belt, boots with heels, XXL earrings— take your pick.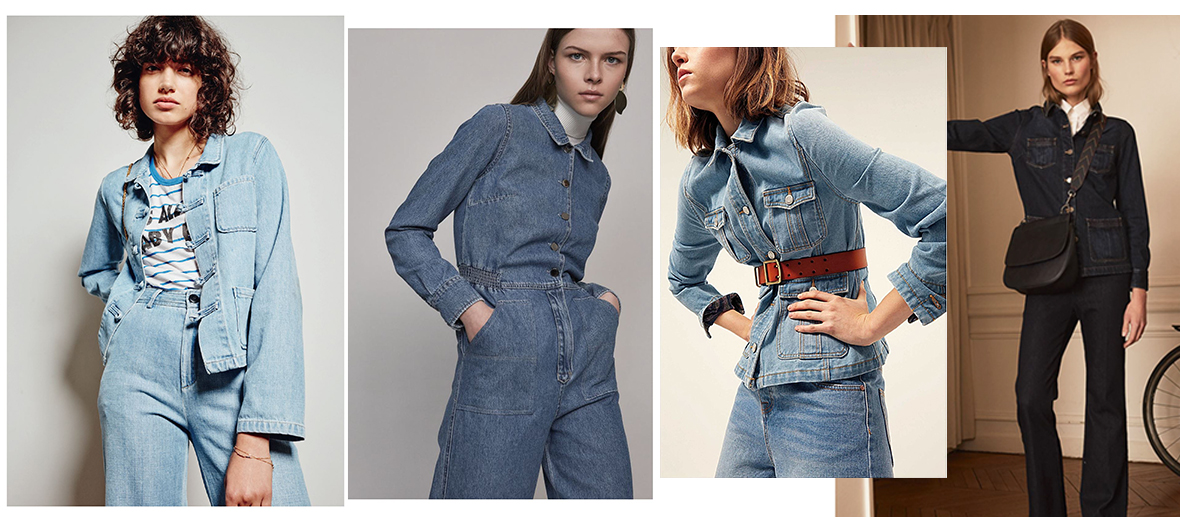 Jeans €135; jean jacket, €198 ; tee-shirt €65, all by Léon & Harper, soon available on the eshop.
One-piece denim suit, Les Petites, €195. Available in shops.
Belt €59; jean €89 ; jean jacket, €139, all by MKT Studio, on line mid-March.
Straight denim jacket, Robin, €19; Carla shirt, €175; leather bag, €345, all by Gérard Darel.
Pastel pink galore
Think pink ! Once again this season, pink is in the spotlight. And powdery if you please. Hurray for pastel at Dolce & Gabbana, Sonia Rykiel and Dior, on satiny, vaporous fabrics and even cottons. Soft and voluptuous, that is the key. To avoid the girl side, and of course to be twisted with a sportswear or rock piece like a bomber blouson, biker boots or a studded belt.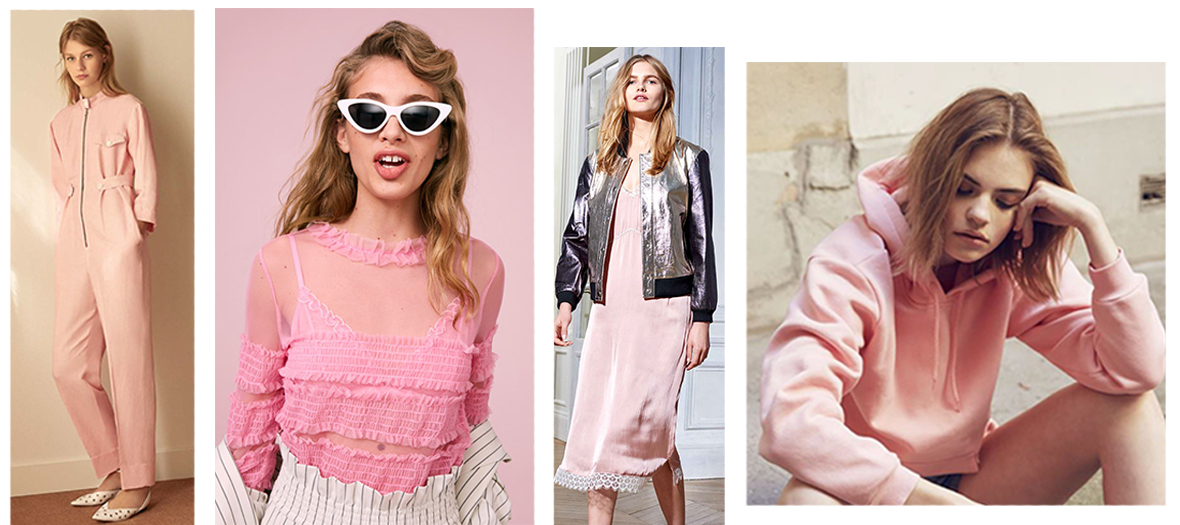 One-piece suit in linen and viscose, Sandro, €265. Available end of February / beginning march in boutiques and on line.
Cat-eye glasses, Monki, €12. Top and bra, Monki, €20 and €15 €. Available in boutiques.
Cotton sweatshirt, €59 ; shorts in denim, €49, all by School Rag. Soon available on www.monshowroom.com.
Go for the preppy look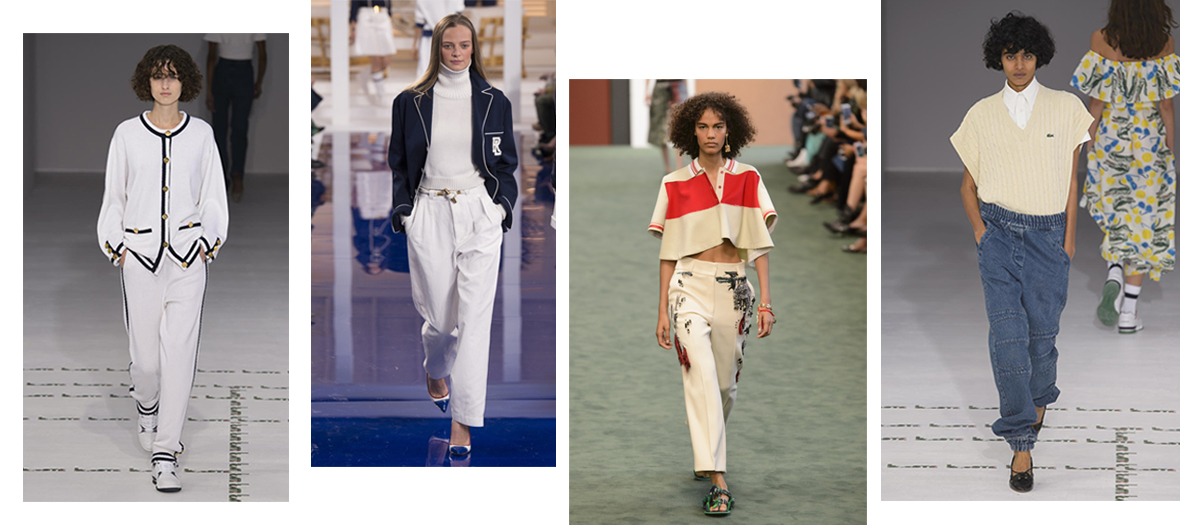 A wind of American upper class is blowing on the fashionsphere. So go for a high-end allure such as the silhouettes of Carven, Ralph Lauren (the emperor of the genre) and Lacoste. Cardigan and moccasins, a winning combo.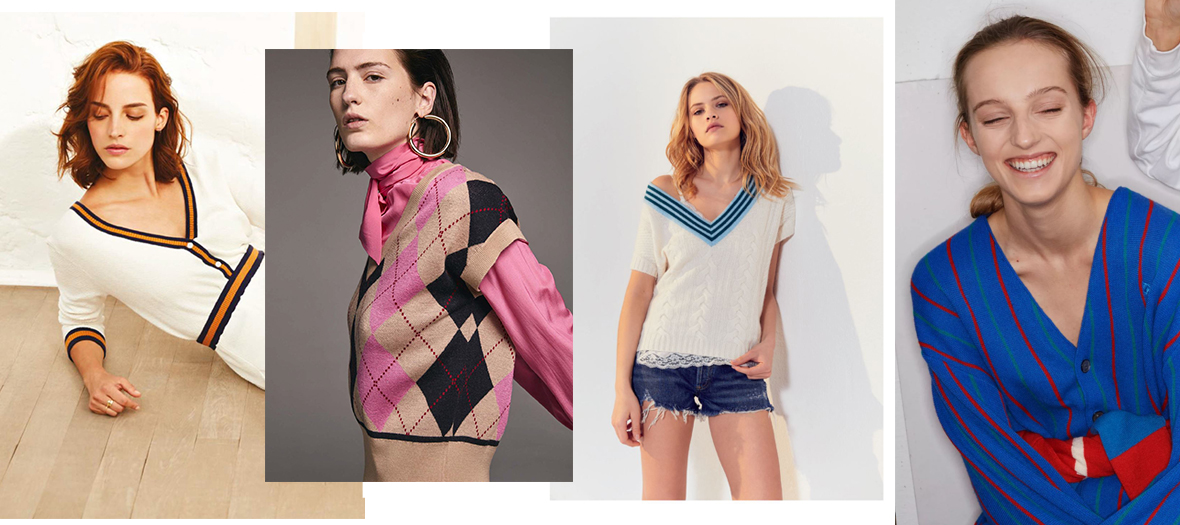 Pleated Douce skirt, €85; Cardigan Douglas, 100 € (available end of February), all by Marie Sixtine.
Pull Joan Biscuit, €230 and Celia silk candy shirt, €230, all by MdN.
Costa pullover in 100 % cashmere, Kujten, €225. Soon available in boutiques an on the eshop.
Revisited cardigan in striped wool, Burberry, €690.