© Odabaïa
All the inside-track fashionistas will tell you: being chic is a question of detail! After having chosen the bathing suit that enhances your shapes on the playa, just pimp the lot with strong accessories.
To affirm this fashion-statement from head to foot, here is your summer selection: fab bikinis spotted on odabaia.com, the Il était un fil connected basket, the tropicool Des Petits Hauts brooch to hook on a fluid caftan, beautiful coloured bracelets, pearly Balaboosté x The Daily Deb hoop earrings, or even must-have sunglasses by Fendi.
How to make your beach towel neighbours green with jealousy. Do you dare?
Fresh and colourful in Corsica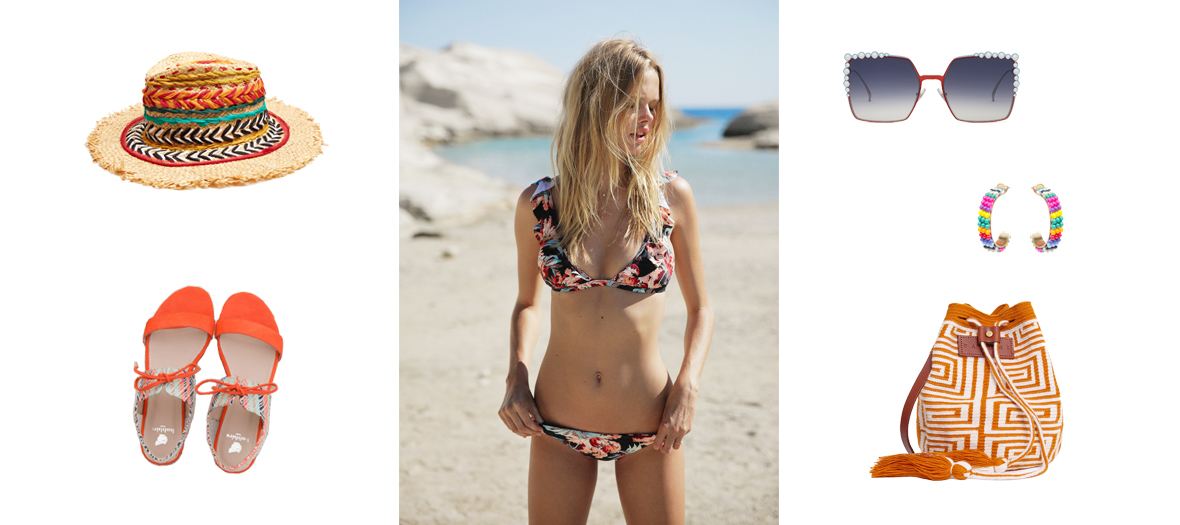 Stop the doldrums! Hurray for the holidays with this colourful and peppy bathing suit by Tori Praver, spotted on Odabaïa, the online concept-store with the most beautiful bathing suits and beach accessories of the moment. And, in order to be noticed as soon as you arrive on the beach of Palombaggia, we willingly pick amongst this selection of trendy accessories.
Spotlight on this adorable Tori Praver two-piece bathing suit with ruffles available on www.odabaia.com,
Adriana bikini top by Adriana TORI PRAVER Storm - Milos Floral, 99 € on sale at 84,15 € on www.odabaia.com
Bas de Bikini Cristina TORI PRAVER Storm - Milos Floral, 99 € on sale at 84,15 € on www.odabaia.com
Two-tone sunglasses, Fendi, 450 €.
Pearly hoop earrings, Balaboosté x The Daily Deb, 9,90 €. Sold starting the 17th of July at Galeries Lafayette, in the Balaboosté boutiques and on balabooste.com.
Colourful hat in raffia and braided silk, Etro, 450 € on www.matchesfashion.com.
Flat sandals in nubuck and raffia, Bobbies, 115 €. Available in the boutique: 1 rue des Blancs Manteaux, 75004 Paris.
Pop and sweet in the calanques of Marseille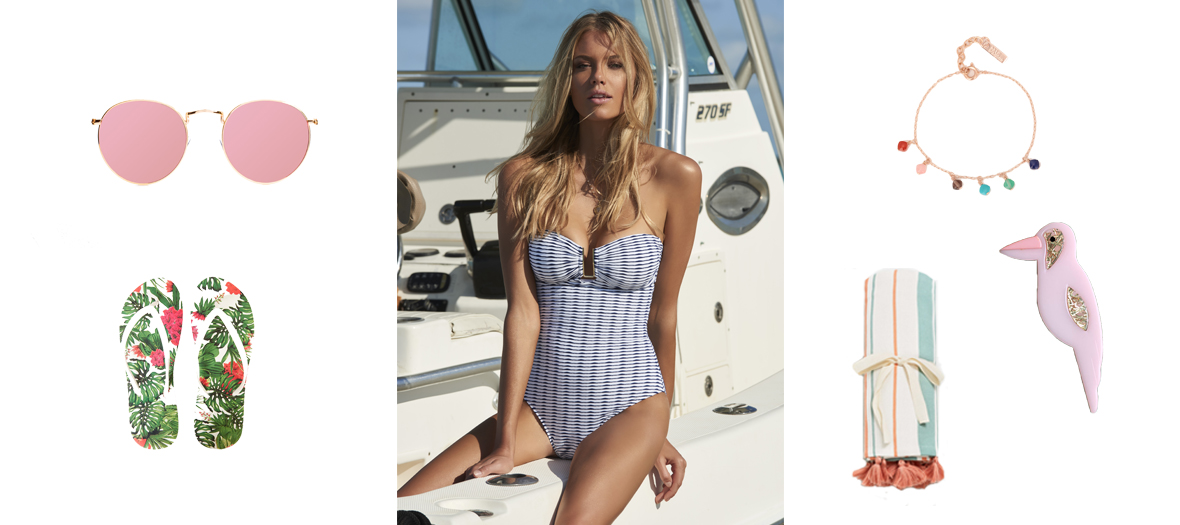 Very classy, this fab one-piece bathing suit spotted on Melissa Odabash spotted on www.odabaia.com. Perfect to show up while cruising along the calanques of Marseille, to be accessorized pop style by a fouta with pompons, ultra trendy pink sunglasses and an adorable pearly bracelet.
Bathing suit with a jewelled cleavage, Melissa Odabash, Ripple - Argentina, 291 € on sale at 218,25 € on www.odabaia.com
Golden Mudo bracelet in fine gold with multicoloured stones, Brin D'amour By Sandra, 45 € on www.monshowroom.com
Melba Multico brooch, Des Petits Hauts, 30 € on sale at 24 €.
Calvi glasses in stainless steel with pink lenses, Edie & Watson, 65 €.
Pareo towel with stripes, Mango, 19,99€.
Tropical motif tongs, Princesse Tam Tam, 9, 90 €.
Boheme chic boating around Sicily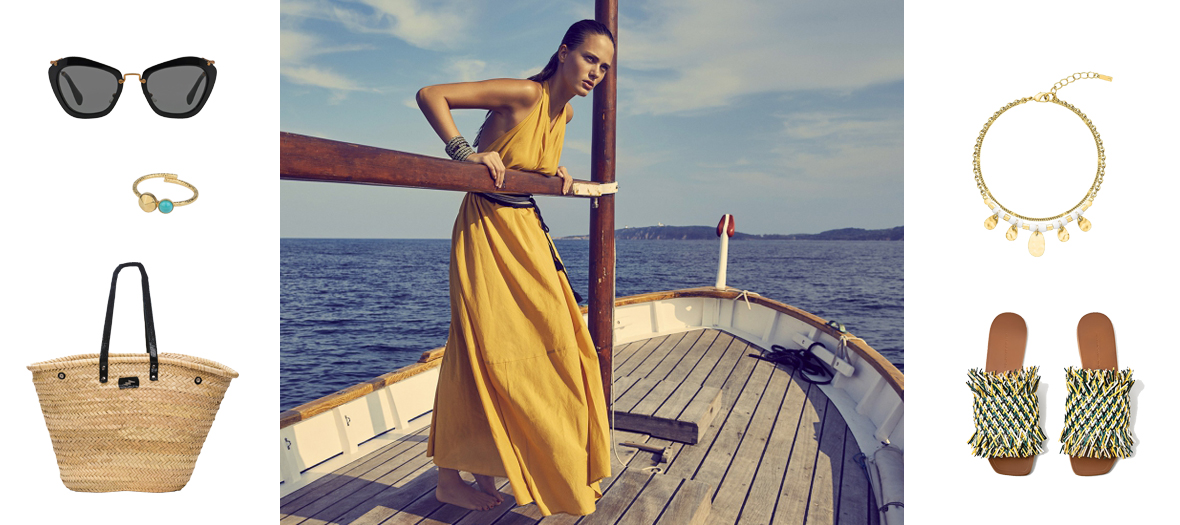 On a boat or on the waterfront, you make no mistake with this ideal boho-chic look to wear on top of a small bikini. A fluid Mare di Latte dress that enhances the tan, trendy braided mules, jewellery in the tone… Its heart asset the connected basket with integrated cable to charge your smart phone at any moment and send countless instagrams of your aquatic adventures.
Long dress in cotton, Mare di Latte, 165 €.
Belt in hand-woven cotton, Mare di Latte, 65 €.
Connected basket in hand braided palm leaf, Il était un fil, 200 €.
Flat braided multicoloured mules, Zara, 49,95 on sale at 29,99 €.
Miu Miu sunglasses, 270 € on Yoox.fr
Chicago ring, Sous le Sable, 39 €.
Havana bracelet, Agatha, 35 €.
Sweet living on Paros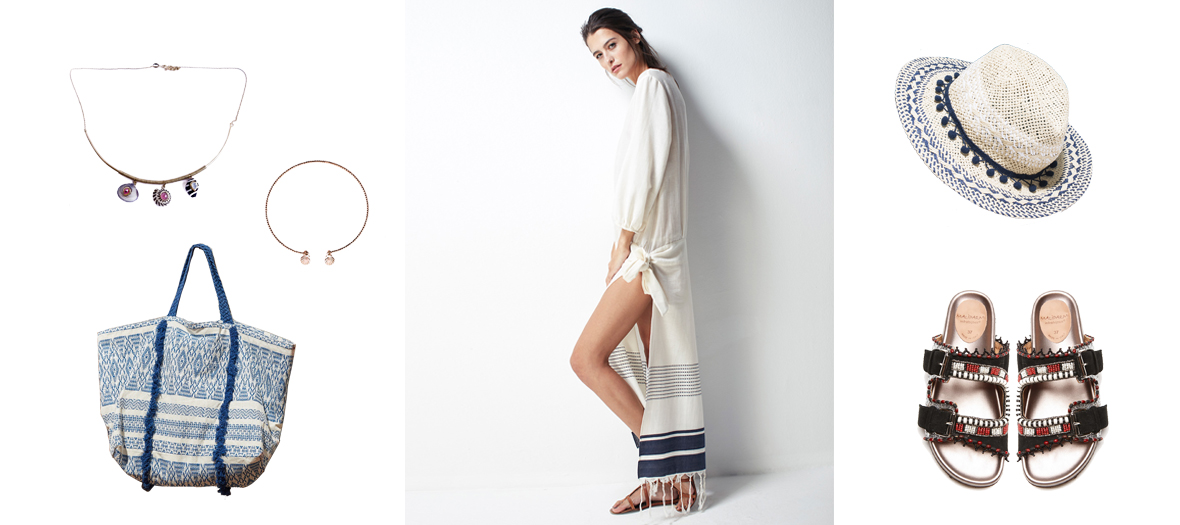 Blue and white overtones to blend in with the mythical decor of Paros. The long and streamlined dress of Su Paris turns out to be a must to stroll through the city before taking a dive in the Aegean Sea, worn with sandals decorated with pearls, wood and embroideries signed Maliparmi.
Laguna beach dress, Su Paris, 355 €.
Infrabijoux Afro Glitter sandals, Maliparmi, 248 € on sale at 173,60 €.
Ramses Klein tote, Petite Mendigote, 95 € sold at 48 €.
Hat with pompons, Gémo, 12,99 €.
Shelly bracelet, Clémence Cabanes, 35 €.
Necklace with shells, Shagreen & Tortoise, 498 €.
Also discover Odabaia, the concept store for bathing suits and accessories.