Thank God, Ôdabaïa, this amazing concept store with a wide array of refined brands is showcasing its most outstanding creations from bathing suits to accessories, including shoes, but also evening and fitness wear, in models that suit all the different morphologies… and states of mind.
To play the femme fatale...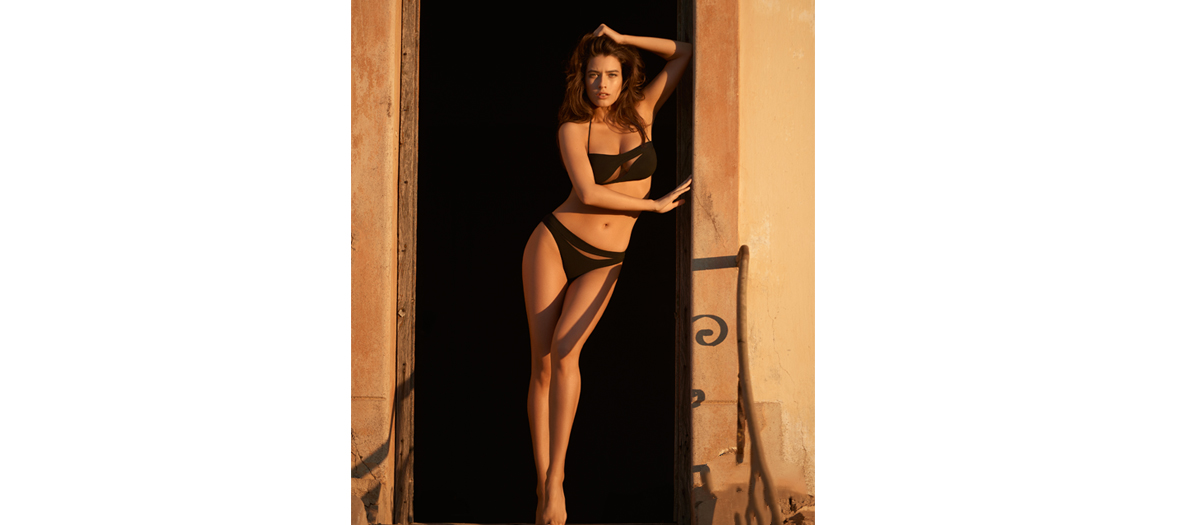 Glamour but not vulgar, such is the goal. A successful wager with this a bikini signed Pain de Sucre that will make you the fatale Parisienne … and elegant. While hiding those 3 extra kilos you can't seem to get rid of.
This graphic model seems very sedate at first sight: an ultra comfortable bandeau top that perfectly lifts your bosom and a pair of panties in polyamide blurs your unwanted flab. Everything we like…
Its high added value? Subtle veiling that show just enough but not too much…
Bikini top with open-work wave between the breasts Nirvana PAIN DE SUCRE Noir - Uni Life in polyamide and elasthane, 105,00 € on Ôdabaïa.
Bikini panties with open-work wave Lou PAIN DE SUCRE Noir - Uni Life in polyamide and elasthane, 60,00 € on Ôdabaïa.
To camouflage your little tummy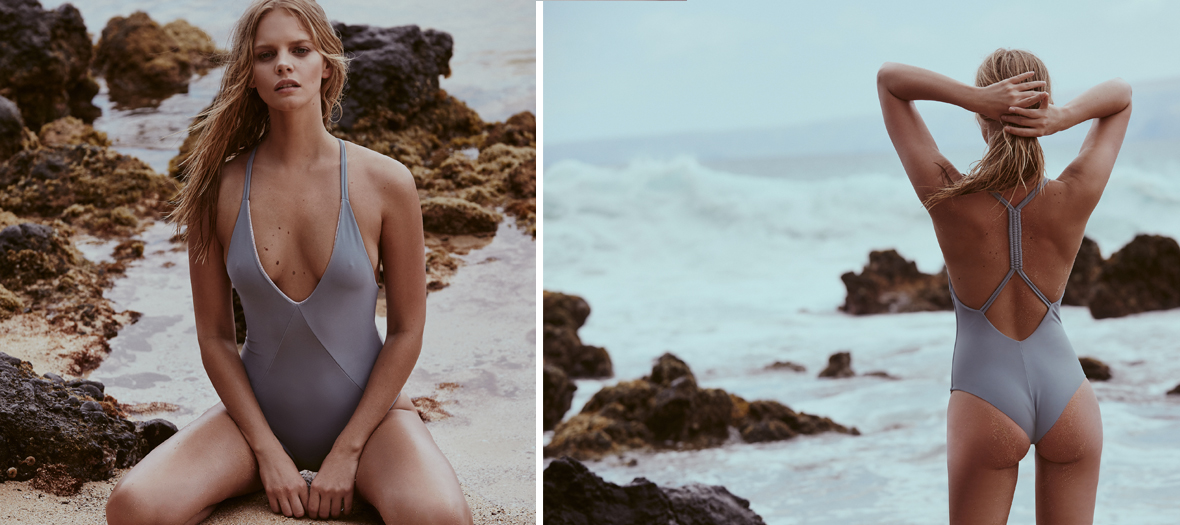 If you were looking for the bathing suit that is going to created the buzz on the entire beach, while hiding your little tummy, this Acacia creation is made for you.
A couture pearly grey, a very sexy cleavage, playful twists in the back that one feels like putting on Instagram, and good dose of spandex for a perfect sheathing effect. Trying it is adopting it.
V-neck bathing suit ACACIA Beach Babe - Venezuela, 229 € on Ôdabaïa.
To hide those extra 3 kilos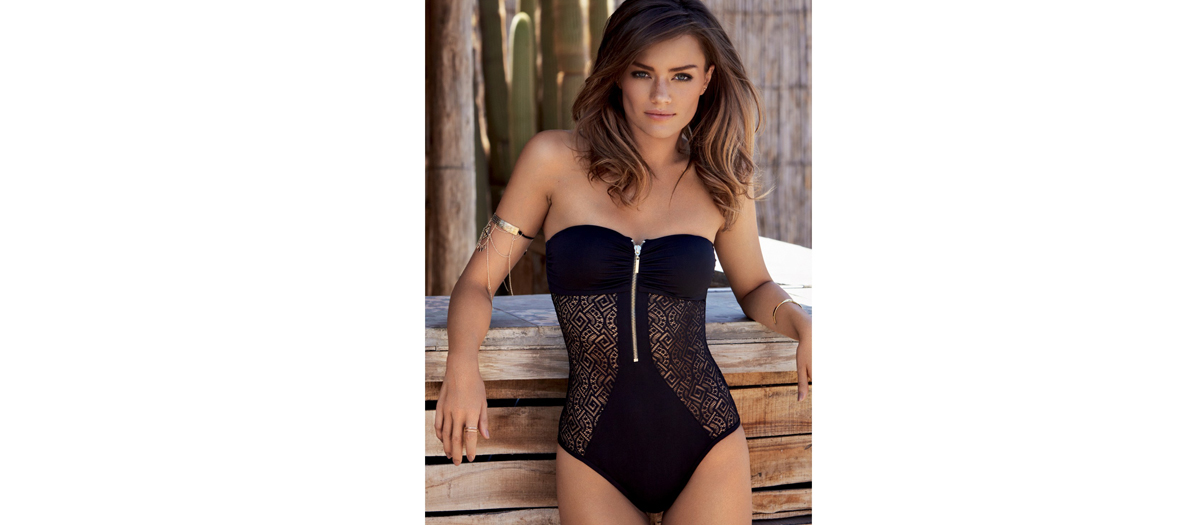 A zipper to camouflage your pretty shapes, a good dose of black to slim down your silhouette and a sculpting effect that makes you into a bombshell that has everything one needs where it's needed. A dream. Thank you Watercult!
Bandeau bathing suit with lace cleavage and zip WATERCULT Noir - Modern Lace, 125,00 € on Ôdabaïa.
For pretty small breasts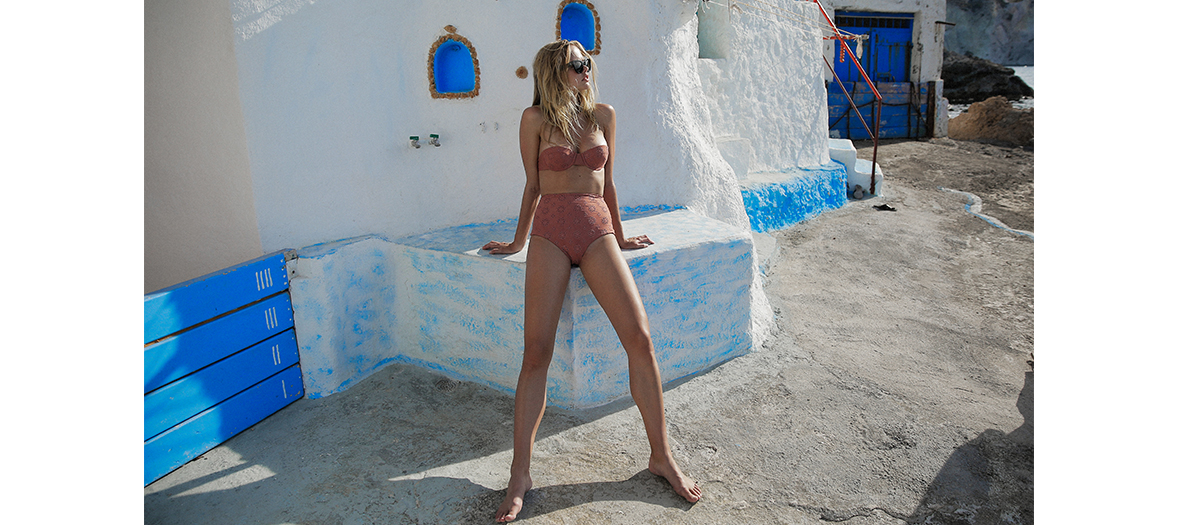 Here is the romantic two-piece by Tori Praver that is ideal for small breasts, giving incredible roundness and glam thanks to its push up bra...
For the mermaid allure, the high waist panties with just the right cut to pimp your fanny and underline your waist with just the kind of retro high waist needed. In short you become an instant bombshell.
Bikini Top Zola TORI PRAVER Spice - Theia Eyelet in nylon and lycra, 115,00 € on Ôdabaïa.
Bikini panties Daphne TORI PRAVER Spice - Theia Eyelet in nylon and lycra, 105,00 € on Ôdabaïa.
To forget your fanny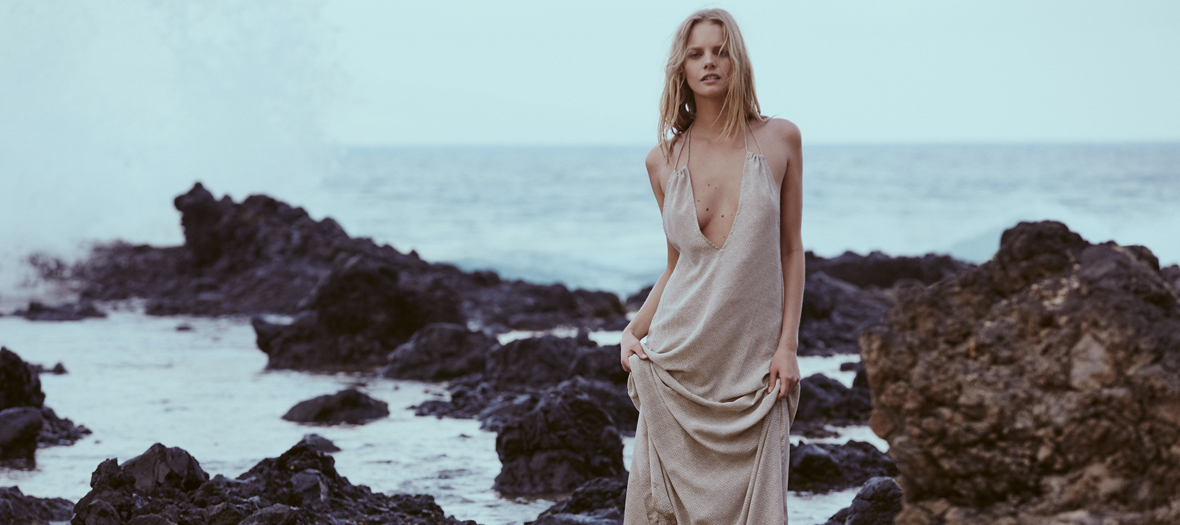 Impossible not to pinpoint this dress signed Acacia, with an incredible delicate feel close to silk. A piece that despite its sedate side is furiously sexy—enhancing the cleavage and showing off tans. Another strong asset: its fluidity hides fannies that some feel are a little too plump.
To be worn around town and for sure on the beach. Don't hesitate to put it on just after bathing while you dry—very seductive. Barefoot or with jewelled sandals, hair in the wind of pulled back with pretty earrings. It's the strong piece for gals with complexes.
Long backless beach dress ACACIA, Clay - Sumba, 179,00 € on Ôdabaïa.
How to look great in a white bathing suit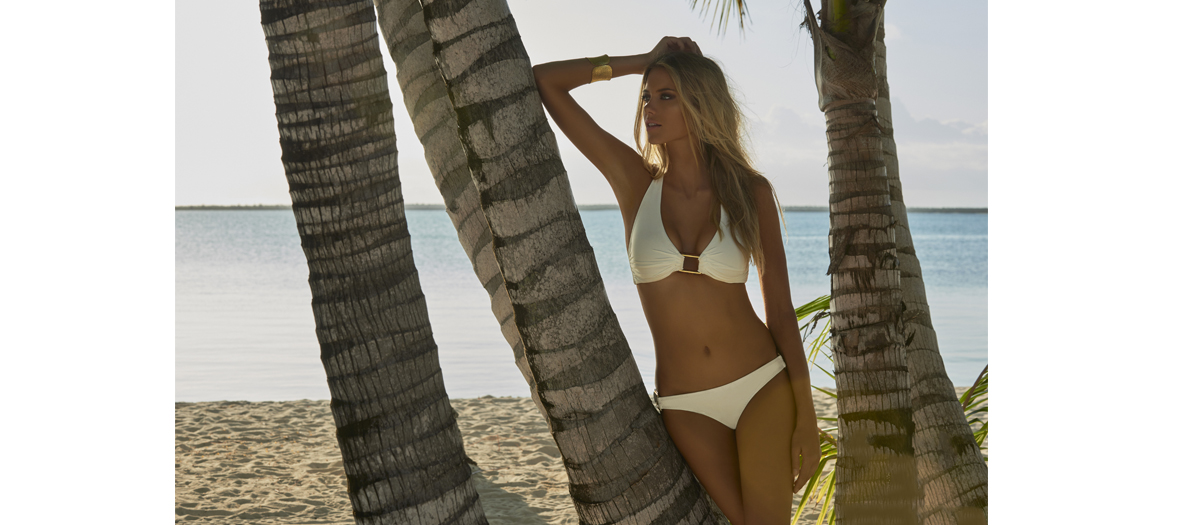 We all agree, white does not withstand any mediocrity. We have good news, Melissa Odabash has imagined perfection when it comes to this issue. A creamy colour that prettily lightens up matt complexions and mingles with light skins, enhanced by pretty golden rectangles for the chic effect.
To be noted: the perfect cut of the bra, even with an opulent bosom, that makes breasts look their best and holds them up cleverly. Rarely has a white bathing suit been so elegant.
Two-piece ensemble MELISSA ODABASH Cream in polyamide and elasthane- Paris, 265,00 € on Ôdabaïa.
To enjoy sports while being glam'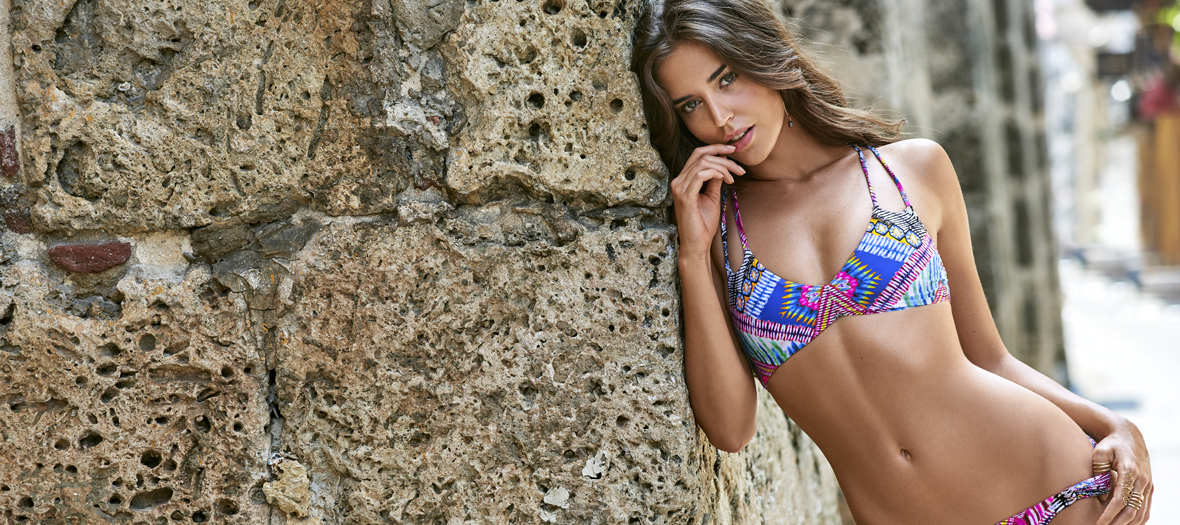 We have good news for surfers, swimmers, aquagym fans and those who enjoy the paddle. We have found for you the perfect Brazilian bikini signed PILYQ—super sexy. Imagine a subtle mix of triangle and sports bra bathing suit top that enhances your cleavage with perfect support. A dream come true.
We adore: its reversible black top to give a more chic touch to your ensemble and the sensation of having two bathing suits.
Reversible PILYQ bikini top Multicoloured reversible black in polyamide and elasthane - Hindi, 98,00 € on Ôdabaïa.
Bikini pants PILYQ Multicoloured - Hindi, in polyamide and elasthane 87,00 € on Ôdabaïa.