¡ Viva Mexico! You have surely noticed that for the past few seasons, the capital of Mexico has been THE exotic and arty destination that attracts aficionados of design and trendy spots. But it's not easy to find your way around given the expanse of the city... We've sent the hippest local contacts for you to name-drop the new hot, hot, hot neighborhoods in Mexico City and its hot spots, between the colorful heritage of Frida Khalo and the new pioneers of design .
Two thousand leagues from the country's collective Mafioso imagination, Mexico today reveals its pretty settings with sublime spots capable of rivaling the great Western capitals. If you had to remember just two words: Roma and Condesa , the fashionable districts of the capital which are full of stylish addresses. Instructions for a successful stay.
The good hotels where to put your suitcases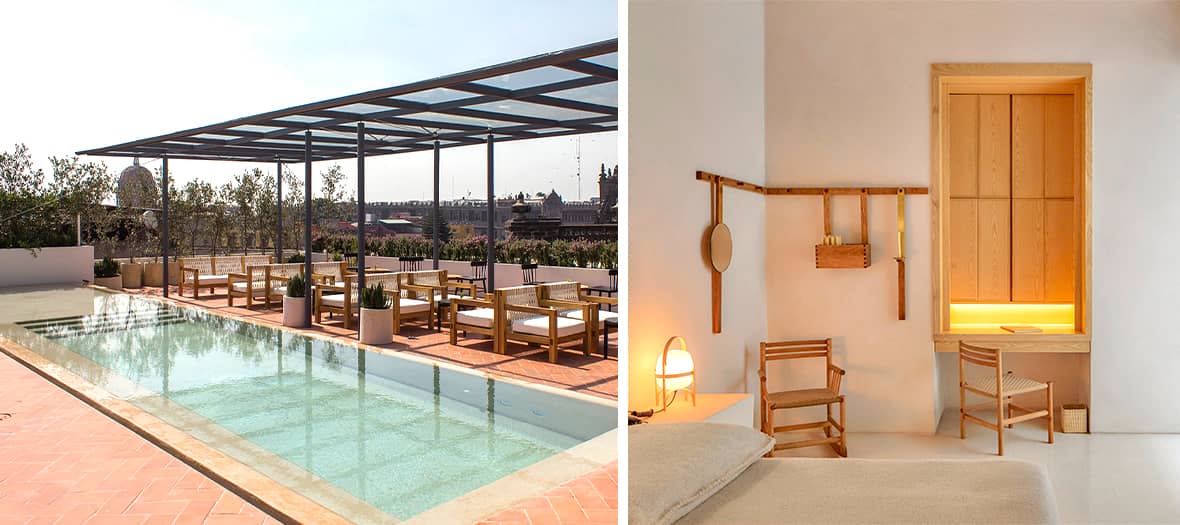 Casa Bosques , the most concept. The idea? 3 bedrooms and that's it. Here, quality takes precedence over quantity, with minimalist spaces curated with great care. Most ? A place of culture with a posh bookstore open to all curious visitors. Casa Bosques , Córdoba 25, Col. Roma Norte, Mexico City. Rooms from €150.
Circulo Mexicano , the most secret. A little paradise on earth for architecture fans . With its highly Instagrammable rooms and contemporary furnishings , the hotel is the perfect hideout for an artsy getaway. Most ? The pool on the rooftop with a 360 degree view of the historic district. Circulo Mexicano , República de Guatemala 20, Centro Histórico, Mexico City. Rooms from €170.
Octavia Casa , the most architectural. The idea? Bright rooms sublimated by beautiful materials. Located in the very distinguished Condesa district , this boutique hotel has 16 exceptional rooms, each inspired by a natural element. Most ? The possibility of booking a massage in your room. Octavia Casa , Avenida Amatlan 126, La Condesa, Mexico City. Rooms from €140.
Not forgetting: the Condesa Df hotel , designed by India Mahdavi and Downtown . The essential colonial castle-style address for history enthusiasts.
Good tables to trust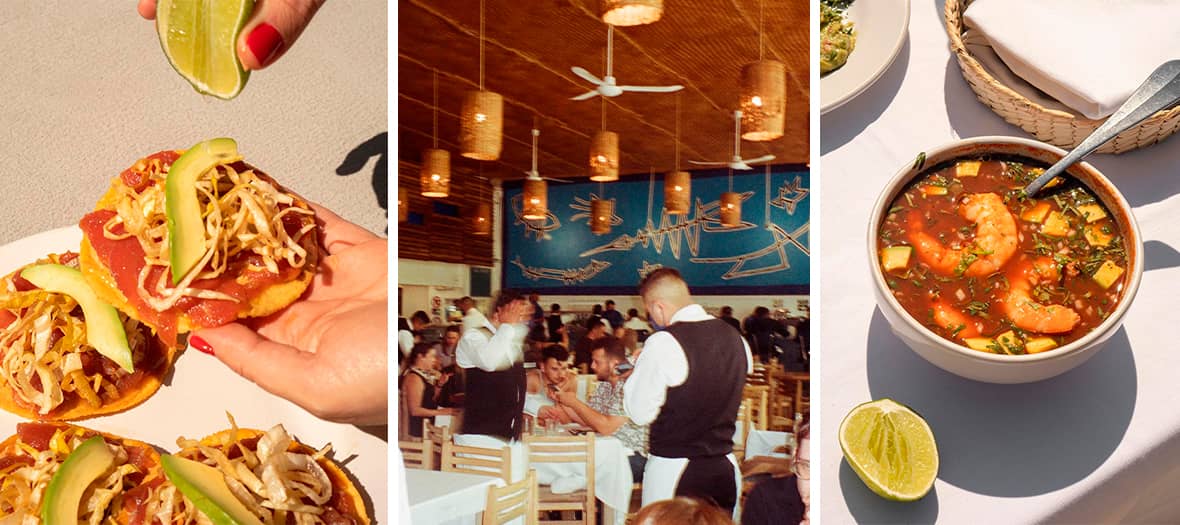 Restaurante Contramar, the most seaworthy. Here, there are no tacos overflowing with spicy sauces, but a refined cuisine that has seen fashionistas Camille Charrières and Clara Cornet pass by . On the program of delicacies: fish in all its forms, from Galician- style octopus (€17) to planchas (€28) and a good ceviche (€16). Restaurante Contramar , Calle de Durango 200, Roma Nte., Cuauhtémoc, 06700 CDMX.
Em, the most fusion. Here is the wildly trendy spot to taste the cuisine of chef Lucho Martinez , which sublimates the classic croquetas , shellfish pimped with sake or even raw tuna-soya-fried scales and caviar, mmmhh! Em ,Tonalá 133, Roma Nte., Cuauhtémoc, 06700, CDMX.
Rosetta, the most traditional. What are we eating ? A steak tartare (€16), ricotta-lemon ravioli (€17) or green tamales with beans, avocado and cactus (€15). To finish off on a high note, we topped the hazelnut-lavender meringue (€12). Rosetta , Colima 166, Col. Roma, 06700 CDMX.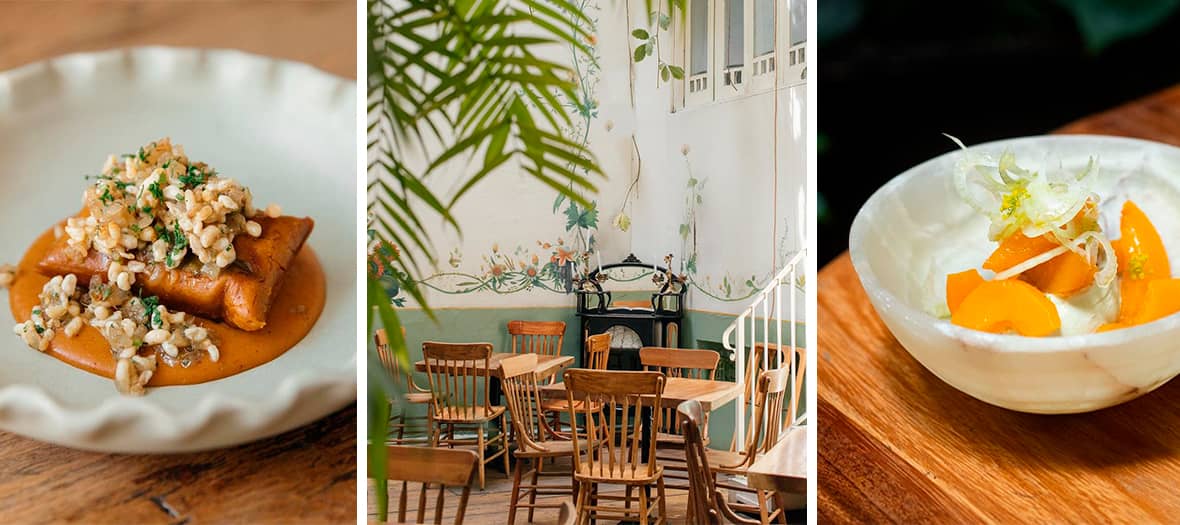 Not to mention: Eno à Roma for a cool brunch with good omelettes , enchiladas or savory croissants and Masala y Maíz , the address for fusion cuisine with African and Indian flavors in the Juarez district .
And after ? We go to Gin Gin in Condesa , which sells sumptuous cocktails.
Cultural spots not to be missed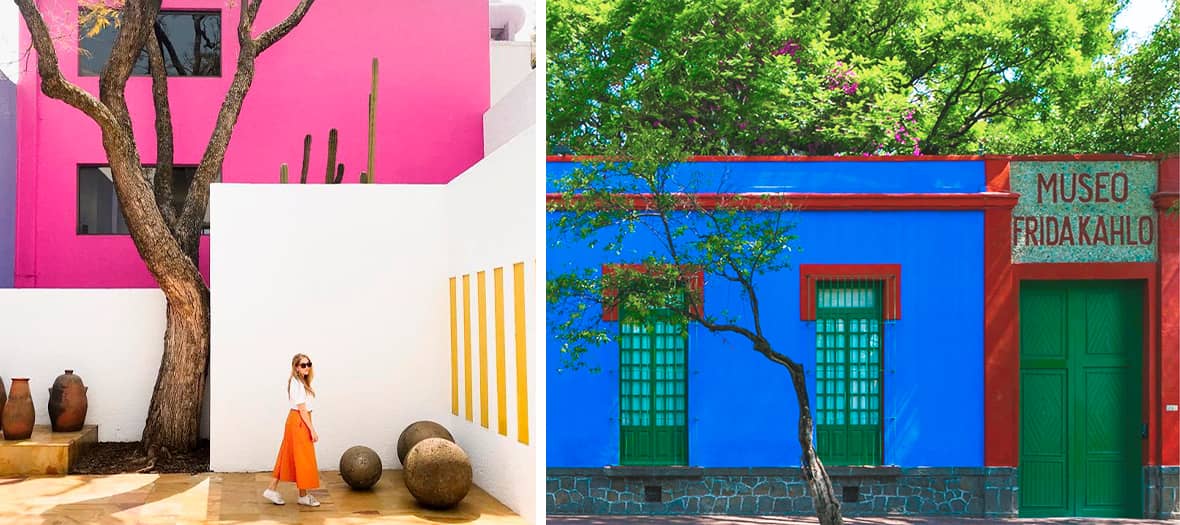 To discover the world of Frida Kahlo. Direction Coyoacán for a color block experience in the most famous Mexican residence, the house of Frida aka Casa Azul . The Frida Kahlo Museum is the inspirational place par excellence with its Majorelle blue-passion red facades and its open spaces filled with pre- Hispanic statuettes . Inside, all the furniture from her daily life, from the bed to the corsets that will have accompanied her all her life ( also to be discovered in Paris at the moment at the Palais Galliera ).
But also: Frida and Diego Rivera's studio, an ultimately modern and multifunctional studio in the footsteps of Le Corbusier . Designed by rationalist architect Juan O'Gorman , this workshop was both the living and working place of the iconic duo. Meet at the Frida Kahlo Museum, London 247, Del Carmen, Coyoacán, 04100, CDMX . Online booking . Diega Rivera-Frida Kahlo Museum-Workshop , Diego Rivera, Col. San Ángel Inn, Alcaldía Álvaro Obregón, 01060 CDMX. More info online .
For the good vibes of Luis Barragan. It is the great colorist architect of the 20th century who is a hit on Instagram with his hyper design Mexican villas . Head to Roma Nord in Casa Barragan , an avant-garde model that flirts with an early #BarbieCore vibe whose inspiring minimalist spaces and contemporary furniture make visitors addicted. The must ? Take a private tour of his masterpiece, Casa Gilardi : an ultimately arty spot where primary colors reign right up to the flowery patio.
For a contemporary art shoot. The Museo Jumex is a bit to Mexicans what the Pinault Foundation is to Parisians. With its 2.0 structure which houses a prestigious collection, the city's private museum notably presents masterpieces by Lucio Fontana , Paul McCarthy and Roni Horn . Museo Jumex , Blvd. Miguel de Cervantes Saavedra 303, 11520, CDMX.
For decorative inspirations. It happens at Mexico Design Week , which takes place every fall/winter in the capital. Here, all the artistic avant-garde is present with stunning furniture and cutting-edge decorative pieces. All information online .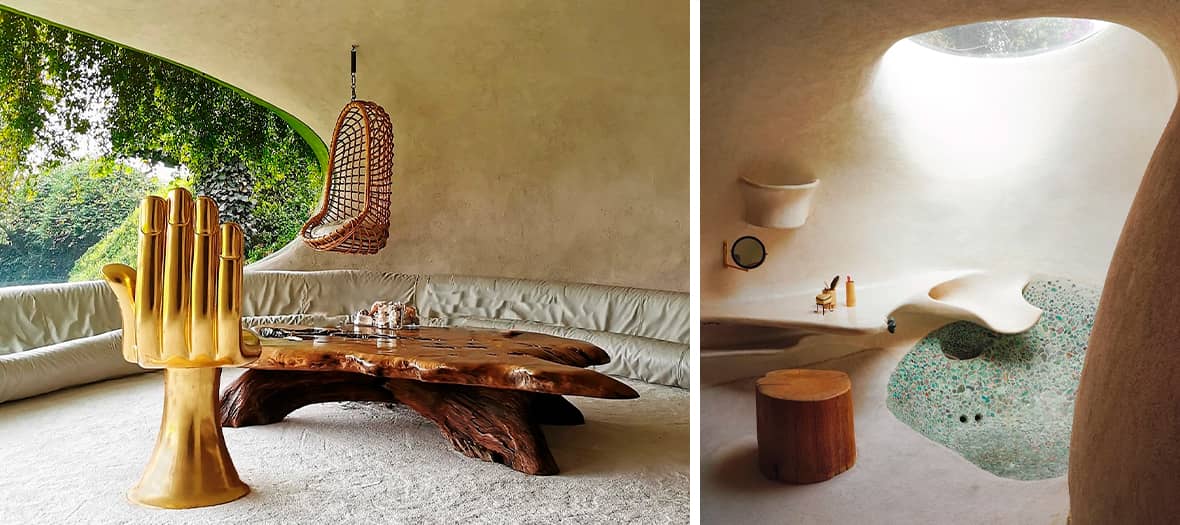 For an immersion in nature. Ultimate favorite for Casa Organica , the most whahou-whahou kids friendly site in Mexico City . The concept ? A habitat completely out of time on the heights of the capital, both immersive and multisensory where you enter barefoot. In this unusual vegetable residence in the shape of a giant shark , the spaces are all round in the style of the Pierre Cardin villa , with external slides to throw away your dirty laundry and a bucolic garden outside for a dream escape in the weather. of a few hours. Casa Organica, Acueducto Morelia 26, Vista del Valle, 53296 Naucalpan de Juárez, Méx., Mexico.
Souvenirs to bring back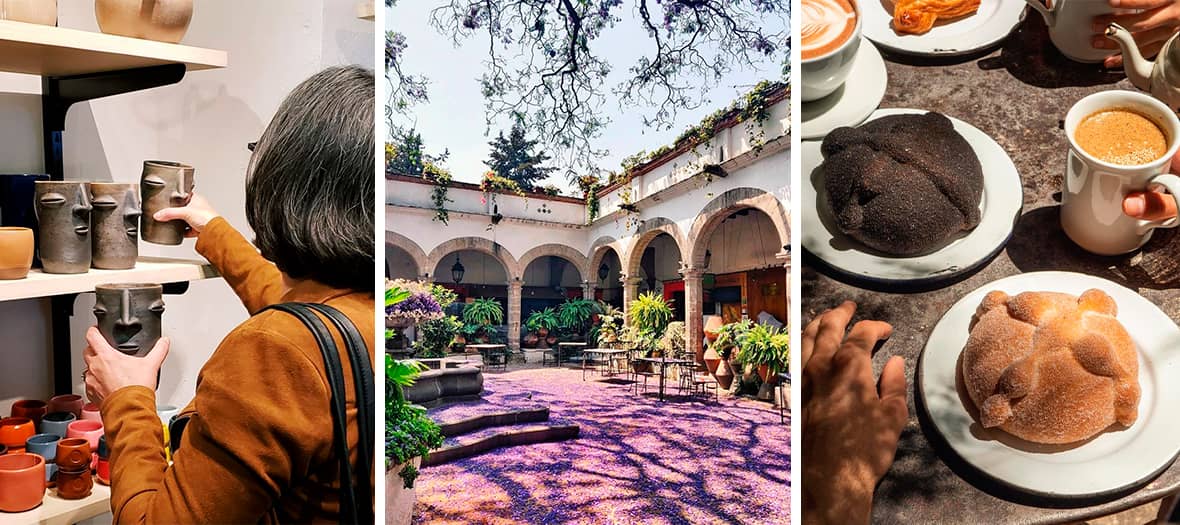 As much to say it: it is better to plan a large suitcase for the return, to fill with kitsch memories. You will be notified.
During a visit to Casa Azul , do not miss the historic ceramic manufacturing shop at Ceramica Diaz de Cossio , which also offers tailor-made workshops to make your own plates and cups (price on request) .
The historic craftsmen's market in the San Angel district (plaza san Jacinto) , better known as Bazar del Sabado , has also established itself as the haunt of fine connoisseurs: every weekend for 60 years, lovers of chips come to shop nuggets of yesteryear but also other treasures made by local craftsmen .
Foodistas will find what they are looking for at theMercado de Coyoacan , in the typical district of Mexico City , to raid good fresh fruit without breaking the bank too much on the stands overflowing with colorful products. The Panaderia Rosetta bakery is clearly worth the detour for a chill breakfast between the unmissable pan dulce, scones, muffins and other delicacies.
To make the pleasure last
For those who opt for a long stay, head to Puerto Escondido , the new fashionable ultra-secret port for fashionable people with its wow spots to go out like the Cobarde bar right on the water.
Also discover a provencal week-end in slow life mode at the mas de cinq sous and glamping and private spa less than an hour from Paris