Where to run into the fashion heavies and trendies on their lunch break?
Mar'co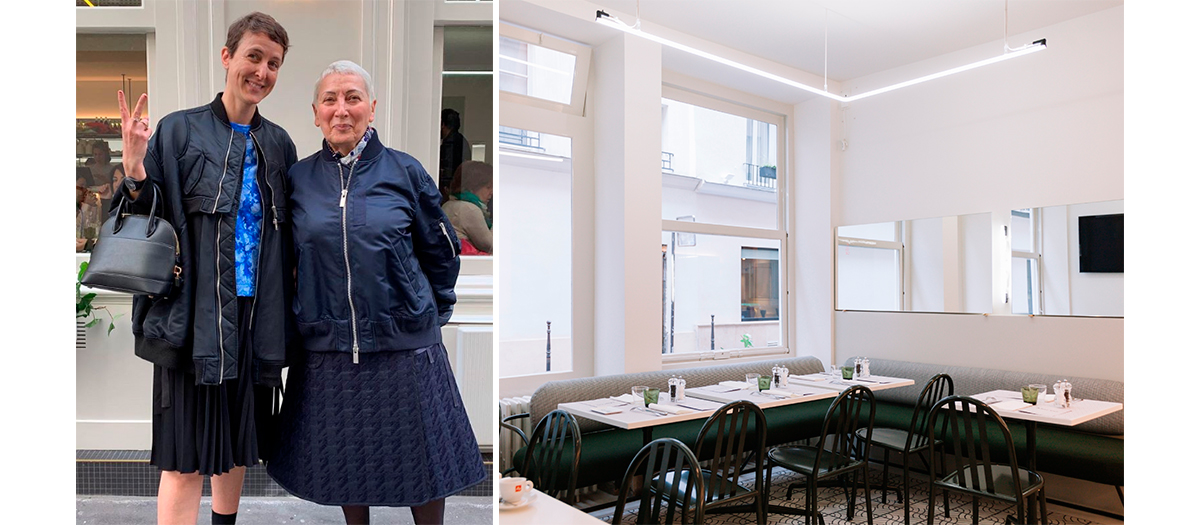 The place. The Water Bar is dead! Long live Mar'co! Upscale Parisiennes were all undone by the closing of colette's cult watering hole. Its creator Marc Giami has opened the same concept around the corner!
Who do you run into? Sarah Andelman, Leïla Bekhti, Sarah Lavoine… A lot of beautiful people are stampeding through the door.
Nibbles for twigs.. All the big faves of foodies are on the menu: the cult Caesar salad and its famous «Costes sauce» (€ 17), a perfect croque-monsieur by Sébastien Gaudard (€ 18) or the sinful cheesecake of Jean-Paul Hévin (€ 10).
4 Rue de la Sourdière, Paris -75001
Les Jardins du Faubourg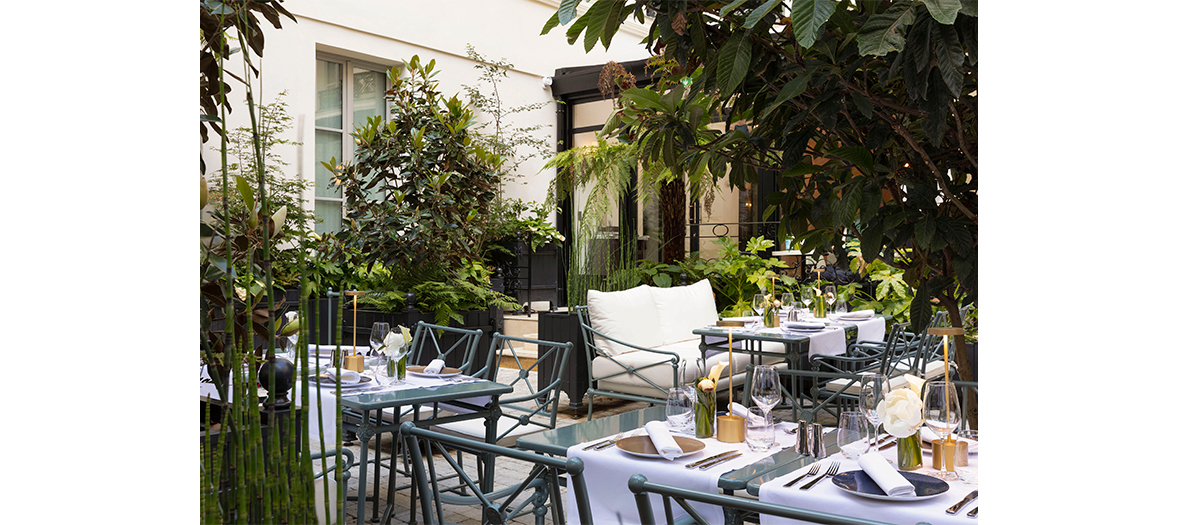 The place. A brand new 5 star opened last June, a skip and a hop from the Élysée, in a super old private mansion, to which a new modern building has been added. In the middle, a luxurious terrace sheltered from cars. A dream come true!
Who do you run into? The editors from Vanity Fair and Vogue at lunch time, but also the most glam' in the star system such as Nicolas Duvauchelle, Pascal Elbé, Isabelle Adjani and even Shaggy. It wasn't me!
Nibbles for twigs. Bruno Doucet, prodigy of bistronomy, signs fresh and seasonal menu. Ceviche of sea bream with citrus fruits and Espelette pepper (14 €), creamy risotto with squid ink (14 €). Formula: entrance, dish, dessert €45.
Les Jardins du Faubourg 9 Rue d'Aguesseau, Paris - 75008
Wild and the Moon Saint-Honoré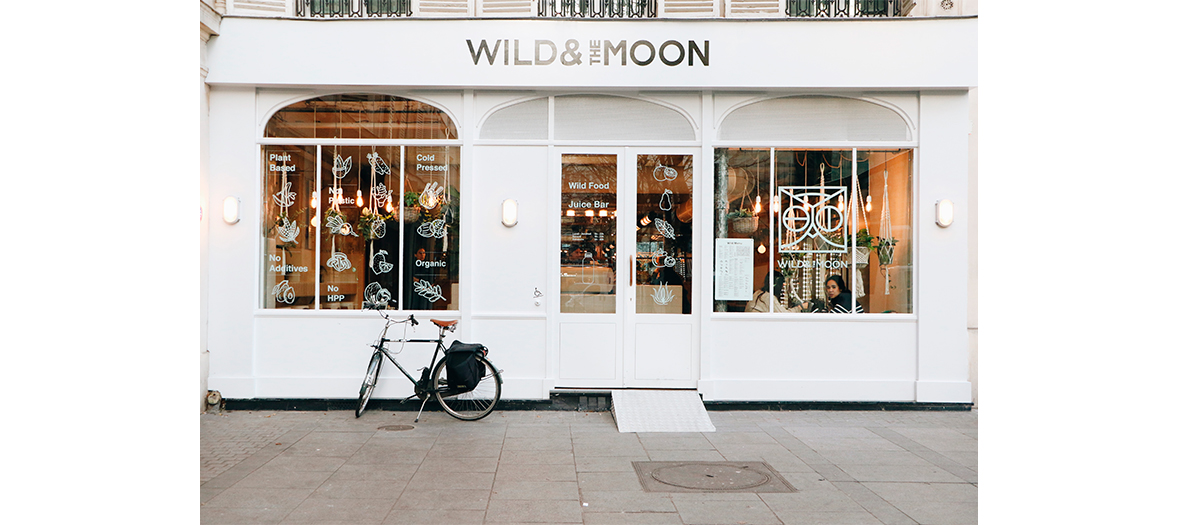 The place. In its flagship on Place du Marché Saint-Honoré, replacing the former bazar of Marc Jacobs, Emma Sawko has just merged a French style art of living with veganism from Los Angeles.
Who do you run into? All those obsessed with eating well, fashion editors from Vanity Fair et Vogue, including the most followed fit-girls and yogis.
Nibbles for twigs. Impossible to be trendier: freshly squeezed fruit juices (€ 5), curcuma-ginger shoot (€ 5.5), vegan cream-cheese with Cajun nut served with crackers (€ 8), moon porridge (€ 10), chocolate tart' with no-gluten raw cocoa (€ 5).
wild and the moon saint honore
19 Place du Marché Saint-Honoré, Paris -P75001
Holiday Café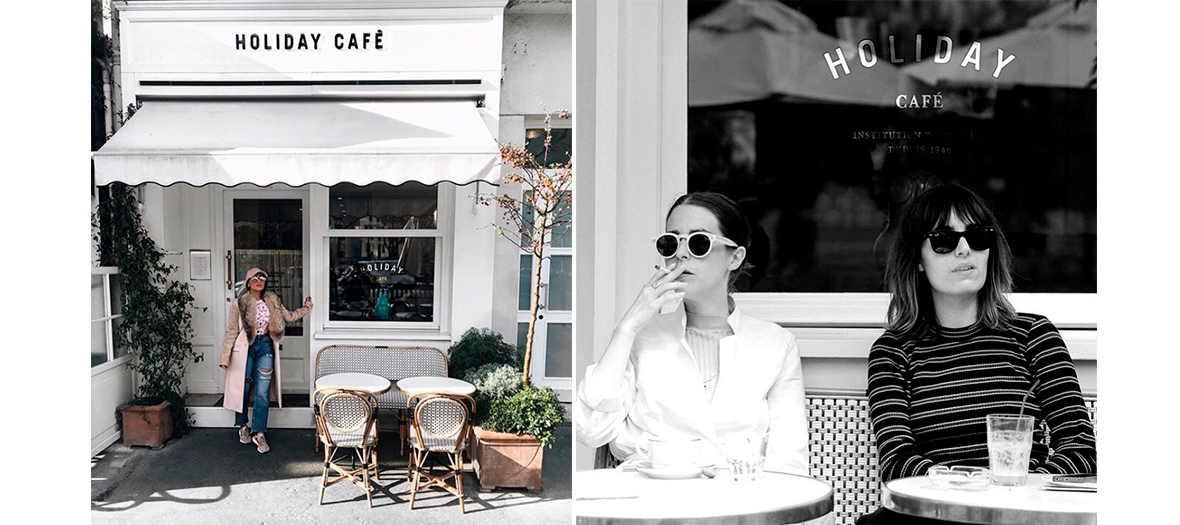 The place. Although a little far from the Golden Triangle and yet, fashion insiders seem to be heading for the Porte de Saint-Cloud. Normal, behind this model doll-format bistro, one finds Franck Durand, husband of Emmanuelle Alt, aka THE big boss of Vogue Paris.
Who do you run into? The very corporate Vogue clique, muse and A. D. Lolita Jacobs, the designer of Vanessa Pinoncely jewellery (Dear Charlotte), Laeticia Hallyday on her way through Paris.
Nibbles for twigs. Less is more, or the art of good taste, raised to the rank of lifestyle right down to the end of the fork. A chicissime chicken salad (€ 15), the totally vegan Holiday Deluxe burger (€ 16) and the gluten- and lactose-free chocolate cake (€ 8) are irresistible. CQFD.
192, Avenue de Versailles, Paris - 75016
Bread & Roses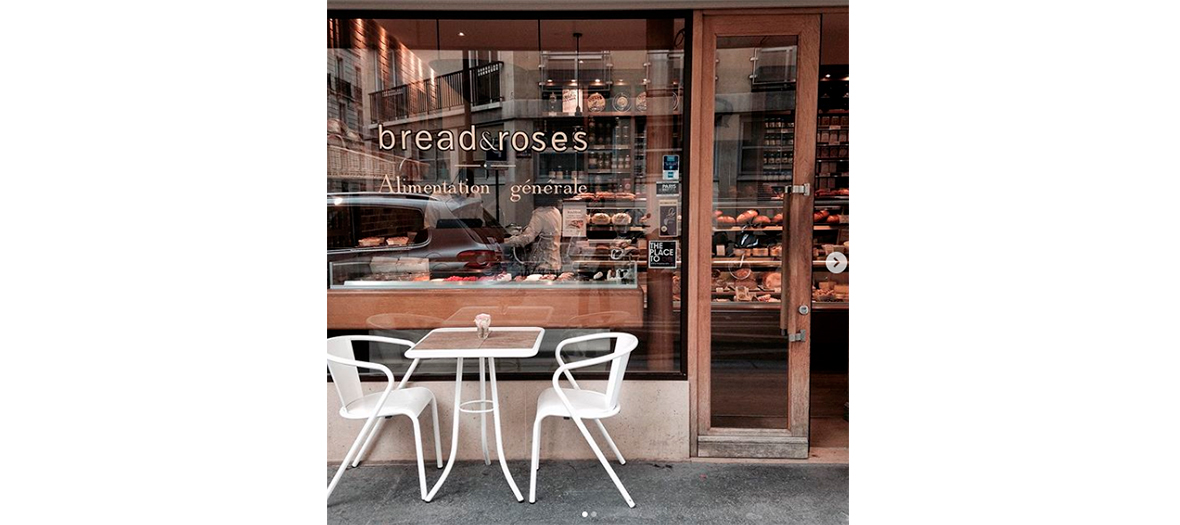 The place. The house of Philippe Tailleur is the self-service of excellence. As a take-out to flog your Tickets-Resto vouchers, or seated in a very pleasant inimitable deluxe atmosphere with a very attentive service.
Who do you run into? All the teams of Hermès, Chloé and Cartier. The market of the most coveted jobs and the latest couture gossip take place here—so best to keep your ears and eyes wide open.
Nibbles for twigs. Each product flirts with perfection. The extraordinary lasagna with fresh vegetables and organic beef (€ 24), the club sandwich with smoked salmon (€ 30)
the large bread & roses salad (€ 32) and the cheese cake (€ 9,5) are proof of this.
bread and roses
25 Rue Boissy d'Anglas, Paris -75008
Season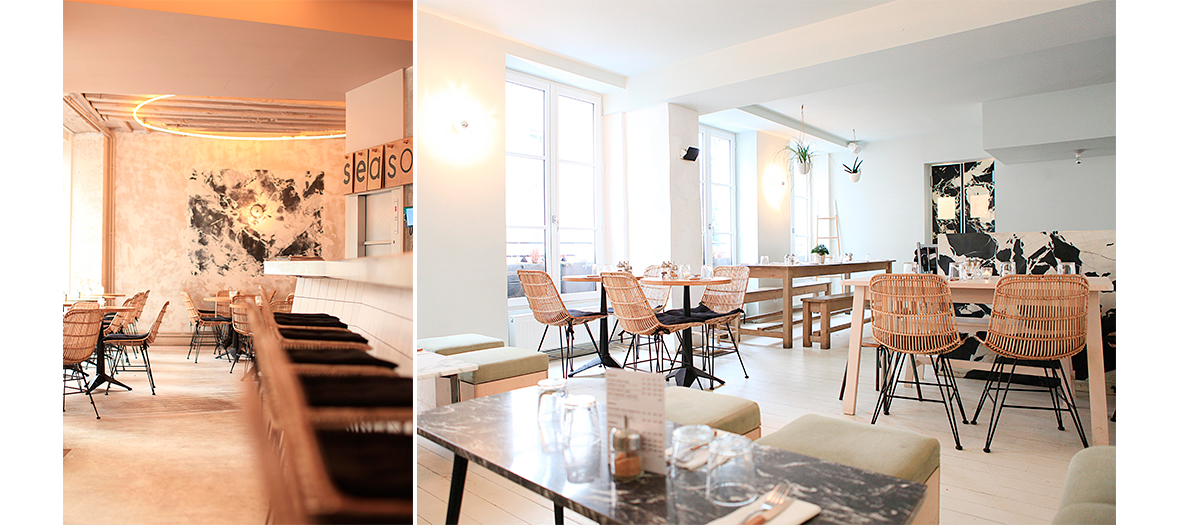 The place. The hottest coffee-shop in Paris, open by Cathy Closier in the Marais, considered a phenomenon. As testimony, the long queue and a full-house from breakfast until the end of the day, as well as on the numerous photos posted daily on Instagram.
Who do you run into? It-girls, women of power, instagramers: all the Paris influencers, without forgetting, of course, stars passing through Paris.
Nibbles for twigs. New-York inspirations revisited with a Parisian touch participate in the success: juices, avocado toast (€11), acaï bowl (€11) or banana bread (€7)—without forgetting an incredible vegan mac and cheese (€13).
1, Rue Charles-François Dupuis, Paris - 75003
Hotel Grand Amour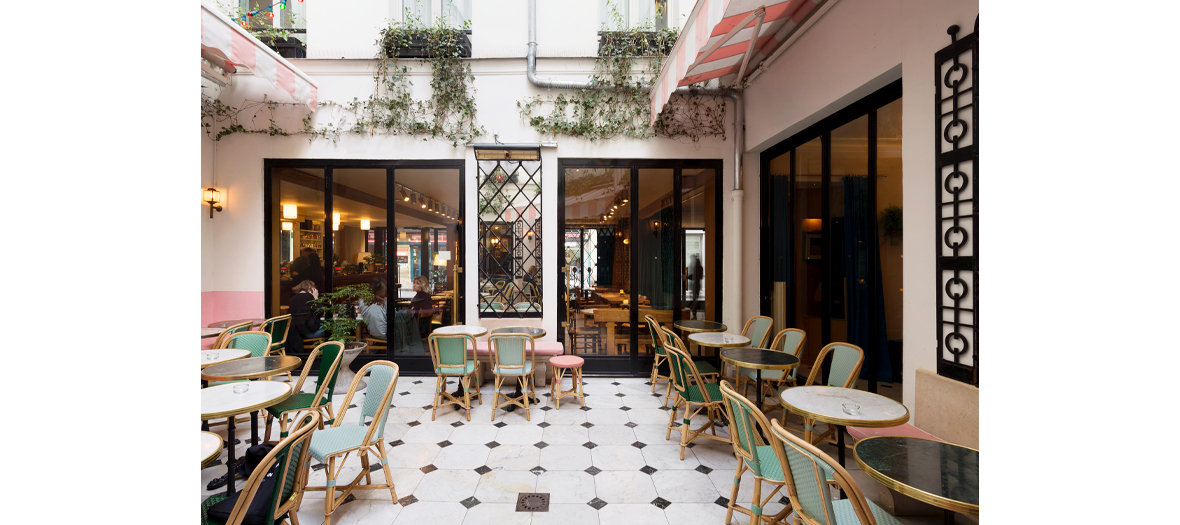 The place. The very trendy headquarters of international trendies features the most rock and roll dining room in Paris. Here, the infernal trio, formed by Thierry Costes, André Saraiva and Emmanuel Delavenne, hosts a very upscale clientele that flirts with the Palace and Studio 54.
Who do you run into? Tycoon Olivier Zahm (Purple), the Kate Moss gals of tomorrow (IMG and Elite agencies), and all the heavies in the la fashion sphere.
Nibbles for twigs. Cream of pumpkin soup (€10), Caesar salad (€15), beef tartar (€17), fish of the day (€23), sure values that you order between two gossips.
18, Rue de la Fidélité, Paris – 75010
Café Jeanne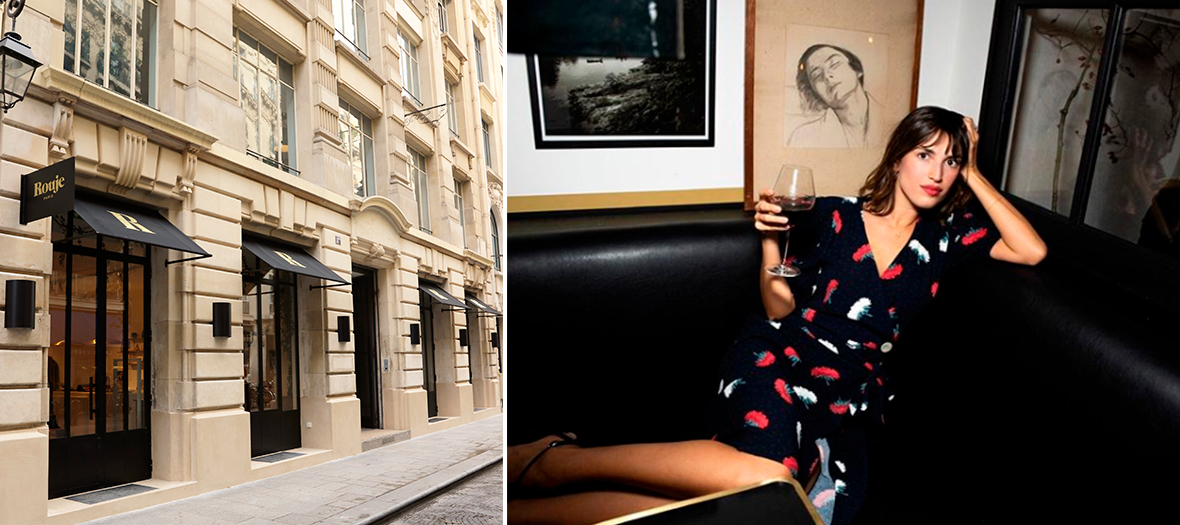 The place. An authentic food in shop at the heart of the Rouje flagship, the successful brand of Jeanne Damas, that is full house since its opening, including its heated terrace. To ensure the success of her cantina, the Super Parisienne with a million followers called on Alexandre Arnal, chef of Tarakamono in the kitchen and the A.D. of Démodé, Marie-France Cohen's studio.
Who do you run into? The Montorgueil fashion crowd, the very instagrammable team of Jeanne and Jacquemus, without forgetting the Cohen gang. In other words: all the BP.
Nibbles for twigs. Eggs with vegetal mayo (€7), veggie salad, courgette, peach, corn and Thai basil (€10), Caesar salad (€17) or the famous croque Jeanne (€17).
11 bis, Rue Bachaumont, 75002 Paris
Oursin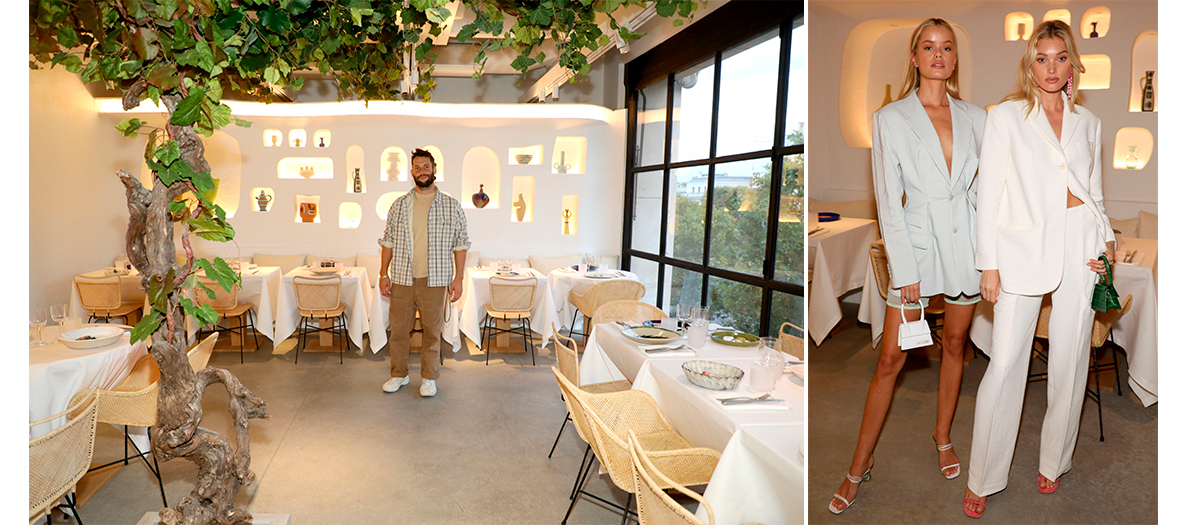 The place. If one were to choose just one socialite cantina, this would be theone ! Jacquemus, the most coveted couturier of his generation has teamed up with Kaspia to open on Wednesday the 25th of September his very first socialite restaurant on the last floor of the Galeries Lafayette Champs-Elysées.
Who do you run into? All the big names of fashion, starting with Jeanne Damas, to sit down in front of cocktails and seafood. Be sure to reserve
Nibbles for twigs. Impossible to be more chic and light than these plated signed Kaspia. An ultra fresh tartare or sea urchins (€12), fried Brussel sprouts (€16), pasta with clams (€24 €) or squid à la plancha (€26) perfectly illustrate its special style.
60, Avenue des Champs-Elysées, 75008 Paris


Discover also the revival of colette during fashion week and the Louboutin exhibition.