Need to escape Paris for a weekend just back from vacation? Bingo, Le Bois de Rosoy is the best option for carless Parisians looking for green and glam. With its chic treehouses, this luxury campsite embodies the new passion of city dwellers: glamping.
A little paradise suspended in the trees
Immersion in Rosoy-en-Multien, stronghold of tourism 2.0, chic and sustainable less than an hour from Paris, for a glamping session perfect for unsheathing your heeled clogs (tested and approved). Who are we going with? His romantic date, his BFF, even the whole smala.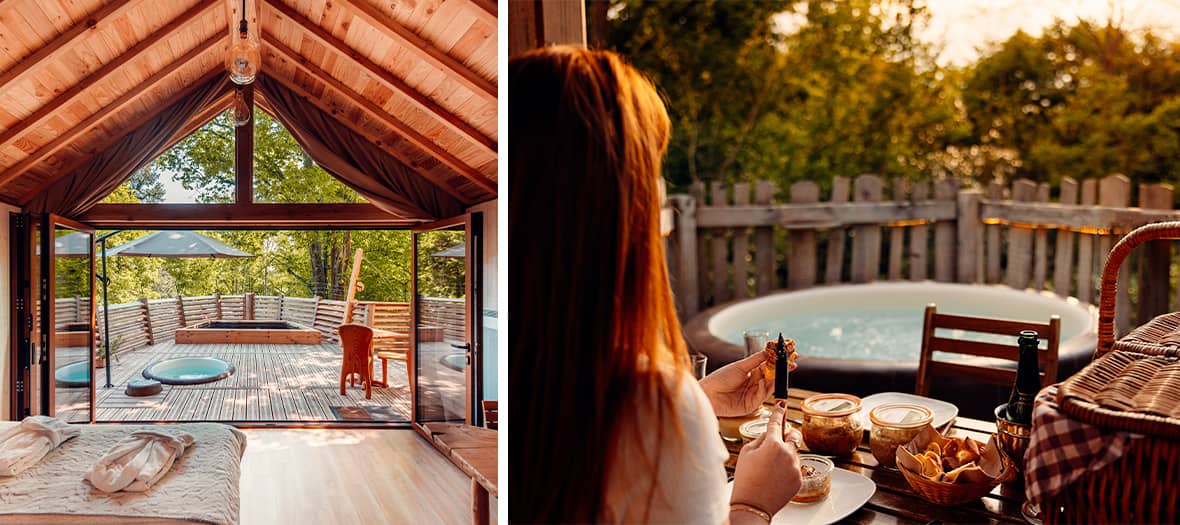 As soon as you arrive, a cart transports you to your cocoon perched a few meters above the ground. The Cocoon cabin reveals not one but three islets, all connected to the others by wooden bridges: the jacuzzi , the kitchen cabin / shower room before joining the bubble of love: a very round bedroom with small portholes to observe the outside without being seen.
Here, no dry toilets but a real bathroom with walk-in shower and all the hoops, with a view of the woods while rinsing. Chic, we tell you. Great novelty of the season: The dream cabin , a giga cabin designed on a single island with jacuzzi and suspended hammock.
The right spot to disconnect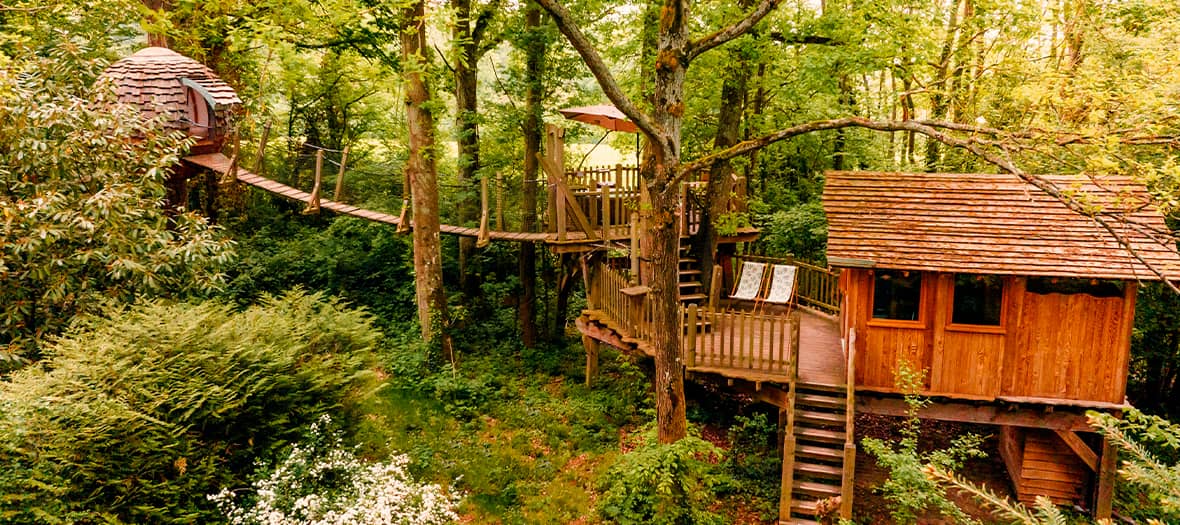 A real invitation to slow life , Le Bois de Rosoy exalts absolute well-being between the forest, the shared swimming pool in the heart of the wood, the eco-designed and zero-plastic structure, but also the pétanque and mölky ground , the walks horse, the chicken coop and the sheepfold which allows you to come across some sheep near your cabin in the afternoon.
In terms of meals, we take care of everything, from breakfast to dinner. A crockery dinette will be delivered on request in a pretty basket filled with homemade jars from local products. Aim instead: the aperitif with appetizers, pâté and champagne (€30) or the starter-main course-dessert dinner (€25). All that remains is to turn the crank to retrieve the basket discreetly placed at the foot of the cabin .
And the kids then? Between the playground on site, an amusement park 30 minutes away by car and pony rides in the surrounding area, they will be spoiled for choice.
Most ? The possibility of taking a dip in the swimming pool and enjoying the area all day, even after returning the keys to the room.
How to get there ?
1h10 from Paris by car or 50 min by train by line P then 10 min by taxi. Possibility to order VTC online 24 hours a day or to call Taxi Jean Pierre (06 45 63 99 19) a few days before.
From €265 with breakfast basket included. Online reservations . Open daily from April to November.
Also discover: A dream getaway in Pantelleria and a weekend in slow mode at Mas de Cinq Sous.