Creating pretty objects with your hands is both a satisfying activity (" I did it myself! ") but also an opportunity to meet new people around highly feel good DIY workshops . Pottery , ceramics , embroidery , mosaic … We have listed for you the 5 kids-compatible spots that are too cool to unleash the artist in you.
The Papoterie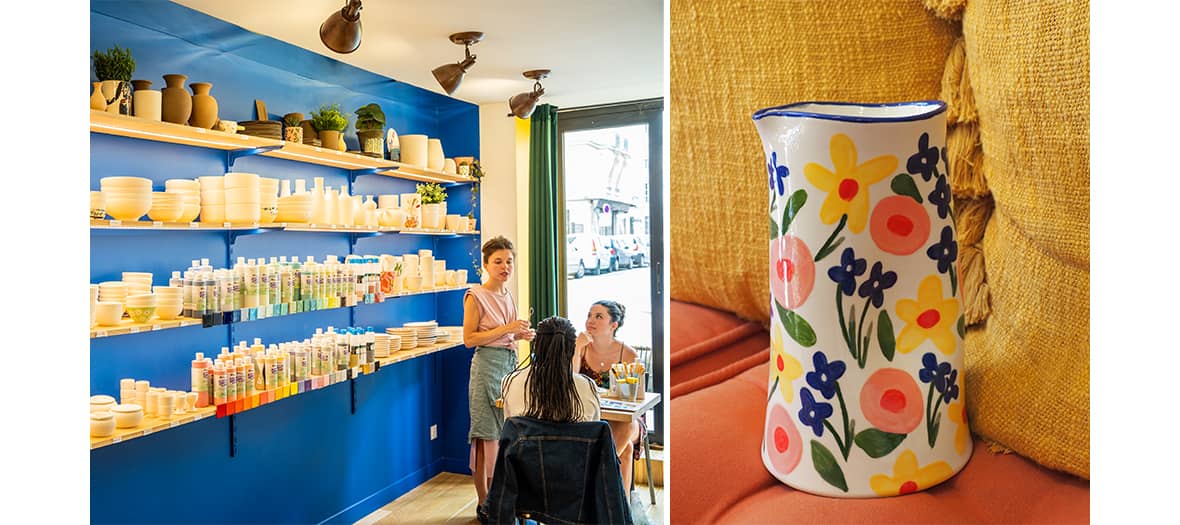 The concept: pastries, quiches and tapas to eat between two brush strokes to customize ceramic pieces already made by French artisans, much better than if we had made them ourselves, all while sympathizing with strangers s to share her inspirations (or find her!). This is the cool idea launched a few days before the covid wave by girlfriends Laura and Coline, in a space that feels good and conducive to chatting (hence its name). We customize, we paint and we wisely deposit our creation before leaving to let it cook and rest before recovering it in 10 days to 3 weeks. Coming back, we take the same ones and we start again? Another option for the impatient: express cooking in 48 hours, charged at €5.
Prices: plates, vases, carafes between €8 and €70. Bruschetta with tomato, mozzarella and salad €8.50, chocolate cookie €4.50.
La Papoterie , 13 rue Ternaux, Paris 11th, open Tuesday to Friday from 2 p.m. to 10 p.m., Saturday and Sunday from 10 a.m. to 8:30 p.m. 17 rue Notre Dame de Lorette, Paris 9th, open Tuesday to Friday from 11:30 a.m. to 10 p.m., Saturday and Sunday from 10 a.m. to 8:30 p.m. 01 48 06 72 88.
Ceramicafe Genevieve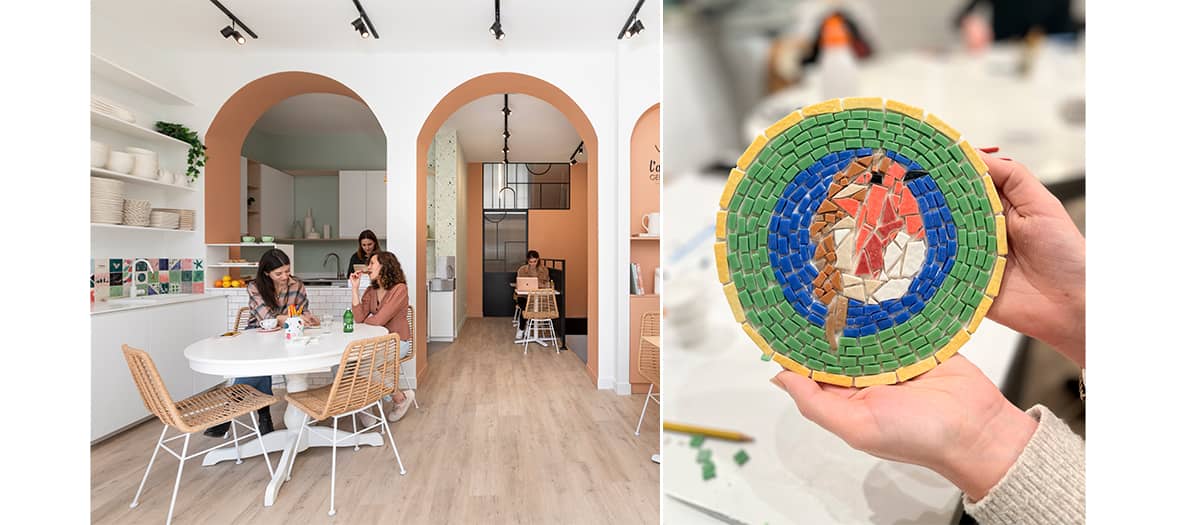 The concept: at the heart of her Parisian addresses (11th, 14th and soon 17th), Geneviève Landsmann initiates neophytes with great pedagogy to ceramic decoration , modelling , mosaic , turning or Kintsugi ( this Japanese art so poetic to restore broken objects by sublimating them with gold). Just choose your favorite moment between brunch , aperitif and snack around organic teas, ethical coffees, organic wines, matcha lattes and delicious pastries.
Prices: ceramic painting workshop from €29.90 with a piece to paint + a drink (2h). Ceramic & brunch on Sunday mornings, vegetarian brunch (vegan and gluten-free option) + a ceramic to paint, €58 (3h). Ceramic & Aperitif, Thursday/Friday/Saturday evenings with a ceramic to paint + an aperitif board to share + a drink, €39.90 (3h). Filming initiation workshop €59 (2h30). Modeling and painting workshop €79 (2x 2h). Mosaic workshop , €55 (2h30).
Céramicafé Geneviève , 6 rue Saint Bernard, Paris 11th, 09 87 79 28 27; 42 rue Raymond Losserand, Paris 14th, 09 82 33 63 02 and in May 2023 at 61 rue La Condamine, Paris 17th. Open Tuesday to Sunday. Online reservation recommended. Open to everyone.
© @ateliergermain on Instagram
Klin of Eye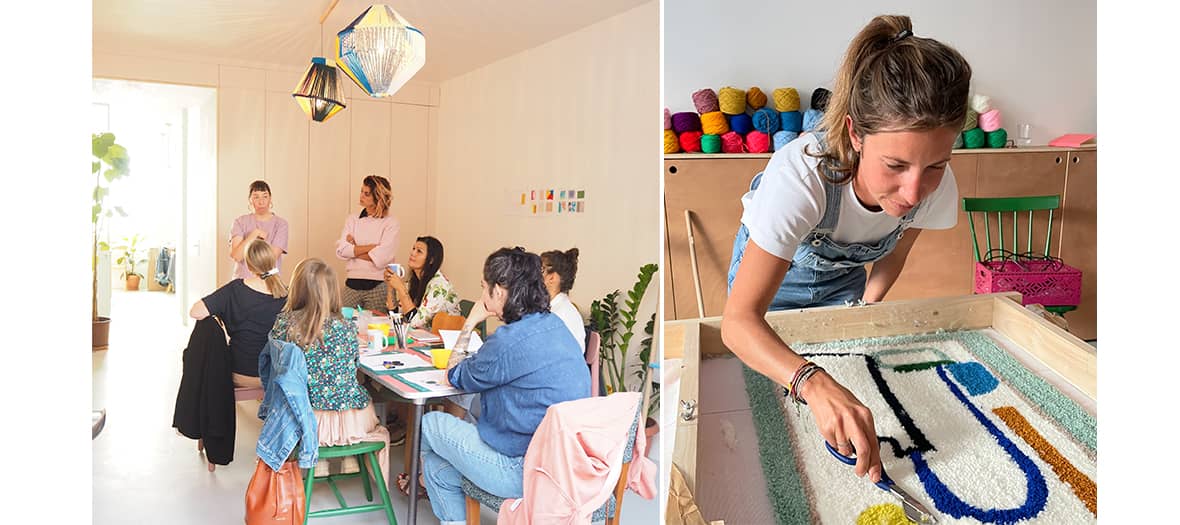 The concept: set up by two sisters passionate about DIY, Klin d'Œil is first and foremost a shop that presents their favorite designers. But there are also events and workshops on weaving , screen printing , painting on silk , lipstick , decoration on ceramics and embroidery led by the creators. Rarely, you will also find hyper-niche workshops with complicated names for making rugs ( tufting carpet ), floral designs ( floral doodling ), crochet squares ( granny square ) and even crepe paper flowers ( paper flower cosmos ) . An entire program !!
Prices: count between €60 for a punch needle lesson (this special embroidery needle for an overly beautiful look) and €280 for carpet tufting , the most expensive workshop. Obviously, everyone leaves with their creation to display proudly at home.
Klin d'Oeil , 6 rue Deguerry, Paris 11th. Open Tuesday to Sunday from 11 a.m. to 7 p.m. 01 77 15 22 30.
Big Band Pottery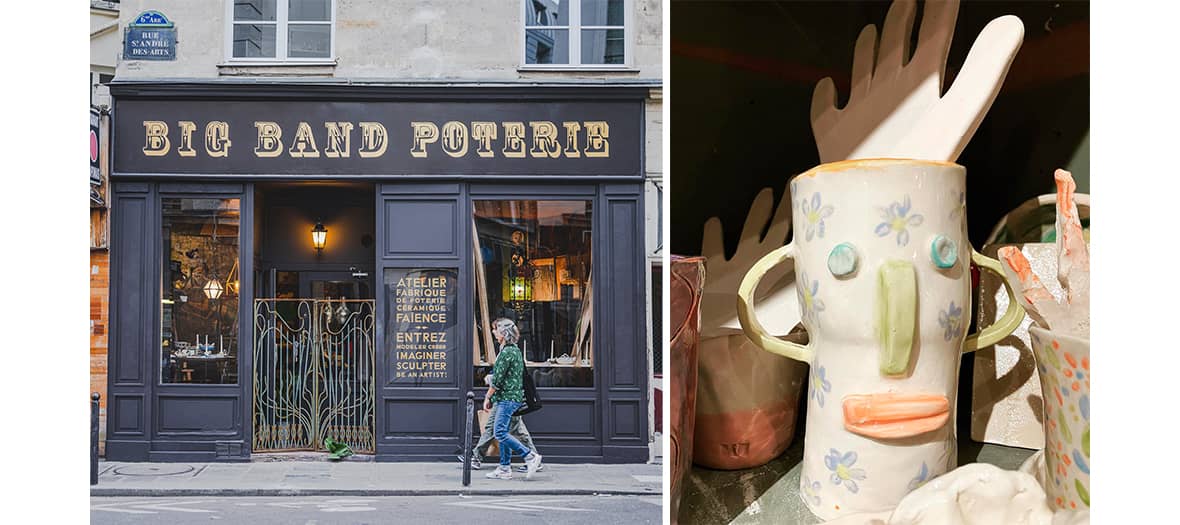 The concept: do you love the Kilo Shop concept ? You'll love the Kilo Factory one , launched in Paris by Big Band Poterie . The pitch: you stay as long as you want to create freely and you pay according to the weight of your masterpiece. For the less resourceful, the creators of the place offer to enamel your creation once well cooked, to be collected after a week. And for those who would like to have their friends eat, the place can be privatized for groups. What are we waiting for to reveal the Rodin in us?
Prices: the price is fixed according to the weight of his work, firing and enamels included. Count 20 € for 1h30 of massage per kilo. Total privatization of the studio evenings and weekends, from 1 to 12 people, €390 for 2 hours.
Big Band Pottery , 57 rue Saint-André des Arts, Paris 6th. Open Monday to Friday from 9 a.m. to 6 p.m. 06 07 10 60 90.
Mazette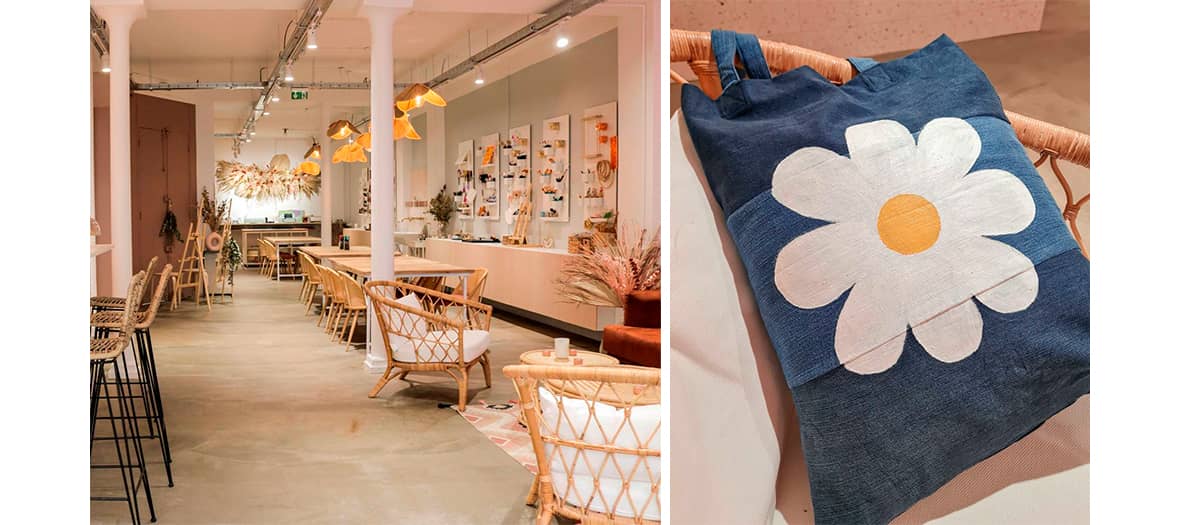 The concept: the official first creative laboratory in Paris, Mazette offers a space for pop and colorful creation for more than twenty manual activities in total freedom. With its ultra-precise tools, its specialized shop and its drink area, it's the HQ for DIY fans and gifted sewing enthusiasts. The two left hands will not be dropped thanks to the very professional courses and workshops to be booked directly on the site.
We chill there while knitting, we sip our tea with friends around an engraving , we get nostalgic by trying scrapbooking ( # teenage) and we take advantage of the different rooms to try our hand at the activity of the moment: tufting .
Prices: count €15 per hour and per person from the start of a free activity and between €18 (watercolour) and €65 (spring bell) for lessons.
Mazette , 7 rue d'Alexandrie, Paris 2nd. Open Monday to Thursday from 2 p.m. to 10 p.m., Friday from 2 p.m. to 8 p.m. and Saturday and Sunday from 10 a.m. to 8 p.m.
Also discover a decoration shop like no other and the brilliant concept store where all your broken objects are repaired .