Passionate about travel and exotic gastronomy, foodie Chloé Vasselin roams the streets of Paris in search of canteens that will take her on a journey…
His definition of boui-boui? " For me, it's a modest address, with few tables, generally installed for a little while, where you can enjoy simple, popular cuisine, without fuss and which makes you travel. A place where you find not only flavors but also sometimes a different language. "
Designed as a little tourist guide for Parisians in search of curiosity, Chloé Vasselin brings out the bible we dreamed of: The guide to Paris Boui-boui with more than 120 nuggets for less than 15 €. The opportunity to give us his most unusual addresses in Paris .
La Tonkinoise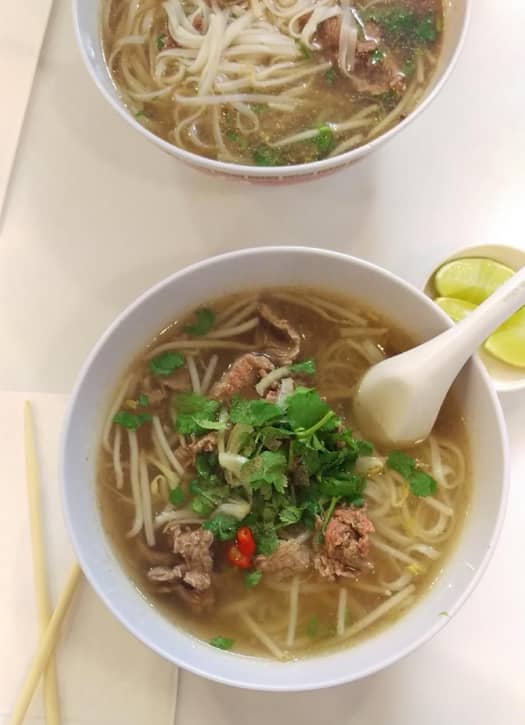 " In an arrondissement not well known for its affordable restaurants, there is a hidden, very retro food court with sublime Art Deco details. In the Passage du Marché de La Madeleine, La Tonkinoise is an endearing traditional Vietnamese restaurant; Van officiates there in his tiny kitchen, his capital of kindness delights regulars and passing customers alike ," explains Chloé Vasselin.
We like: the unusual potential of this retro place to death installed since 1989 in a former primeur under the dome of the Passage de la Madeleine (where we also find Leroy Merlin)…
The dish to try: the pho soup (€9) and the bo-bun + spring roll (€ 9).
Open Monday to Saturday from 11 a.m. to 8 p.m. Close on Sunday.
La Tonkinoise, 11 rue Tronchet, Paris 8th
Chez Mamikon et Tchinar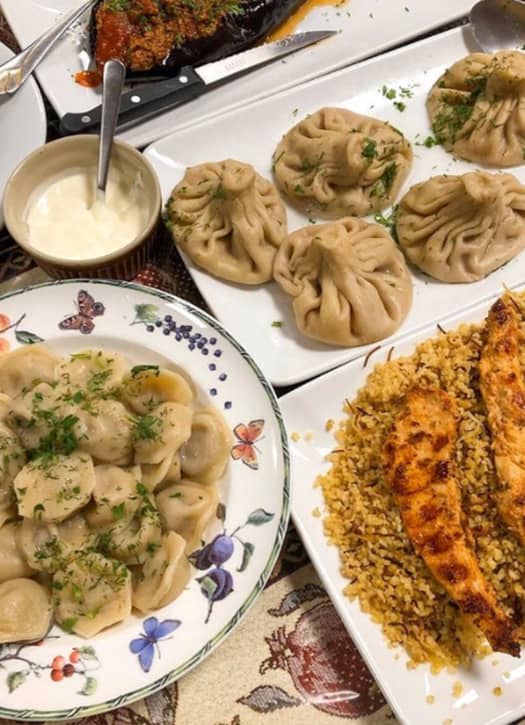 " If you don't know this good plan yet, you'll be surprised , " laughs Chloé . This Armenian canteen has to be earned. You will have to press the button of a heavy porte-cochere before going to the back of the courtyard and finally going up a floor before being warmly welcomed by Tchinar, the mistress of the place, a real canteen of the Armenian cultural house ."
We like: a very generous and impossible to find address if we haven't been given the tip.
The dish(es) to try: Georgian khinkali , Russian ravioli or Armenian chicken (€13).
Open Monday to Saturday, 12 p.m. to 3 p.m. and 7 p.m. to 9 p.m. Close on Sunday
At Mamikon and Tchinar, 17 rue Bleue, Paris 9th
Relais Tropical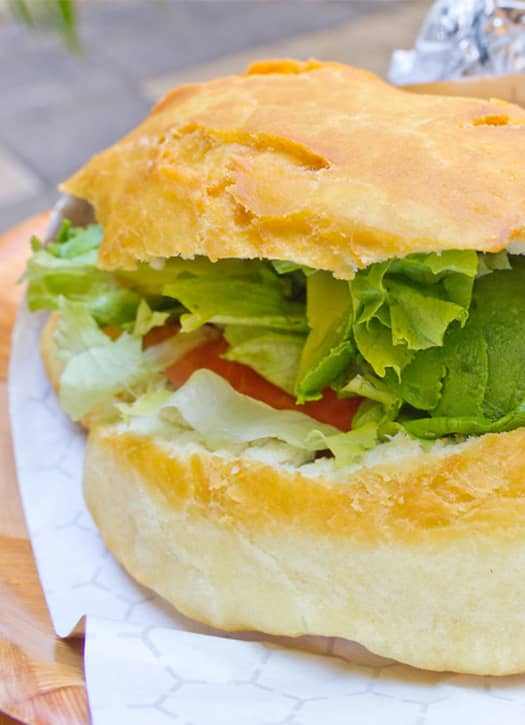 " A West Indian lolo at the gates of Paris? This wooden and sheet metal hut delights those in need of the sun and defines itself as the first Creole " resto-vit' " in the capital. Bokit sandwiches with chiquetaille cod, spicy beef or smoked chicken, spiced up with a dog sauce, the taste buds are guaranteed a change of scenery ", enthuses the scout for good deals.
We go there for: the mood " like in the country! ", simple and friendly with the smoked chicken sometimes cooked on the ground in front of the stall.
Dishes to try: a tray of rice and lentils with the fish of the day (from €7 to €11) or the bokit (€5).
Open Monday to Saturday, 10 a.m. to 12:30 a.m. and Sunday from 4 p.m.
Relais Tropical , 27 boulevard Mortier, Paris 20th
Columbia Pan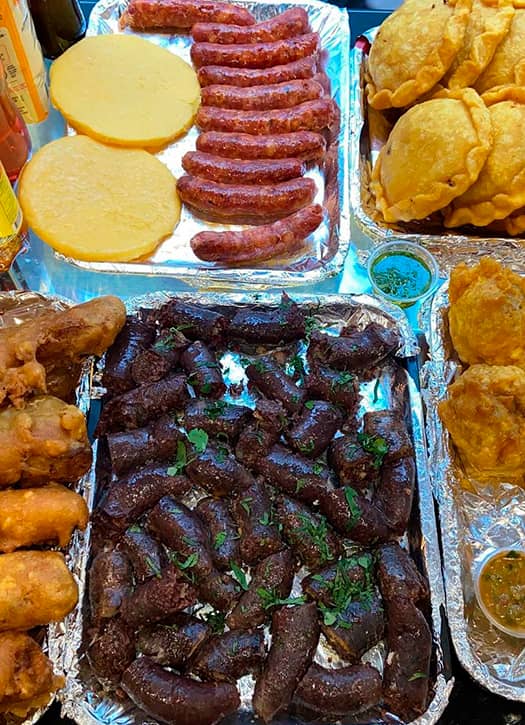 " The only Colombian bakery in Paris, Colombia Pan offers many variations of breakfast. Without going too far, start with an arepa antioqueña (cheese-filled corn pancake), scrambled eggs with onion and tomato and of course a tinto (black) coffee. For an extra touch of escape, order an avena , an oat milk drink flavored with cardamom ", explains Chloé Vasselin.
We go there for: the super colorful mood like in Bogota with checkered tablecloths and parrot statues…
The dish to test: in addition to their great brunches , you can try all the Colombian pastries made with guava jam or dulce de lece (from €3 to €9).
Monday to Sunday from 9 a.m. to 10 p.m.
The Colombia Pan , 83 rue Sedaine, Paris 11th
Masawa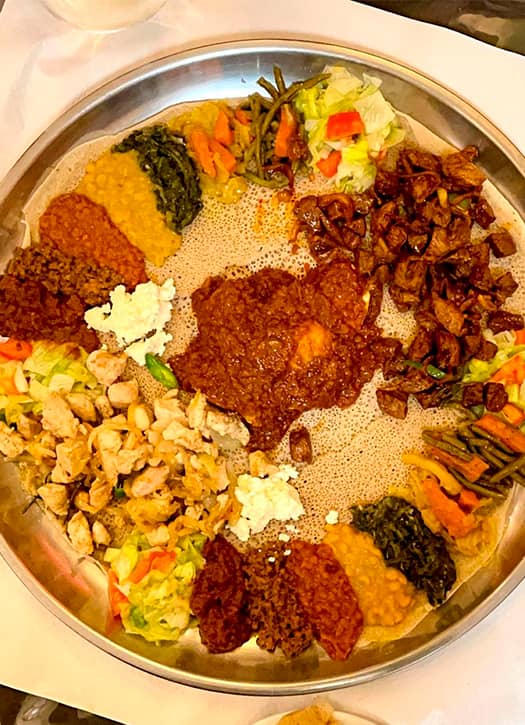 " This troquet recycled into an Eritrean restaurant is located on the edge of the Indian quarter. The service is full of kindness and during large tables, the atmosphere is very festive. It's a place that I love for group dinners and even team buildings! Note: you can enjoy very good vegetarian cuisine ," explains Chloé Vasselin.

We go there for: eating with your fingers from a shared tray. Here, it is the rule of propriety!
The dish to test: the wat , a very tasty stew with lamb in butter or ground beef with cumin (€12).
Open Monday to Sunday from 11 a.m. to 11 p.m.
Massawa 22 rue Château-Landon, Paris 10th
© Instagram / @thenastybelly
Also discover the new temples of food and the new address for burgers in the 10th arrondissement .