Shopping in Paris has become an art as glam as it is avant-garde: neighborhood grocery stores are transformed into Ali Baba's caves where disparate encounters are born between the imagination of our favorite chefs and the shopping carts of Parisians. s. Enough to put panache in your basket!
Shosh: the most Israeli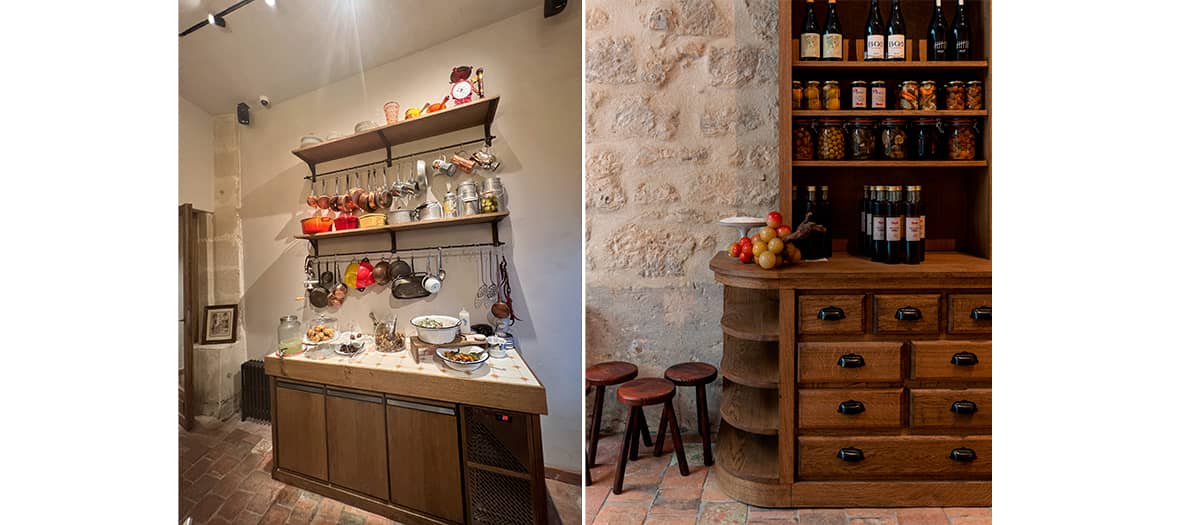 The concept: the new deli from the Assaf Granit team is a friendly place where Israeli joy is revealed in a generous atmosphere in the heart of the Sentier . We went to Shosh : the grocery store is a pearl of authenticity where his native Jerusalem affirms its origins, its heritage and its traditions in its cuisine and its products. To reinforce this family and benevolent atmosphere, the photos of the grandmothers of the staff members proudly invest the back wall and seem to monitor that the plates are always well filled.
In my basket: za'atar (€9 for 25 g) and amba powder (€10 for 45 g), Israeli olive oil (€16 for 250 ml), bagels from Jerusalem (€2.50 each), delicious Oriental wines like Bargylus from Syria (€43 a bottle) and kosher wines like the unmissable Shoresh (€59 a bottle).
The added plus: an anthology of small prepared dishes can be eaten on the spot and are available in take-away . Among them, the unmissable Horesh sabzi : beef cheek, Persian lemon, chard stew and white beans, the chef's grandmother's recipe...
Shosh , 14 rue Saint-Sauveur Paris 2nd, open Monday to Saturday from 11:30 a.m. to 8 p.m.
LES RÉSISTANTS: the most committed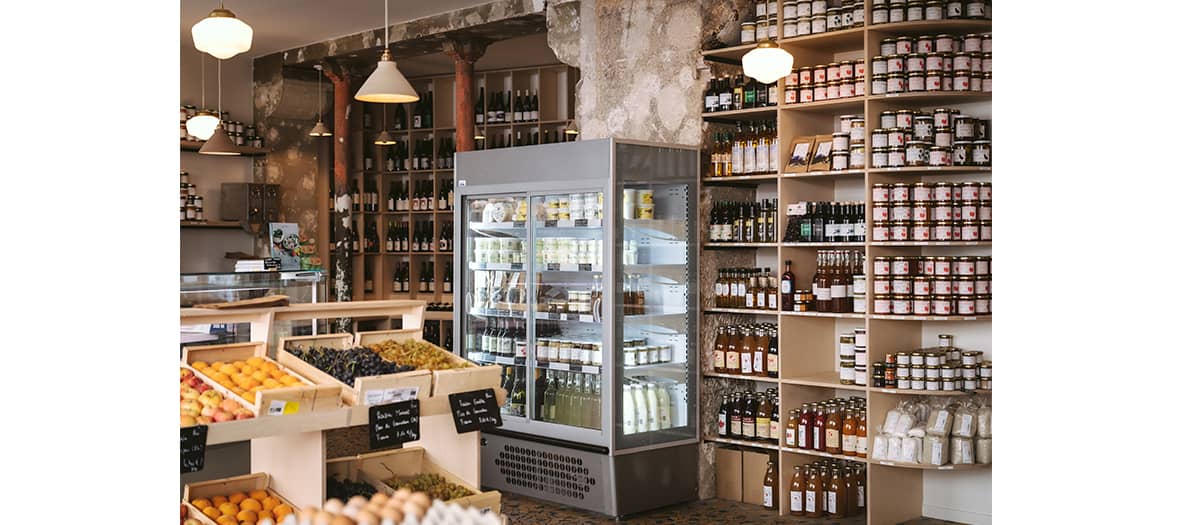 The concept: Les Résistants was the crazy bet of a group of childhood friends passionate about cooking, committed and concerned with defending peasant agriculture. Here, the products are chosen with consistency according to a meticulous ethical charter as close as possible to the environment and quality. After the success of the Les Résistants restaurant , the mission therefore seems to be spreading to the cupboards of Parisians, because the grocery store now allows you to fill your fridge responsibly with good fresh products .
In my basket: organic tomatoes from peasant seeds from Jonathan Chabert (€6.50 per kilo), homemade Froment du Léon cow bresaola (€60 per kg), and homemade organic rosemary apricot jam ( €6 for 320g).
The added plus: the catering style dishes prepared on site to take home. On the menu at the moment, a delicious zucchini tartlet (€3.90), empanadas (€2 each) and good bottles of sulphite-free organic wine to avoid headaches the next day!
Les Résistants Epicerie Cave , 29 rue du Château d'Eau, Paris 10th, open Tuesday to Saturday from 10am to 8pm
Eats Thyme: the most Lebanese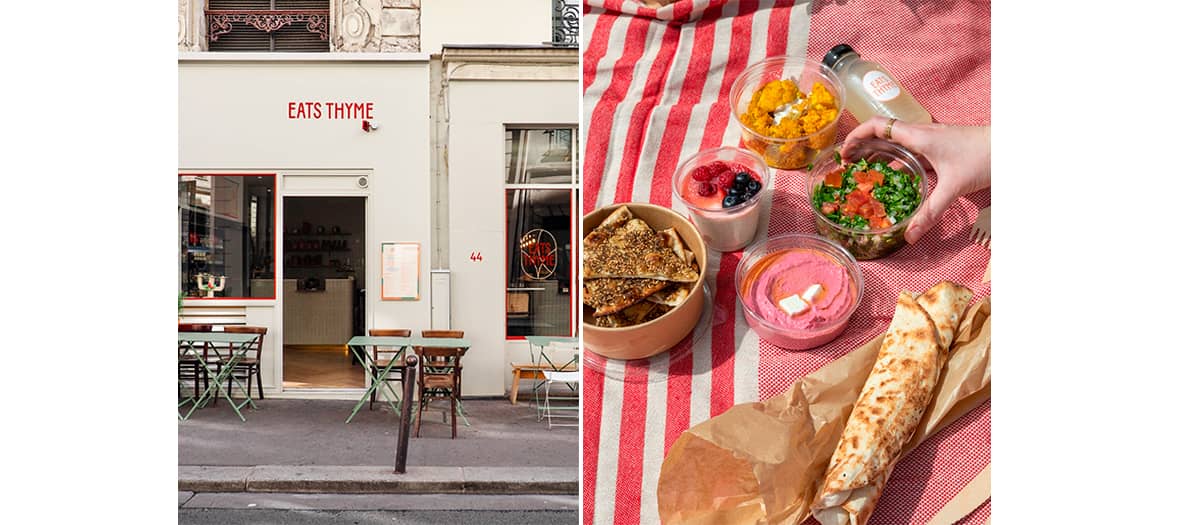 The concept: a wind of modernity is blowing on the Lebanese art of living. The dream of Carla Rebeiz (former big name in finance) has finally come true: to open and develop Eats Thyme , her grocery store-restaurant to restore the image of Lebanese cuisine.
In my basket: excellent products that respect the environment and the seasons. The essential za'atar (€7.50 for 50 g) from a women's cooperative in Lebanon , elderberry syrup from the Solan monastery (€5 for 250 ml), and salt in wine, thyme and rosemary (€6.90 for 60g) to enhance grilled meat, salads and potatoes.
The extra thing: The Good Bag tote bag (€13) which contributes to the fight against global warming by financing the planting of trees and the collection of plastic in the oceans.
Eats Thyme , 44 rue Coquillière Paris 1er, open Monday to Tuesday from 11 a.m. to 11 p.m. and Sunday from 11 a.m. to 5 p.m.
ANNEXE DU PETIT BOUILLON PHARAMOND: the most raunchy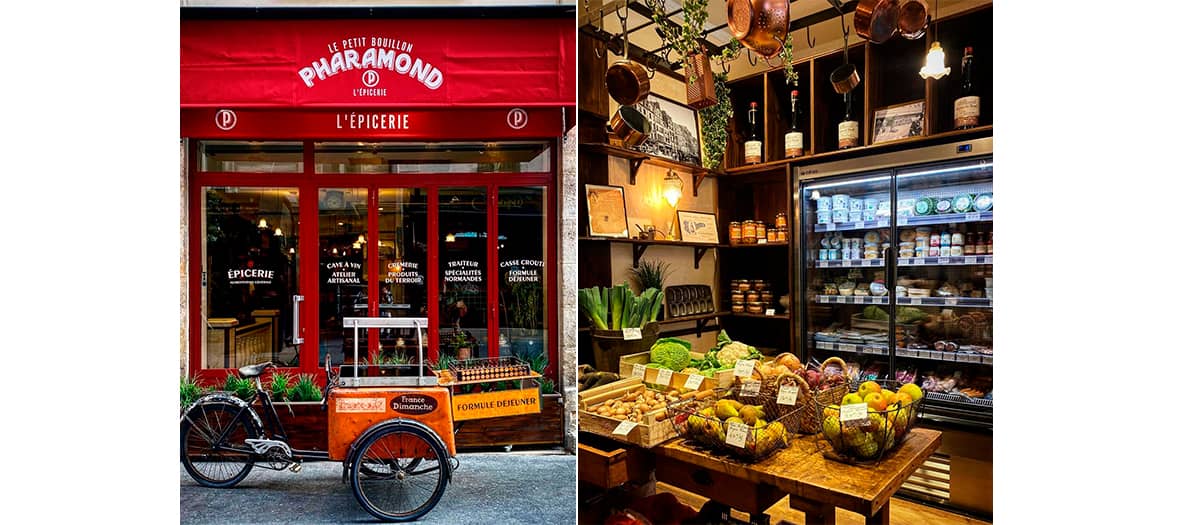 The concept: Franchouillards fans of aperitif/barbecue weekends with friends are thrilled at the idea that the best Parisian broth has opened its grocery store. In a spirit made in Normandy decorated like an old trade, local products make eyes in our pantry.
In my basket: an organic camembert (€5.60), Normandy apples (€3.90 per kilo) and artisanal brioche (€5.50), cider, wine and crazy sausages.
The extra thing: in case of an express lunch break, rather than going to the father's restaurant, dishes from Petit Bouillon Pharamond and frankly gourmet sandwiches are available to take away.
L'Annex du Petit Bouillon Pharamond , 28 rue Pierre Lescot, Paris 1er, open Monday from 12 p.m. to 4 p.m., Tuesday to Friday from 12 p.m. to 4 p.m. and 6 p.m. to midnight, Saturday from 12 p.m. to midnight
COMME À ATHÈNES: the most Greek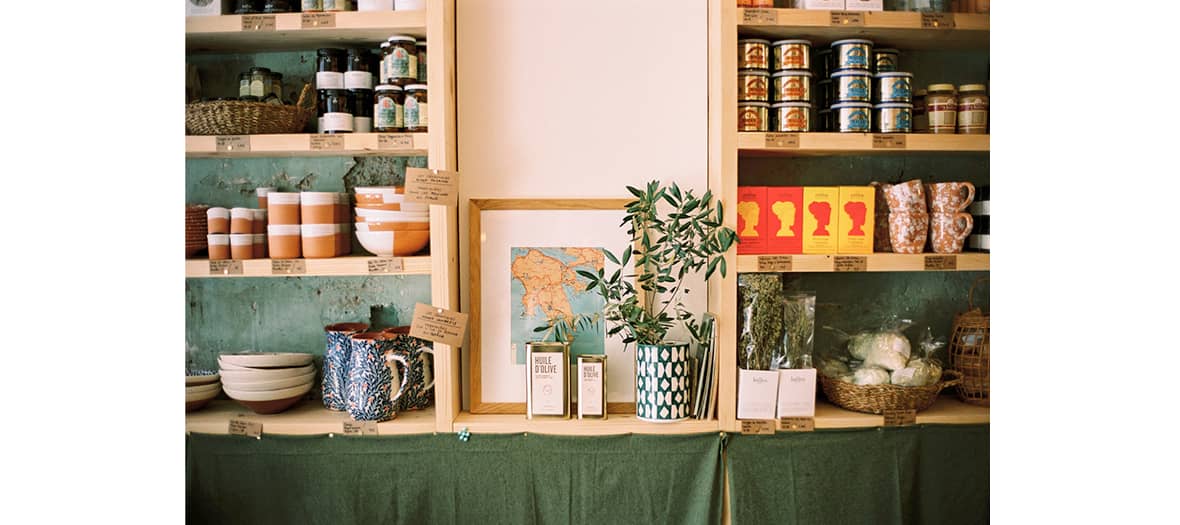 The concept: an ode to the Greek capital that transcends Mediterranean habits and customs. Comme à Athènes is the third address signed by chef Chloé Monchalin-Chronopoulos (trained by Pascal Barbot and Joel Robuchon ) and her partner Benjamin Rousselet (ex-director of Chardenoux by Cyril Lignac ). The passionate duo of Hellenic cuisine offers a grocery store in the colors of Greece to the delight of those whose summer mood has been undermined by this return to school.
In my basket: Greek craft beers (€3 for a 33 cl bottle), hemp and CBD infusions from Ertha (€12 for a box of 20 sachets), OuzoPlomari or the most famous Ouzo in all of Greece (€21.90 for a 70cl bottle), kritharaki or bird's tongues to nibble on and, on the sweet side, a goodthyme honey from Melodiko ( €12.30 for a 250g glass jar).
The extra thing: the ceramics coming directly from the island of Sifnos to set its tables like at the Grand Café in Athens , made and painted by hand by the Lembesis family (5 generations of ceramists), and also artisanal creations Italian dishes signed Enza Fasano to brighten up its dishes and decor!
Like in Athens 31 rue Linné Paris 5th open Monday to Friday from 10 a.m. to 5 p.m.
ÉPICERIE DE LA TOUR D'ARGENT: the most French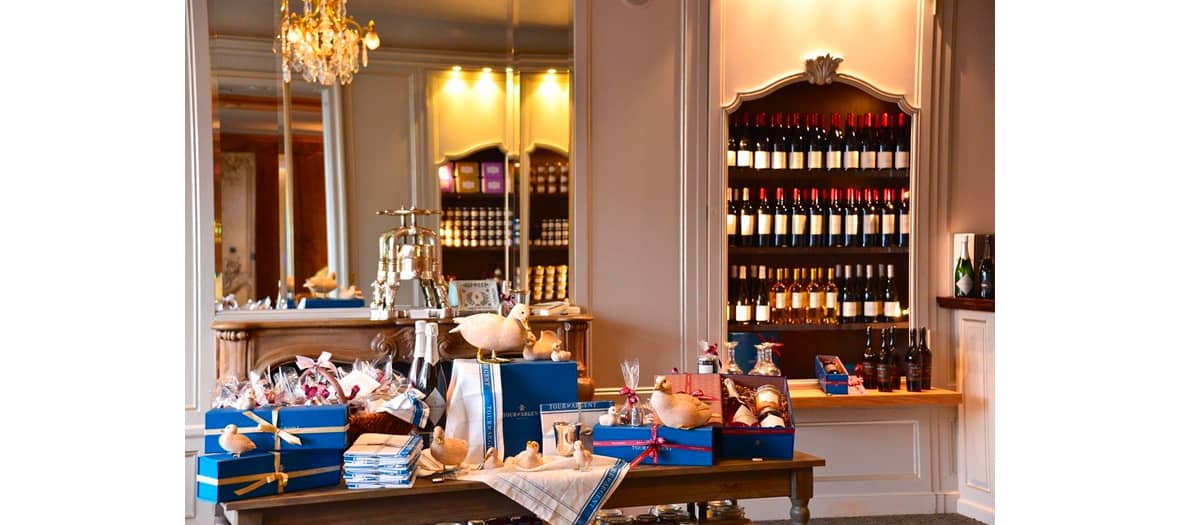 The concept: a delicatessen with all the must-eats of made in Ile-de-France in a typically Parisian setting that echoes the know-how of the institution of the famous restaurant of the Tour d'Argent (currently closed for renovation ).
In my basket: purple mustard with grape must (€8 for 80 g), vegetable pickles with white wine (€12 for 700 g), chocolate Babas with Fine champagne (€14 for 160 g) , mara des bois strawberry jam with Tour d'Argent champagne (€12.90 for 220 g)
The extra thing: the superb refined gift boxes that bring together emblematic products of French culinary heritage with original or tailor-made compositions. We love the gourmet conversation , a gourmet aperitif for 4 people (€45) to enjoy for a privileged moment with those who are never at a loss for words!
Epicerie de la Tour d'Argent 13 quai de la Tournelle Paris 5, open Monday to Friday from 10 a.m. to 2 p.m. and from 3 p.m. to 8 p.m., Saturday from 10 a.m. to 8 p.m. and Sunday from 10 a.m. to 7 p.m.
LE DOUKANE: the most Levantine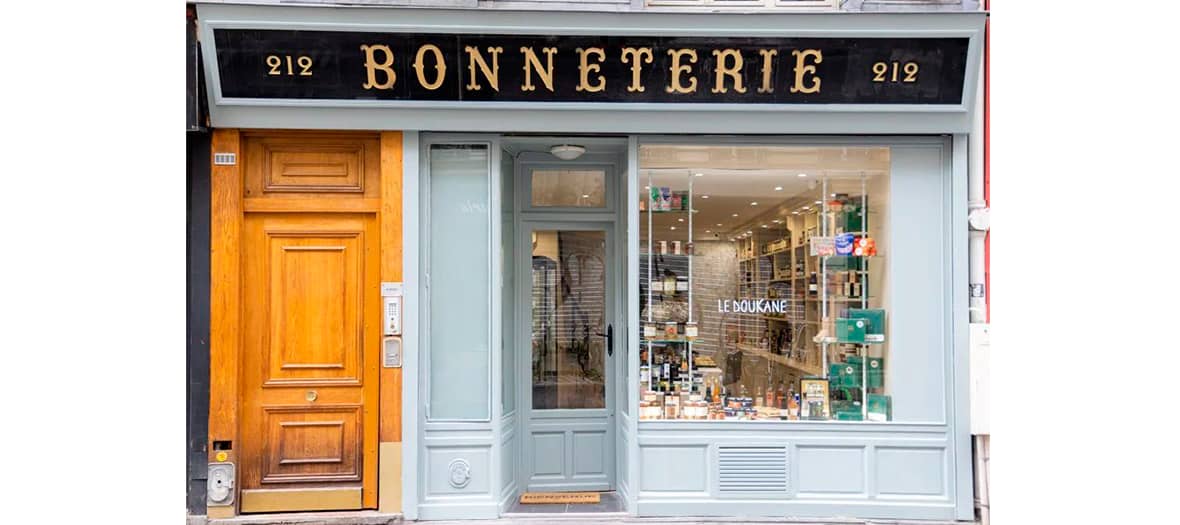 The concept: a place of sharing created by the duo Alan Geaam and Anthony Rahayel , a gourmet oasis to the glory of the country of cedar, the Le Doukane grocery store fits perfectly with the Lebanese proverb according to which " the way to the heart of men passes through their stomach ".
In my basket: plain halloumi (€4 for 200 g), orange blossom water (€10 for 250 ml), Sumac (€9 for 120 g), fig jam (€9 700g) and delicious diced pumpkin in syrup (€10 for 400g).
The added bonus: traditional Lebanese olive oil soaps from Koura (€3 for 150g), perfect for keeping the skin hydrated.
Le Doukane 22 rue Saint-Martin Paris 3, open daily from 10 a.m. to 8 p.m.
Tempero: the most do Brasil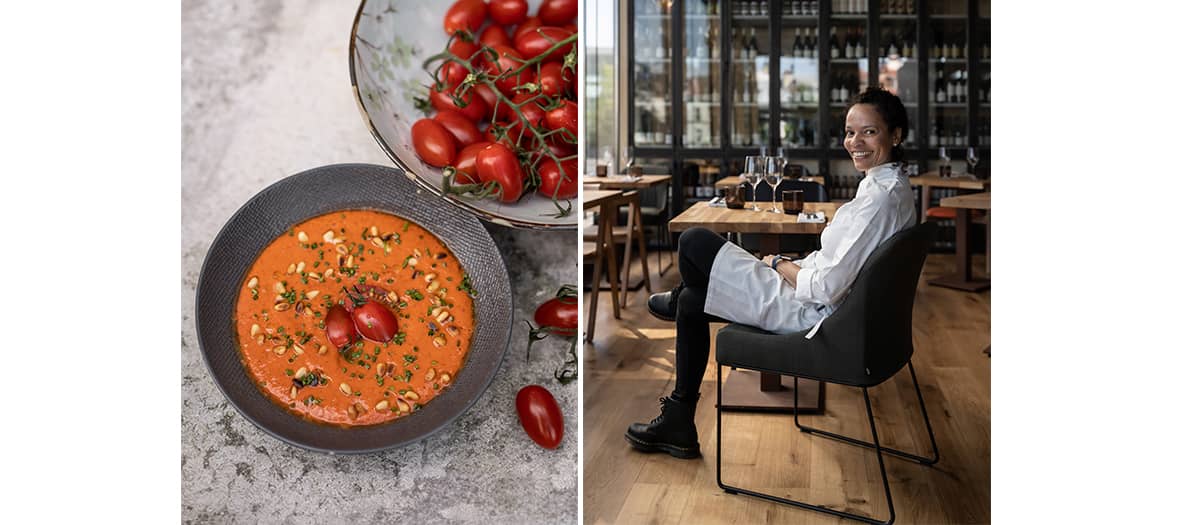 The concept: a grocery store, a snack table, a cheerful cellar and a bookstore, or how to bring the Gare district of the 13th arrondissement to life . Chef Alessandra Montagne 's grocery store ( Nosso ) presents itself as an open house ready to welcome all comers looking for good products and good times. Shopping, savory or sweet snacks during a chef's book reading break to target recipes to reproduce at home, it's all there!
In my basket: wheat flour from Perche (€6 per kilo), Bocaux de chef crème caramel (€5 for 200g) and feijoada to take away for two people (from €12 to €15 for 800g) and all the locavore finds from Alessandra Montagne , who only buys short circuits from suppliers as committed as she is.
The added plus: the twenty to thirty seats at the snack table to enjoy a moment of conviviality while tasting the famous cooked sandwiches or the anthology of pies and pies of all kinds.
Tempero grocery store, 24 promenade Claude Levi-Strauss, Paris 13th, opening soon in October.
Also discover the 5 girly restaurants to see life in pink and the 5 stylish coffee shops where you can work from home