From Maison Plisson to Terroirs d'Avenir on Rue du Nil, Eataly or the best labels at the Galeries Lafayette Champs-Elysées Food Court: they incarnate the renewal of savoury Parisian eats!
They incarnate the renewal of savoury Parisian eats. General district for foodies and Parisiennes with good taste, these venues are the suppliers of leading chefs and regroup the best products of the capital to be tested at least once in a lifetime.
The Rue du Nil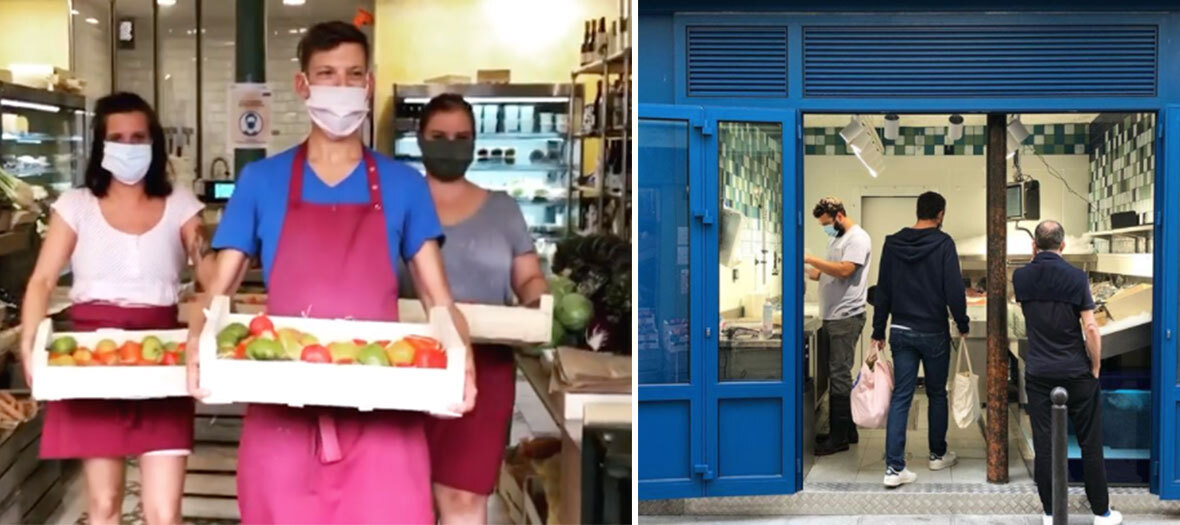 Departure point of this gourmet district: the arrival of an up and coming chef. Grégory Marchand awakened this tiny street of the Rue du Sentier left by the wayside. The aura of Frenchie, its gastronomic offer and wine bar, very quickly attracted another mover and shaker in the gourmet universe, the collective Terroirs d'Avenir, supplier of committed chefs, who also happen to support producers, farmers and sustainable fishing.
Since their arrival: a high-end grocery store with outstanding products, a top notch butcher, fab boulangerie, fish monger and dairy, all of which offer a market of this own in this adorable pedestrian street that ups the ante to Rungis. A foretaste of your next basket? Tomatoes from the Vienne region, mackerel from Saint-Jean de Luz, or duck breast from Maison Barthouil, organic Italian avocados sourced by Andrea Passanisi or yogurt—in short the crème de la crème!
Terroirs d'Avenir 3, 6, 7 and 8 Rue du Nil, Paris 75002
the Food Court of Galeries Lafayette Champs-Elysées
The Food Court of Galeries Lafayette Champs-Elysées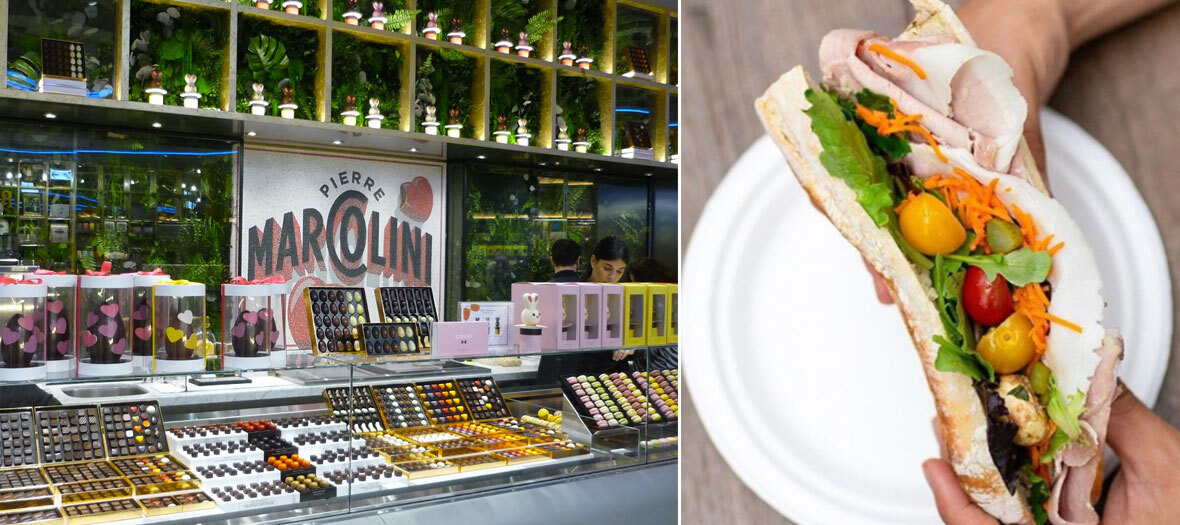 Who could have believed it? The condensed best labels of French Food unveiled in a secret garden on the Champs-Elysées. Yes, yes, you have perfectly heard. Check it out: Maison Vérot, one of the best charcutiers in Paris deals their mythical pâté en croûte and incredible saucissons, while Stohrer is always there with their signature baba au rhum and Saint-Ho', Alain Ducasse unveils his chocolate praline tablets, Mr Zhao, the delicious Chinese sells its bao sandwiches while Yard wine cellars distillate the very best of natural orange wines.
The rallying point? The Food Court of Galeries Lafayette Champs-Elysées, whose name makes all the Parisiennes, dream, starting with the clothing department featuring dresses by Jacquemus cohabit with the most beautiful sneakers of Paris. A dream come true: the possibility of ordering online and being delivered or to pick up groceries on site. The delivery service brings your shopping basket directly to your home while you can happily rummage for a new pair of designer shoes.
60 Avenue des Champs-Elysées, Paris 75008
Eataly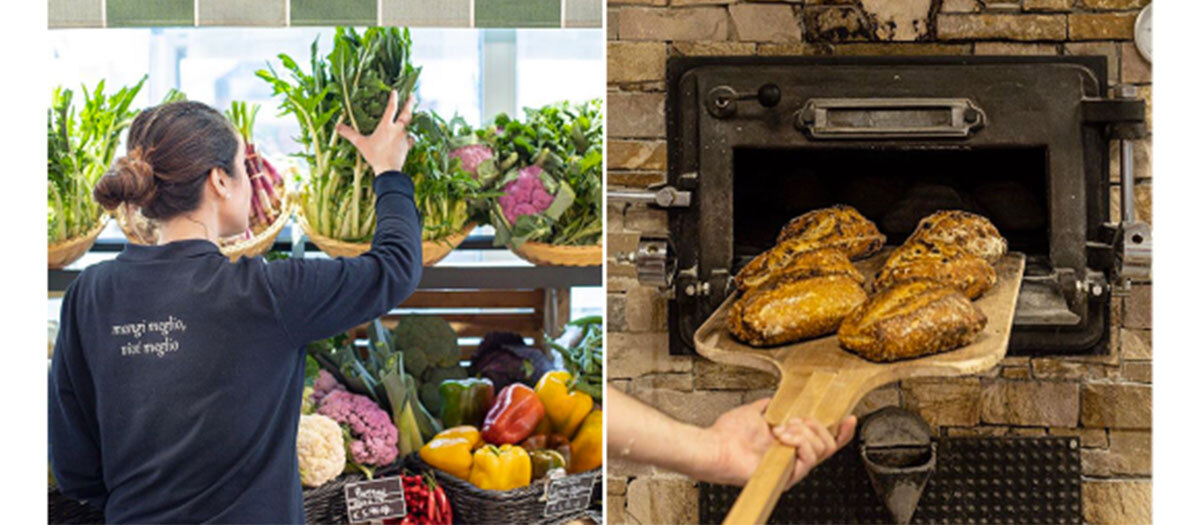 It's the most desirable Italian food concept in the world. After New York and Milan, the XXL Eataly trattoria is now resolutely implanted on the Marais pavement as an open and outdoor market… It's quite simple, and offers the very best of Italian sourcing. The motto here is Slow Food.
So just lie back and adopt the dolce vita lifestyle … Breakfast on the terrace, followed up by marvelous breads and fresh raviolis—for which only mamma has the secret—get ready to raid the grocery store with very special pasta, olive oils which chefs secretly share, without forgetting tomatoes and lemons such as you have never tasted. Buon appetito!
Eataly 37 Rue Sainte-Croix de la Bretonnerie, Paris 75004
Maison Plisson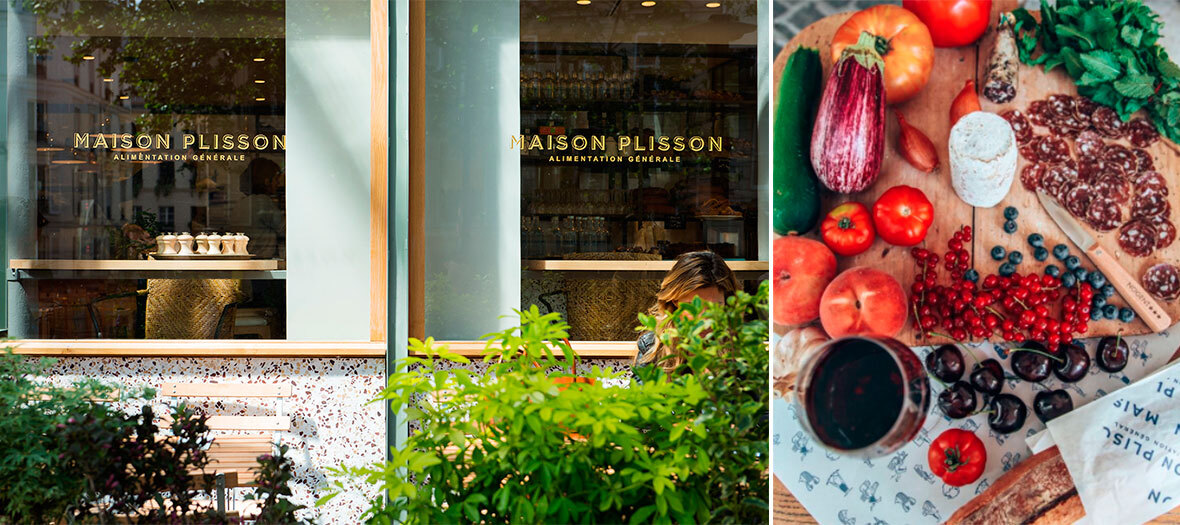 The offer here is so perfect that this incredible grocery store seems to have existed forever. And yet: since its opening in 2014, Delphine Plisson has created a revolution in the food world by launching 2.0 general stores with two Parisian workshops in the Marais and Place du Place du Marché Saint-Honoré, without forgetting Petit Plisson at Montorgueil. Here you will find everything you need to fill up the perfect icebox of the Parisienne!
Biscuits to be nibbled on in front of the TV or then a hamburger for the little one, homemade shortbread dough, leafy lettuce, fab olive oil, natural wines and saucisson, the best peaches in your life, roasted chicken, a fresh baguette, no gluten Chambelland bread and Bordier butter. Ultimate delight: since the lockdown, there is a very convenient online boutique with a click and collect option on the hour or home delivery during the day. Hard to beat!
Maison Plisson 5 Place du Marché Saint-Honoré, Paris 75001 and 93 Bd Beaumarchais, Paris 75003
Also discover the best Parisian boulangeries that deliver and where to find top notch products in Paris to be delivered on your doorstep.