Careful, impossible to depart empty handed from this darling place in the Marais where everything is beautiful, cool and not expensive…
In their new-age tavern of Alibaba, Anaïs and Lucie have gathered everything they loved and dreamed of receiving or offering as a gift. In short, their ideal boutique.
And here you feel like buying everything: from the super stylish pastel helmet (50€) or feel-good stationary (Papier Tigre, Rifle Paper), fab gold jewelry (50€) or darling bags...
Zoom on great looking decorating items such as wooden pop mirrors in pastel colors, made in the Jura ( 24€) signed Reine Mère, darling bobo and poetic bulb-shaped vases or test tubes (10€) as well as adorable cactus presented in small super graphic candle jars (8€).
Tops also: all the trendy material to give a chic touch to your kitchen just like in buzzing bistros: hot pink "Ma Cocotte" kitchen towels and gloves in Toile de Jouy tagged with a chicken, Scandinavian brass salad serving utensils signed Ferliving, Lexon coffee cups in porcelain and bamboo ( 39€)...
The must? A treasure trove to pick up a gift for you evil mother-in-law, your adorable kid sister or your new heart throb at Xmas without having to sell all your stocks.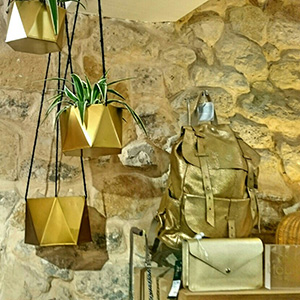 Open every day from 11am to 8pm
Also check out Front de Mode, the new Colette and the Lekker Kkoncept-store, arty-fashion hub.