Together, Kamila Sokolska from Bloc de l'Est and Marina Mussat from the e-shop La Seinographe have launched their first boutique not far from square d'Anvers. The former scouts and renovates fab Soviet furniture, while the latter hunts down young  French trendy fashion and decoration labels.
When you mix their respective universes, the result is coherent and wildly inspiring. The major pieces of the place, 50-80s armchairs and sofas are featured in pop colours next to objects picked out amongst a score of small carefully selected designers.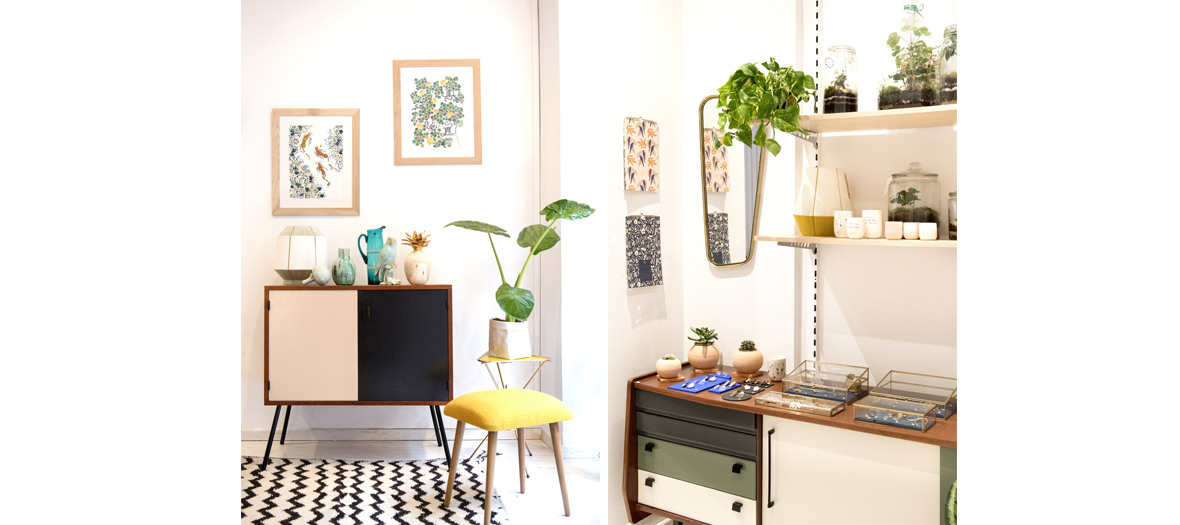 Examples? The superb Merci Raymond terrariums to vegetalize your flat in a jiffy, lamps with geometrical silhouettes by Maison Paloma entirely woven by hand (€160), note books an fanciful  wallpapers edited by Atelier Mouti, ceramic mugs conceived with love by Catherine Azoulai (€23)… And let's not forget the bags and pouches of Cécile Biais and The New Paris, best-seller book by Lindsey Tramuta that is highly appreciated on Instagram.
Bingo, as a prime here are the XXL earrings of celestial inspiration signed Helmut Paris, spotted on Mathilde Lacombe, already cult (89€).
Spoiler! Ingrid Fey, wedding dresses designer for L'Amoureuse, will receive you by appointment.
Open Tuesday to Saturday from 11am to 8pm.
Also check out the temple of slow fashion Mamamushi and the lovely made in Paris selection by We are Paris.