There is a definitely feel of total novelty in this new trendy venue of SoPi. And with cause, Dounia Sitayeb really knows how to spot hype labels, still confidential, that are popping up all over the planet. Totally refreshing.
Several exclusivities, pretty rarities, real curiosities, the young AD who started out in advertizing at BETC, after stints in London and New York, always keeps an eye on the next hip fashion and lifestyle targets.
Because here nothing is static. Brands come and go in keeping with his finds. At the moment: asymmetrical shirt and sarouels by Anissa Aida, a Tunisian designer whose unleashed creativity recalls Japanese designers. An experimental style, yet easy to wear and that fits the bill. Wary Meyers vegetal soaps, hand-made in the state of Maine, fragrant and colourful. Big crush for the gold mood rings of the moodlit Parisian label, that upgrades to the rank of jewelry the ring that changes colour according to your mood  #BackToThe90s. Super cool also, white t-shirts with a pastel pink "Paname" at the bottom of the back signed no/one paris. Pearl cuffs from South Africa and cards with impertinent messages by US brand Terrapin Stationers.
The other passion of Dounia is the chill atmosphere of coffee-shops. So she quite naturally installed a spanking new coffee machine, three small tables, stools, so those who want can sip a Lomi cappuccino and nibble on home-made cakes, while reading the latest magazines.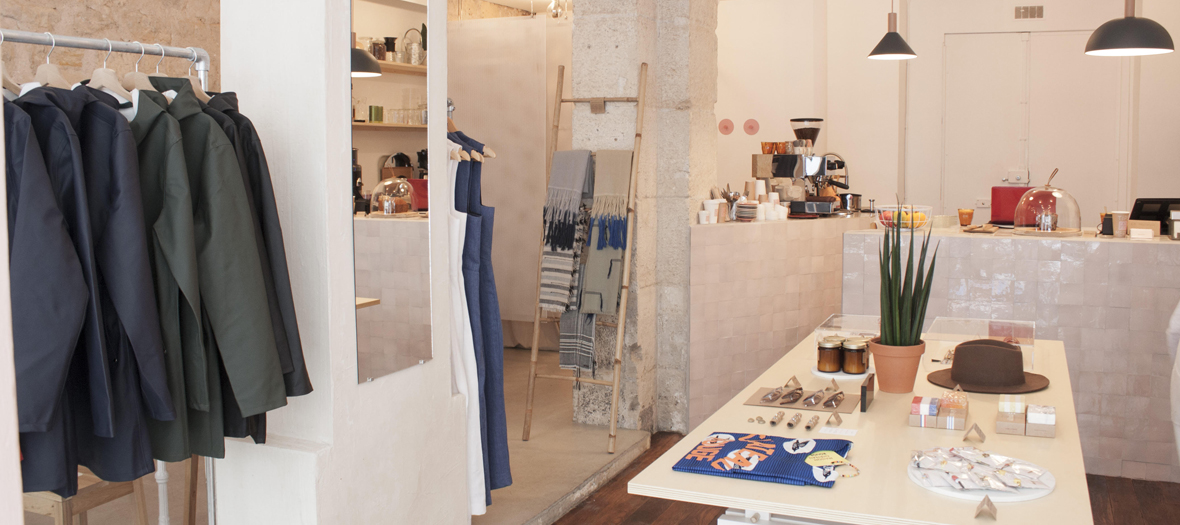 Also check out the Sprezzatura concept-store as well as Sneakers and Chill, the tattoo artiste of Stan Smith.