June brides are in the air. The wedding season is back with its array of ceremonies, wild parties, bubbly champagne and the famous brain-wracking issue: "What am I going to wear?".
However this year, planets seem aligned to enable us to be looking great and in the spotlight from the city hall to the church ceremony and all through the night. Long fluid dresses, a stylish pantsuit, precious pouches, couture hats and sexy sandals: check out these 12 key-turn styles to shine from head to foot.
Distinguished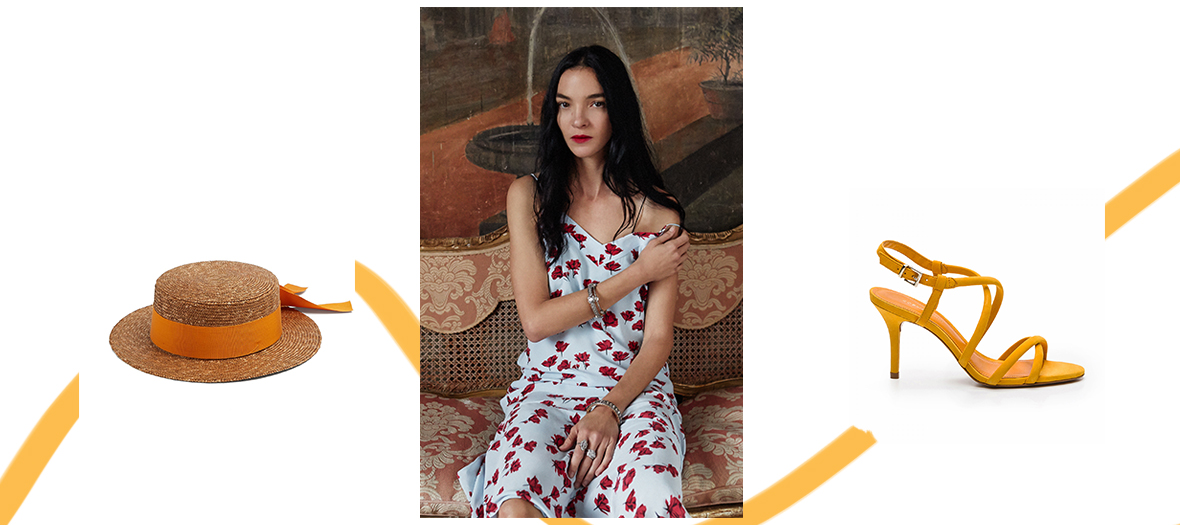 An ensured heart-throb when you wear this divine dress in fluid silk. A straw boater hat for the roguish look and pretty fine sandals in a different style to catch the eye.
Silk dress, Equipment, €532. Available at Bon Marché.
Straw boater hat, Federica Moretti, €152 .
Adalina/Vel sandals, Cosmo Paris, €130 .
Boheme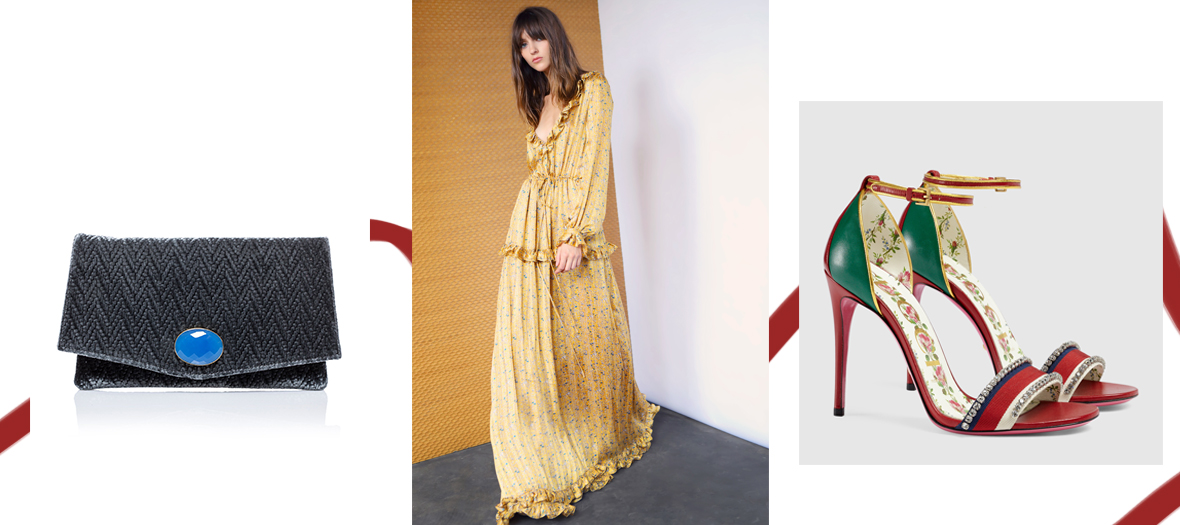 More adapted to long legs, will this incredible dress match up with hypnotic sandals and a small braided pouch.
Long silk dress, Oud, €475.
Gaya blue herringbone pouch, Sestra Paris, €175.
Leather sandals with crystals, Gucci, €980.
Romantic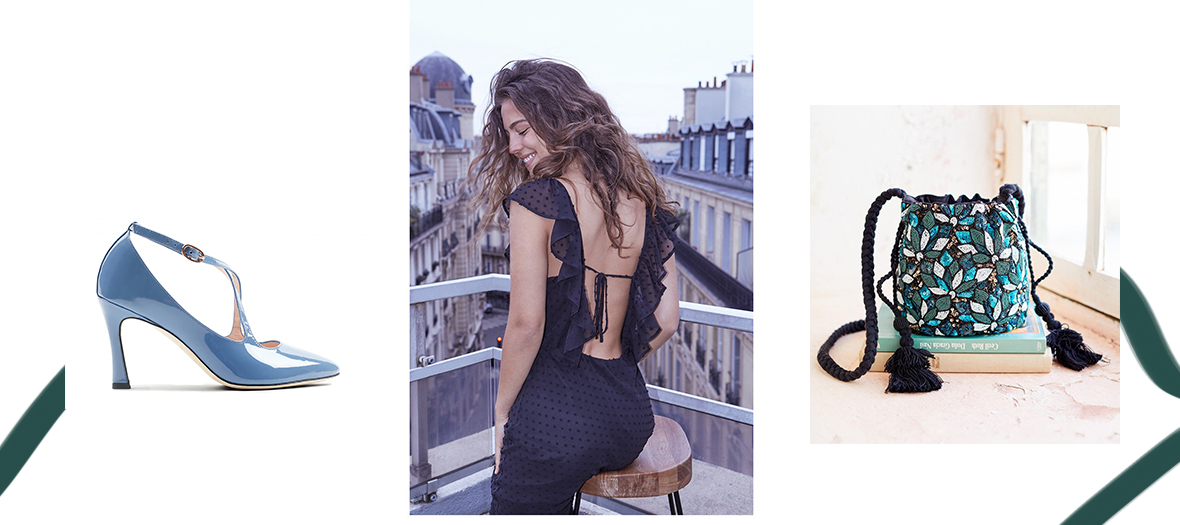 The heart asset of this plumetis dress: its back cleavage, that has a lot to say. Even more when it is escorted with baby blue pumps and a criss-cross strap to enhance the foot
Vaugirard dress with back cleavage, Parisienne et alors, €160.
Agra pouch embroidered with pearls, Sézane, € 60.
Izia pump, Repetto, €335 .
Sparkling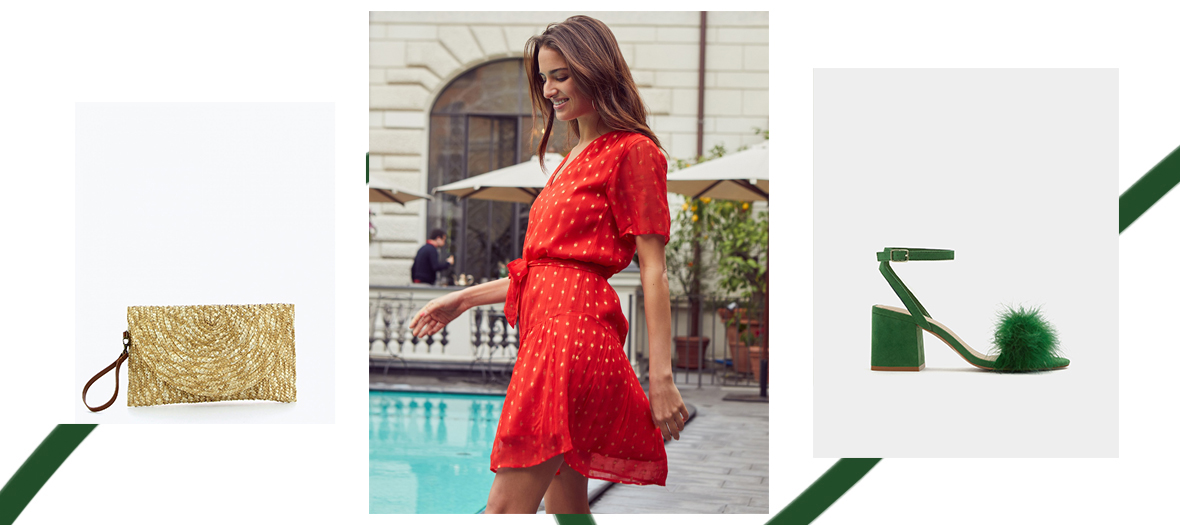 An adorable swirling dress, feather sandals, a straw pouch. A stylish and clever ensemble with small heels to dance the rock 'n roll easily all evening long.
Naomie dress, Petite Mendigote, €170.
Straw pouch, Texto, €15.
Sandals with feathers, Pull and Bear, €39.99.
Smart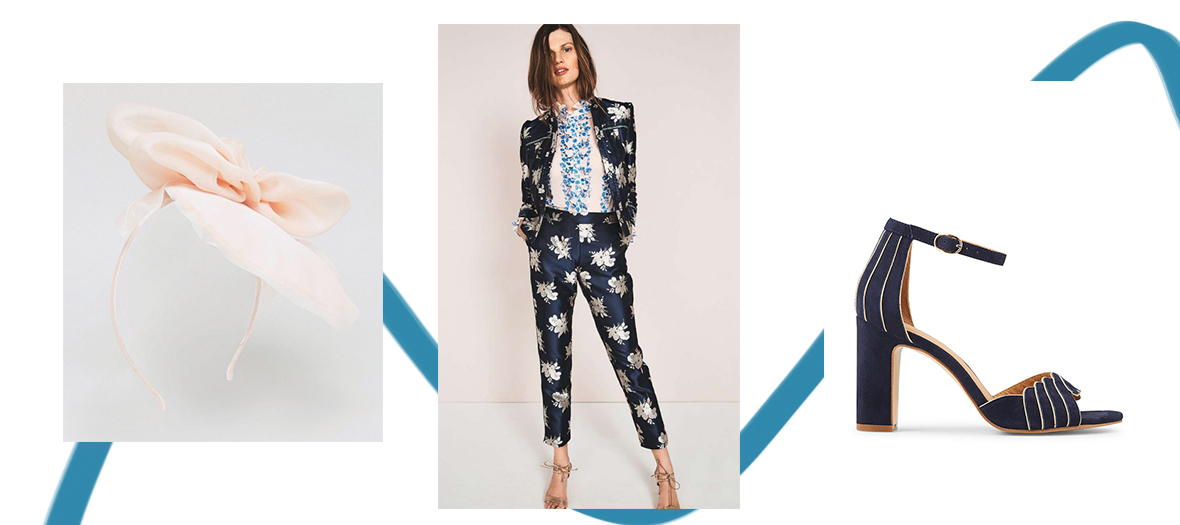 There is a touch of Miranda Priestly in this racy outfit that will deffo be the right choice for an urbanite Spring ceremony.
Mariana jacket in Jacquard, €340; Mariana ⅞ pants, €190; Kathleen shirt with ruffles, €110, all by Boden. Available on the eshop during the week of 9th of April.
Navy Barbel sandals, Minelli, €119.
Hat with ruffles, Asos, €20.99.
Sharp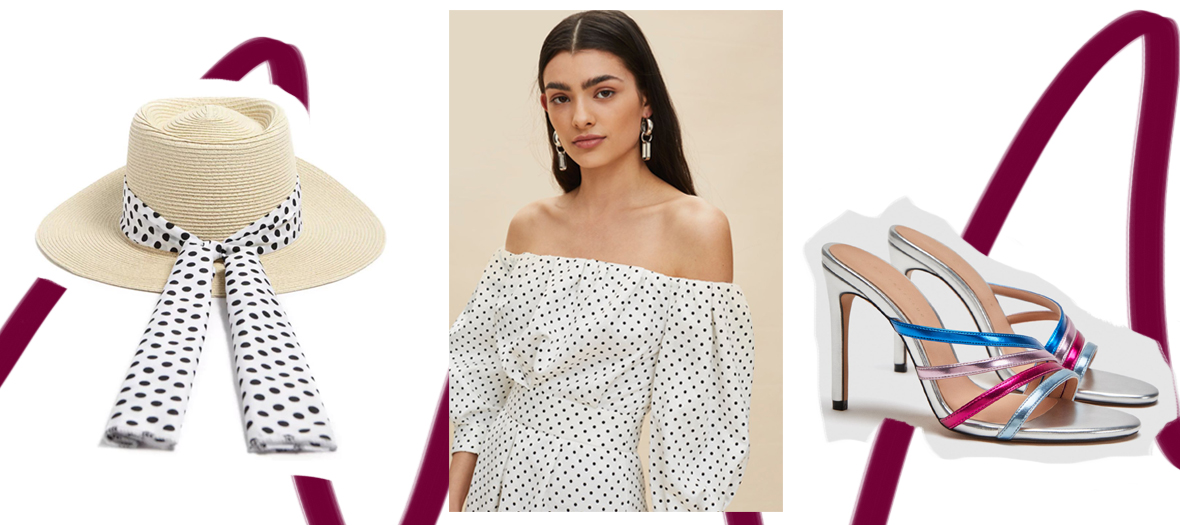 Wake up the Pretty Woman sleeping inside you by doubling the polka dot print on the dress and the hat. The silver sandals / mules are a stylistic wonder that streamlines the leg.
Bandeau dress with polka dots, Topshop, €68.
Sandals with heels and straps, Zara, €39.95.
Hat with polka dot ribbon, Forever 21, €15.
Preppy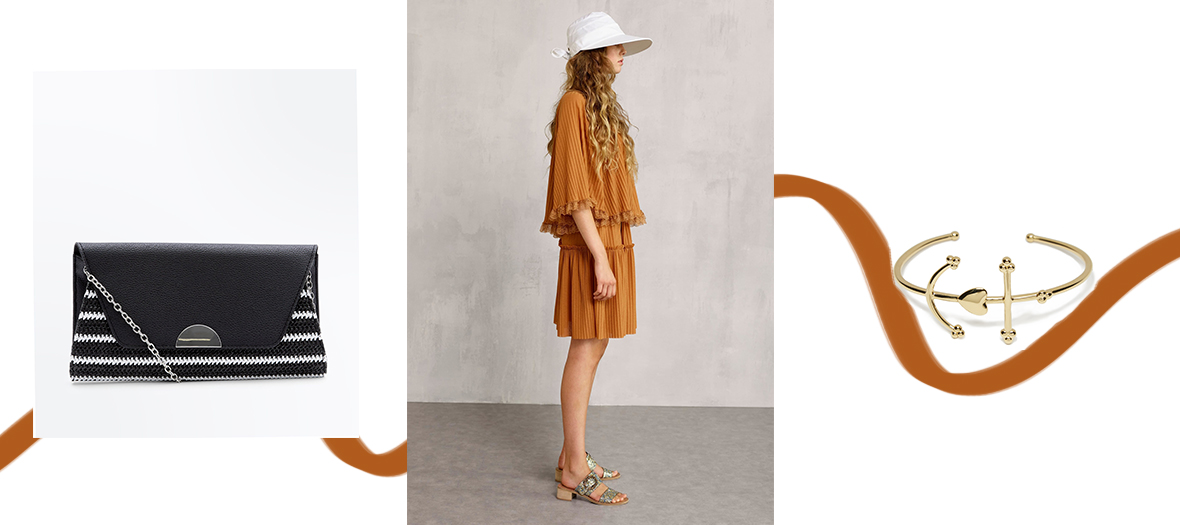 Being the ideal daughter in law at a wedding when one is a bachelor, here is the ideal set up for this very trendy look that never goes over the top.
Vapourous dress, See By Chloé, €450. Available in boutique.
White woven pouch with stripes, New Look, €14.99.
Neptune cuff in vermeil, Agnès de Verneuil, €275. Collection available mid-April on the e-shop.
Sexy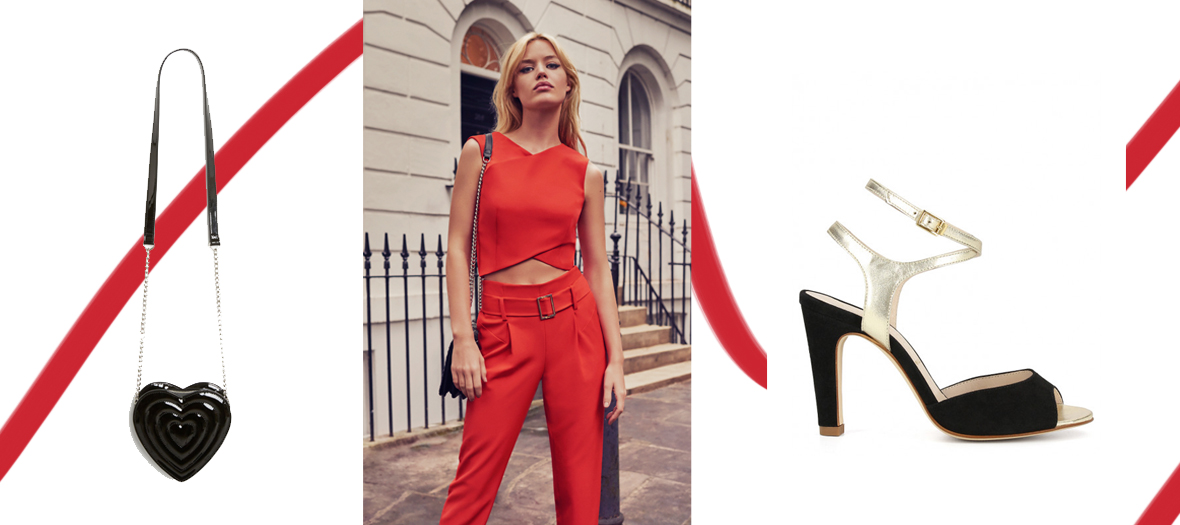 Looking good with a pantsuit / bright red top. Easy to be spotted in the crowd and surf on the rock'n'roll sex appeal of Georgia May Jagger.
Top €50, pants €65 €, pouch €69, all by Morgan x Georgia May Jagger. Available starting the 5th of April in shops.
Patent leather heart bag, Monki, €15.
Avinta sandals, San Marina, €89.
Posh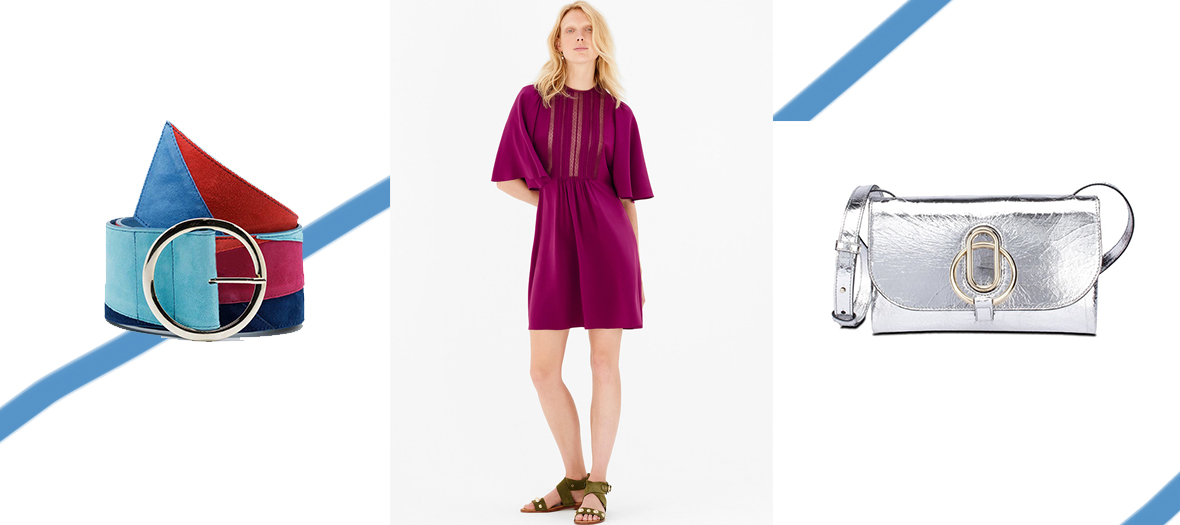 Dare colour by tapering a current coloured dress with this must-have belt to whip out on all occasions. The silver pouch brings a resolutely preppy touch to the ensemble.
Iver silk dress, Vanessa Bruno, €470.
Leather belt, El Ganso, €65.
Ivy silver pouch, Stée, €390.
Rock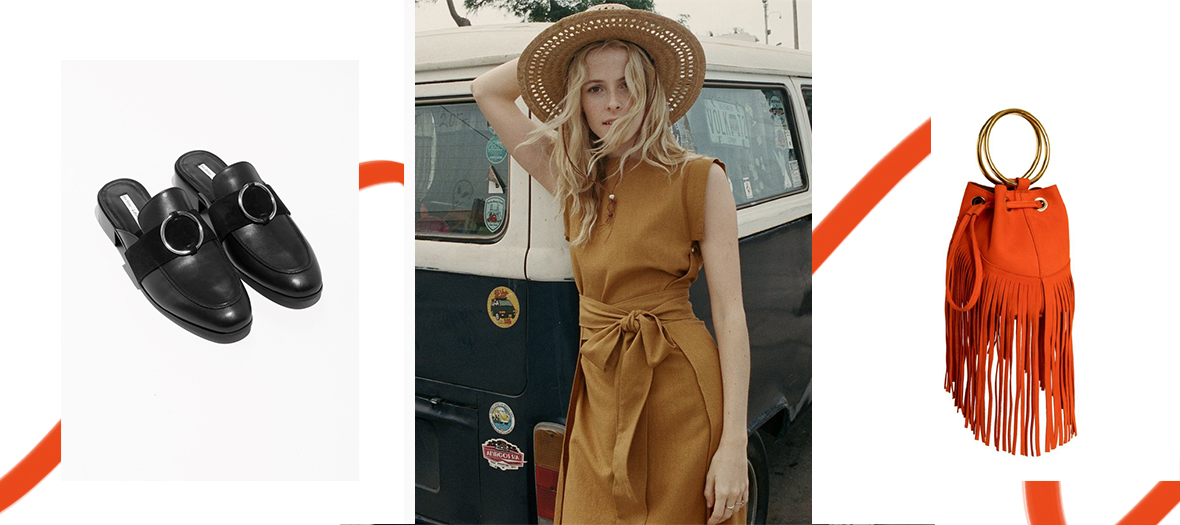 Because you can also celebrate love while wearing flat shoes. Mules are right in the trend to covey the rock style and watch the other girls suffer in silence wearing the stilettos.
ASH dress, Doen, €160.95.
Mules in black leather, & Other Stories, €89.
Bucket bag in orange leather, Maison Boinet. Available at Bon Marché.
Fresh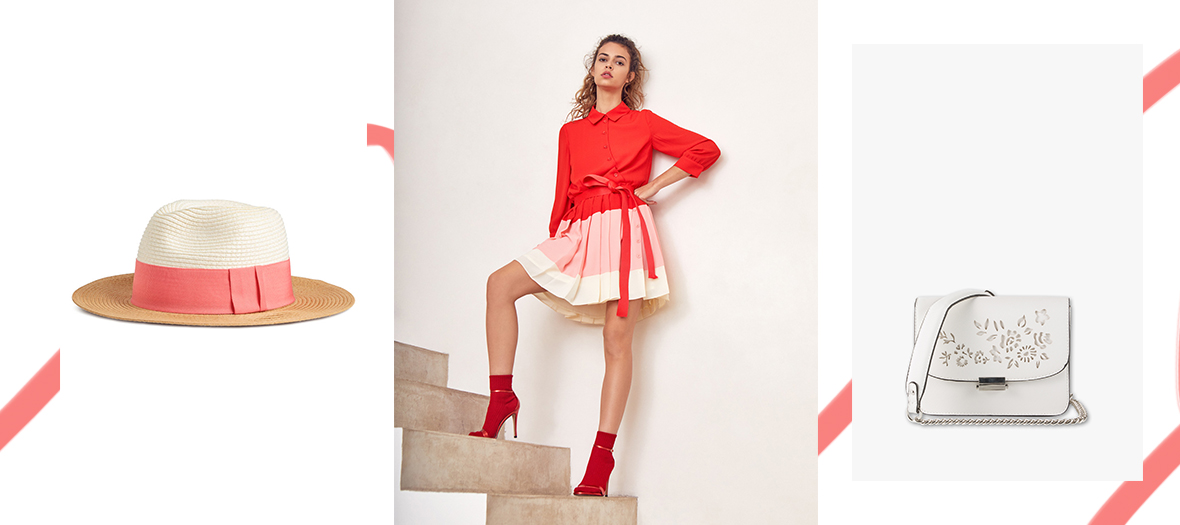 A really adorable and stylish silhouette with this pleated dress and accessories in nuances of white, red and pink (the winning trio of the season, spotted at Valentino). The winning detail: braving forbiddens and daring the handsome sock in the same overtone as your glitter sandals. Living dangerously.
Pleated Argentine dress, Idano, €160.
Straw hat, H&M, €9.99.
Bag with laser cuts, C&A, €19.
Glamour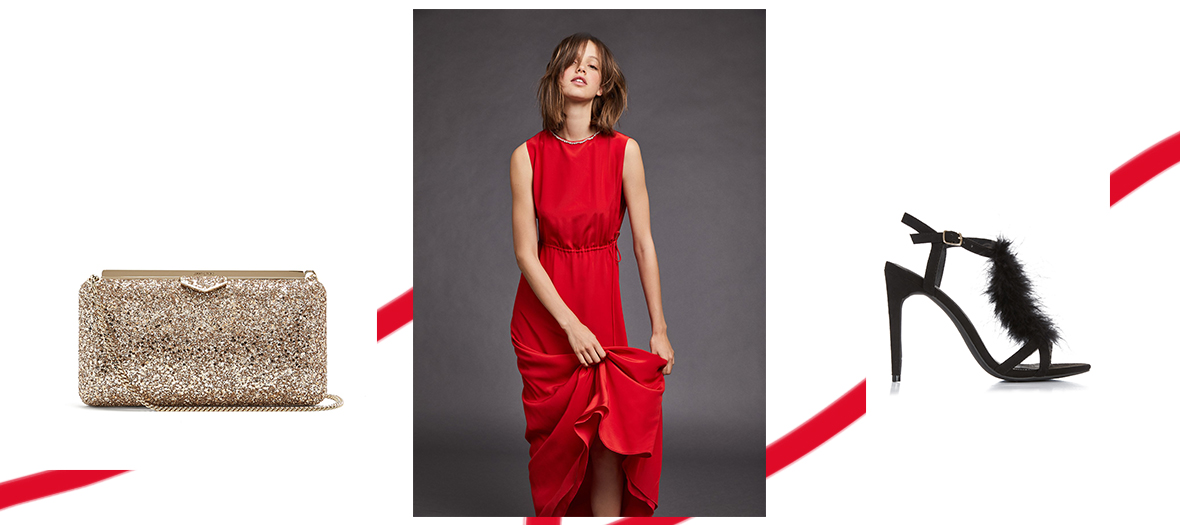 A totally vamp allure for upscale and very dressy weddings. The red / black / gold combo is a winner.
Long red dress in crêpe de Chine, Tara Jarmon, €495.
T-Bar black sandals with feathers, Primark, €19.
Ellipse evening clasp bag with gold sequins, Jimmy Choo, €648.