With this wonderful sun rising (finally) the tip of its nose and the long weekends looming, Parisians have only one idea in mind: go on a spree. And to enjoy your break with girlfriends à la Thelma and Louise , in love, with or without the children, there is no question of abandoning the style. So we forget the flip-flops , the bob and the big backpacks to carry around your stuff.
To bring in the suitcase: light dresses , graphic swimsuits , stylish sandals , a straw hat , and of course a pair of sunglasses . So, rather lazing by the pool, picnic in the fields or rosé on the terrace with your feet in the sand? Pick your side.
A chic stopover at Cap Ferret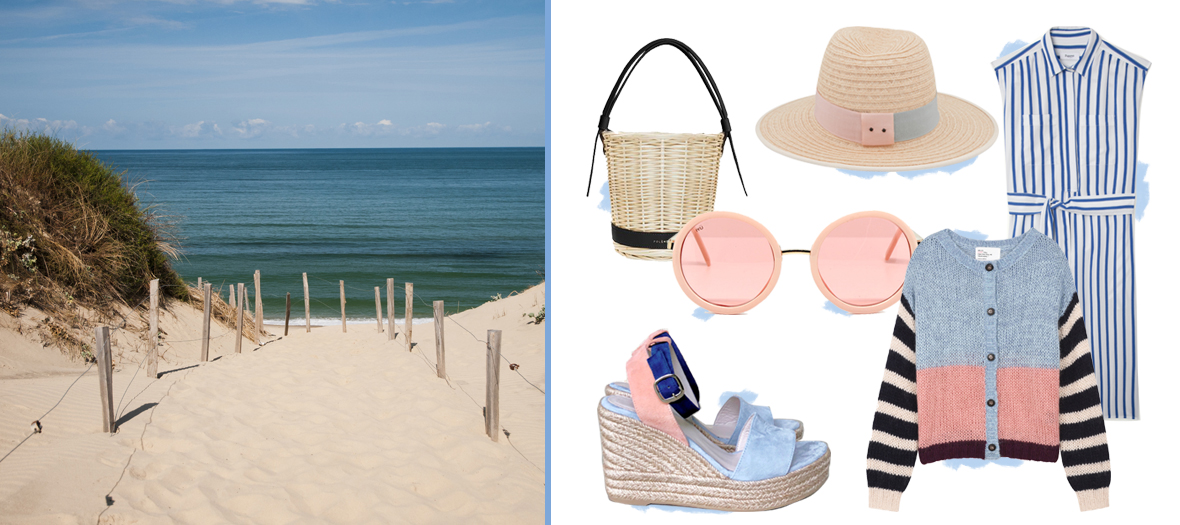 Here is an outfit compatible with two key activities of a weekend at Cap Ferret : chilling on the sand and putting on a pretty dress to immediately follow up with a glass of rosé on the terrace, in the cool. To ensure stewardship, a large wicker bag and high-end wedges will perfectly match a sweater in tone.
Hat, D'Estrëe , € 275 , dress, Figaret , € 225, cardigan, Leon & Harper , € 145, sandals, Jox & An, € 245 (already available in boutiques and on the eshop at the end of April), Polène 190 wicker bag €, glasses, Iyü Design , € 39
A rural getaway in the Perche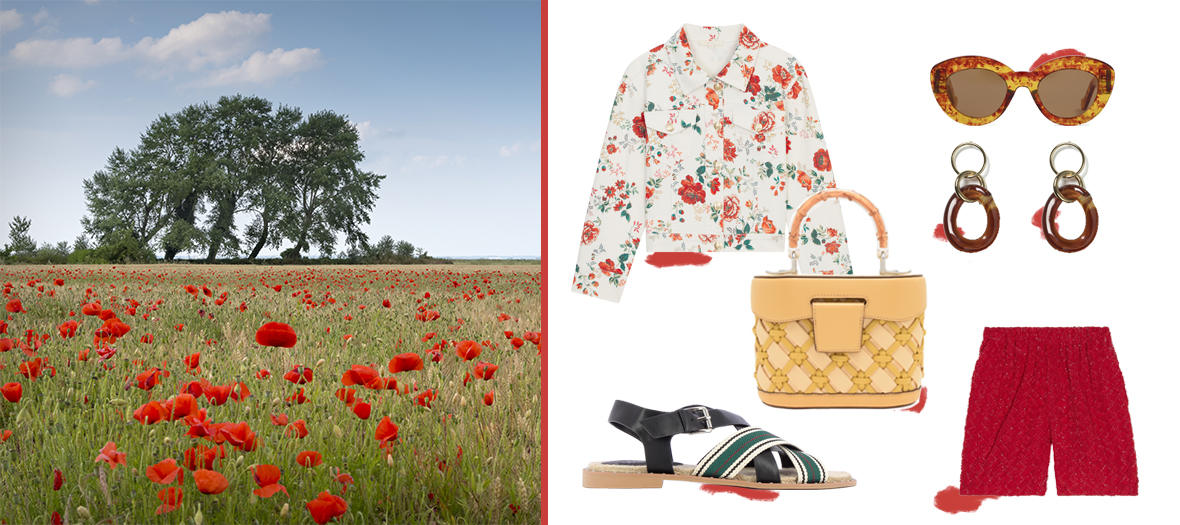 Ready for a breath of fresh country air? Gear up for a picnic by the lake with this cool outfit that's perfect for exercise. A short to sit in the grass, pretty sandals and a stylish basket for a bike ride, and the flowered jacket with all the beautiful dream of the field this season.
Handbag, Charles & Keith , € 89 , earrings, Chic Then , € 69, jacket, Maje , € 225, sandals, Vanessa Wu , € 65, shorts, Antik Batik , € 255, glasses, Loewe , 290 € (available in store)
A stylish weekend in Le Touquet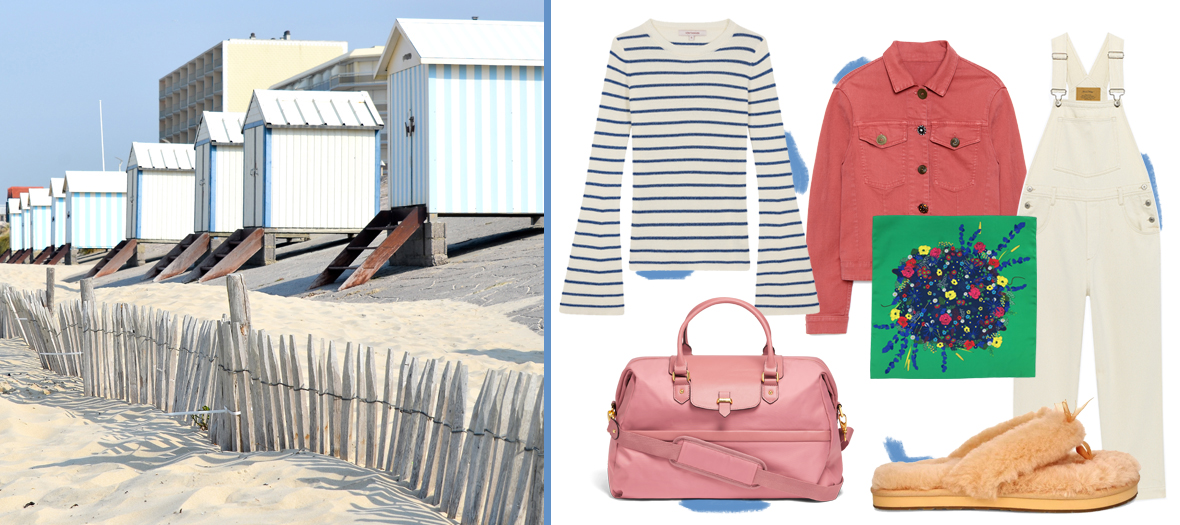 Relaxed atmosphere in the city of love of the Macron couple . Yet it remains pointed down to the details, with ivory overalls over a sailor with wide sleeves, fluffy slippers for warmth, and a candy pink bag 48h as convenient as stylish. If it's a bit chilly, we modernize the outfit with a well-cut denim jacket in a vibrant color.
Overalls, American Vintage , € 160 , square,An-née , € 130 , sailor top, La Fée Maraboutée , € 129 on sale at € 90 , pink jacket, Maliparmi , € 220 (available in store), travel bag, Lipault , 110 €, lined flip flops, Ugg , € 79.95
Also discover the instructions for a weekend in Le Touquet .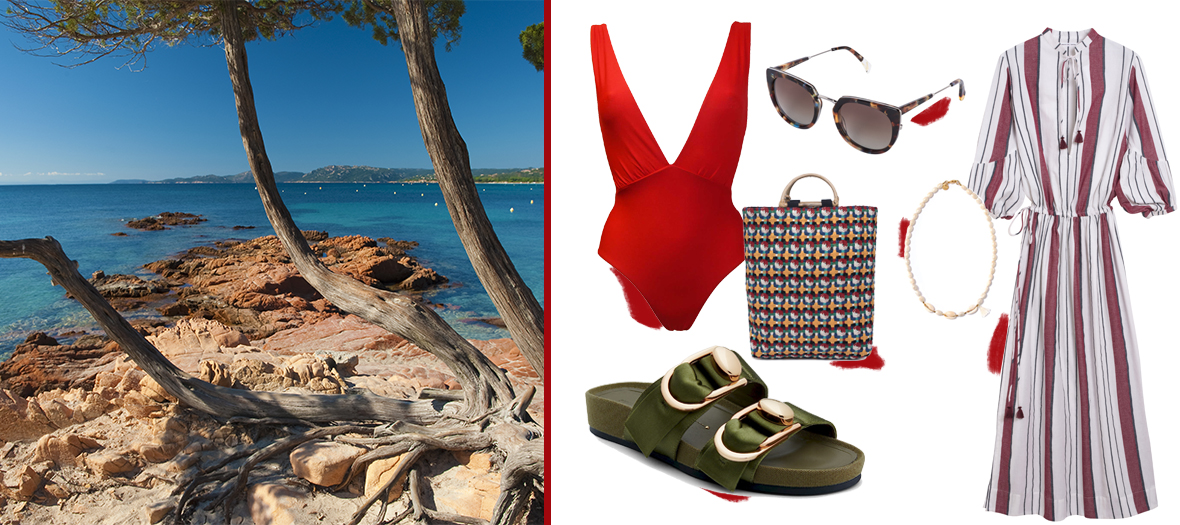 Luckily, your BFF's parents have a sublime house in Porto Vecchio. Now is the time to pull out an ultra-light naiad dress , over a sultry red swimsuit with a beautiful pearl necklace . And for a drink by the water, khaki sandals and retro tortoiseshell sunglasses.
Dress, Mare Di Latte , € 235 , bag,MKT Studio , € 105, necklace, Polder , € 88, sandals, Stella Luna , € 225, glasses, Waiting for the Sun , € 144, swimsuit, Calarena, € 195 , sold at Galeries Lafayettes.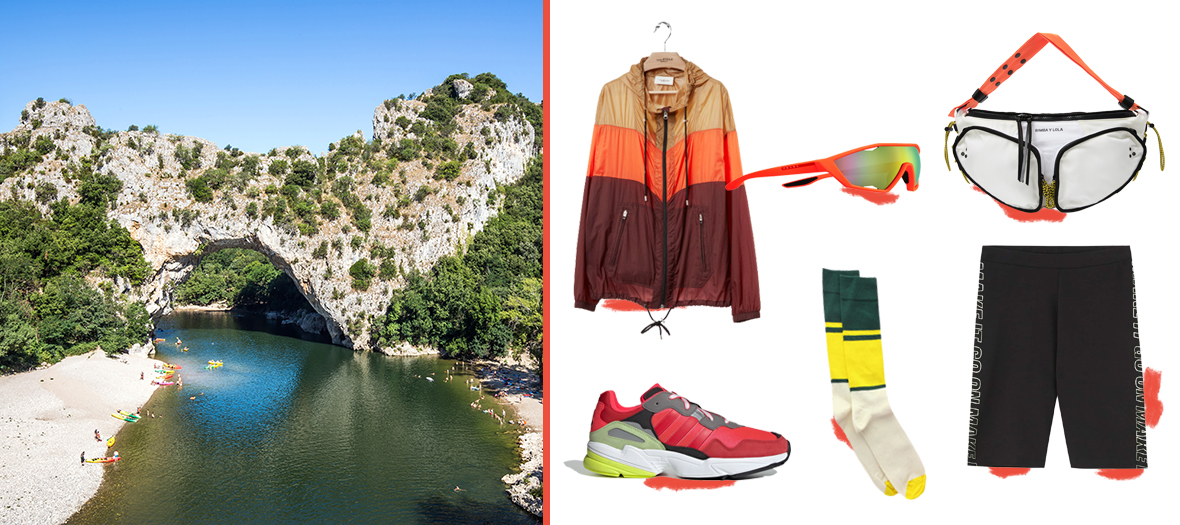 If you accepted this trekking weekend , it is only to have a good reason to unsheathe your new very first degree " gorpcore " gear , which is complicated to handle in town.
Let's go for the banana , the required windbreaker and the short boxer shorts + designer cycling glasses combo . A devilish Vogue silhouette that will run from resorts to tourists in a total Decathlon look .
Kyriel raincoat, Isabel Marant , € 320, cycling leggings, Pull & Bear , € 5.99, glasses, Prada , € 230, Yung-96 sneakers, Adidas , € 119.95 , banana, Bimba y Lola x Hey Reilly, € 225 (available in stores in May), socks, Mr Pied de Coq, € 21 (available at Bon Marché)
Also discover the most beautiful swimsuits of the season and 5 outfits to shine at a wedding .