This is the annual puzzle. What are we going to be able to offer our dad , boyfriend , brother , stepfather or best friend ? Small list of good ideas blown by our favorite Parisians to be sure to spoil them!
For green Parisians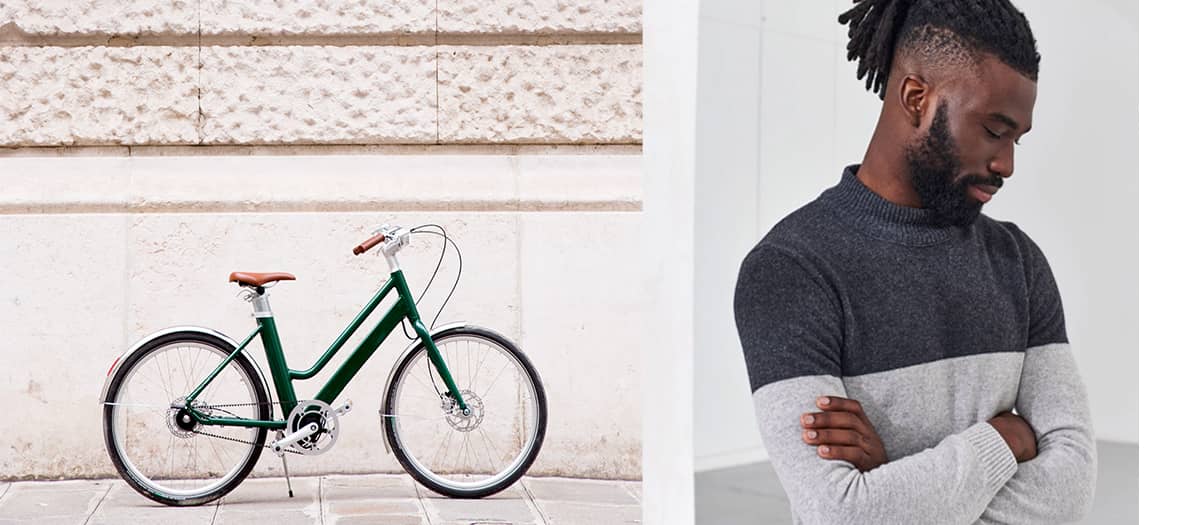 It is made in Occitanie and made from recycled wool . Le Slip Français has it all with its pretty two-tone Rico sweater, light heather gray and anthracite, whose color block separation will highlight the build. A significant point! Special mention for its little funnel neck in the air.
Rico sweater in recycled wool, Le Slip Français , € 160
For those who dream of a chic electric bike: look no further. The Voltaire bike is seen as the smart bike to own (vs. Marc Simoncini's damn badly maligned Angell Bike ). A little gem of technology, this solid connected bike that looks great, made in France and with an integrated screen, has a highly advanced anti-theft and geolocation system and a hell of a range. To be sure, we have it tested by its future owner beforehand ! Father Christmas will deliver the machine in person… at the beginning of March!
Vélo Voltaire, € 2,390 : € 239 to be paid for pre-order, then € 69.90 / month with up to € 500 premium for purchase by the Île-de-France region
Levi's continues in its green approach with its truly sustainable WellThread ™ collection with handpicked materials and 100% recyclable parts. Our favorite? The cotton and hemp hoodie that we will gladly stitch it in a natural color with vintage notes and an exclusive arty pattern by Nathaniel Russell.
Hoodie, Levi's , € 80
For sharp Parisians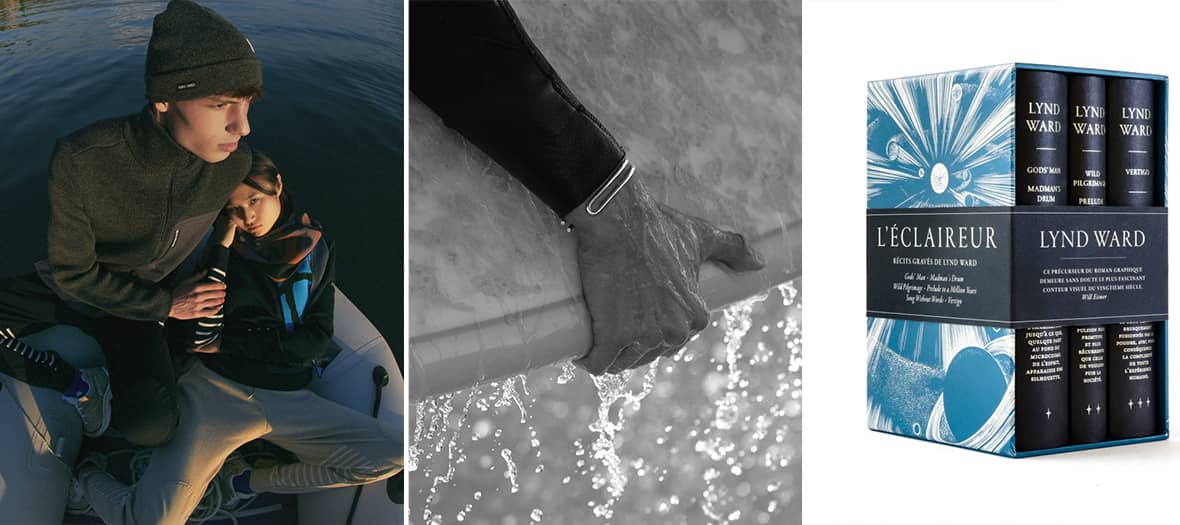 This is the 2.0 curb chain. Mayrena imagines a magnificent silver men's bracelet with a resolutely design refined aesthetic. Because he too has the right to a beautiful jewel that he will never leave, the designer Alexandra David imagined it minimalist and sophisticated.
Men's silver bracelet, Mayrena , € 220
The signature of the iconic Saint James stripes is back with Avnier , the street label from Orelsan and Sébastien Strappazzon . Or when the sea meets the street through a stylish unisex collection: woolen utility jacket (€ 300), striped navy knit joggers (€ 250), balaclava worthy of Kalash Criminel (€ 60) or even socks with ocean blue details (25 €).
Collection to find on saint-james.com and avnier.com
It's snobbish to quote Lynd Ward , the pope of sequential art who influenced a generaion of American comic writers. Ultimate chic: his six " wordless novels " are published for the first time in France in the luxurious Monsieur Toussaint Louverture box .
Monsieur Toussaint Louverture gift box , 65 €, list of points of sale available on placedeslibraires.fr
For traveling spirits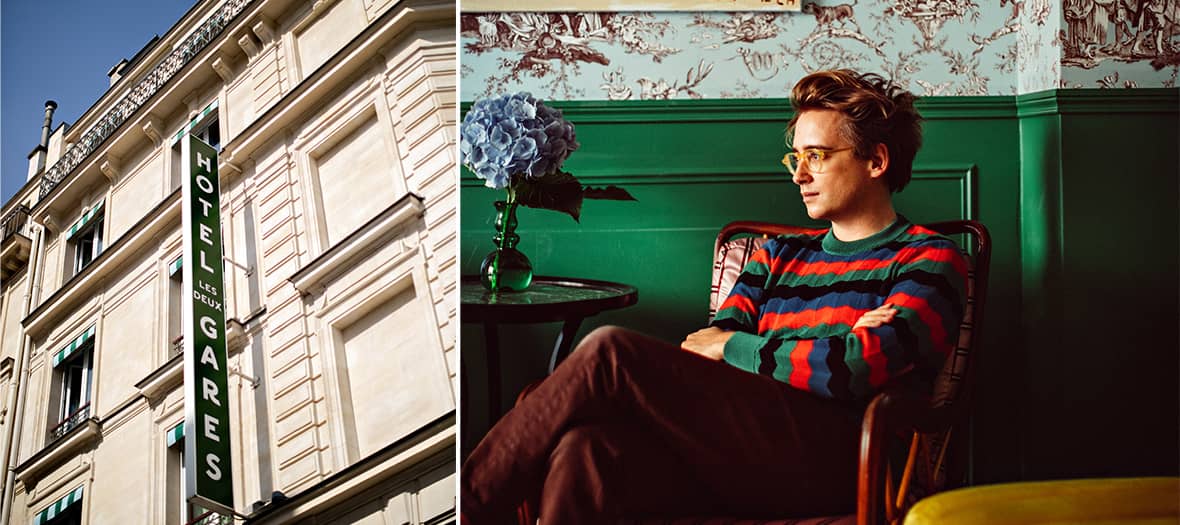 Tourist , the coolest hotel group in Paris led by Adrien Gloaguen has set up a demented voucher system to travel in full confinement. An invitation to put down your bags and sleep in the jewel of Hôtel des Deux Gares with its cheerful decor with a real touch of madness from the English designer everyone is talking about, Luke Edward Hall . To offer with the t-shirt that goes with it to announce the color (35 €).
Tourist Voucher Hotel des Deux Gares , from € 110
For foodies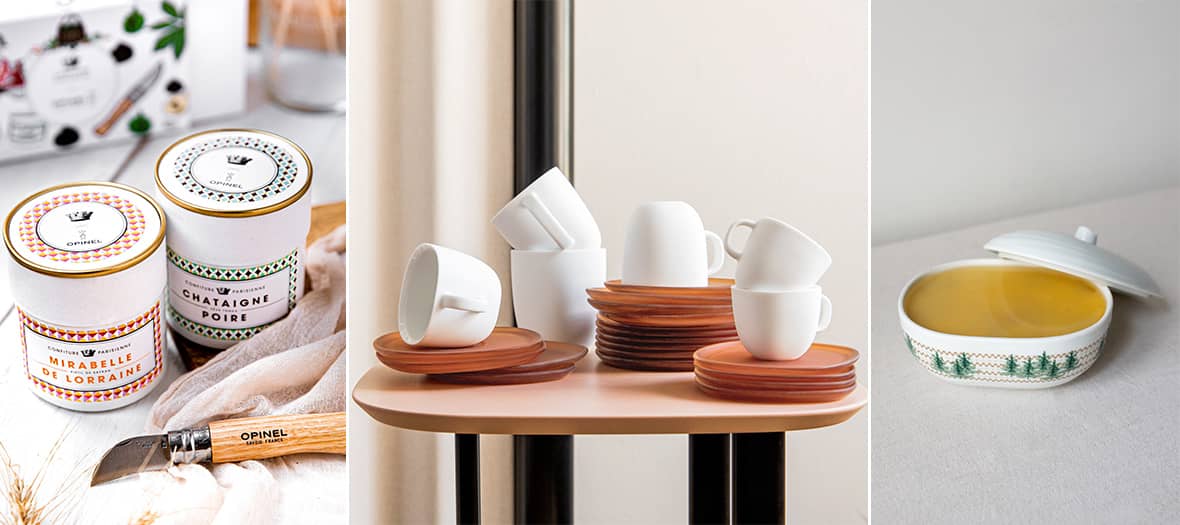 The real ones know that in case of an untimely snack, you always need a good knife with you. Confiture Parisienne has joined forces with Opinel for a limited edition box set, consisting of a jar of Chestnut-Pear Confiture, a jar of Mirabelle de Lorraine from Confiture Parisienne and the N ° 07 OPINEL knife designed to peel chestnuts and pits the fruits.
Parisian jam x Opinel , € 42
The terrine of love is the result of the collaboration between the best butcher of Paris Maison Vérot and the divine porcelains Bernardaud . The art of living in a jar with an exclusive recipe of duck foie gras cooked with a pear poached in Chartreuse, requiring a week of preparation. Obviously, we keep for life its all-white container decorated with pretty Christmas trees.
Terrine Bernardaud x Maison Vérot for 6 to 8 people, € 145. To be ordered 48 hours in advance in Maison Vérot stores and for delivery throughout France on www.maisonverot.fr
Long live Italian design! Federica Biasi is the talent everyone talks about in the design world. Cool: she signs Lume , a splendid coffee set which is all the rage in collab 'for Nespresso at a very low price ... Clean lines, white porcelain with a powdery texture ... A ristretto, per favore!
Lume coffee cup set, Nespresso , € 21
For lovers of pretty bottles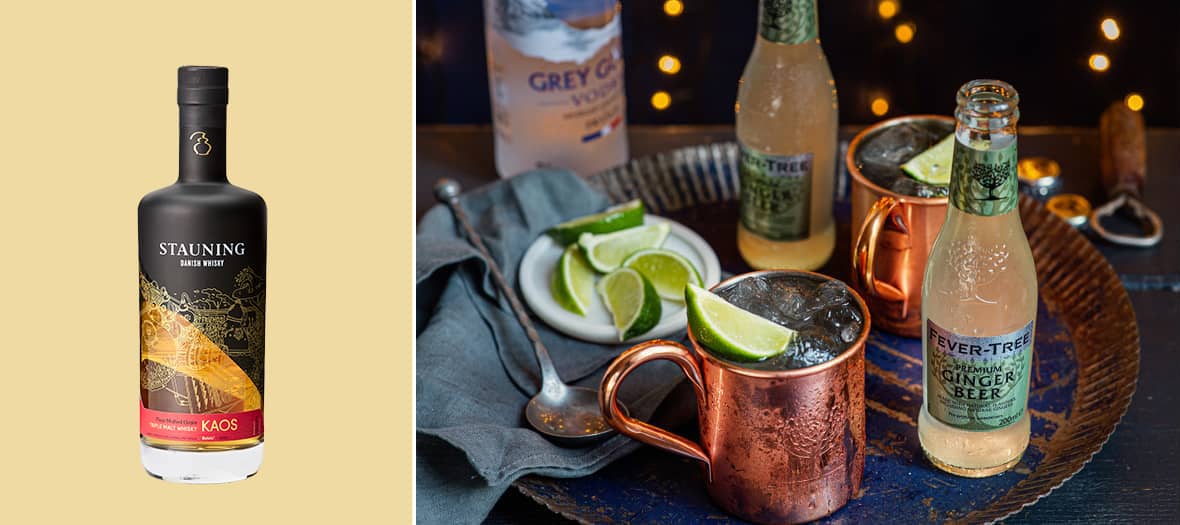 The Japanese no longer have the snobby whiskey monopoly. Insiders now gargle in front of the Danish terroir with the ultra-sharp Stauning label, whose distillery installed in a small farm brings up to date the old tradition of ground malting in the cold room ...
Stauning Kaos , 69 €
Moscow Mule enthusiasts will appreciate. This cocktail kit contains all the equipment of the bars of a large hotel that allows you to concoct a potion worthy of Ritz : copper mug, author Nikka gin and Fever-Tree ginger beer. The great chic.
Moscow Mule Kit at the Maison du Whiskey , € 45.80
For a man with wit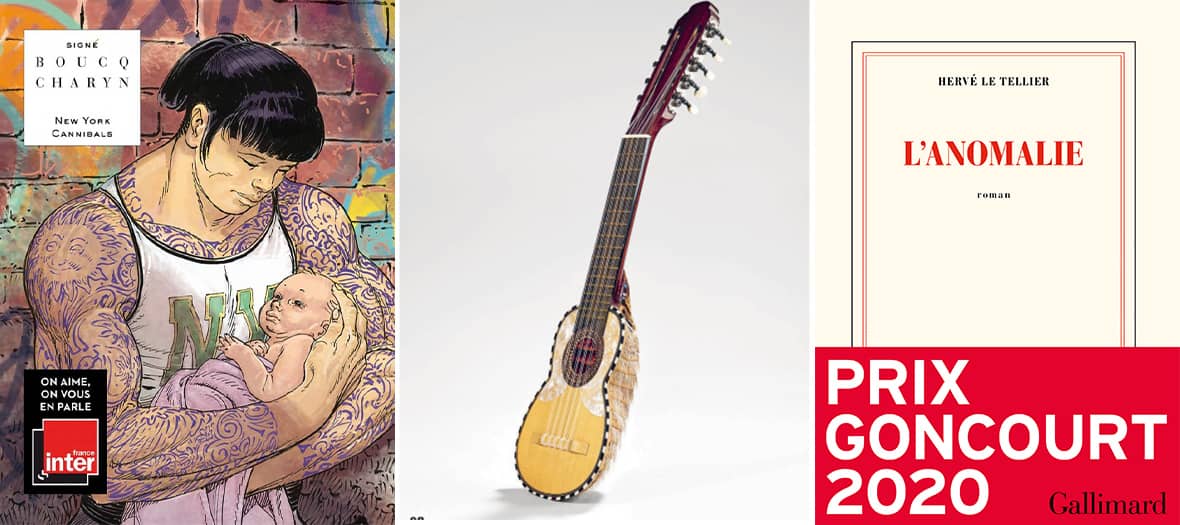 He thought he was an expert on music. This was without counting on the brand new book Echoes: 100 treasures from the Musée de la Musique, which looks back on the most improbable instruments in the collection of the Philharmonie de Paris . A beautiful collection of images with Japanese-inspired binding, which will appeal to inspired music lovers.
Echoes: 100 treasures from the Music Museum , € 27
Between the New York writer Jerome Charyn and the French designer François Boucq , it's a long-lasting affair. Their fifth album New York Cannibals takes us on an ultra-creepy Big Apple in the form of a thriller. On the program: child trafficking, Russian mafia and corrupt cops. In short: the most anticipated comic book of the winter.
New York Cannibals by Jerome Charyn and François Boucq, Le Lombard, € 24.50
The Drouant jury has decided: this year, Hervé le Tellier is the new winner of the Prix Goncourt for his novel The Anomaly , an absurd journey as sassy as it is addictive that we already imagine on Netflix . We run to his bookseller to discover this new brilliant UFO between thriller, science fiction and anticipation novel.
The anomaly of Hervé le Tellier, Gallimard, 20 €
For an addict sneakers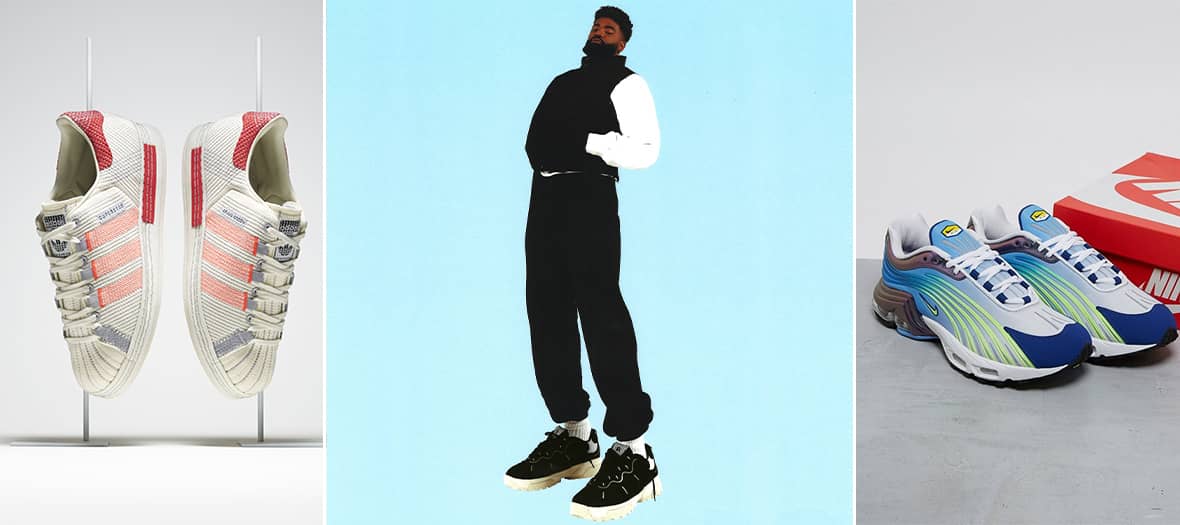 Adidas entrusts its Superstar to the British designer Craig Green, who infuses it with his utilitarian wave that sharp fashionists fantasize about. Quilting and embroidery, that's what the brand's iconic three-stripe sneaker lacked to become the coolest of winter.
Superstar Craig Green Off White / Bright Red / Grey Three, Adidas, 249,95 €
She was the heiress of TN passing from the nickname " Shark " to " Dauphin ". Nike is relaunching its legendary Air Max Plus 2 with its still athletic aesthetic, which will please those nostalgic for the 90s. Reflective details, two-tone gradient and mesh, we are well in the DNA of this mythical model which marks its big comeback.
Nike Air Max Plus II, 169 € on miinto.fr
Converse reiterates its gorpcore collab with Golf le Fleur, the fashion label of rapper Tyler The Creator . All in suede, the new one is called Gianno, and is collected in black, purple or pine green. We appreciate its retro lines and its design between hiking and skate shoes.
Gianno sneakers, Converse x Golf le Fleur , € 130
For snobby Parisians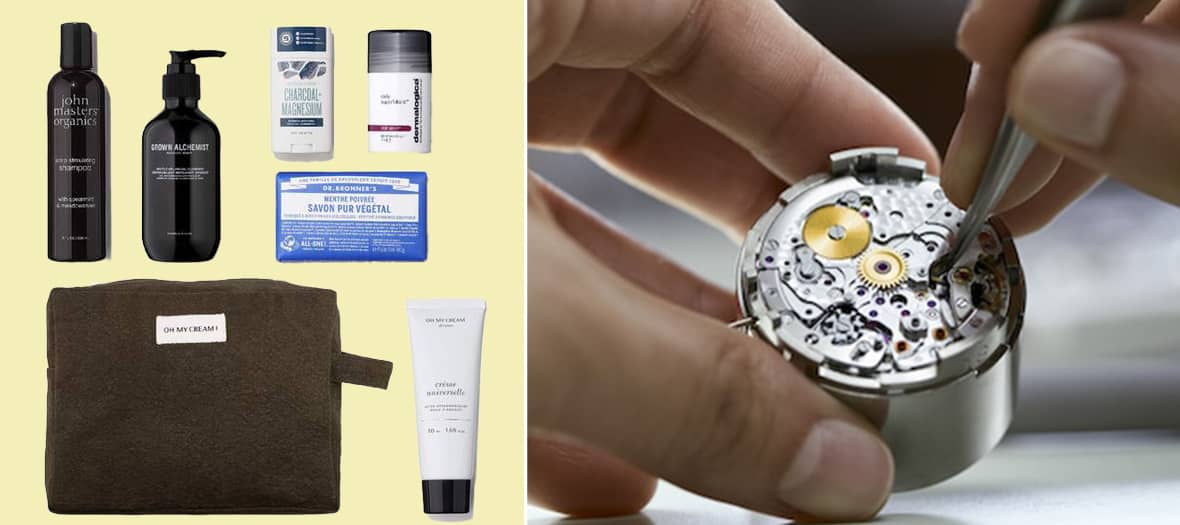 Maison Standards signs the perfect parka inspired by the military wardrobe, waterproof and hooded to stay dry. In a sober and elegant khaki, it is the all-terrain piece that he will wear this winter, rain or shine, on foot or by scooter. Normal, the French label has made beautiful basics its trademark, all made from quality materials that resist time and which we never tire of.
Parka, Maison Standards , € 275
Knowing how to tweak your Rolex is possible. Fans of old watches and fanatics of story-tellin g will love this very " behind the scene " initiation. Objectif Horlogerie invites you to slip into the shoes of a watchmaker for a few hours in the heart of their workshop on rue de Rivoli .
Introductory course in watchmaking, online reservation , € 290
This is the awesome concept that every guy in a shirt has been waiting for. Marivot launches its tailor -made shirt making service at home. Escorted by his all-purpose briefcase, the advisor comes to take the gentleman's measurements at home and show him the different fabrics and customization possibilities. A premium service worthy of great businessmen, and which does not even cost an arm.
Custom-made shirt gift voucher , Marivot , € 190
The pretty bourgeois will be happy to try all the wonderful products contained in the kit specially prepared by Oh My Cream . Inside, the ultimate of the moment: the Universal Cream from Oh My Cream , the Daily Superfoliant from Dermalogica , the Gentle Gel Cleanser Geranium & Bergamot from Grown Alchemist , the Natural Charcoal & Magnesium Deodorant from Schmidt's , the Stimulating Shampoo Scalp from John Masters Organics and a bar of Peppermint soap from Dr Bronner . So chic.
Grooming Kit, Oh My Cream , 80 € available in stores (Bac, Debelleyme, Francs Bourgeois, Guichard, Marché Saint-Honoré, Legendre, Levallois, Tournon, Vavin)
Also discover our selection of gifts under € 15 and the gifts teens dream of .