The perfect red denim jacket, a tropicool t-shirt, stylish overalls… Impossible to resist. Jour/Né, the French designer fashionistas are wild about, launches its collab with Coca Cola, featuring 15 already cult pieces. On deck : the new fashion obsession for Spring, impertinent and resolutely vintage, inspired by the Seventies.
Since the fashion show, organized last September at the  Mona Bismarck private mansion, trendy Parisiennes have just one idea on their fashion agenda: investing in a piece of clothing from the Jour/Né x Coca Cola capsule, like a real collector piece to keep for an entire lifetime.
On the program of festivities: overalls (#passion) / skirt / jacket / pants / XXL tote bag in red denim, shirt and t-shirt with tropicool motif, terry cloth jogging outfit with shorts, everything is presented in red and white overtones with topstitching and heart-shaped pockets. A purely refreshing "coolab', that makes those in the know totally hooked to the trio of designers Léa Sebban, Lou Menais and Jerry Journo.
We adore: the presentation video taken by  Hugo Cohen (the darling director of Jour/Né) who knows how to retranscribe with talent this retro-cool and sexy ambiance which we are so keen about in the cult ads of Coca Cola. Here, Louise Follain incarnates with her inimitable parisianitude a real modern-day pin-up.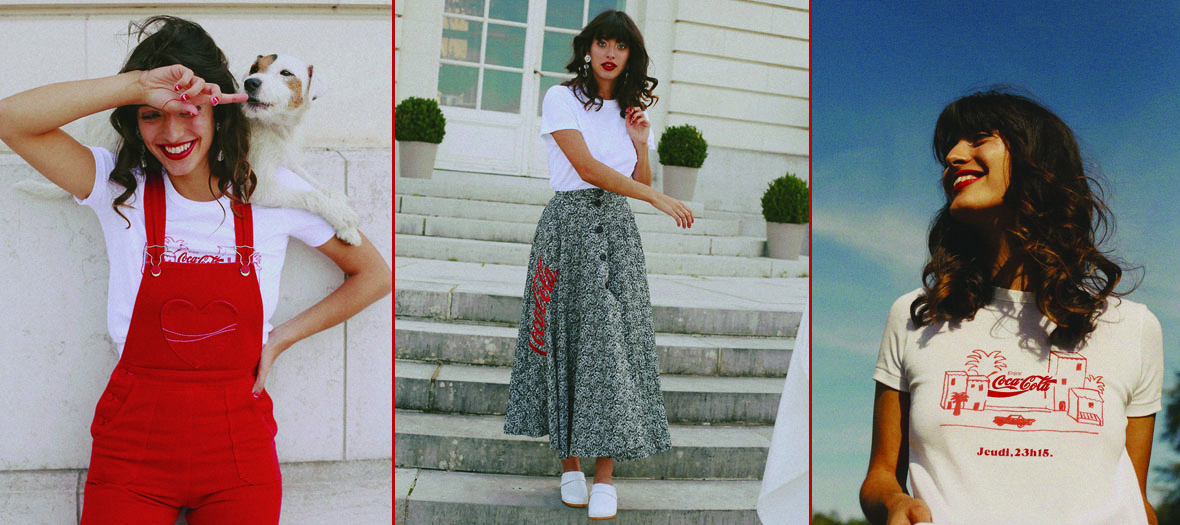 Collection COCA COLA X JOUR/NÉ comprising 15 pieces, available starting the 12th of April in a selection of international points of sale and on the eshop of JOUR/NÉ. Starting at €125.