Your life is a succession of « bad hair days »? Join the club. But let's be honest, the bun of the blogger, or worse, the half bun of the youtuber, are not always easy to carry off—especially at the office…
The chic alternative?  Hair accessories by Les cerises de Mars, that structure a hairdo in a jiffy and convey a couture twist. The good news is that the label of Macha de Catheu is ready for the rescue in their super elegant boutique of Saint-Germain-des-Prés.
Their signature piece? The transformable headband. A discrete head jewelry piece in brass gilded with fine gold, that can be worn in your hair as well as a bracelet or necklace. On the same principle, tassel elastics  become lucky charm bracelets. Very pretty, easy to wear and place—very clever!
Tops also, the new crowns and barrettes of vegetal inspiration, wildly bucolic. Fun for a wowie effect if you are going out to a party or a wedding.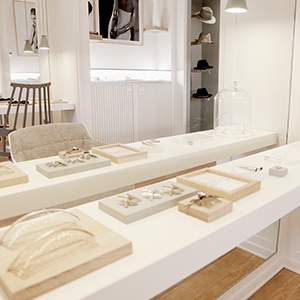 Open Monday to Friday from 9:30am to 7:30pm, Saturday from noon to 7pm. Headband starting at 45€. Elastic starting at 19€.
Also discover the new hair of Delphine Courteille.