How far do we have to go to be heard? Does the end justify all the means? Where does the cruelty stop? Where does the guilt begin? No, we are not talking about yellow vests , ecological demonstrations , migration crisis or jihad . Although… The incredible adaptation of Les Justes by Albert Camus by Abd Al Malik , at the Théâtre du Châtelet until October 19, is a scenic feat and brings up to date subjects still relevant today. Explanations.
A cast of (melting) friends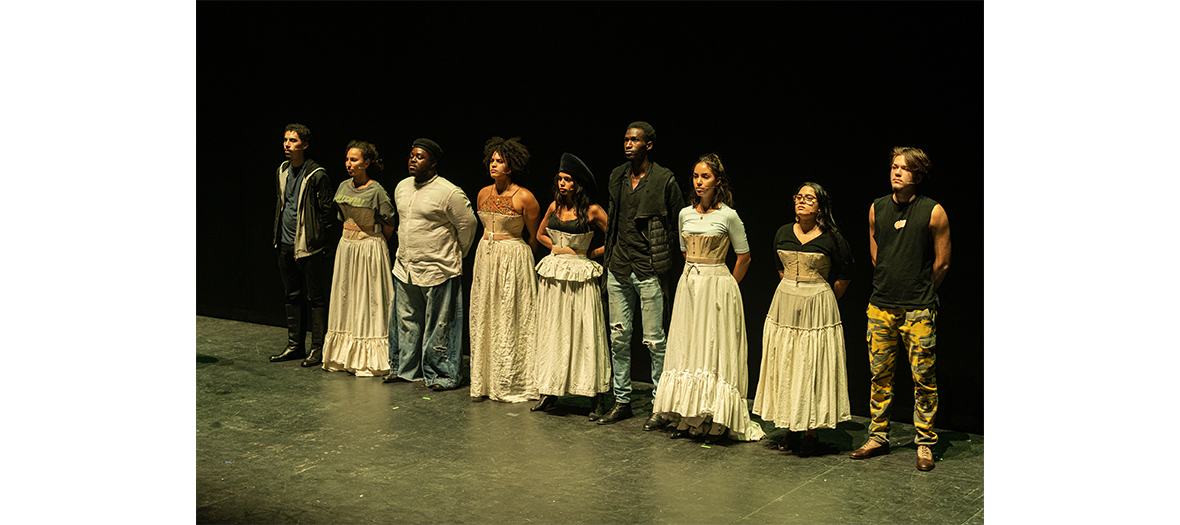 Happy mix in the Chatelet room . There are curious intellectuals, who have come naturally on a pilgrimage, and young people on a " support " mission for their friends on stage, ready to draw their Insta story. It must be said that the eagerly awaited Abd Al Malik did not do things halfway on the casting side.
We find a heavy team of confirmed actors, many of North African, African and Asian origins, a rarity on the stage, including Marc Zinga ( May Allah bless France ), Sabrina Ouazani ( Plan Coeur ), Karidja Touré ( Band of girls ), Frédéric Chau ( What did we do to the Good Lord? ) And even the divine Clotilde Courau in the role of the Grand Duchess (who else!).
Previously under the Russian snow
In 1905, the Grand Duke Serge Alexandrovich , uncle of the Tsar, reigned as a despot over Moscow . One evening he has to go to the theater, alone, while a group of young revolutionaries plan his assassination with a bomb in the middle of the street.
Yes but now, when the time comes, the one in charge of blowing it up realizes that he is accompanied on his carriage by his wife and his little nephews. Should he take action despite everything? The debate is agitated at the HQ of the terrorists.
An ultra modern adaptation
Although Camus' play dates from 1949 and tells a true story from the turn of the century, it of course echoes international news in 2019, just as it unequivocally suggested resistance during the historical premiere. To link the eras, Abd Al Malik adds a choir of ten amateur actors who came to " make people ", proclaim their dreams and demands.
In addition to these interludes, the committed musician also integrates rap , slam and an orchestra that comes throughout his " musical tragedy ", served by an incredible dollhouse-style decor signed Amélie Kiritzé-Topor . An unprecedented way of rediscovering this text all in dialogue in this mythical room which has barely reopened, whose new ambition is to make everyone find their way back to the theater, in the room as well as on the stage.

© Châtelet Theater - Thomas Amouroux
Until October 19, from 9 to 79 €. Reservations on www.chatelet.com .


Also discover La Traviata at the Opéra Garnier and the Paradis Latin review .