We obviously know Edvard Munch for his famous painting The Scream , which has been interpreted and misused many times in art circles. But what do we really know about the rest of his work?
The Musée d'Orsay makes us rediscover a great figure of painting from the end of the 19th century with the exhibition A poem of life, love and death which embraces the entire career of the Norwegian painter , explorer of the soul and interpreter of melancholy and human anguish.
A remanence of cycles
The proposed route does not follow a chronological thread but is organized around the artist's vision according to which humanity and nature come together around the cycle of life , death and rebirth . Thus, these motifs invite themselves into all of Munch 's work , in a perception of the world deeply marked by a symbolic dimension . At the heart of the artist's creation: the exploration and expression of the great movements of the soul , namely love , anguish and existential doubt .
His work: the mirror of his intimacy
Munch wants to paint " living people who breathe, move, suffer and love ", as close as possible to his personal dramas and his traumas. You have been warned: his painting is neither outpouring nor joyful!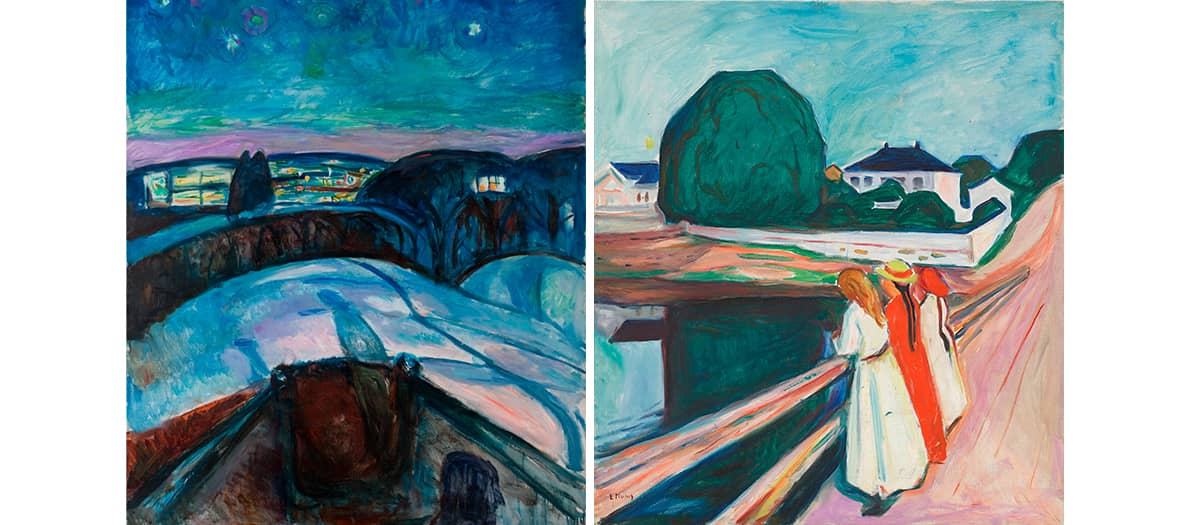 In The Sick Child, the ghost of his sister who died of tuberculosis emerges with rare intensity; The cry comes in a multitude of prints and paintings with different " raised hands "; the woman, for her part, always potentially evil and dangerous, is presented as sometimes macabre, sometimes madonna in a dual vision where the connection between two beings is symbolized by undulating and sensual hair.
Finally, illness , madness and death occupy a prominent place in the canvases and in the mind of the artist. The Frieze of Life , on the other hand, unfolds like a glimpse of life itself, which Munch will describe as a " poem of life, of love, of death… ". If " art is our bloody heart ", his own art is a confession coupled with a search for truth.
Munch and his times
The painter's work has its roots in a 19th century deeply marked by historical upheavals. Close to the bohemian circles of Kristiana (now Oslo ), Edvard Munch frequented the literary circle of the Zum Schwarzen Ferkel café when he moved to Berlin in 1893. There the artist rubbed shoulders with the great playwright Henrik Ibsen and created the sets for The Ghosts and Hedda Gabler. In 1937, eighty-two works by Munch were confiscated from German museums and certain private collectors, his art being described as " degenerate " by the Nazis , in opposition to the German artistic ideal which glorified the purity of the Aryan race. and loathes all forms of modern art .
Munch died in 1944 before the end of the Second World War , and bequeathed all his possessions, including the works of his studio and his manuscripts, to the city of Oslo .
Edvard Munch at the Musée d'Orsay , open Tuesday to Sunday from 9:30 a.m. to 6 p.m., Thursday until 9:45 p.m., price €16 online reservations

Also discover the best exhibitions of the moment and 3 good reasons to go to Versailles