© Toledo Museum of Art and Musée d'Orsay, Dist. RMN-Grand Palais / Patrice Schmidt
No need to hop on a train to Amsterdam to admire the magnificent works of one of the post-impressionist masters. The Musée d'Orsay is hosting a colossal exhibition dedicated to the last two months of Vincent Van Gogh's life spent in Auvers-sur-Oise. From May 20 to July 29, 1890, the "cursed painter" created 74 paintings and 33 drawings, nearly all of which are on display for this occasion. It's an unmissable event!
Why did Van Gogh choose to settle in Auvers-sur-Oise? Or, rather, for whom? The answer: Dr. Gachet. A specialist in treating melancholy, he was also a friend of the impressionists, a collector, and an amateur artist. "I have found in Dr. Gachet a friend and [...] like a new brother", wrote the painter to his own brother, Theo. Paul Gachet advised him to immerse himself in work to avoid falling into madness and to calm his fits of dementia. Van Gogh obeyed and painted dozens and dozens of canvases, following a strict daily routine: he woke up early to paint outdoors, and in the afternoon, he touched up his paintings in the inn where he stayed. He avoided anything that could distract him from painting, especially other artists attracted to the Val-d'Oise commune.
Unprecedented Paintings in Paris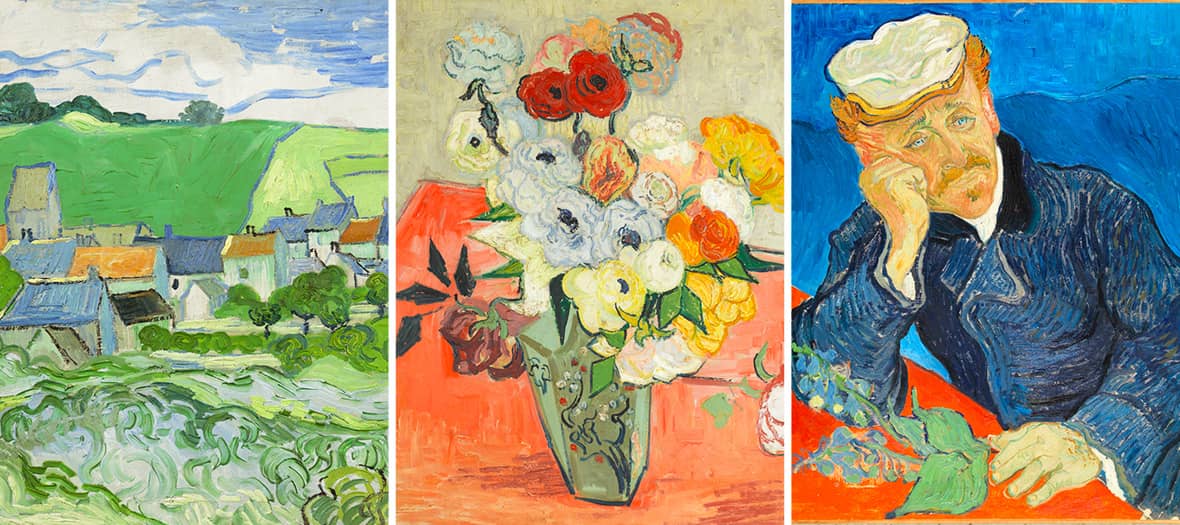 Vincent Van Gogh, therefore, followed his doctor and friend's prescription. He created 74 paintings and about thirty drawings in just two months, averaging two works a day! For the first time, a museum exclusively dedicates an exhibition to this period of the painter's life, the most prolific of his career. Fifty of his paintings fill the walls of the Musée d'Orsay: "Dr. Paul Gachet," "The Church at Auvers-sur-Oise," "Adeline Ravoux," "Wheatfield with Crows," and more. It's a unique display that allows visitors to see Vincent Van Gogh's only engraving, as well as a series of panoramic paintings exhibited in Paris for the first time.
Who better to capture the beauty of nature than Vincent Van Gogh? A simple wheat field and its crows become a dreamed landscape, an Eden, whose contours invite us to immerse ourselves in these green settings. Out of the 74 paintings he created in Auvers, about 20 are dedicated to landscapes nearly devoid of human presence, likely to express his sense of solitude. His final painting represents the nature he loved so much: "Tree Roots," painted the very morning of his suicide. A truly touching moment.
Van Gogh à Auvers-sur-Oise. Les derniers mois, running until February 4, 2024, at the Musée d'Orsay, 1 rue de la Légion d'Honneur, Paris 7th. Get more information and book your tickets online.
© Van Gogh Museum, Amsterdam (Vincent van Gogh Foundation) and Musée d'Orsay, Dist. RMN-Grand Palais / Patrice Schmidt
Also discover West Side Story, a musical masterpiece at Châtelet Theatre and The french Cinémathèque celebrates Agnès Varda