Gypsy and jet set compression, the season of the sun celebrates the era of gypset fashion. We are inspired by the beauties of Ibiza , Formentera , Copacabana and other dream places in -a to breathe a summer look into its summer look that smells like hot sand.
Watchword ? Invest in a beautiful bohemian piece ( XXL dress , long petticoat , aerial jumpsuit …) and decorate it with modern accessories. Demonstration with these 5 complete looks for your next evenings by the water.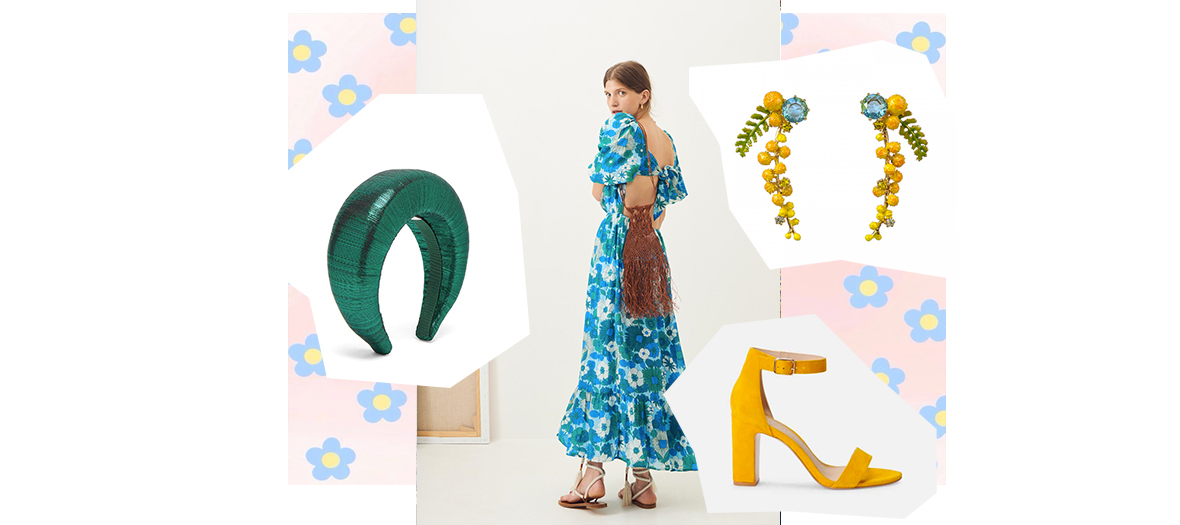 This is no longer to be demonstrated: the large floral print is the new obsession of designers. We decided to combine this Antik Batik turquoise halter top with lemon yellow soundtracks and sandals as well as a green maxi headband, for a set of colors that divinely match.
Long backless dress Lorette - Blue, Antik Batik , 220
Edvige lamé headband, Flapper, 179 € on sale at 71 € on www.matchesfashion.com
Mimosa and fern branch earrings, Les Néréides , € 130
Yellow Beinta sandals, Minelli , € 109, available in store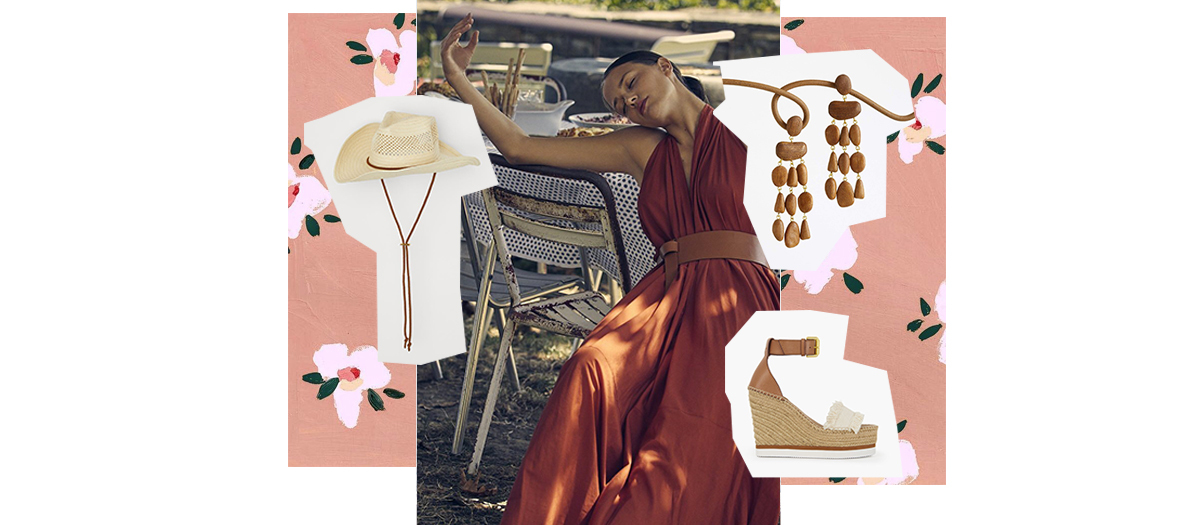 It is put on when you get out of the water and is kept until nightfall once accessorized with a cowgirl hat , large wooden earrings and wedge sandals . The sarong dress by Mare di Latte embodies a real lifestyle inspired by Corsica where its designer lives. A certain vision of la dolce vita ...
Pareo Malin long Acacia, Mare di Latte , 145 €
Tallulah wooden earrings,Cult Gaia , € 110
Straw hat, H&M , € 17.99
Wedge sandals, See by Chloé , € 215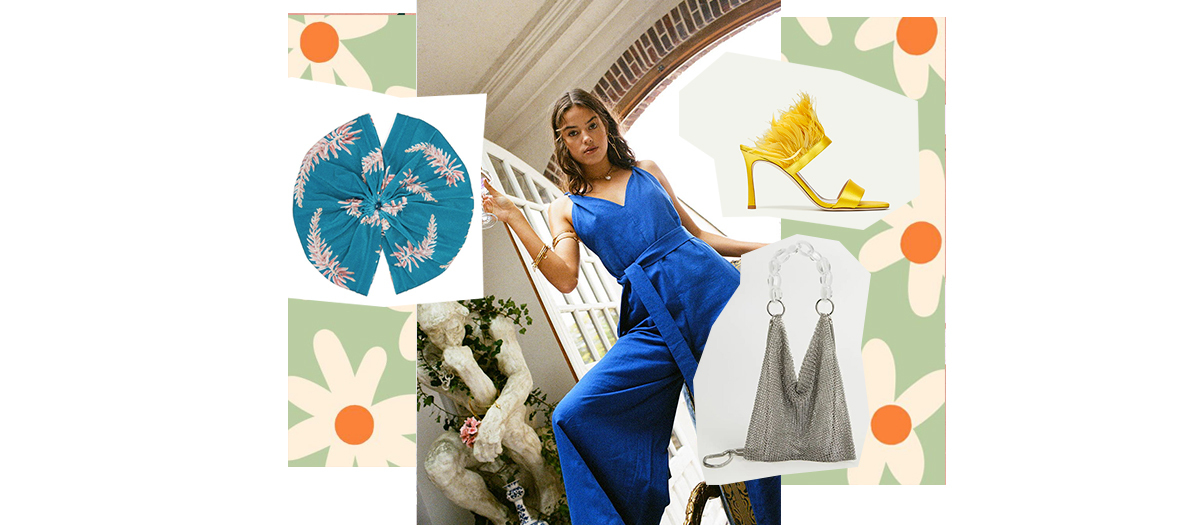 It's true, linen involves nickel ironing which can seem restrictive. However, we have not yet found lighter and airy to enjoy an aperitif at sunset when it is very hot. Full marks for Imperial Feast and combi blue flattering king, to whom we offer a rock deposit and sexy as hell with feathered sandals, a small metal bag furiously in the air time and print a turban in hair.
Bowie jumpsuit in royal blue linen, Imperial Festival , € 335
Aloe print jersey headband, Adriana Degreas, € 135 on sale at € 54 on www.matchesfashion.com
Sandales Ascot Yellow, Ghazal Paris, 475 €
Metallic mesh bag, Mango , € 39.99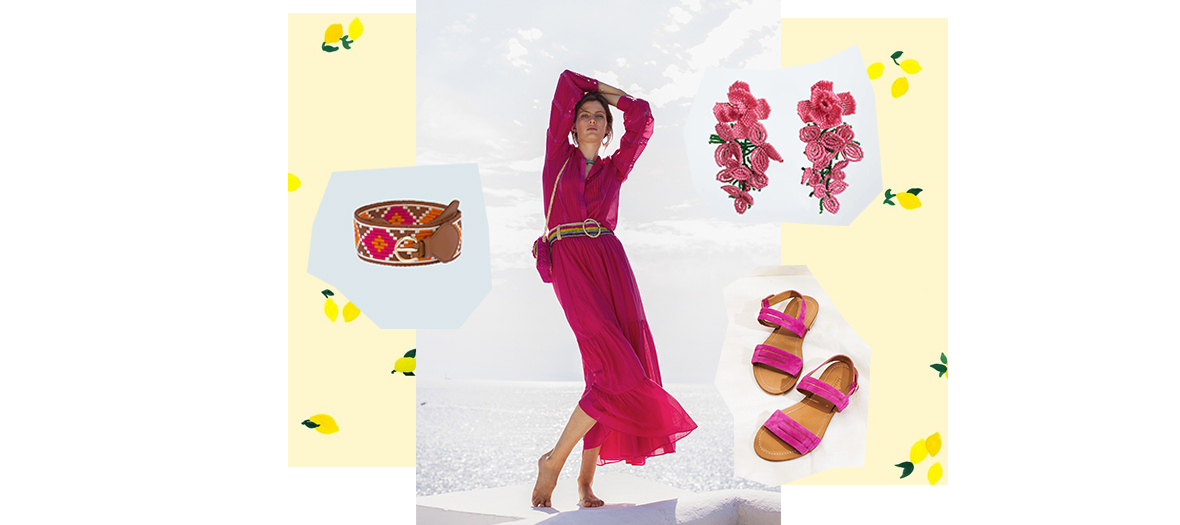 What could be more flattering than the color fuchsia ? Now that our brain is used to wanting to impose it on all our winter and summer looks, we dare what we would never have dared a year ago: put it on from head to toe. Vanessa Bruno makes the project feasible with her large shirt dress which is dressed with an embroidered belt , flat sandals and matching earrings .
Fuchsia shirt dress, Vanessa Bruno , € 259, available at BHV, Galeries Lafayette Champs-Elysées and soon online
Sandals Isanlina fuchsia, Balzac Paris , 160 €
Embroidered fabric belt, Miu Miu , 195 €
Rose earrings, Zara , € 15.95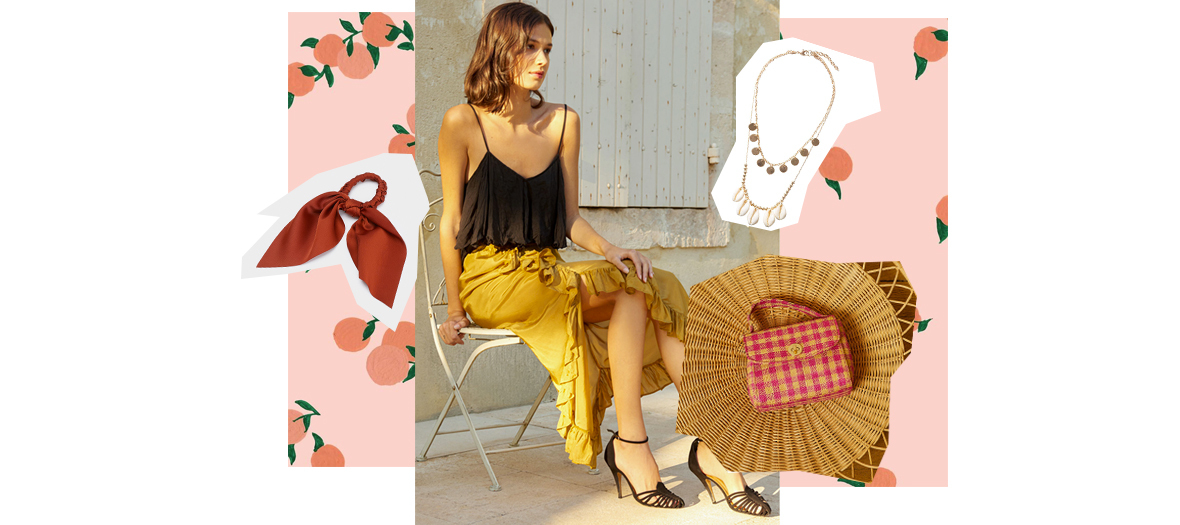 It turns with the wind, reveals the leg with sensuality and looks just as good with sneakers as with stilettos. The asymmetrical petticoat by Mes Demoiselles goes with a small top with spaghetti straps, a gold shell necklace and an adorable gingham straw bag. The result ? A sexy, no-frills set that will turn heads.
Khaki Cantal Skirt € 190.00, Black Volupte Top € 160.00, Black Venetian Pumps
360,00 €, all Mes Demoiselles
Shell and tassel necklace, La Redoute Collections , € 14.99
CALA BAG Cala Bag, Petite Mendigote , € 65 on sale at € 45.00
Bow Scrunchie, Sometimes , € 4.99
Also discover the most beautiful mules of the summer and the favorite brands of Parisiennes .