You were waiting for it with great impatience ? So were we. The Musée Yves Saint Laurent is finally opening its doors in the same location as the former Pierre Bergé-Yves Saint Laurent Foundation, inside the private mansion that sheltered the venerable couture house from 1974 to 2002. Immersion at the heart of a fashion legend, closer than ever…
A far cry from the dusty institution, the venue brings out with emotion the hectic lifestyle that followed the seasonal rhythm of the collections in a decor very similar to the one of that era. Preparatory sketches, iconic dresses and costumes (Mondrian dress, bush jacket, evening wear), vintage jewellery, personal objects, images and videos from the archives—all pieces that are cleverly showcased for a better understanding of the creative process that shook up the establishment with his tuxedos for women.
From the couture salons to the projection room, including the cabinet of curiosities, the aura of the mythical duo formed by Yves Saint Laurent-Pierre Bergé soars above the entire venue. A presence that is all the more moving inside the creation studio, personal office of Monsieur Saint Laurent, identically recomposed : pencil pots, souvenir photos, fetish niknaks, rolls of fabric… everything is there, as though the couturier had just stepped out of the room a few minutes before. Touching and troubling.
We adore: the small films featuring savoury confidences told by former collaborators of the house in person. Creative secrets, backstage anecdotes, each one has a commentary to make…
We like being in the area and going for breakfast or tea-time at the Plaza Athenee nearby.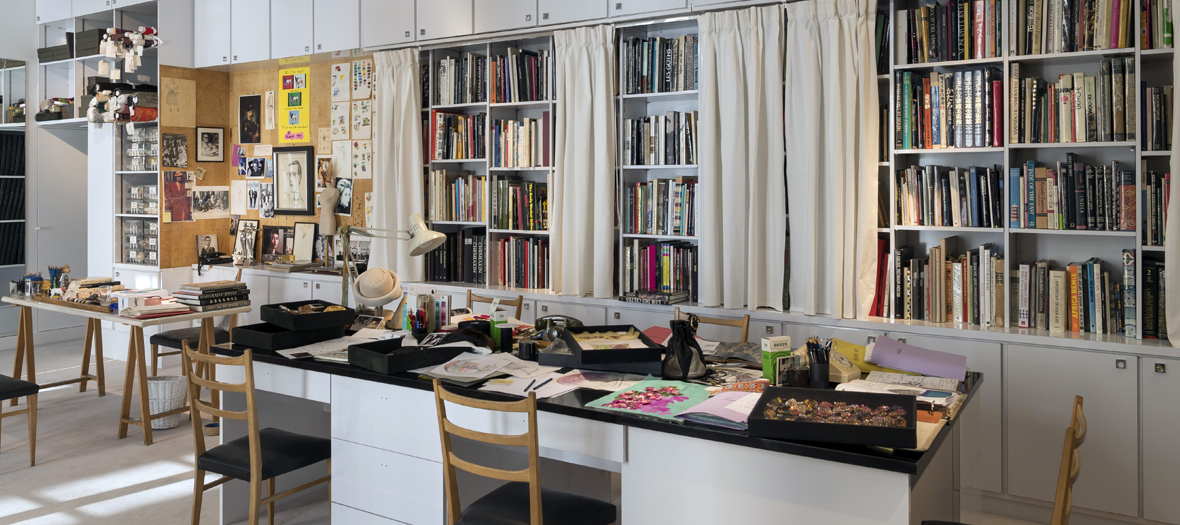 Open from Tuesday to Sunday 11am-6pm. Late opening on Friday until 9pm.
Also discover the unpublished drawings of Yves Saint Laurent.