The club sandwich? A religion ! As opposed to its street-food counterparts, this layered sandwich is most aristocratic and is to be tasted on a plate after having been put together and spiked with high precision. Real art! Its favourite playing grounds? Tea salons, palace bars and other institutions with ultimate Parisian chic. Our small sampling selection...
Le Fumoir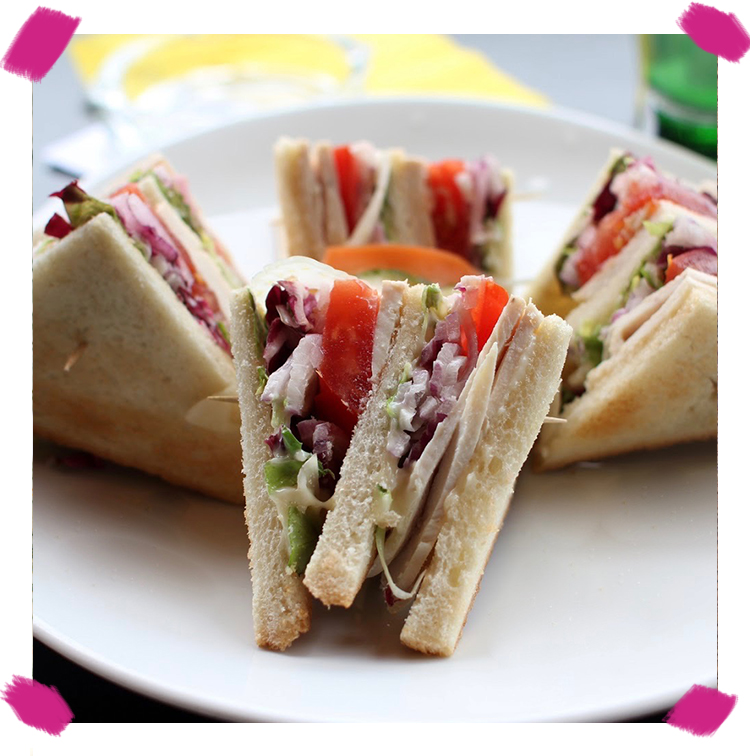 Well-known by club fans, the one served at the Fumoir is a legend in its own right… It also happens to be the favourite of the DO IT TEAM—divinely put together and rather light: bread toasted on the spot, house mayo, chicken slivers, crunchy bacon, salad, tomato and onion, all served with pickled carrots and cucumbers for the fresh touch. To be ordered all day long with a tout au long de Ginger twist carrot juice or a cocktail in the evening.
Price: €12.
Where to enjoy it? Au Fumoir, 6 Rue de l'Amiral de Coligny, 75001 Paris
All the info on http://lefumoir.com/
Le Meurice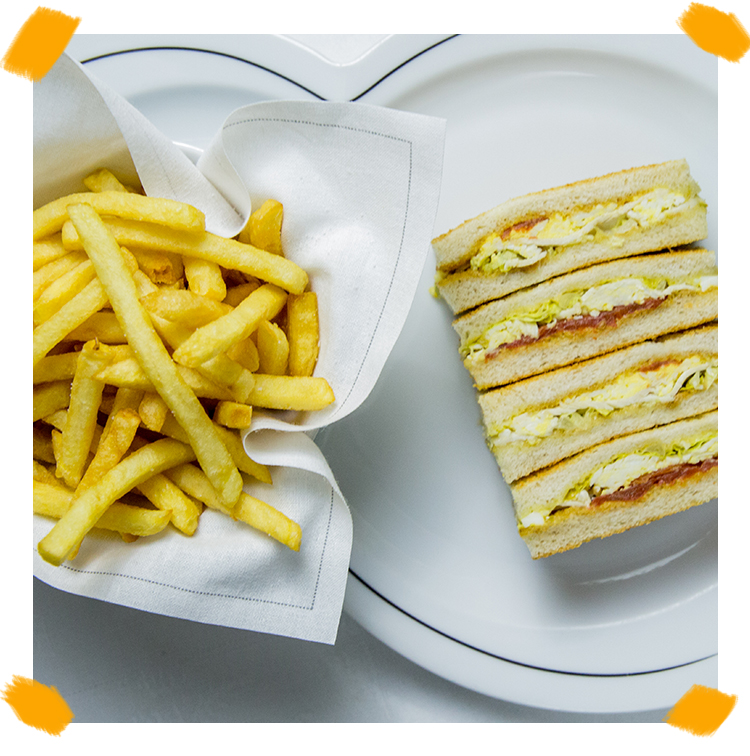 Every real Parisienne must have taken a bite of this absolutely divine "accessible luxury" at least once in a life time. Digging into a club and fries at the Meurice bar, elbow to elbow with Carla Bruni or Léa Seydoux. Aside from the trendy aspect, the plate is also very high-end because it has been elected several times as best club sandwich in Paris, under the helm of Alain Ducasse… To be tested in its veggie, chicken or salmon version.
Price: €34
Where to enjoy it? Hôtel Le Meurice, 228 Rue de Rivoli, 75001 Paris All the info on www.dorchestercollection.com/en/paris/le-meurice/
Ladurée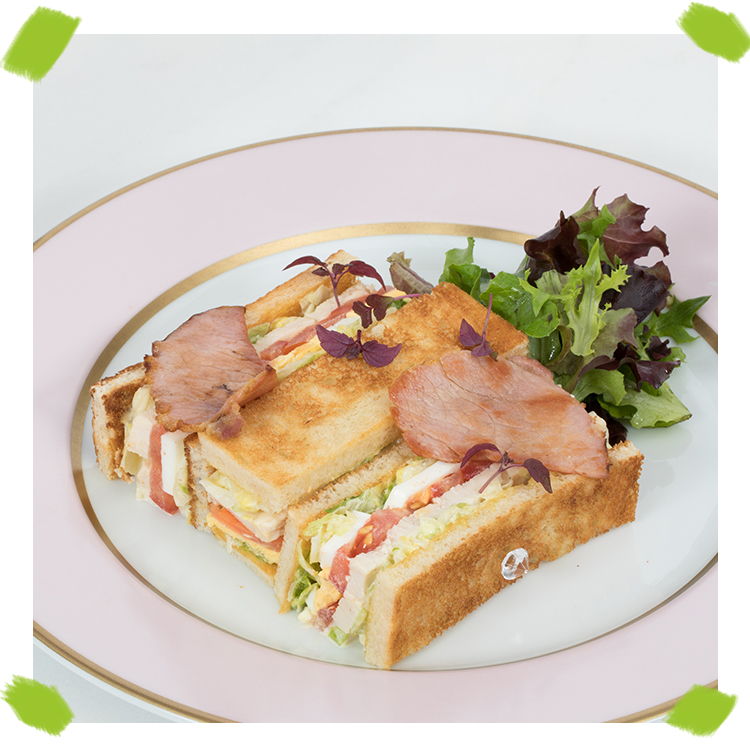 Mayo buffs, welcome to paradise. Ladurée serves a deliberately food porn club sandwich made of farm range chicken, pastrami, organic egg and tomatoes. Along with a good dose of mayonnaise, without forgetting XXL frites cut in large rectangles, that literally melt in your mouth. The ultimate snobbism: the small spike with a little diamond to hold everything together, making it even more Instagram-compatible.
Price: €25
Where to enjoy it? In the Ladurée tea salons of the Champs Elysées, Rue Bonaparte and Printemps Haussmann .
All the info on www.laduree.fr
Angelina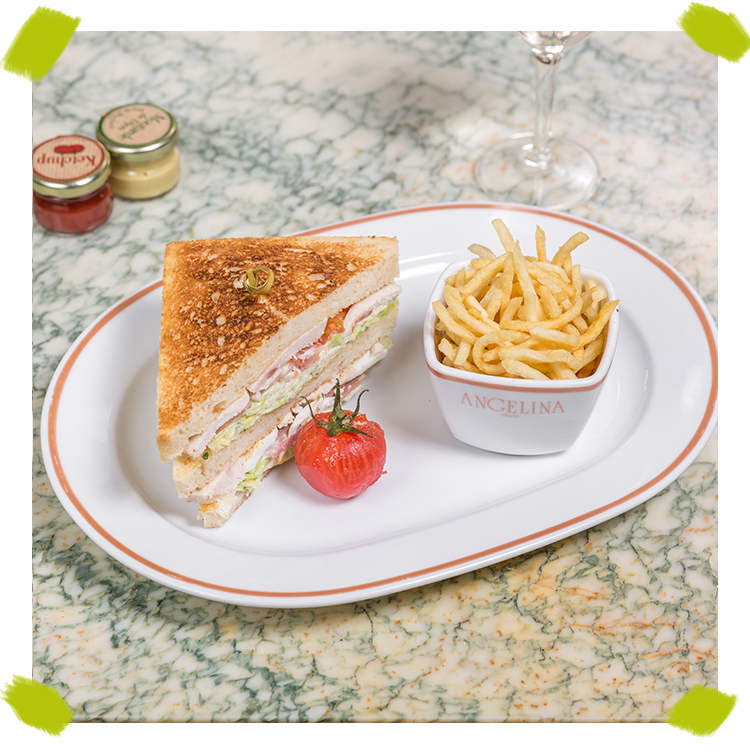 Sagan, Proust has there little habits there… The cult address of Parisiennes continues to distillate its super chic Mont-Blanc dessert. In a salty best-seller version, 3 amazing clubs sandwiches are served with salad or fries, depending on the mood frites. So just make the right choice: veggie with cream of feta cheese, avocado, hard boiled egg, traditional with chicken or fresh salmon-goat cheese.
Price: starting at €22
Where to enjoy it? Chez Angelina rue de Rivoli, aux Jardins du Luxembourg, au Louvre and at the Château de Versailles.
All the info on http://www.angelina-paris.fr/fr/
Carette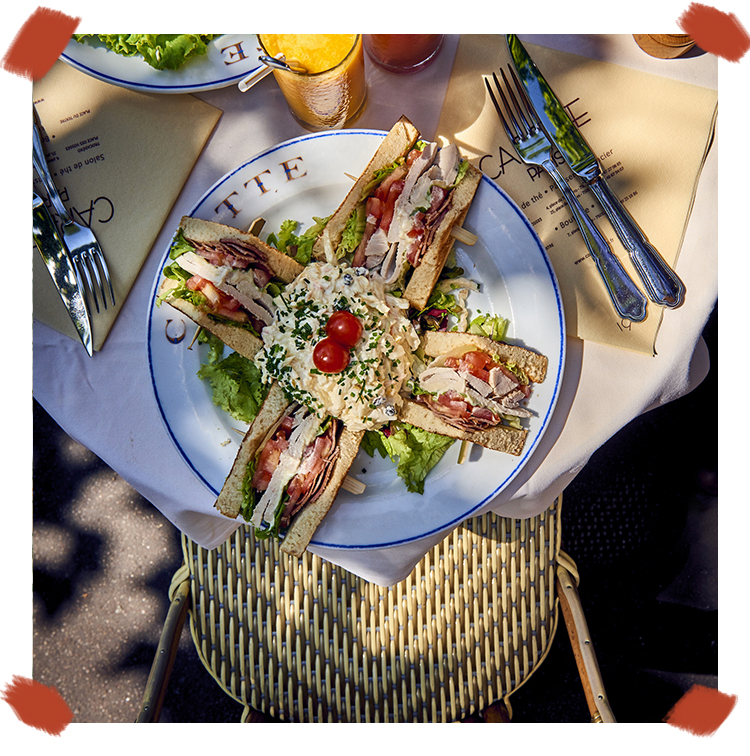 Carette, the mythical tea salon and its terraces, the ultimate rendezvous of Parisiennes to enjoy a cult club sandwich in the sun. We highly recommend the "Parisienne: Paris ham, emmental cheese, egg mimosa and salad, served with coleslaw. Gargantuesque but so delicious...
Price: €25
Where to enjoy it? Chez Carette, Place des Vosges and Place du Trocadéro.
All the info on http://www.carette-paris.fr
Abri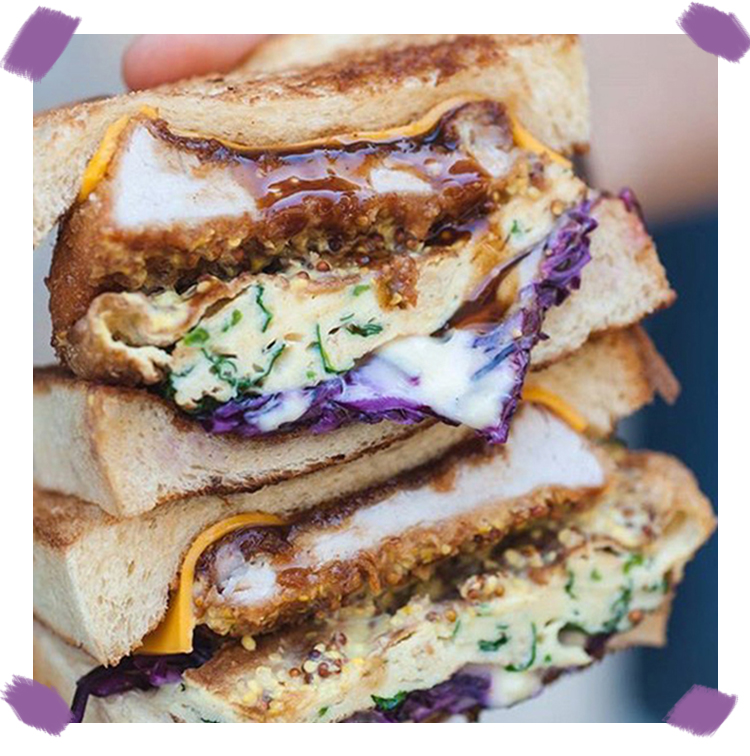 It's THE weekly rendezvous of foodies. Every Saturday at lunch, Japanese chef Katsuaki Okiyama, darling of the Fooding, exchanges his tasting menu against his cult, die and go to heaven sandwich. Check out its anatomy: toasted bread, scallop of breaded pork tonkatsu style, cheese, cabbage, vegetable omelet. With a choice of coffee, tea, organic herbal infusion or wine by the glass.
Price: €13 beverage + club formula
Where to enjoy it? At the restaurant Abri, 92 Rue du Faubourg Poissonnière, 75010 Paris
Open Tuesday to Saturday from 12:30 until 2pm and from 7:30pm until 10pm
credit photo: French Food
Le Café de Flore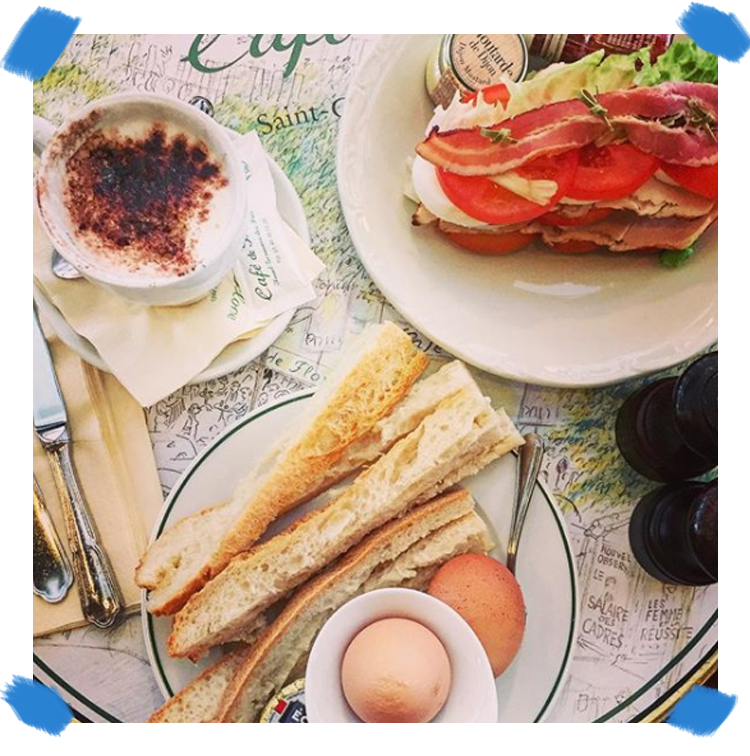 Sonia Rykiel dreamt of it. Le Flore created it for her. A club sandwich without bread, nor mayo: "the club Rykiel" was born. Concretely: it tasted like a club sandwich, it looks like a club sandwich and it's crunchy, thanks to the grilled bacon. Imagine two wooden spikes under which are layered bacon, chicken, tomato, salad and hard boiled egg, as with a real club—to be customised with mustard and ketchup. We prefer telling you right off the bat: it's the ultimate snobbism of the Parisienne.
Discover all the information on the lightest club sandwich in Paris
Where to enjoy it? At 172 Boulevard Saint-Germain, 75006 Paris toutes les infos sur cafedeflore.fr
Open from 7h30 to 1h30
Coffee Club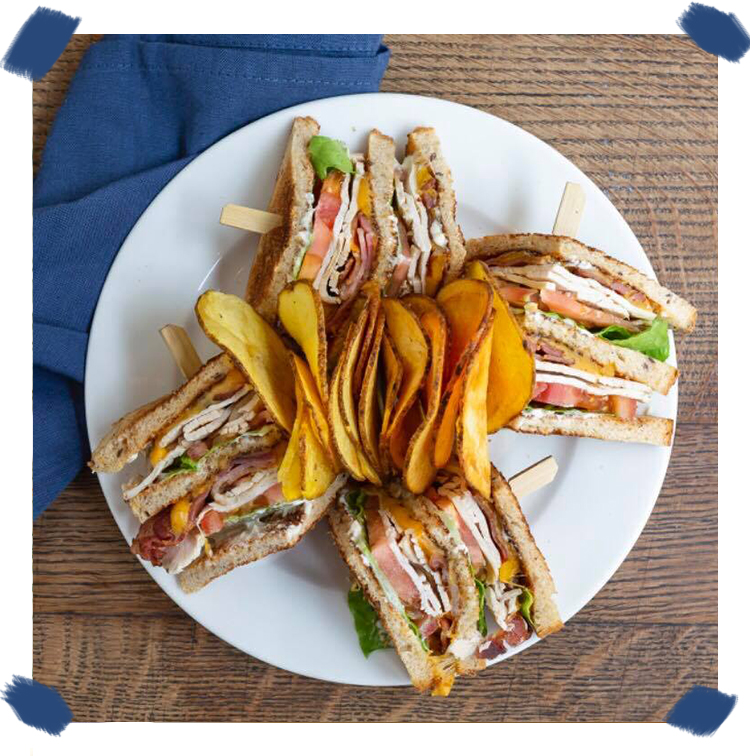 Kid brother of the famous Coffee Parisien opened by Allison and Jonh Goldstein, the Coffee Club offers a top notch classic club put together with the complicity of chef Carrie Solomon, who chose the best ingredients (turkey, bacon, salad, real cheddar and mayonnaise) served with house chips. Did you say foodporn ? Price: €14,50
Where to enjoy it? At the Coffee Club, 87 Rue d'Assas, 75006 Paris http://coffee-club.fr
Carré Pain de Mie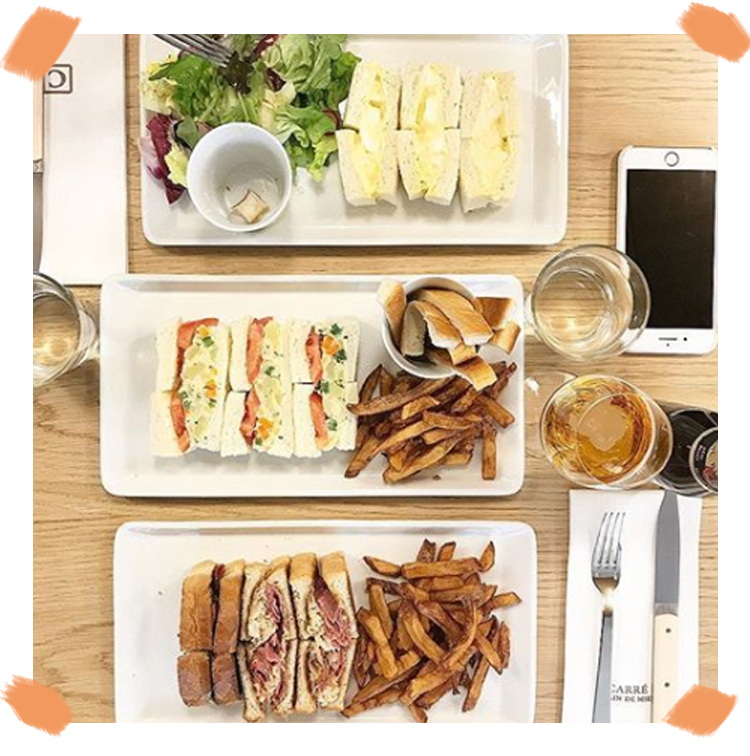 A tad monomaniac, this new Franco-Japanese bakery is proud of its obsession for toasting bread. On site, two variations, a crunchy one with French wheat flour, the other is softer, made with Japanese flour. The latter version is the setting for the house club: farm range chicken, smoked bacon, tomato, lettuce, hard boiled egg, house with herbs.
Price of the carré club €20
Where to enjoy it? Pain de Mie au Carré, 5 Rue Rambuteau, 75004 Paris
Café Pouchkine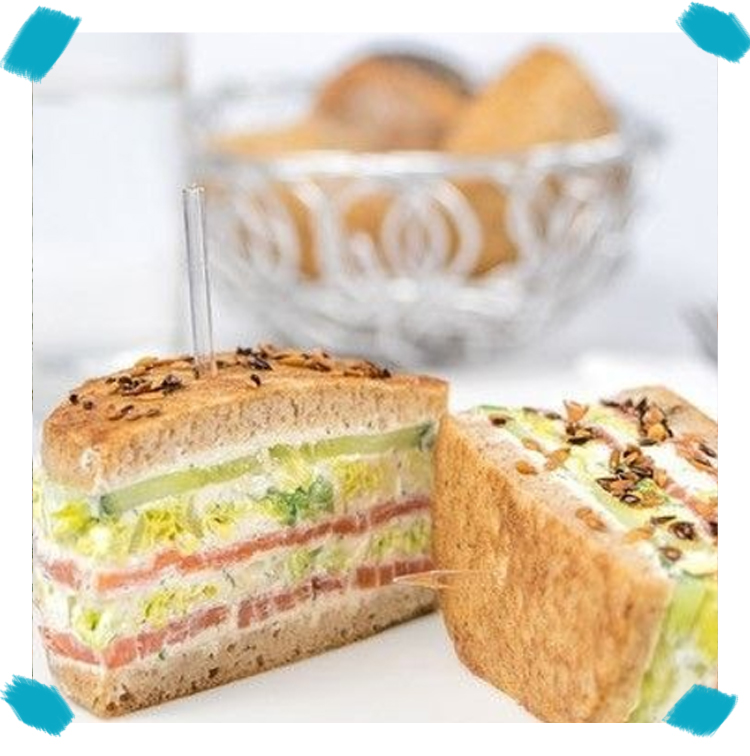 Faithful to its DNA, this über chic tea salon recently implanted on place de la Madeleine offers a Russian style club sandwich structured with two super plump buckwheat blinis. Inside? A symphony of salmon, bib lettuce, cucumber and super fresh cream to be followed by a sweet treat elaborated by d Nina Métayer, elected pastry chef of the year in 2017.
Club blinis salmon €16.50
Where to enjoy it? Café Pouchkine, 16 Place de la Madeleine
Open 7/7 from 7 :30am to 10:30pm
Also discover Where to have lunch for less than 10 euros in Paris and 5 kebabs that will you make addicted