Gone are the days when broke students had the monopoly of cheap and too greasy kebabs! Assaulted by demanding gourmets, street food in turn gives pride of place to beautiful quality products, like the most desirable " kébabiers " in Paris. Our shortlist.

The most underground: Impact berliner kebap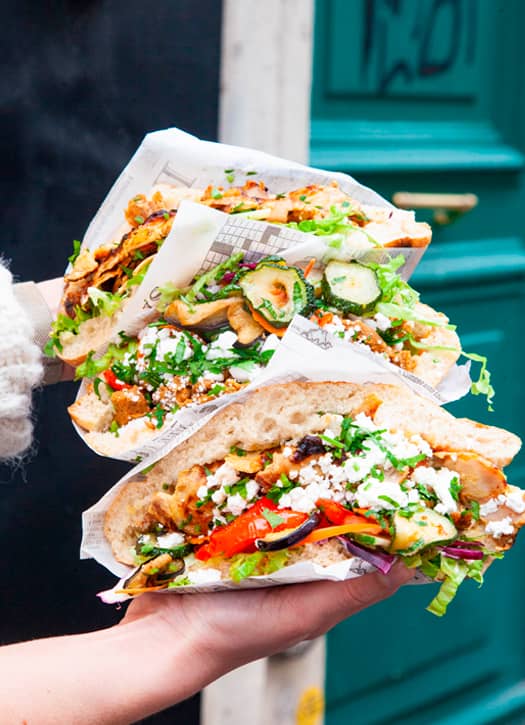 The address: definitely the most Berlin-like of all! From Turkey to Germany, the döner is illustrated with hype by saying goodbye to fat and poor quality products.
The kebab: chicken marinated in 4 spices and a mixture of raw vegetables to ease your conscience (zucchini, eggplant, carrots, peppers, lettuce, tomatoes, cucumber, red onions and cabbage) on a bed of aromatic herbs and feta, seasoned with a homemade garlic, lemon or chimichurri sauce (€6.50 for a classic kebab, the feta-based Berliner is €7.50 and the veggie €8.50).
The extra thing: seitan replaces meat for veggie kébabophiles .
Impact berliner kebap , 119 rue du chemin vert, Paris 11th, open Monday to Thursday from 11:30 a.m. to 11 p.m., Friday and Saturday from 11:30 a.m. to midnight
The most XXL: Surpriz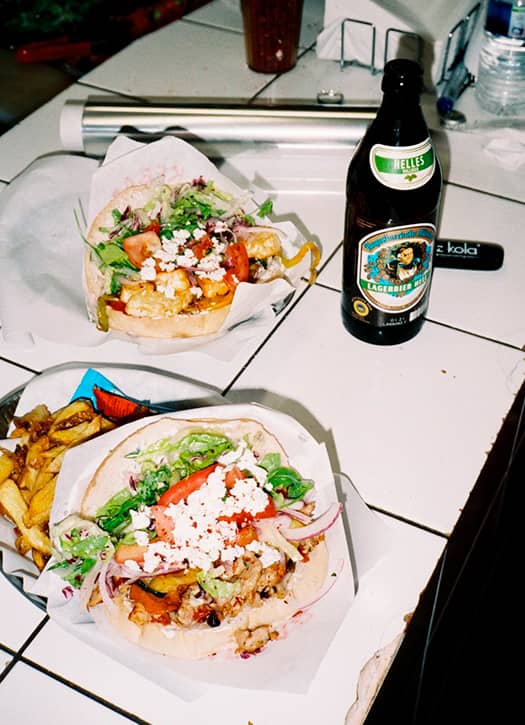 The address: an air of the Rhineland , a cultural institution, the kif of Angela Merkel and the biggest revelers of Kreuzberg in a relaxed atmosphere with a backdrop of techno music in the style of a real Berlin bar .
The kebab: bread and traditional Turkish pancake from Ahmed the local baker, meat from Mehmet (the best Berlin butcher that all kebabists love) 100% chicken caramelized by spit fire and melting in the mouth, grilled vegetables delicious with yoghurt, garlic or spicy sauce (€6.90 for the döner kebab , €5 for the veggie and €7.50 for the dürüm halloumie ).
The extra thing: Germany down to the smallest detail and especially in the drinks with Fritz Kola (€3), Apfelschorle (€3) or Mate (€4) and beer from Augustiner (4, €90 for 0.5 liters), the oldest brewery in Munich!
Sürpriz kebab , 110 rue Oberkampf, Paris 11th, open every day from 11:30 a.m. to 3:30 p.m.
and from 6:30 p.m. to 11 p.m., Tuesday and Saturday until midnight
The most Levantine: Qasti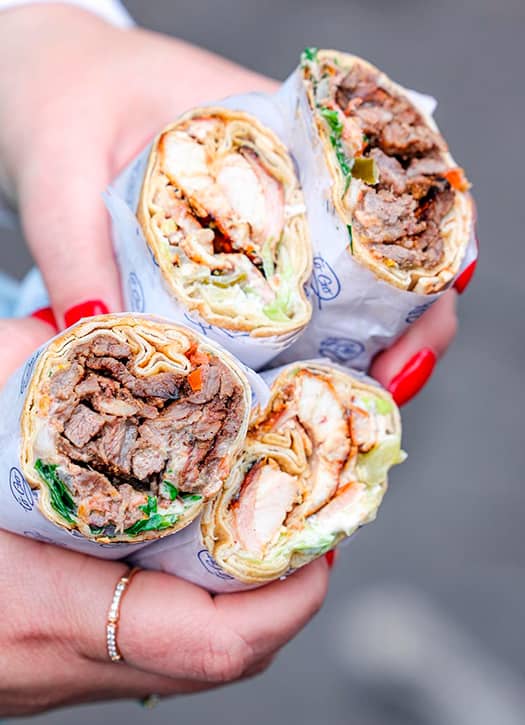 The address: a Lebanese-style street good spot , a hotspot for sharing, delicacies and travel designed by starred chef Alan Geaam .
The kebab: this is not a kebab, it's a chawarma ! T he emblematic pancakes of the Levant country decorated with Périgord free-range chicken , beef and veal marinated for 48 hours on its bed of hummus and its essential tarator sauce (tahini, yogurt and lemon) or toum sauce (garlic cream with a very slight). Count €6.90 for the chicken, veal or beef shawarma and €5.50 for the vegetarian sandwich with fries, garlic cream, coleslaw pickle and ketchup.
The added plus: Alan Geaam's signature hummus is reputed to be the best in Paris. We say that, we say nothing...
Qasti , 205 rue Saint-Martin, Paris 3rd, open every day from 12 p.m. to 2:30 p.m. and from 7 p.m. to 10:30 p.m., Friday and Saturday until 11 p.m.

The lightest: Grilled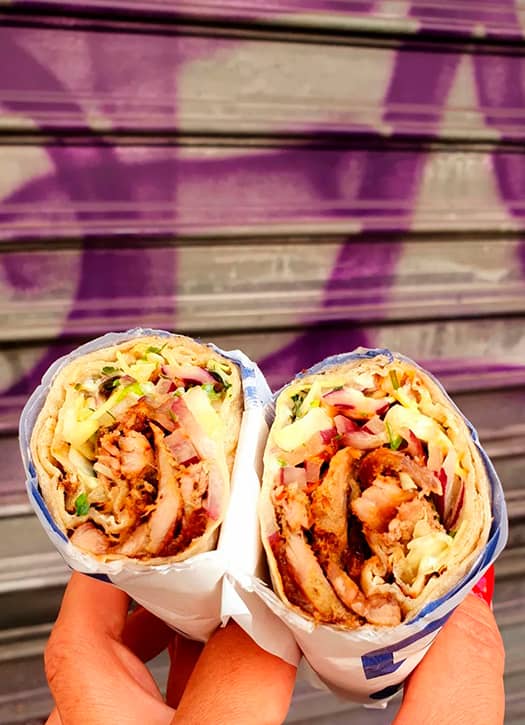 The address: the requirement and ambition of French gastronomy in a luxury Turkish sandwich (the lightest of the selection) and its chic and tasteful decorum !
The kebab: a bread made under the eyes of gourmets, a bouquet of fresh herbs (mint, coriander and parsley) and thin slices of milk-fed veal , all seasoned with a white sauce made from cottage cheese and horseradish or a tomato sauce and green peppers (formulas between €9.80 and €12).
The extra thing: homemade breads with organic spelled flour, meat sourced from Hugo Desnoyer and exclusively artisanal lemonade.
Grillé , 6 rue des petits tiles, Paris 2nd, open Monday, Wednesday and Friday from 11:30 a.m. to 10 p.m., Thursday from 11:30 a.m. to 10:30 p.m. and Saturday from 11 a.m. to 10 p.m.
The most Greek: Filakia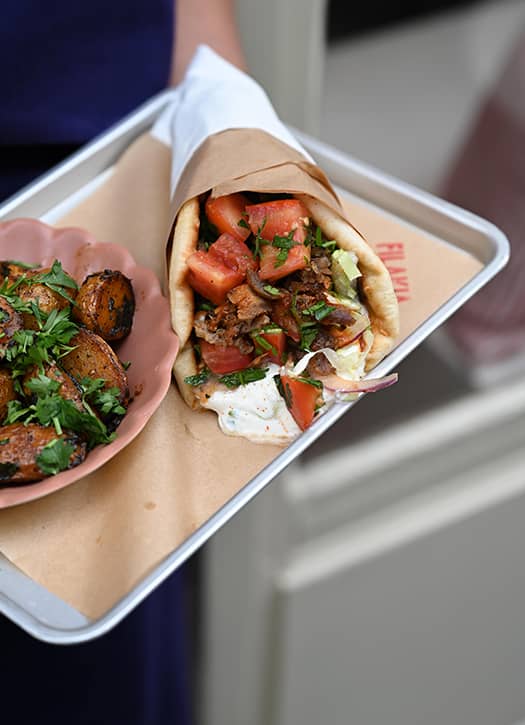 The address: the Mediterranean lifestyle and the best Greek products from Paris in a real souvlaki dripping with sunny flavors.
The kebab: a return to the traditional technique of cooking on a spit which ensures the excellence of the quality of free-range pork from Auvergne and beef from the Basque country delivered by Terroirs d'Avenir and wrapped in pita bread with tzatziki , lettuce, tomatoes and onions (€10 for the sandwich alone, €13 with lightly spiced fries, potatoes confit with lemon or accompanied by a starter of the day).
The added bonus: for gluten-free fans , roast meat is served directly on the plate with raw vegetables, tzatziki and potatoes confit with lemons, just like in the taverns of Athens !
Filakia , 9 rue Mandar Paris 2nd, open Monday to Sunday from 11:30 a.m. to 3 p.m. and from 6:30 p.m. to 10:30 p.m.
Also discover Bloom, the new Japanese restaurant that makes sushi sexy and a great place to have lunch for less than €10