No need to present the mythical « Coffee Parisien » hot spots created by Alyson and John, inventors of the brunch in Paris during the 1990s.
Since offspring Anna and Dylan took over, the result is a Coffee 2.0 set up in Vavin, even more sexy and comforting, with the same family spirit, featuring the added input of the new trendy fads of young swinging New Yorkers.
Concretely: a handsome loft spirit decor with lots of light (Parisian stones, bare bulbs) and a menu concocted hand in hand with Carrie Solomon (the up and coming organic-girl): fab avocado toast (6,50€), a killer meat ball salad (15€) with veggies, chicken meat balls, coriander, quinoa, kale and white sauce with a very fresh green juice (6€).
Of course they serve all their usual specialties that have improved in quality: delicious bagels with bread baked by Rachel (14€), eggs Benedict & hash browns (14€). And a truly top notch cheeseburger (14€), amazing French toast (8€) and THE carrot-cake (8,50€)
We adore: the evening atmosphere with candles everywhere, muted lighting, delicious cocktails and groups of buddies in party mode!
Who does one run into? The golden youth of the area that hangs out there between classes with Violette, the daughter of Inès de la Fressange, who has made it her HQ, just like her mommy, spotted chatting with her pal Sandrine Kimberlain.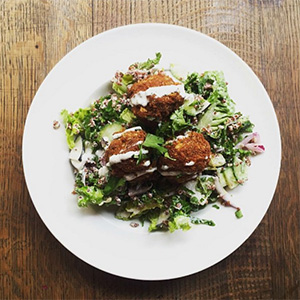 Open from 8am to 6pm on monday, from 8am to 2am from tuesday to friday, from 11am to 2am on saturday and from 11am to 6pm on sunday.
Also discover Mar'co, the revival of the Colette water bar.