Amongst the new generation of Parisian designers who impose a "real" style, Annelise Michelson and Marguerite Bartherotte (G.Kero) are top of the mark with pieces that one finds on the silhouette of all the fashionistas…

And how about this: the two have just opened two must-go pop-ups in the Marais.
The ephemeral boutique of Annelise Michelson
Her jewels-sculptures have hooked all the fashion trendies starting with Bianca Balti, Bella Hadid. A far cry from the romantico-corny clichés, the label of Annelise Michelson reinvents jewellery with bronze pieces that make women feel strong. Her bondage bracelet, her draped ring or her earrings convey allure to a simple jeans + white tee-shirt combo.
For her first boutique "in real life", Annelise has opened on Rue du Vertbois, in a slick, pop and glossy scenography signed Matthieu Bliss. Nothing was left to happenstance by this perfectionist: an olfactive atmosphere entrusted to Frédéric Malle and a great soundtrack…
In the middle of all her creations: signature made in Paris jewellery. Her Déchainée earrings,  a chic and punk offshoot of chain links, filtered with red, orange, iridescent, are irresistible for summer.
To be discovered also: her new super sensual collection Vertigo with superb hoop earrings (€210) along with gold and silver rings (€200) to be worn in accumulation.
Open Tuesday to Saturday from 11am to 7pm. Ephemeral boutique until the 30th of June, 7 Rue du Vertbois, 75003 Paris. www.annelisemichelson.com
The universe of G.Kero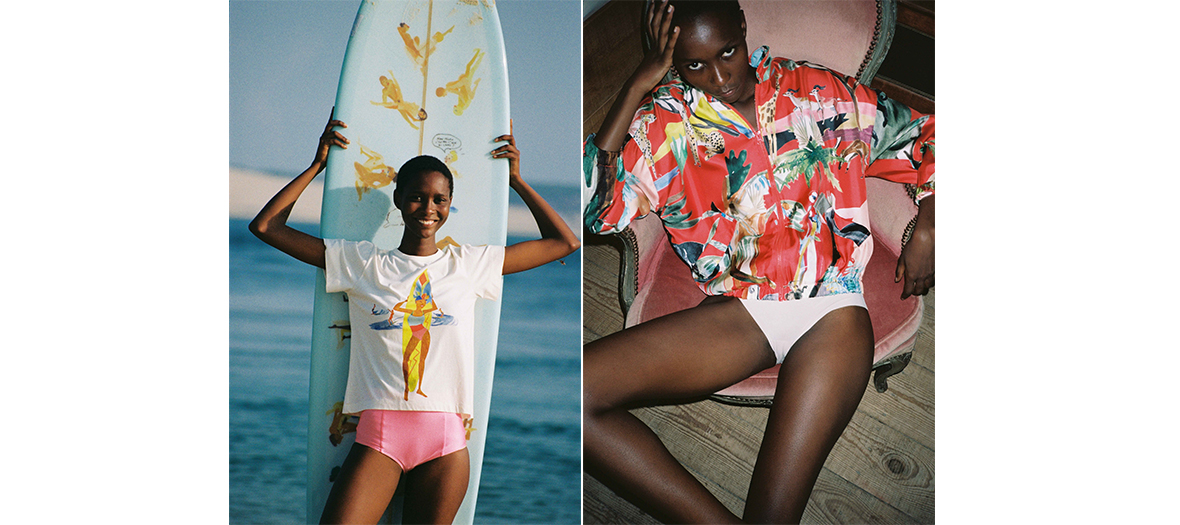 Artist Marguerite Bartherotte likes to showcase fashion in many colours. Her signature: the painter prefers fabrics to canvas, and signs work of art clothing for which each piece is numbered and produced as a limited series.
Impossible to resist her prints that bring to mind dreams and coolness, starting with her famous kama sutra that launched her brand...
Discover in real the universe of the G.Kero label, which  turns out to be an experience at the same time fashionable, sensual and arty. Her star drawings such as La Plage, Flying Birds or Perroquets Bleus are printed on silks, silk cottons, viscoses, linens and amazing cottons.
Specificity, the collections of G.Kero are created in an exceptional factory that produced Hermès silks in the 1950s.
Aside from her small one piece suit in cotton and her Jungle Sauvage Red skirt, sure to be a big hit on the beach this summer, her ultra soft shirts are a dream to wear in town as well as on holidays.
Other ultra-desirable pieces: her superb silk bombers, rare and highly sophisticated pieces (starting at €450) and her outrageously sexy tee-shirts and sweats.

Open until the 8th of June, every day from 11am to 8pm at 11 Rue Debelleyme, 75003 Paris. 09 80 47 71 85. www.gkero.com