Hej Paris (Hello Paris in Swedish)! With the new Ikea Paris Madeleine, the first store in France to open midtown in a big city, the Swedish giant is inaugurating a unique concept in the world. A perfect occasion to play the 7 differences game.
1. AN Ikea midtown
Of the 34 stores in France, it's the very first time that Ikea is opening inside a big city. Located right in front of the Madeleine metro stop, above the Décathlon store, replacing the former Trois Quartiers shopping mall, this new human-sized address is part of the flagship's new strategy: "More than a shop, it's a new living space, inspiring and experimental, created by Parisians, for Parisians," says Annie Bétreau, store manager.

2. A free-style presentation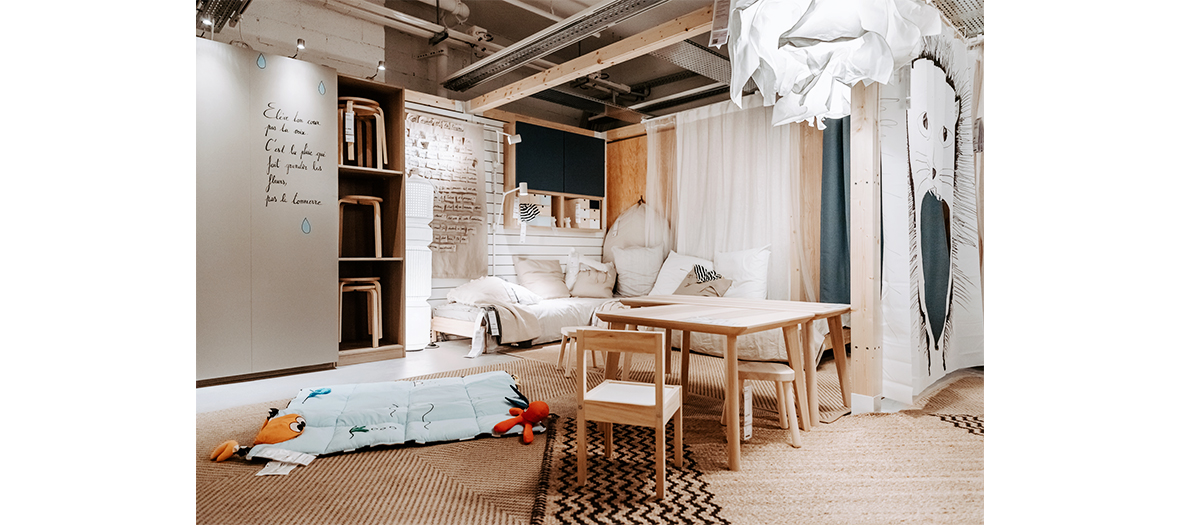 Here, no imposed labyrinth, you can stroll leisurely along the 5,400 m² of the store divided on two levels. Advantage? Total freedom. Inconvenience? You risk getting lost and miss certain areas.

3. A targeted selection
This "small" space could not welcome as many references as the classic shops. If you compare, the one in Franconville spans 32,000 m²—so a choice had to be made. In total, you can go home with 1,500 small pieces of furniture and decorating accessories under the arm and choose from 115 grocery products (like those wonderful cinnamon rolls.)
Example? A bamboo lamp, tie and dye sheets, tableware in pastel colours, photo frames… And pieces from the pop "coollab'" between Sarah Andelman (ex colette) and the Australian artist Craig Redman (Darcel Disappoints).

4. A special acCompaniement
The 140 collaborators, all passionate we are told, were selected and trained to accompany Parisians in their projects. If needed, a salesman can accompany you during your entire shopping spree. It is also possible to make an appointment with an interior counselor to pick the right kitchen (€49) or to copy the dressing room of Carrie Bradshaw (€19).

5. DIY workshops
Totally in keeping with the times, this 2.0 Ikea offers each week stylish in-store animations, accessible for free to Ikea Family members (free subscribing): workshops, encounters, conferences. Cleverly, the fast-decor flagship puts the accent on repair, upcycling and zero waste.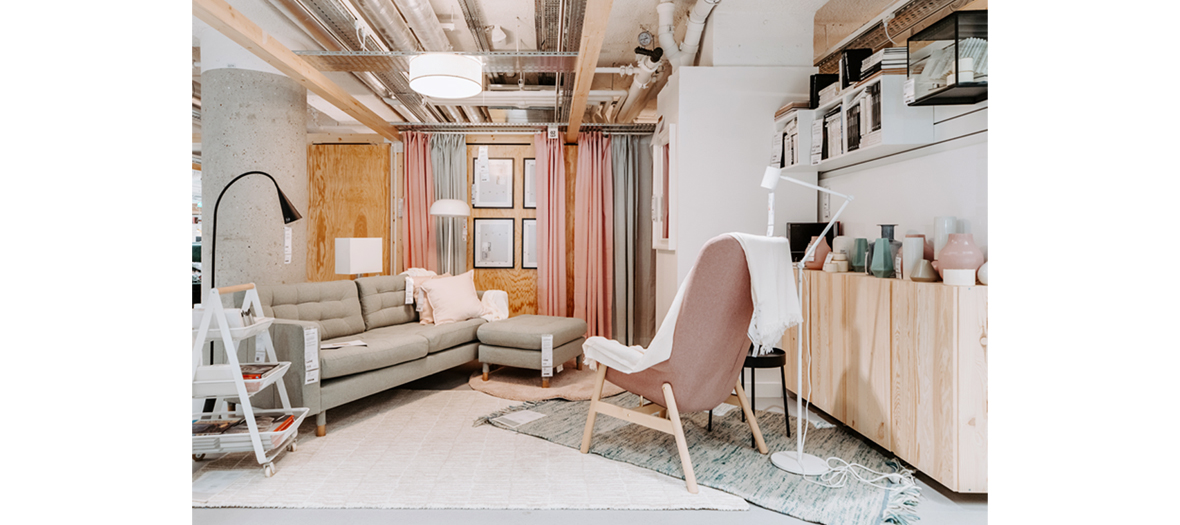 The next rendezvous to keep in mind? Learn how to create a mood board (Friday, the 17th of May), prepare a Swedish aperitif (Saturday, the 18th of May), personalize an IKEA classic (Sunday, the 19th of May).

6. Bike delivery
The zero carbon footprint goal is the new fad of the Scandinavian giant. Result, small parcels are delivered by bike cargo Monday to Saturday, from 7am to 9pm (starting at €4.99), a transportation offer by electric bike is offered to members of Ikea Family and the Swede has hooked up with Mondial Relay to ensure nearby pick up points (€5.90 until 20 kg, €29 for cumbersome and fragile packages).

7. A greener restaurant
While its meatballs are still in the running (sold out when we were last there), the menu highlights vegetal eats with seasonal salads (goat cheese or smoked salmon) inspired by Swedish recipes and tasty sorrel madeleines—a cute wink to the nearby monument.
Another novelty, Ikea has eliminated its plastic wrapping, replaced by boxes in cane sugar pulp and covered in bamboo.
Also check out the new decorating pieces to adopt.