It's pride month! The gay pride is celebrating its 50 years and about to make Paris dance on Saturday the 29th of June. Small recap: on the 28th of June 1969, New York police raided yet another clandestine gay bar, the Stonewall. This was followed by a week of violent riots between the police and the gay community at the time. A decisive turnaround that symbolizes the blossoming of LGBT activism in the USA and everywhere in the world.
Half a century later, mentalities have changed. Whether or not you are LGBT+, it is well perceived to display support of the community by showcasing a flag on clothes. Fashion labels are also part of the picture with rainbow collections in limited editions. In addition, all donate part or all the benefits to associations.
In short, now is the moment to display colours on clothing, a small accessory or a specific detail. Here is a quick tour of the must-wear rainbows nuggets—and with good reason.
Calvin Klein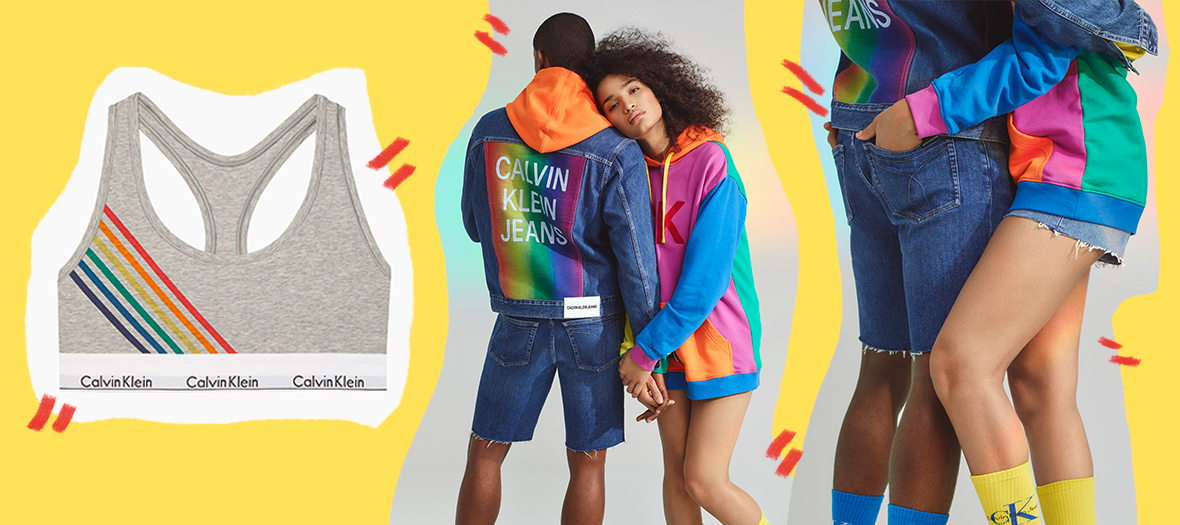 The pieces to grab: a 90's wildly sexy brassière, pool flip-flops, a psychedelic t-shirt-dress, a denim jacket, a color block hoodie (a beauty), and even a super cool pouch to be worn criss-cross in front. In short, the sportswear musts of the New York brand, still ultra-desirable.
The good deed: to support the LGBT+ movement, Calvin Klein has made a donation to the Human Rights Campaign Foundation™. Under the spotlight:  transgender actress Indya Moore escorted byAdrian Sotiris, Liam Daniels and Rozanne Verduin.
To be found in shops and on www.calvinklein.fr
Primark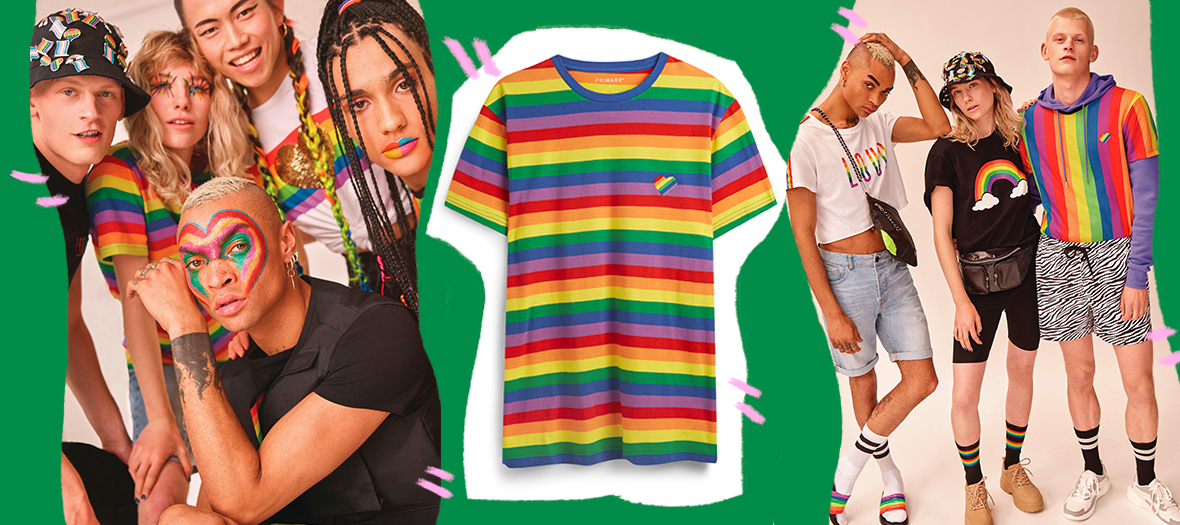 The pieces to grab: 27 pop nuggets for the Feeling Proud capsule with a "Proud"  t-shirt, flip-flops, pins, a rainbow t-shirt, a tote bag… All at the usual tiny prices.
The good deed: the Irish label has committed to donate €175,000  to ILGA World in order to support their work as international defender of LGBT+ rights. The idea? Collectively promote equality for all and continue to supply direct support for more than 1,500 organisations in more than 150 countries. A federation that notably benefits from a consultative status with the United Nations.
To be found in shops, with a preview on www.primark.com
Levi's®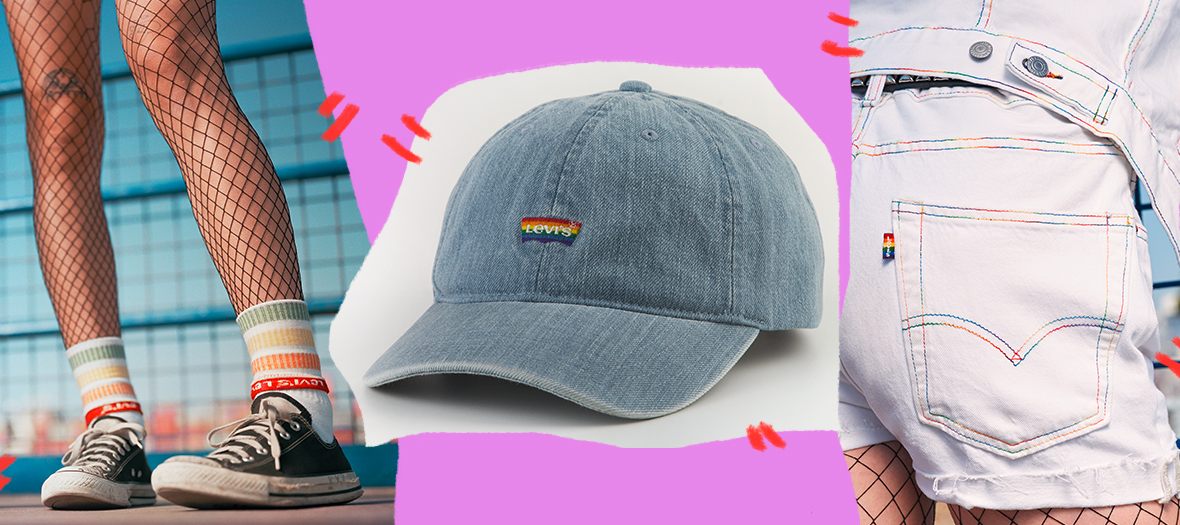 The pieces to grab: fluffy socks, a cap, a denim shorts with multicoloured seams to cut as you wish, a matching white jacket or a t-shirt with contrasted edges.
The good deed: we are talking here of a real commitment for the iconic label. Pioneer in terms of supporting the LGBT+ community since more than 30 years, Levi's® donates     100% of its Pride collection net world recipes to the OutRight Action International organization. And in France, Levi's® supports the association Le Refuge to prevent the isolation and the suicide of persons perturbed by homophobic or transphobic attitudes and with family issues. Both will march together for the gay pride of Paris next Saturday, the 29th of June.
To be found in shops and on www.levi.com
Michael Kors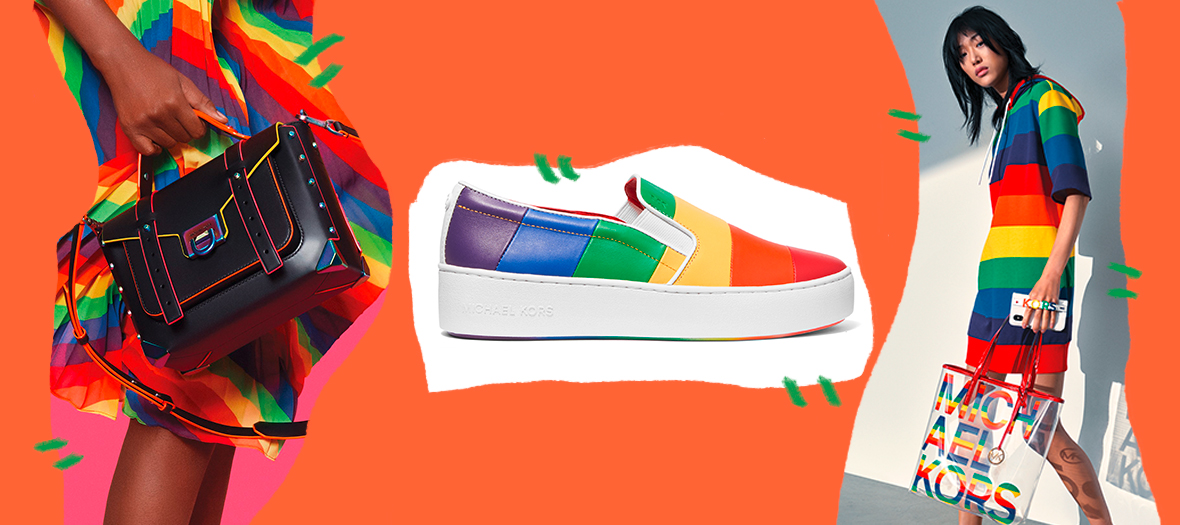 The pieces to grab: the dream capsule #MKGO Rainbow by Michael Michael Kors is offering a selection of fun and stylish clothing and accessories such as a superb leather satchel, a rainbow sweatshirt-dress , multicoloured trainers, a long necklace with padlock pendants or a transparent tote in PVC.
The good deed: 100% of the Pride t-shirt sold worldwide will be donated to God's Love We Deliver, a pillar of support to those suffering from AIDS. The t-shirt sold in France at the price of €85 is available in boutiques and soon back on line.
To be found in shops and on www.michaelkors.fr
Polo Ralph Lauren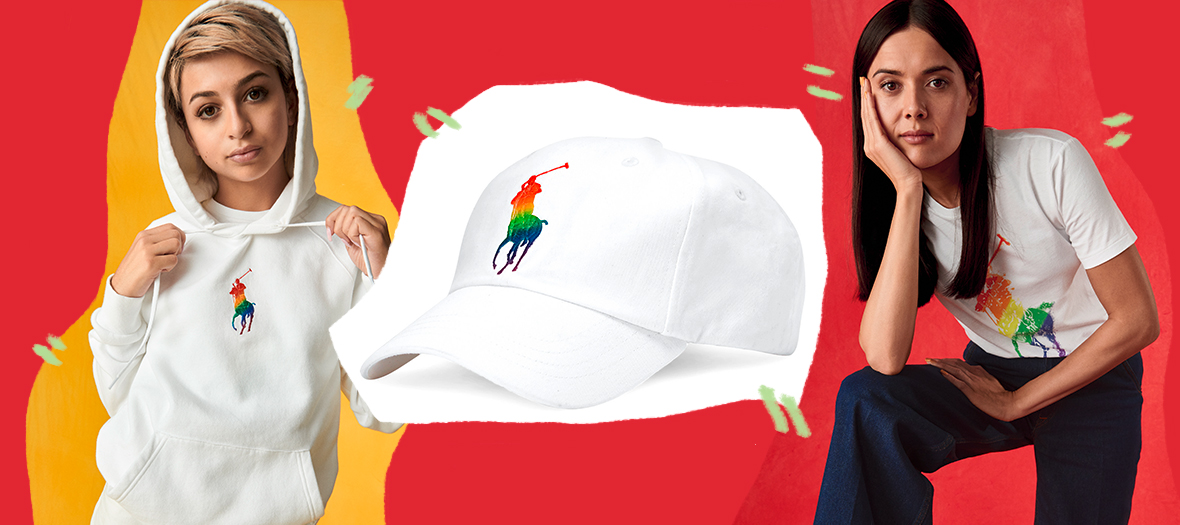 The pieces to grab: a capsule Pride collection composed of five unisex pieces for adults and kids. Understand a t-shirt with the rainbow polo player (Virginie Ledoyen already has hers), a great looking polo, a wonderful hoodie, a XXL canvas tote or a very chic cap.
The good deed: 100% of the t-shirt sales price and 50% of the polo, hooded sweat, cap and bag sales will be donated to the Stonewall Community Foundation, which represents an international network of associations defending the LGBT+ community. With as supporters, militants such as acrobatic skier Gus Kenworthy, classic dancer Harper Watters or actress Patti Harrison.
To be found in shops and www.ralphlauren.fr
Mother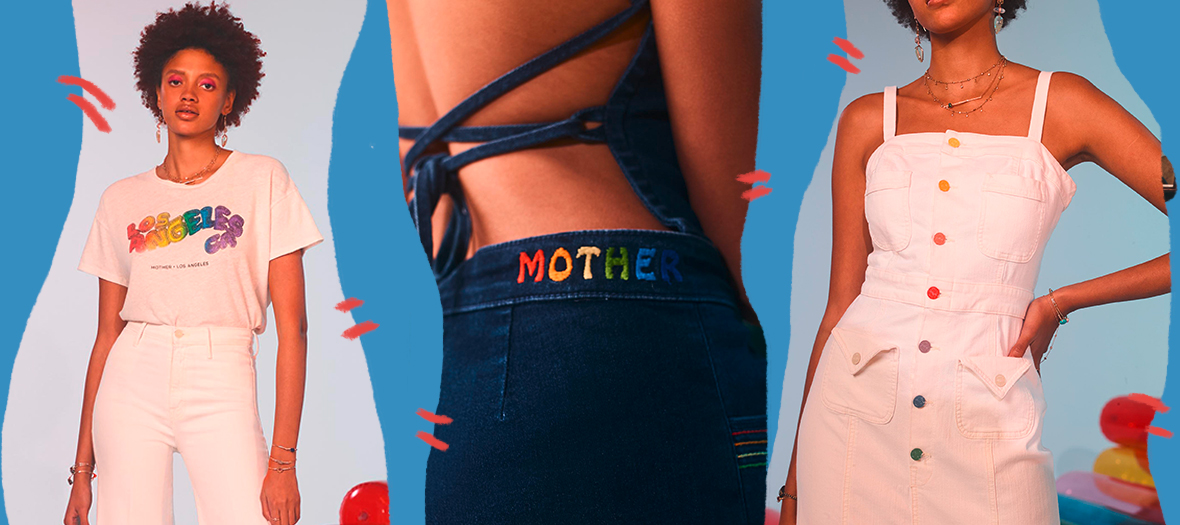 The pieces to grab: the essentials of the made in L.A. label in denim and cotton, super soft and twisted with multicoloured strips, denim one-piece-shorts of hippie inspiration, pants with rainbow piping, Mother Fucker socks, a dress in white denim with coloured buttons, a Los Angeles t-shirt or a velvet hoodie.
The good deed: during all of June, 5 % of benefits from all the online sales will be donated to the GLAAD association that is fighting against discriminations against LGBT+ persons.
To be checked out on www.motherdenim.com
Also discover the star shirts of fashion week and how to wear biker pants in town