In the heart of Saint-Germain-des-Prés, just steps away from the very chic Bon Marché, Prune Goldschmidt has recently inaugurated her very first Parisian boutique, unveiling the enchanting world of its eponymous creator. The keywords? Fashion-forward clothing that embodies all the codes of Parisian luxury.
Having learned everything alongside Sonia Rykiel, Prune decided, after the birth of her four children, to create her own jewelry brand. Her ready-to-wear line followed in 2020 with clothing available up to size 44, comfortable and offering complete freedom of movement... without compromising on style.
Ruffled collars, bow belts, statement pieces, and bold prints define Prune Goldschmidt's style. The inspired designer crafts a contemporary bourgeois wardrobe, made in Bordeaux in her own workshop, where all the prints found on perfectly tailored blouses, dresses, and pants are also designed, all in noble materials such as poplin and silk. Her trademark? A monogram worthy of a family crest, intertwining a P and a G as signatures.
This 80m² boutique invites you into Prune Goldschmidt's whimsical world. The centerpiece? A massive red armchair signed by Bohinc Studios, representing the forms of the female body. At the back of the boutique, a built-in screen showcases videos from the Bordeaux workshop, where all the Goldschmidt wardrobe pieces are created.
We love: the playful and highly Instagrammable fitting rooms, with a special mention for the white rabbit with a ruffled collar from the Taiwanese studio Haoshi Design.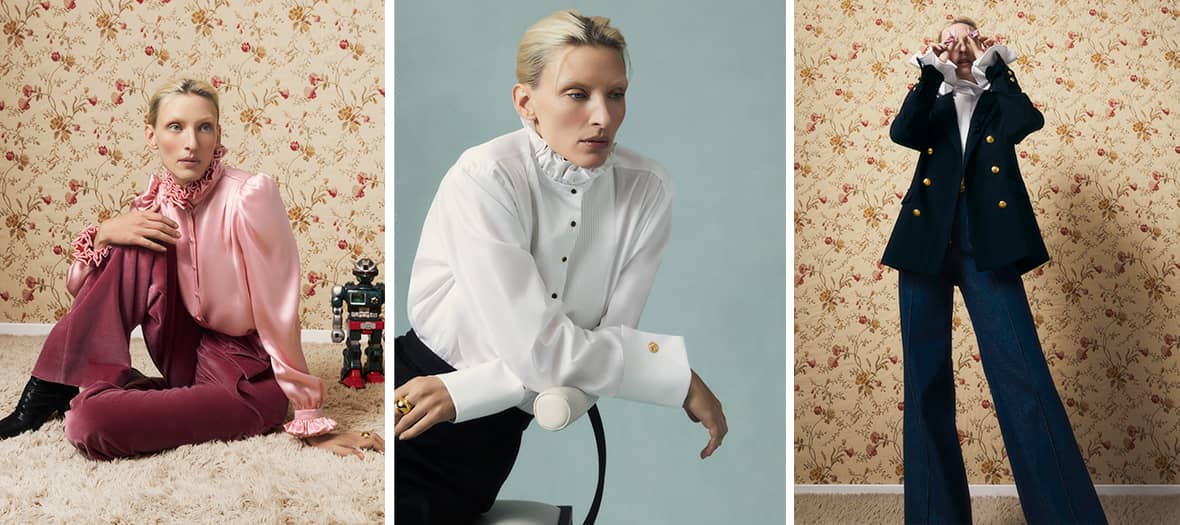 Prune draws inspiration from her travels and passions to offer original collections that are dear to her heart. We adore the new collection inspired by Norway, mixing floral prints, Northern Lights, and Prince of Wales check. We're smitten with Bego, the puffed-sleeve floral overshirt with engraved gold monogram buttons (€990), Eva, the ankle-buttoned 7/8 pants (€490), and Bugrane, the zip-up sweater in sunset colors (€650).
Among the signature pieces, there's the Prune cotton poplin blouse with its imposing collar, available in different colors depending on the collections, the oversized blazer Joséphina with its satin lapel adorned with ruffles, the Alix pants with their rose velvet bowtie belt, as well as an abundance of scarves and hats created in collaboration with Maison Michel.
Prune Goldschmidt, 75 rue des Saints-Pères, Paris 6th. Open from Monday to Sunday, 11 am to 7 pm.
Also discover The New Temple of Accessible Luxury and Sixsoeurs Opens Its First Boutique near the Canal Saint-Martin.