You had to have an ex-Do It Girl to open the most desirable little vintage store around. Editor's darling, Julie has just opened in the 18th Raymonde , her adorable eco-responsible store filled with vintage finds and stylish pieces from the latest green designers . Slow fashion that sends heavy, in short: everything we love.
It must be said that the fiber of commerce animates this beast of fashion, daughter and granddaughter of Roger Chaussures , a real institution in the rue du Poteau and glued to his little shop. Guided tour.
Julie's discoveries
Julie is typically the kind of girl you meet in the street and who you always want to ask where she found that bag, those shoes, that little colorful sweater that looks good. Suddenly, Raymonde (named after his grandma) is a compendium of his favorites where we discover really clean labels, with sincere commitments. And inevitably, family heritage obliges, a certain attraction for the shoes!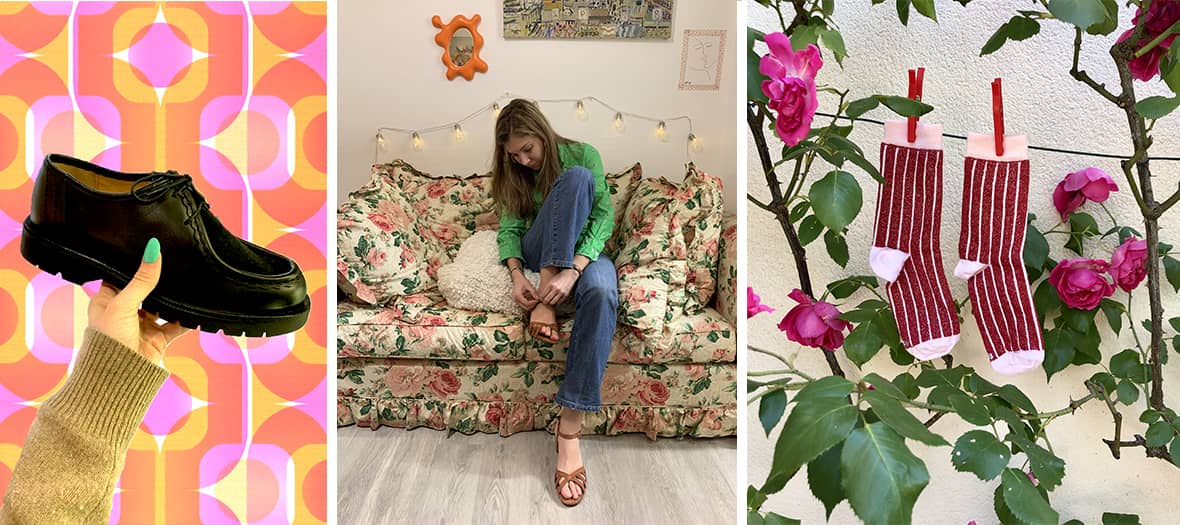 Here we catch pink Drogheria Crivellini furlanes made by hand in northern Italy (65 €), there white OTA sneakers made from recycled garden gloves and tires (160 €), vegan clogs and babies in corn and grain plastic Good Guys Don't Wear Leather (€ 135 and € 125), Portuguese handcrafted Anonymous Copenhagen leather mules and sandals (€ 140), Kleman leather derbies made in France (€ 160) or even Maison Causettes hand-woven socks in France (€ 18).
Vintage passion
Used to hunting for furniture (including those that decorate Raymonde) such as clothes, Julie's eye has found a nice selection of vintage pieces at sexy prices: a wool blazer jacket (€ 45), Levi's 501 jeans (55 €), a multicolored top (€ 35), lots of pretty colorful sweaters (between € 30 and € 45), a 70's blouse (€ 40), a top with large green hooks (€ 40) ... Everything to copy the looks naive and sharp stylish Copenhagen girls.
Open Tuesday to Saturday 10 am-7pm, Monday 2 pm-6pm.
26 rue du Poteau 75018 Paris 01 46 06 33 11
Also discover Maison Flore, the new boutique of embroidered blouses and Sous les pavés le vintage, the fashion and decoration concept store we were waiting for .