This is the address that thousands of subscribers of the vintage Lapin Boutique eshop were waiting. Between two confinements, the founder Florencia joined forces with Emma, herself at the origin of the Maison Persienne online store. And paf! That made Sous les pavés le vintage, a brand new concept store , all beautiful hidden behind the majestic Saint-Michel fountain . Owner's tour.
A cute and quirky place
It took at least the taste and the imagination of two fashion and decoration madmen to make this complicated place an extremely cool address. Indeed, instead of a Thai restaurant, the duo's small flagship is broken down into a real course on three levels, two of which are in the basement. Under the cobblestones, then. Do you get the trick?
The two friends have succeeded in making it an almost magical place, straight out of Alice in Wonderland and whose first vaulted cellar takes on the color of the Palais Bulles by Pierre Cardin . Golden piping, pink walls, seventies wallpaper, bouquets of flowers… Special mention for the pretty entrance adorned with colorful mosaics, enough to make a nice Insta story.
Slow fashion and London vibes
Florencia and Emma were inspired by these vintage London boutiques where we love to spend hours unearthing fun and original nuggets. Result, on the racks, the two have deposited the best of their respective handpicked finds, namely sometimes luxury ( Courrèges , Chanel , Alaïa ...), sometimes totally LOL crush, as well as old lingerie worthy of Dita Von Teese shows , floral print, polka dots or gingham.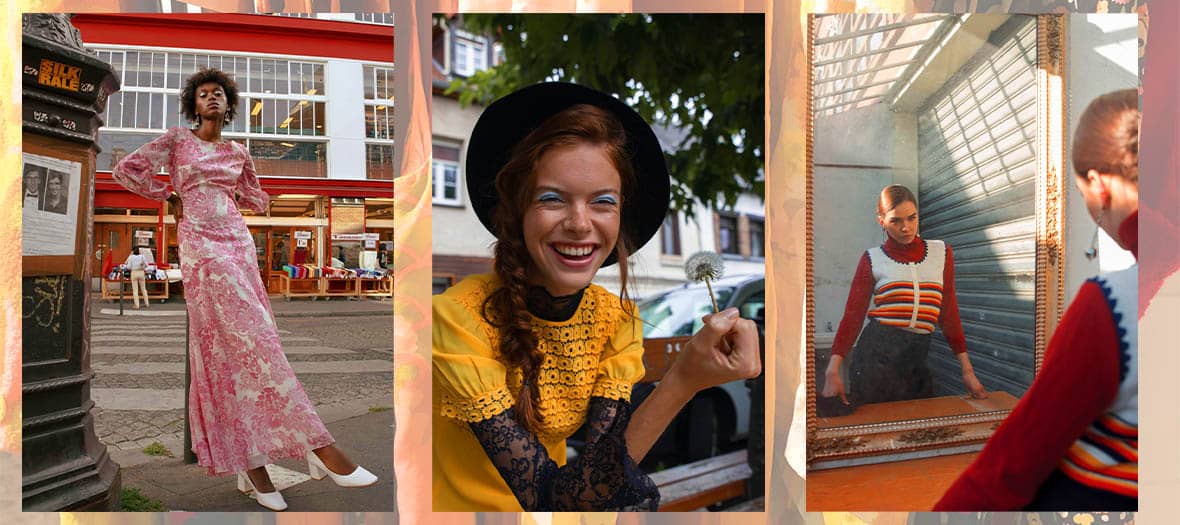 © Mariette Garault
And all this of course at a low price, as a bonus with the good conscience of joining the slow fashion movement. The real revolution of this generation, in short, more than 50 years after the paving stones of May 68 ...
Deco passion
You will quickly realize it: decoration is also their hobby. Scattered all over the place, lovers of historical objects will be able to catch the adorable selection found by this pair that works really well: pastel porcelain plates with golden details (39 € set of 12), floral tea set made in France from the 60s (€ 39), white 70's lamp (€ 49), vintage 60's formica roller bar (€ 100) or even beautiful vases of all sizes and colors, perfect for a gift (€ 7 - € 20 ).
Open from 12 p.m. to 8 p.m. from Wednesday to Sunday.
Under the cobblestones, vintage
1 rue Hautefeuille, 75005 Paris
instagram.com/souslespaveslevintage
Also discover Plaisir Palace, a new vintage boutique in the Marais and Brai, the boudoir of beautiful pajamas .