You have surely heard of the astonishing Hotel Normandy, rue Saint-Honoré , renamed " Le Chantier " since it remains open during its work. But behind a back door at the back of the breakfast room, you just have to go down a narrow spiral staircase (be careful in heels) to discover Rehab , the trendiest and most desirable speakeasy of the moment.
Muted date
We couldn't dream of a more chill and confidential cocktail bar to impress a date. First, thanks to the fabulous decor halfway between the New York of the Roaring Twenties and the hushed sensuality of In The Mood For Love , dotted with extraordinary curiosities (antique opium bed brought back from Thailand, crucifixes in accumulation recovered from the old hotel rooms, magnificent antique chandeliers, Chinese pendants, etc.).
And since you can't snack here, we advise (future?) lovers to meet there after dinner... to get excited. Unless you book especially for Valentine's Day with a formula including 2 cocktail experiences, an amuse-bouche and a dessert (€55).
Sins of love
At Rehab, we come to indulge in a real experience of the senses with incredible cocktails signed Monsieur Vivien , the darling mixologist of fashion evenings ( Chanel , Tiffany & Co …) whose creations always turn out to be exquisite and playful in the image a real show with smoke, infusions, split glasses, superb garnishes and new tastes... With a very special place for CBD which comes up often and helps to soften (or even cancel) any hangovers.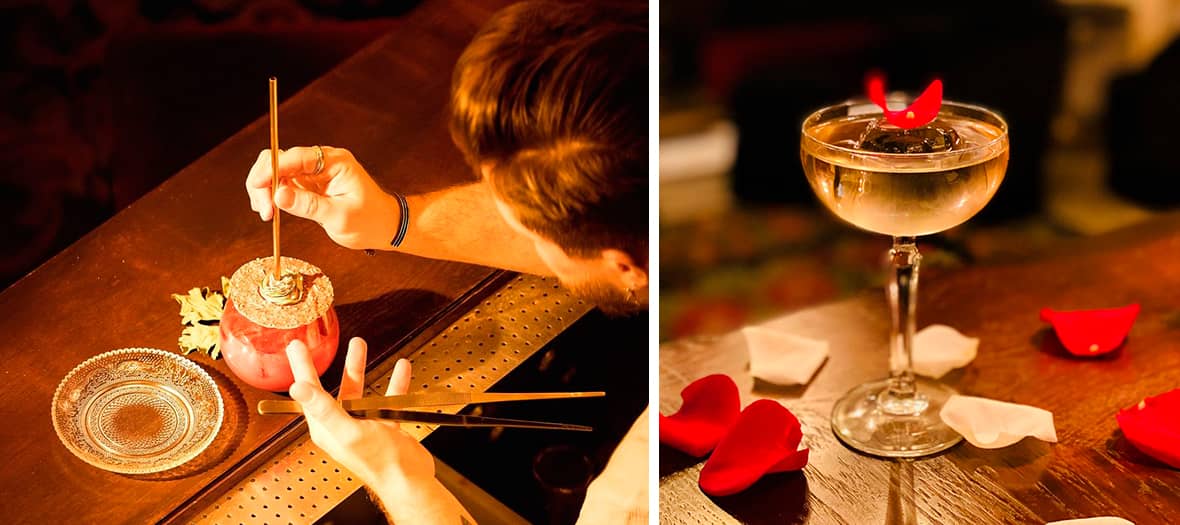 Unique in its kind, the card revolves around addictions (money, sex, fetishism, drugs, alcohol...). Among our favorite potions: the Call of Coco (white of Normandy, mango coulis, lime, coriander, CBD, coconut water, €20), Glutony's Trap as a dessert ( speculoos vodka , amaretto, lemon, tarragon, yoghurt ice cream, tonic, zetes and small meringues to dip, €22) or the Grape Parfait (brown rum, pink grapefruit juice, hibiscus syrup, tonka, lemonade and grapefruit/hibuscus foam, €20). Your date will be amazed.
Wednesday to Saturday from 7 p.m. to 2 a.m. Closed on Sunday, Monday and Tuesday
Also discover a great bar like in Havana and the new cocktail concept store that everyone is talking about.