When night owls are out, there's always a time when they like to get together (especially after hours of clubbing). Paris city tour of brasseries open all night (almost!).
Club Pierre Charron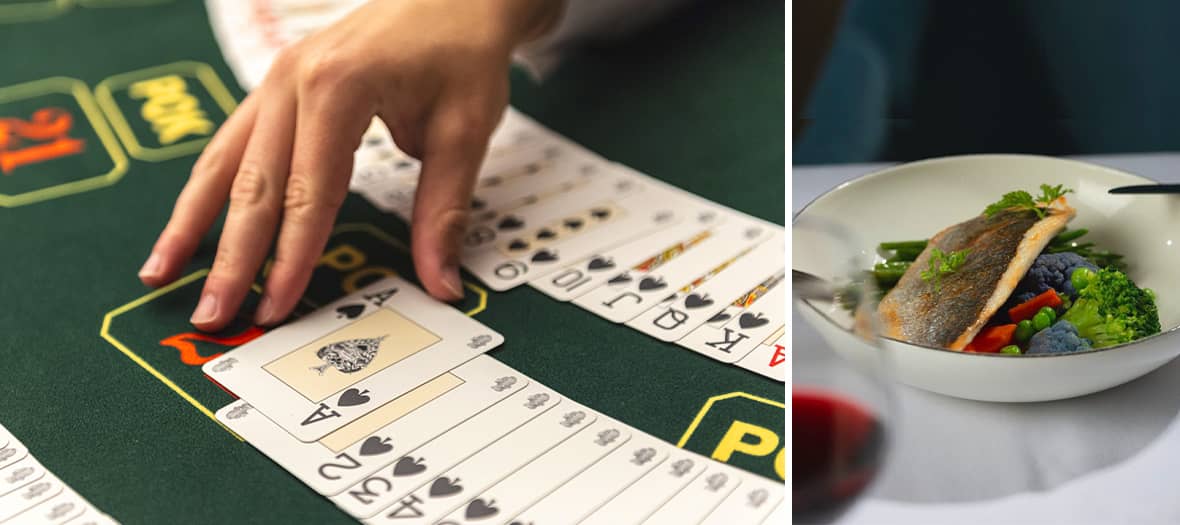 Just steps away from the Champs-Élysées, this discreet gaming club is a favorite among insiders, created by a passionate player. Elegant yet understated, this playfully naughty spot gives pride of place to card games, poker at the forefront, with 13 cash-game tables! Through its carpeted lounges, the Club Charron also features a bar, a smoking room-library with a cigar cellar, and a delightful surprise of a restaurant where the chef Eddy Bajeux, a colorful character, serves up a French fusion cuisine that pleases a motley clientele who cross their knives and forks before or after sliding their chips across the green felt.
What's on the menu? Dishes that give you a good boost to get back in the game between two rounds! Rose miso glazed salmon with candied ginger (€29), beef fillet with pepper sauce and buttery mashed potatoes (€34), slightly spicy tomato penne (€16), Club's chicken Caesar (€17), organic egg omelette with mixed greens (€14).
Club Pierre Charron, 62 rue Pierre Charron, Paris 8e. 01 88 40 20 00. opened 7j/7 from 1pm to 6 am.
Grand Café des Capucines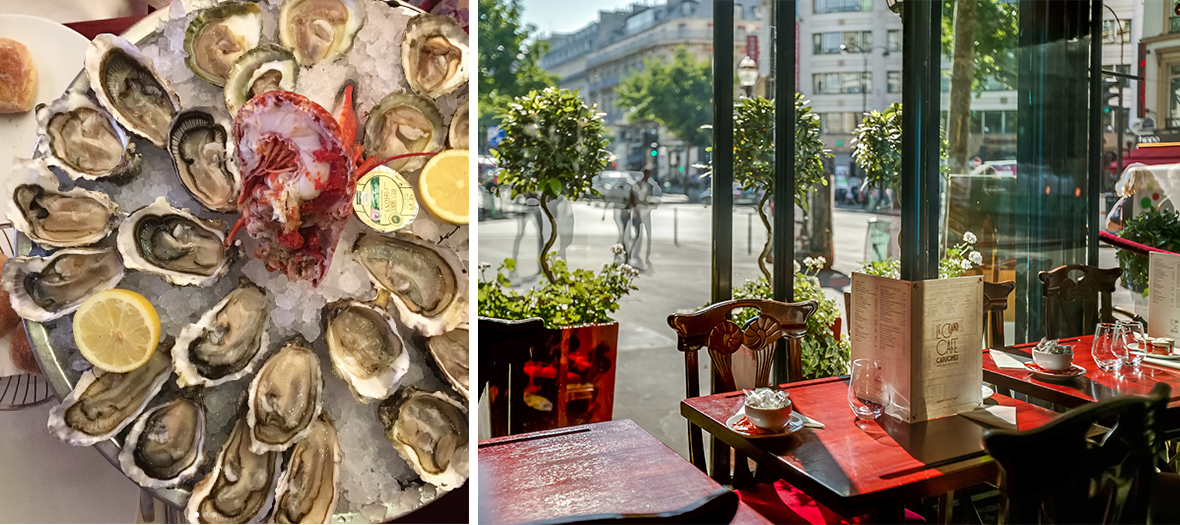 Iconic brasserie in the Opera House with an Art Nouveau decor, where generations of patrons have come to enjoy good meals, day and night.
The food - Oysters, shellfish and crustaceans from the shucker's bench… And all the french classics: onion soup (10,50 €), beef tartar, homemade fries (23,50 €), sole meunière (48 €), filet of beef béarnaise (34 €), crêpes flambées (13 €).
Le Grand Café des Capucines, 4 boulevard des Capucines, Paris 9th. 01 43 12 19 00. Open every day from 7am to 1am. www.legrandcafe.com
L'Alsace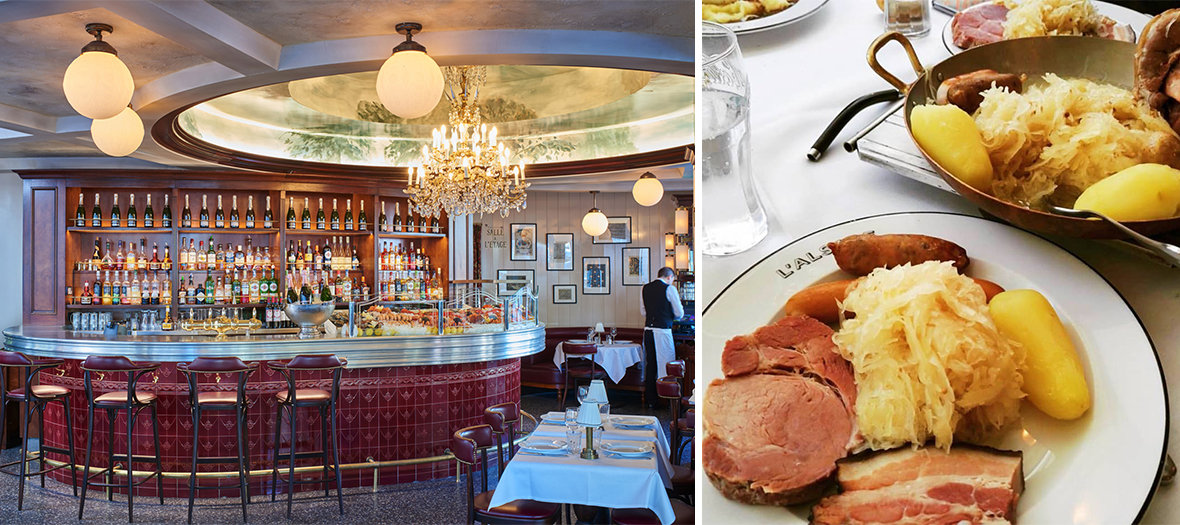 Paris' famed sauerkraut restaurant on the Champs-Élysées, always a favorite, with a cozy atmosphere designed by Laura Gonzalez and a large heated terrace, very popular with die-hard smokers...
The food - Real sauerkraut, naturally (22,50 €), a seafood platter (29,50 €), a Norman beef tartar with a knife (23 €) and other beef pieces.
L'alsace, 39 avenue des Champs-Élysées, Paris 8e. 01 53 93 97 00. Ouvert tous les jours de 7h à 2h.
Le Pied de Cochon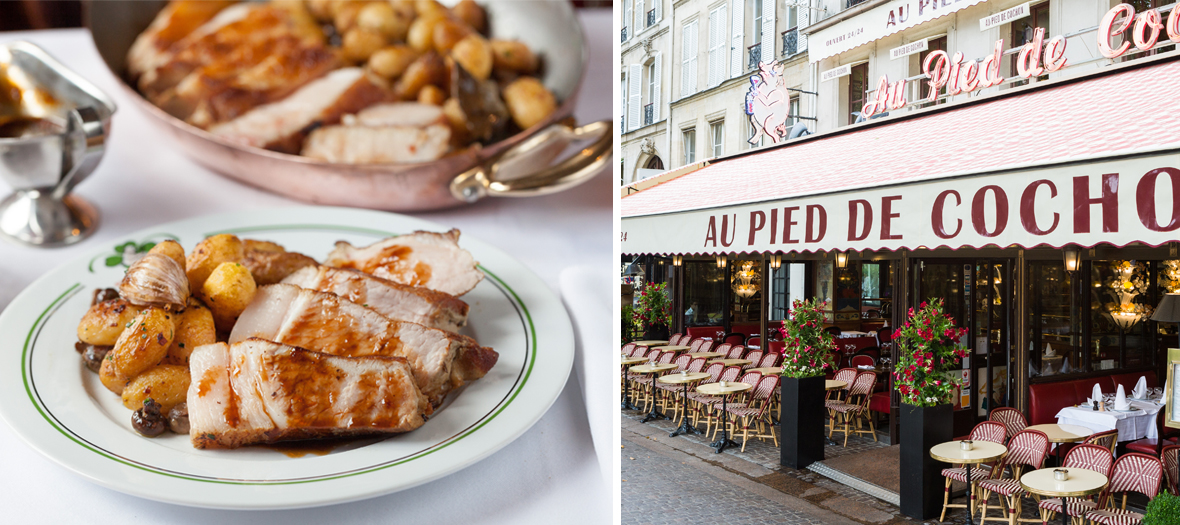 The legendary Pied de Cochon (Les Halles), shunned for a while, has regained its fine reputation as a gourmet spot where Parisians come to feast in the wee hours.
Celebrities and hipsters like to crowd the place while others are still getting some Z'S.
The food - Charcuterie (29,50 €), snails with croquettes of pig in mustard sauce (12,50 €), andouillette-frites (24 €) and a rum baba with homemade chantilly (12,50 €). Yummy!
Au Pied de Cochon, 6 rue Coquillière, Paris 1st. 01 40 13 77 00. Open every day from 11:30 am to 4 am. www.pieddecochon.com
L'Aloyau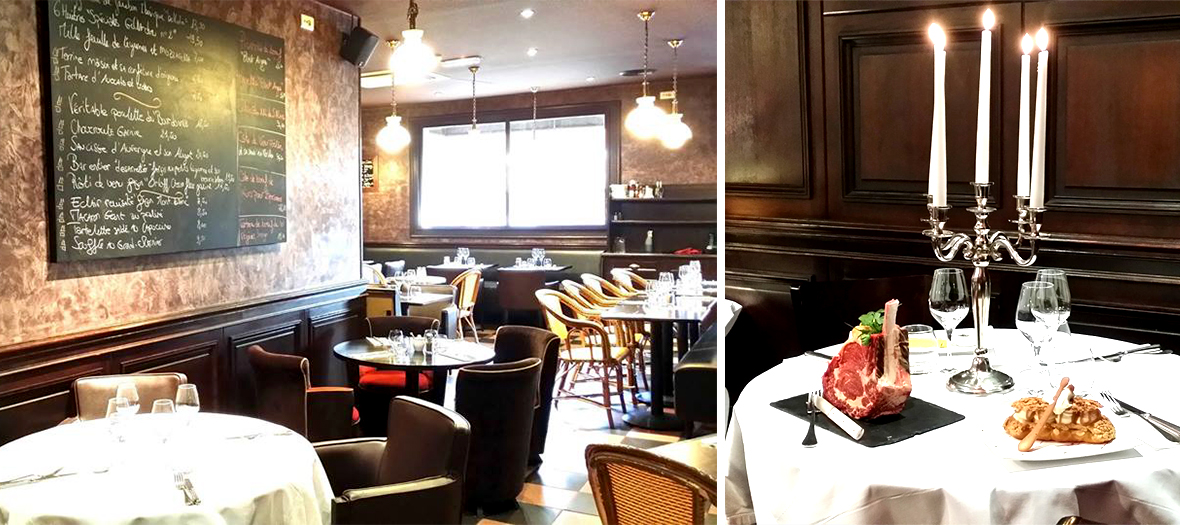 The bistro that never sleeps! Located in the heart of the Rungis food market, that's the place where folks come to hang after a busy night. The atmosphere is fantastic, party animals should definitely check it out. A one-of-a-kind experience.
The food - The name gave it away: "de la bidoche" (meat)! Calf sweetbread with parsley and seasonal vegetables (38,50 €), entrecote minute (21 €), burger (21,50 €) and tarte tatin with vanilla ice cream for dessert (10,50 €).
L'Aloyau, 2 rue de Salers au marché de Rungis, 94150 Rungis. 01 46 87 71 79. Open Monday to Friday from 3am to 4pm. Closed on weekends. www.laloyau-restaurant.fr
La Maison de l'Aubrac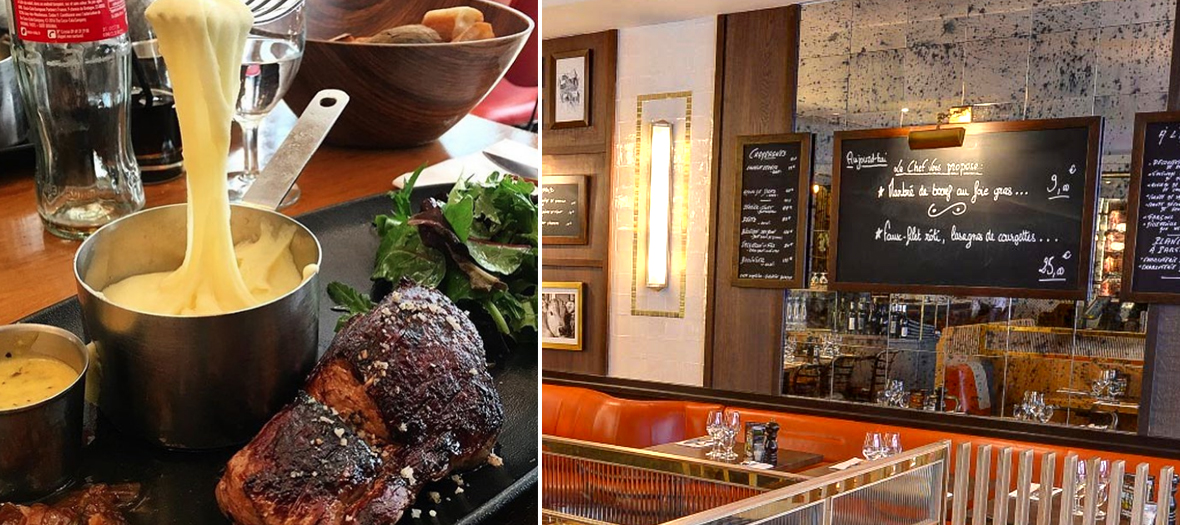 After clubbing at Le Baron, L'Arc, Le Matignon, Le Raspoutine or Le Madam', where is it that the golden youth lands? At L'Aubrac, the nightlife hotspot for West Side Parisians.
The food - Exceptional meat, flank steak (26 €) or prime rib with fries (105 €), chocolate cake (11 €)... and off to bed!
La Maison de l'Aubrac, 37 rue Marbeuf, Paris 8th. 01 43 59 05 14. Open from Sunday to Tuesday from 12pm to 12:45am, Wednesday to Saturday from 12pm to 7am. www.maison-aubrac.com
Le Mabillon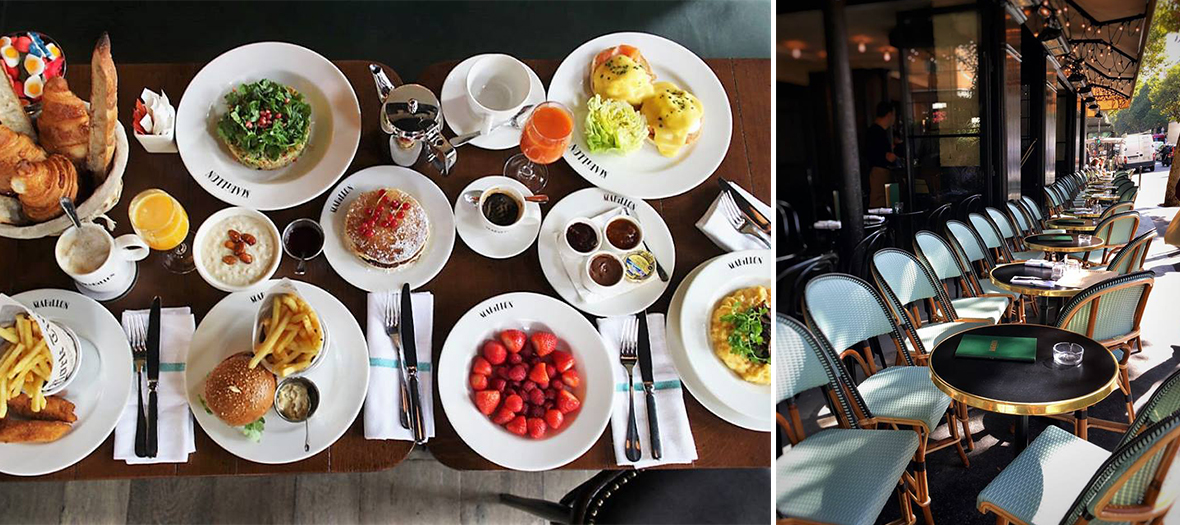 When leaving Le Montana or Chez Castel, whether it be Beigbeder's crew, Edouard Baer, or Gilles Lellouche... All of them have at least ended up there once.
Le Mabillon is the most popular bar on the Boulevard Saint-Germain, owned by Thierry Bourdoncle (La Palette, Le Charlot, Le Hibou, that was him...).
The food - Refined dishes for privileged guests. Penne cassolette with a lightly spiced tomato sauce, horse-egg steak, salmon tartar with avocado or Sénéquier's authentic Tropezian pie.
Le Mabillon Paris, 164 boulevard Saint-Germain, Paris 6th. 01 43 26 62 93. Open Sunday to Thursday from 8am to 5am, Friday to Saturday from 8am to 6am. www.cafemabillonparis.com
© ilyafoodstories  © gilles_trillard_photographe

LE DÉPART SAINT-MICHEL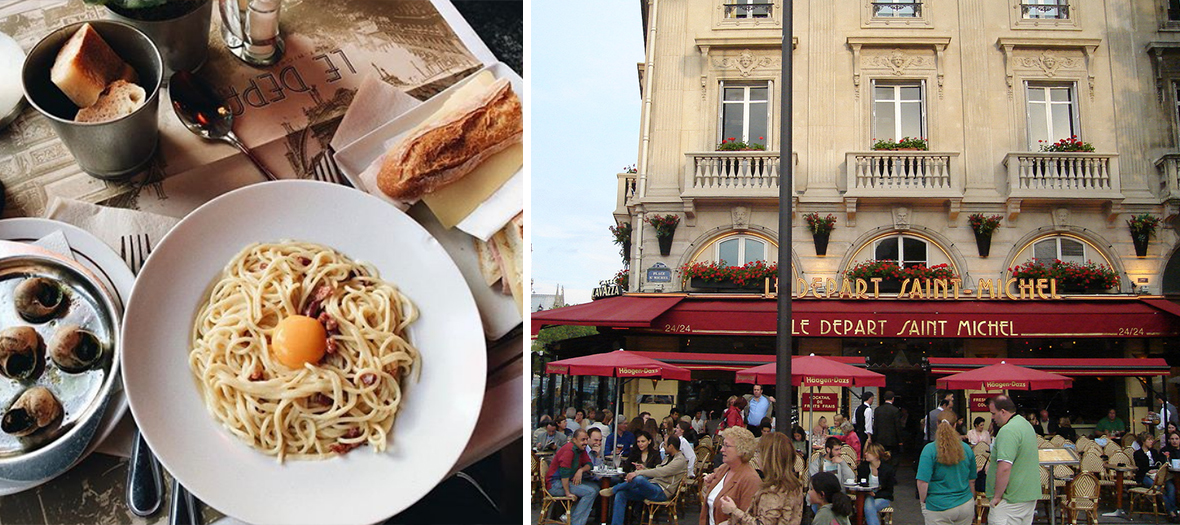 This brasserie satisfies late-night cravings. We love the terrace, overlooking the Saint-Michel fountain and the Seine. How romantic.
The food - The tasty carbonara (13 €) or the club sandwich (16 €) will surely help with the hangovers. Just skip the bland fries.
Le départ Saint-Michel, 1 place Saint-Michel, Paris 5e. 01 43 54 24 55. Ouvert du lundi au jeudi de 7h à 2h30, du vendredi au dimanche de 8h à 3h30

LE BREBANT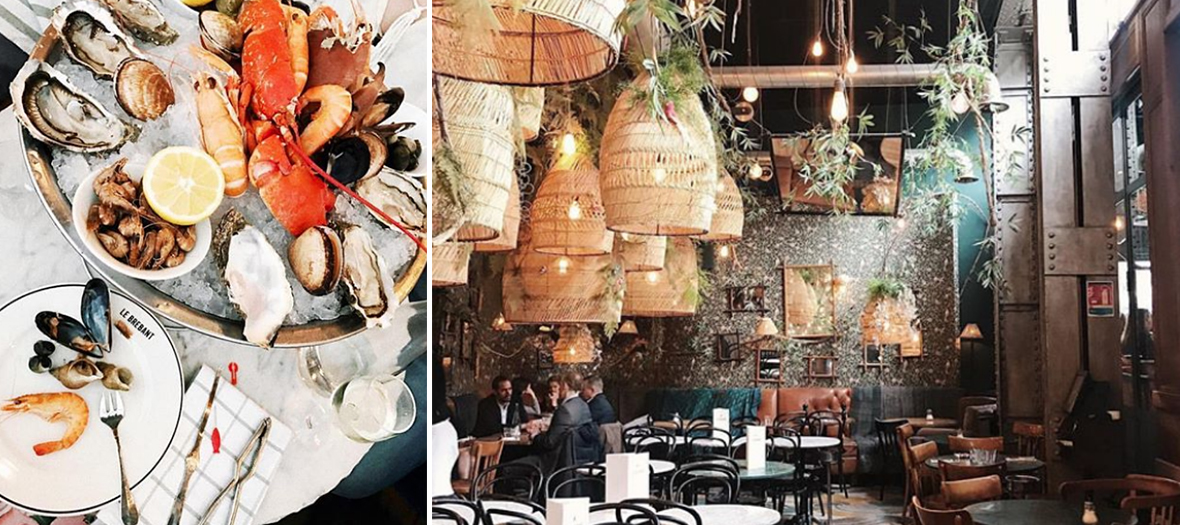 This Grand Boulevards institution needs no introduction, a night owl's rendezvous for one last drink. Once a bit outdated, this iconic spot got a facelift and is now back to its former glam self: green decor and sleek design, good vibes only.
Please be advised that proper attire is required from 11pm onwards.
The food - Snails (18,50 €), onion soup (14 €), chicken paillard and salad (24 €).
French touch till the end of the night.
Le Brebant, 32 Boulevard Poissonnière, Paris 9th. 01 47 70 01 02. Open every day until 4:30 am.

Also discover the 10 best bistros in Paris and the 10 best restaurants with the gang in Paris.