When night-owls are on the town, having danced part of the nigh… There is always a moment when it's time for supper and sitting down at a table with the gang. A tour of the Paris brasseries (really) open all night long.
Grand Café des Capucines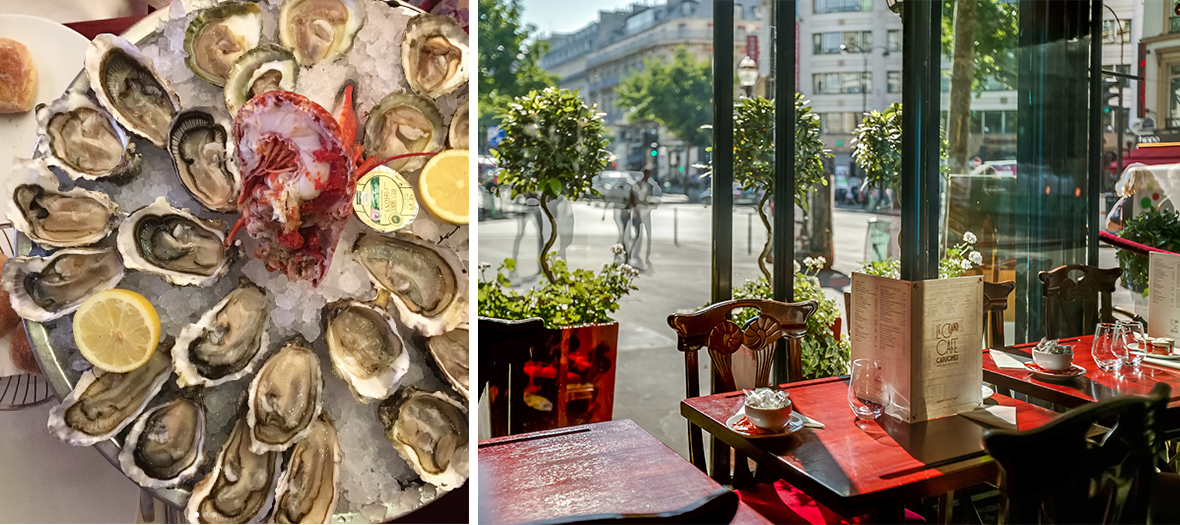 A mythical brasserie at the Opéra with an Art Nouveau decor that has hosted many generations of hearty eaters by day and by night.
What's on the menu? Oysters, seafood platters… But also the great classics: leeks vinaigrette, tartare of knife-cut beef, house fries (€22) sole meunière, filet of beef béarnaise (€39), crêpes flambées (€13 ).
Le Grand Café des Capucines, 4 Boulevard des Capucines, 75009 Paris / 01 43 12 19 00 / www.legrandcafe.com
L'Alsace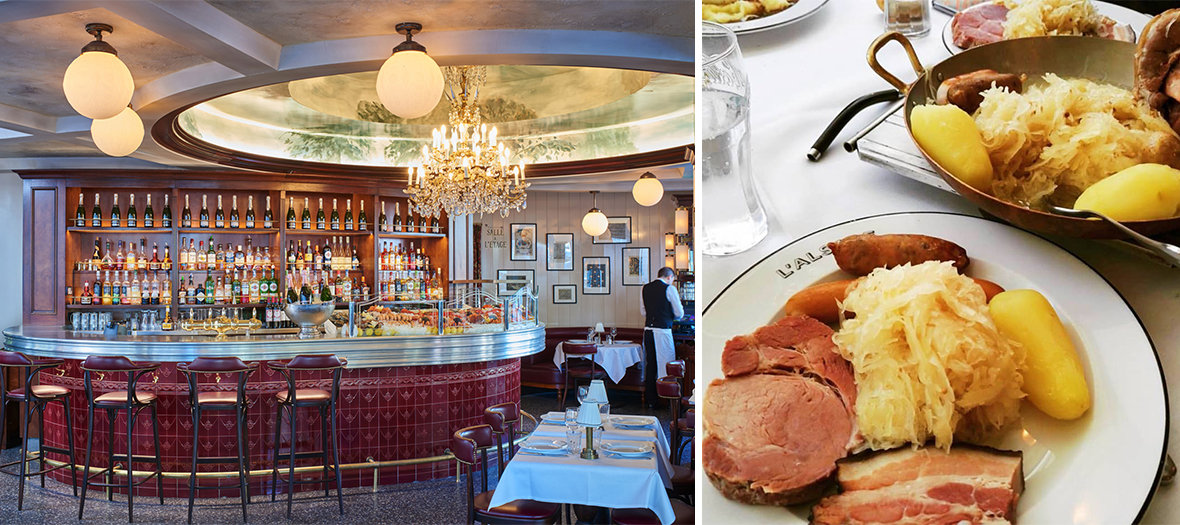 The institution of choucroute on the Champs continues to rejoice night revelers in a super cosy atmosphere signed Laura Gonzalès or on the large heated terrace, filled with die-hard smokers...
What's on the menu? A real choucroute obviously (€22), a seafood platter (€29.90), Vienese style veal scallop and Spätzle (€25) as well as other pieces of beef…
L'Alsace, 39 Avenue des Champs-Élysées, 75008 Paris / 01 53 93 97 00 / www.restaurantalsace.com
Le Pied de Cochon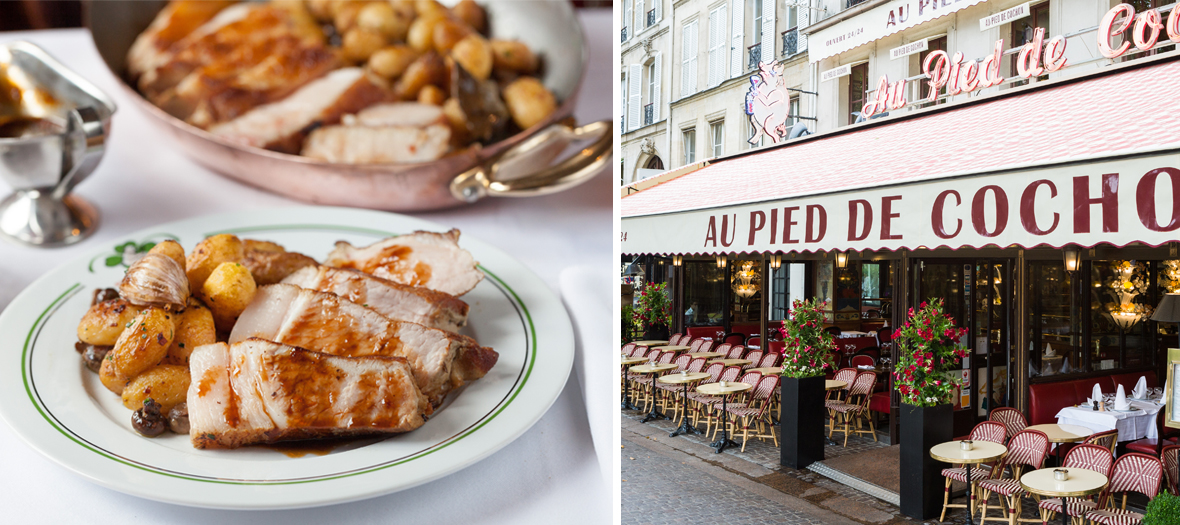 Left by the wayside for a while, the mythical Pied de Cochon in the middle of the Halles has renewed with its gourmet reputation and hosts many upscale Parisians at the wee hours … Stars and trendies go there when the rest of Paris is still sleepint...
What's on the menu? A great slab of charcuterie by Eric Ospital (€29), snails, des chicken nuggets with a mustard sauce, an andouillette with frites and a sinful baba au rhum. Yummy !
Au Pied de Cochon, 6 Rue Coquillière, 75001 Paris / 01 40 13 77 00 / www.pieddecochon.com
L'Aloyau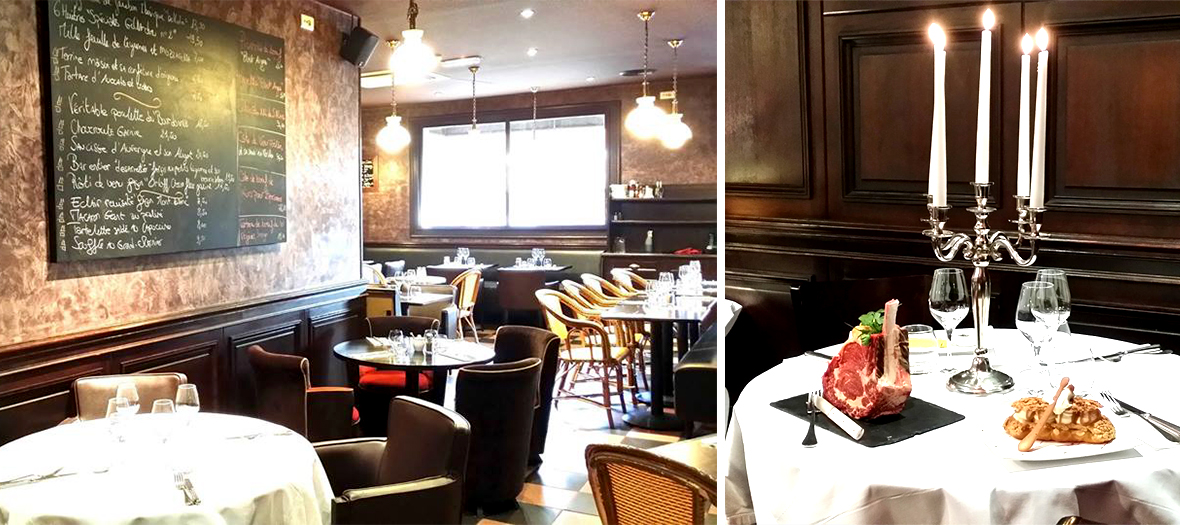 Here is a bistro that lives all night long! Normal: you are at the heart of the Rungis market and this is where the strong guys come for eats after working part of the night. Needless to say there is a great ambiance and friendly bustling to be enjoyed by revellers who partied all night fiesta. To be enjoyed at least once in a life time...
What's on the menu? As it's name indicates: meat! Calf's liver with mashed potatoes (€)22.50€), sirloin tip (€)18,50), aligot (€)6) burger (€17) and a delicious crème for dessert...
L'Aloyau, 2 Rue de Salers- - MIN de Rungis, 94150 Rungis / 01 46 87 71 79 / www.laloyau-restaurant.fr
La Maison de l'Aubrac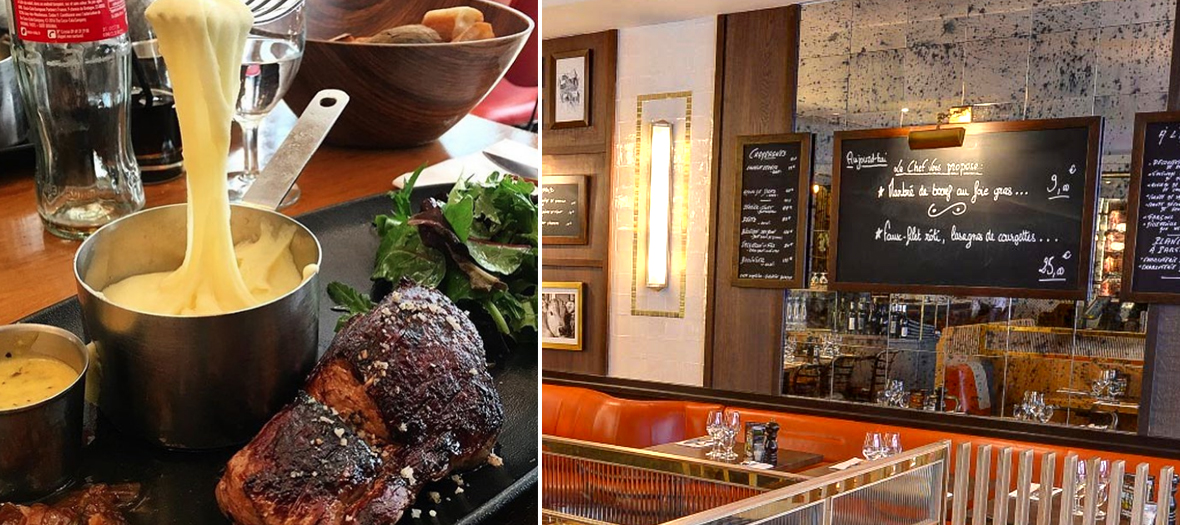 Upon leaving the Baron, the Arc, the Matignon, Raspoutine or Madam' where does the golden youth go sit down? At L'Aubrac, of course, the must-go rendezvous from father to son and well-born gals in the Western part of Paris.
What's on the menu? Great meats and top-notch beef! Concretely: skirt steak or a prime rib of beef with friees, a chocolate delight—and off to bed !
La Maison de l'Aubrac, 37 Rue Marbeuf, 75008 Paris / 01 43 59 05 14 / www.maison-aubrac.com
Le Mabillon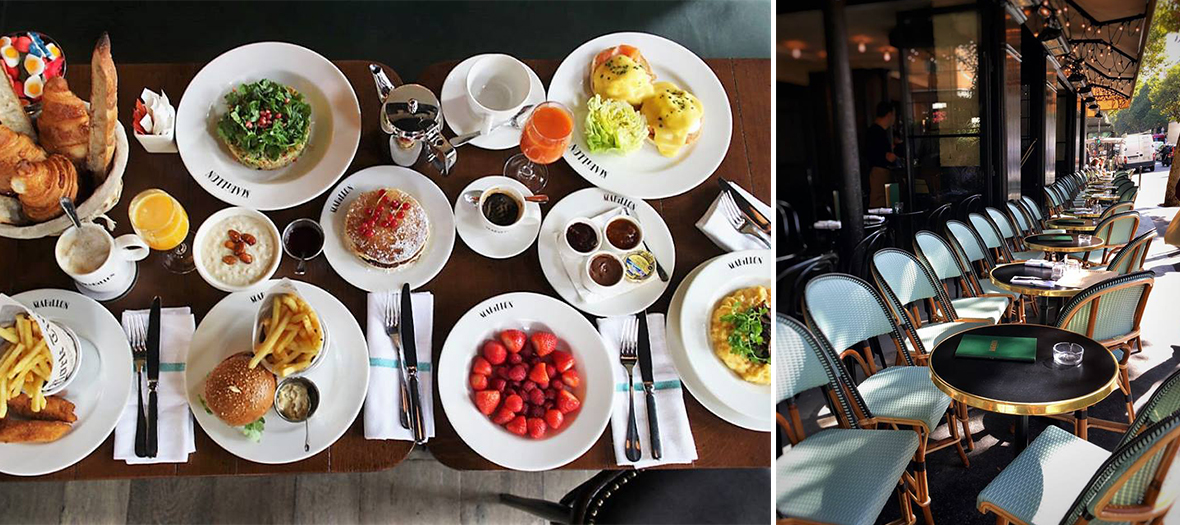 After leaving the Montana or Castel, nobody resists! The gang of Beigbeder, Edouard Baer, Gilles Lelouch… They all ended up once, often more often, at Mabillon, the most trendy café on the boulevard Saint Germain, property of Thierry Bourdoncle (Palette, Charlot, Hibou, that's him…), and just recently renovated, warm terrace included !
What's on the menu? Great dishes for spoiled kids. A cassolette of penne, with a slightly spicy tomato sauce  and mozzarella, hamburger with egg on top, chicken pieces with mushrooms or the real Tropezienne tart from Senequier.
Le Mabillon, 164 Boulevard Saint-Germain, 75006 Paris / 01 43 26 62 93 / www.cafemabillonparis.com
Le Tambour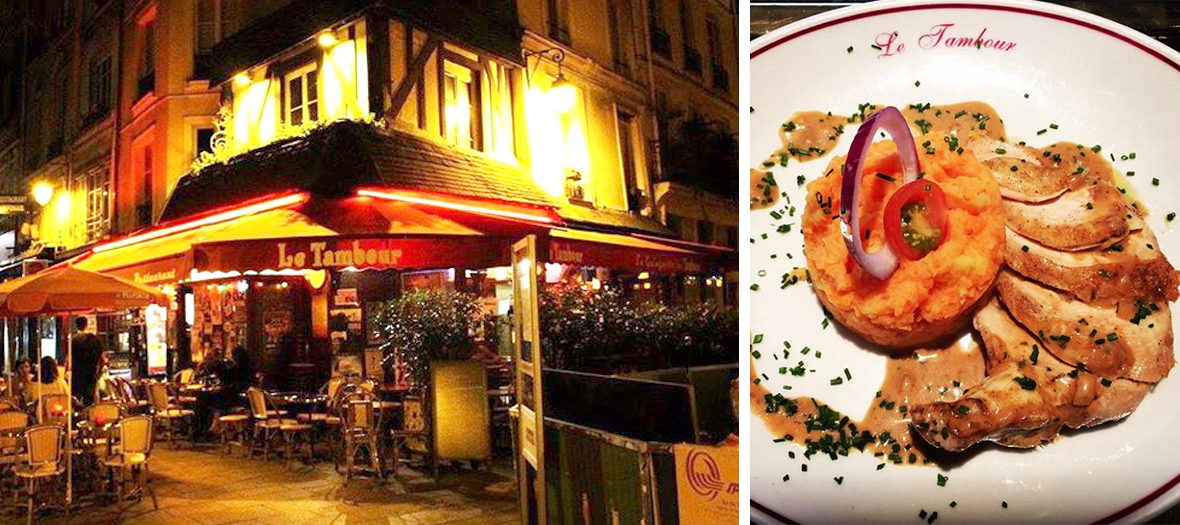 Between Les Halles and Montorgueil, party-goers, particularly those who go to the Silencio fiestas, hang out here naturally to finish a long liquid night. Needless to say the atmosphere is very gregarious. Buddies laughing, lovers kissing, lots of singing and hugging the owner, old style. That's what Paris is all about.
What's on the menu? A very saucy menu… Pigs feet, cassolette of veal kidneys, confit de canard, 1.2 kg prime ribs of beef­—and for my veggie BFF panned vegetables or linguini.
To be noted: last service at 4h30am in the morning.
Le Tambour, 41 Rue Montmartre, 75002 Paris / 01 42 33 06 90
Le Départ Saint Michel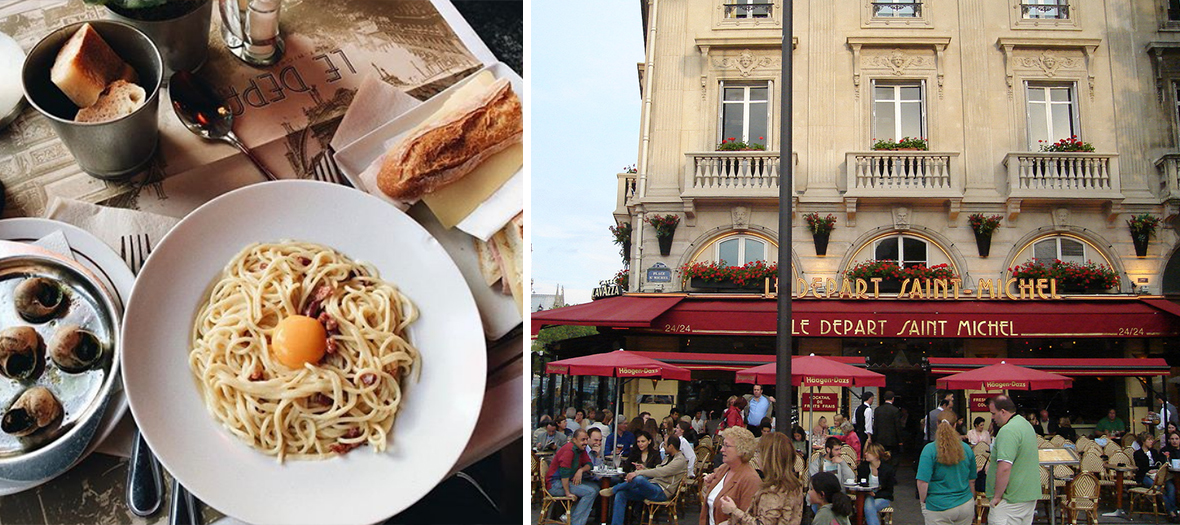 This brasserie is a life saviour for night time hunger pangs, with a predilection for its great terrace, heated if you please and right on the Saint Michel fountain and the Seine, serving 24h / 24. You said romantic ?
What's on the menu? Delicous carbonara pasta or a club sandwich to avoid hangovers… And why not breakfast ? Just avoid the disappointing industrial fries.
Le Départ Saint Michel, 1 Place Saint-Michel, 75005 Paris / 01 43 54 24 55
Le Connétable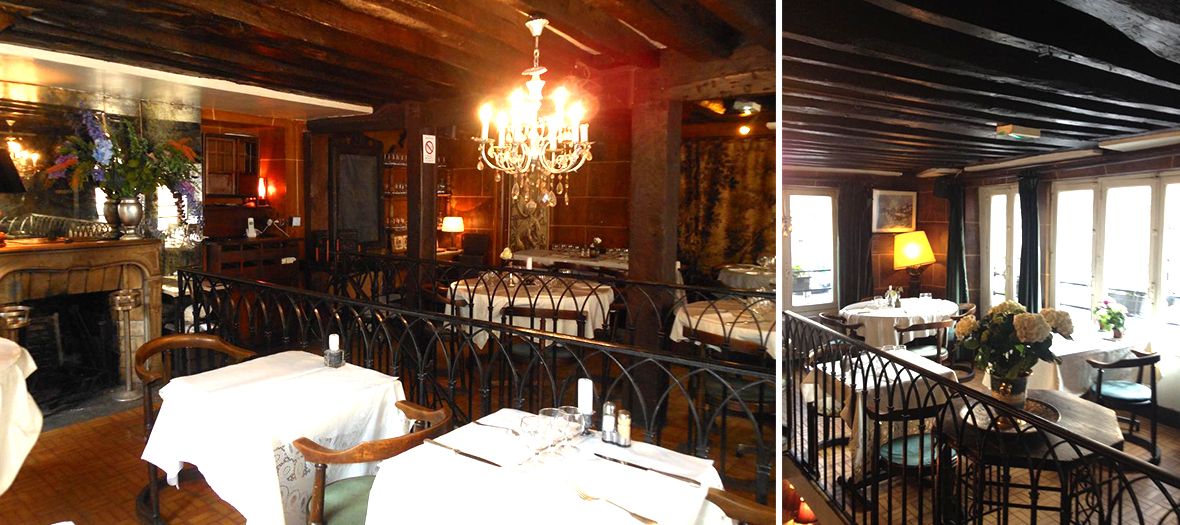 When Perle snhuts down and the other trendy bars of the Marais pull down their curtains, all the inside trackers and sophisticated night creatures make a bee line for this anachronistic and rustic tavern. Here there is an amazing ambiance with wooden beams and panelling,  that attracts all the party-goers who want to keep on going (5am only).
What's on the menu? Just like Granny's back ktichen: a plate of charcuterie, salad, cheese or a good quiche … Great eats for a last glass of wine, gin or a beer.
Le Connétable, 55 Rue des Archives, 75003 Paris / 01 42 77 41 40


Le Brebant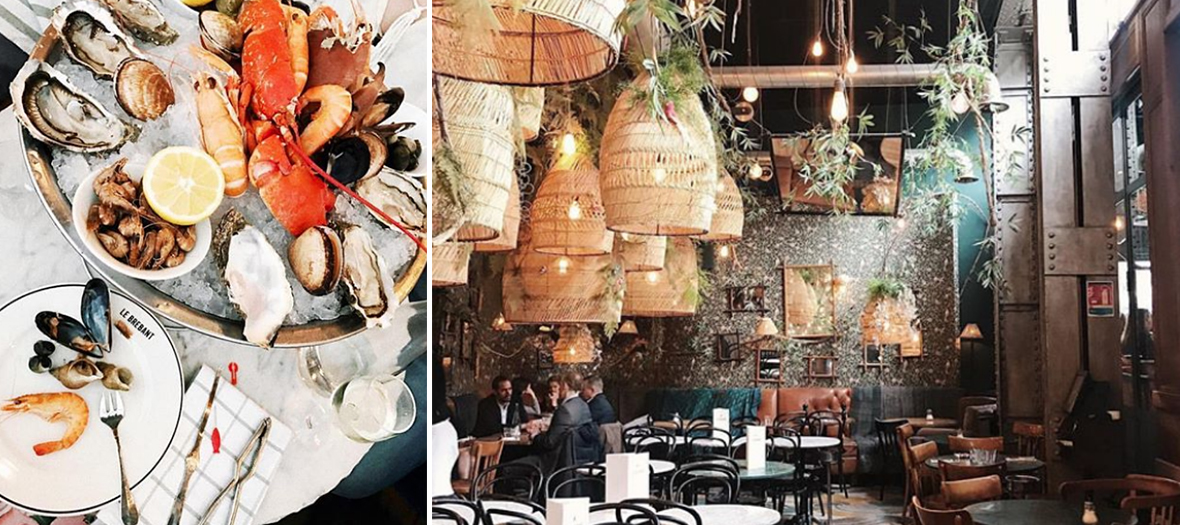 Everyone knows this institution on the Grands Boulevards, rendez-vous of night-owls for a last drink. A little bit old fashioned at some point, this mythical spot underwent a major lifting and recovered its glam capital with a vegetal decor and a slick environment that avoids the dreary side of late nights. Careful! It closes at 5am.
What's on the menu? Snails, onion soup, chicken breasts and salad… the French touch until the end of the night.
Le Brebant, 32 Boulevard Poissonnière, 75009 Paris / 01 47 70 01 02

Also discover the 10 best bistros in Paris and the 10 best restaurants with the gang in Paris.