Organizing a large table of friends or celebrating a birthday with the gang without need to go for privatisation, is possible. A small resumé of the trendy restaurants where one can reserve, even if there are more than 6 persons!
Roger la Grenouille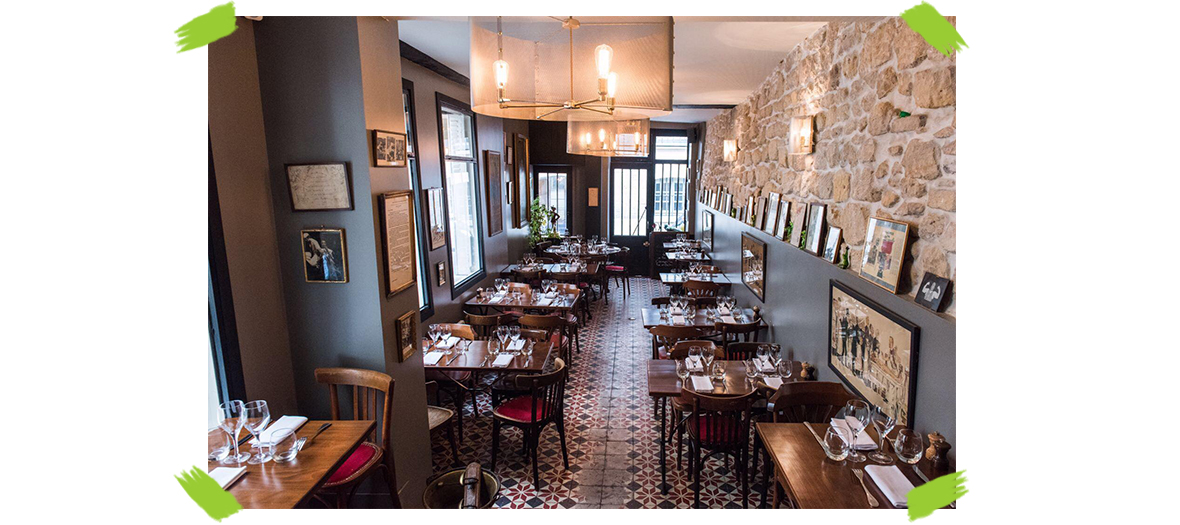 Canaille is chic and socialite! Roger la Grenouille, the mythical bistro of Saint-Germain-des-Prés, was taken over 2 years ago by François Pagot, associated with Laurent de Gourcuff and Gilles Malafosse. From singer Matthieu Chedid to Guillaume Canet, including André or the Castelbajac team … All of Paris is making a beeline to go enjoy amusing and devilish dinners on the velvet banquettes of the backroom. Everything we love!
À la carte. Well-sourced bistro specials: Polmard steak with sauce au poivre and fries (€21), croque-monsieur, white ham and Beaufort cheese (€14).
The added plus. The available piano to pick up a song.
Reservation by telephone possible up to 30 persons without privatization fees.
Roger la Grenouille, 28 Rue des Grands Augustins, 75006 Paris - 01 56 24 24 34

B.O.U.L.O.M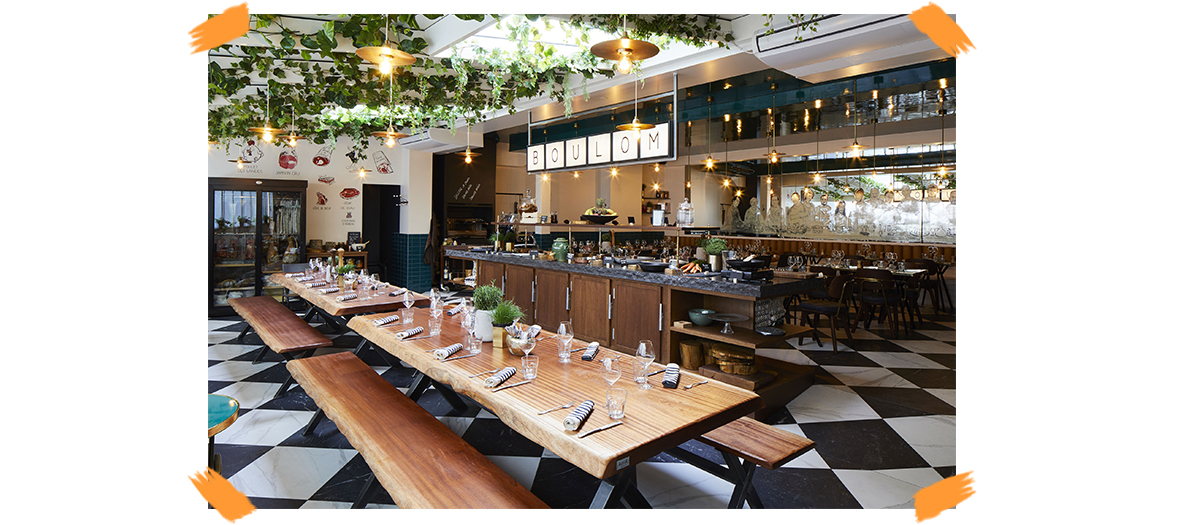 Who would have believe it, the all-you-eat buffet is making its trendy revival under the helm of Julien Duboué. The serial entrepreneur (A. Noste, Corn'R), ex Top Chef candidate, is taking over a trendy dining hall in the 18th where one gathers around a big table.
À la carte. An incredible buffet. For exactly €39 (€29 at lunch time): seafood galore, a wide array of terrines, eggs mimosa, cole slaw, ribs of beef, sea bass in bread crust, sausage of duck with Espelette pimento. For those with a sweet tooth? Lemon meringue pie, crêpes Suzette flambéed on the spot with Armagnac, ice cream machine, fountain of chocolate...
The added plus. The clandestine cocktails bar hidden behind the icebox door, also privatizable.
Reservation possible starting at 8 persons on the site of.
Boulom, 181 Rue Ordener, 75018 Paris - 01 46 06 64 20
Livio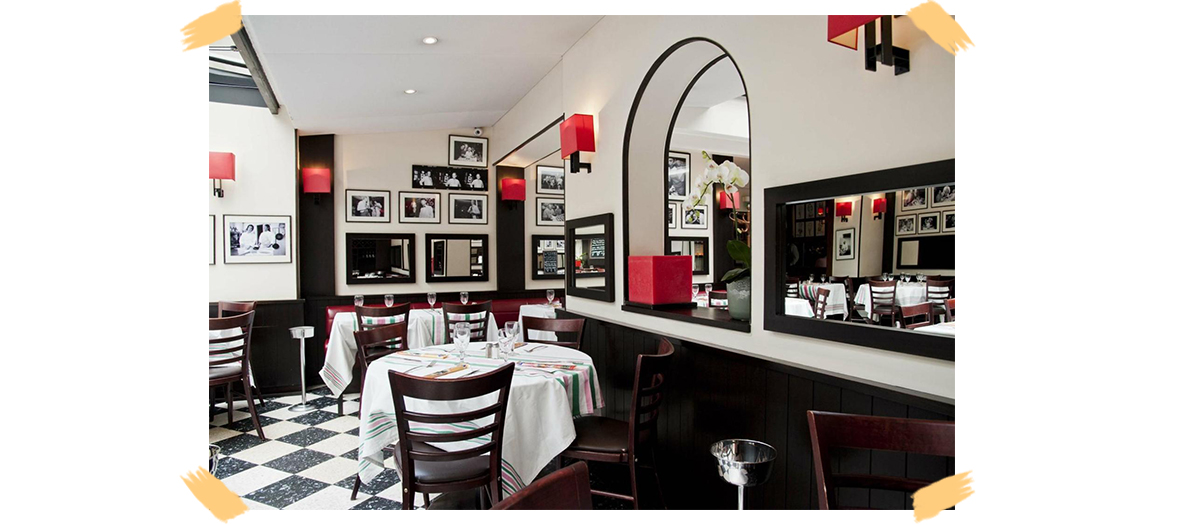 Everyone knows Livio, the mythical institution of Neuilly since many years, where one comes to celebrate with the family all the good news in life: birthday, graduation, engagements, traditional Sunday night dinner... Now under the help of son Charles Innocenti, all the big wigs of the Golden Triangle continue to come her for nice Italian eats with extra soul. Timeless!
À la carte. Go for the classics: noodle casserole, pizza with truffle (€15.50), milanaise of chicken with sauce béarnaise and crispy salad (€18), fab pasta (€18) and tiramisu (€9 ).
Reservations from 2 to 30 persons by telephone or on restaurant-livio@wanadoo.fr
Livio, 6 Rue de Longchamp, 92200 Neuilly-sur-Seine - 01 46 24 81 32
La Belle Epoque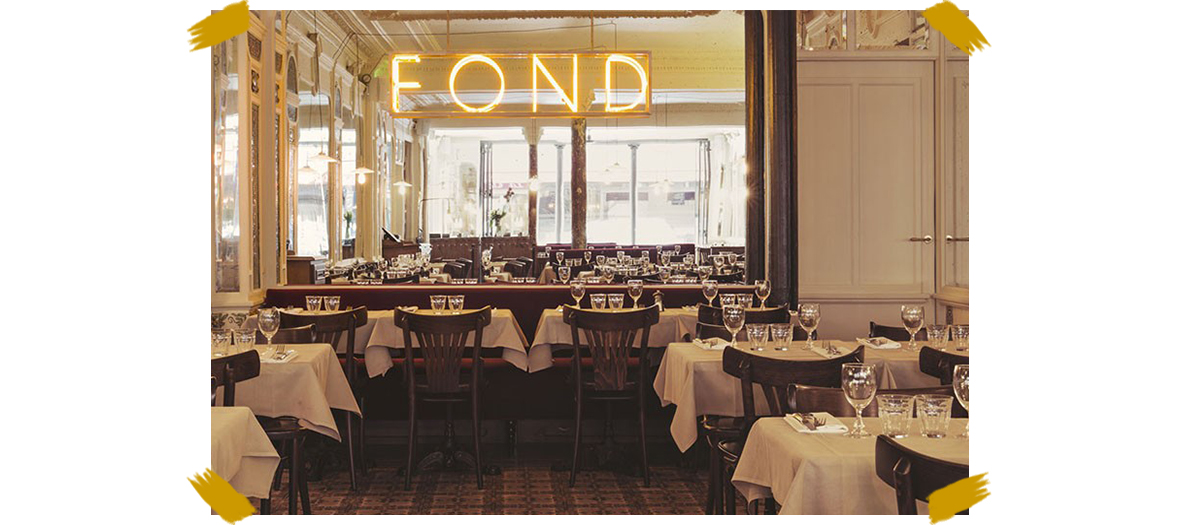 High voltage atmosphere in an Art Deco decor, La Belle Epoque, launched by Franck Maillot, must-know, figurehead of Parisian nights, happens to be one of the most trendy dining rooms in Paris. As proof: all the it-girls, fashion gang and others show up in large groups. Because, good news, it's possible to reserve for your tribe!
À la carte : tartare of drumfish (€15), pan fried girolle mushrooms (€17), burger (€20), roastbeef and mashed potatoes (€22), chocolate éclair.
The added plus. The valet parking in the middle of Paris, really does the job !
Reservation by telephone up to 20 persons, beyond by email on contact@labelleepoqueparis.com
La Belle Epoque, 36 Rue des Petits Champs, 75002 Paris - 01 49 27 97 17
Discover our article on La Belle Epoque


Brasserie d'Auteuil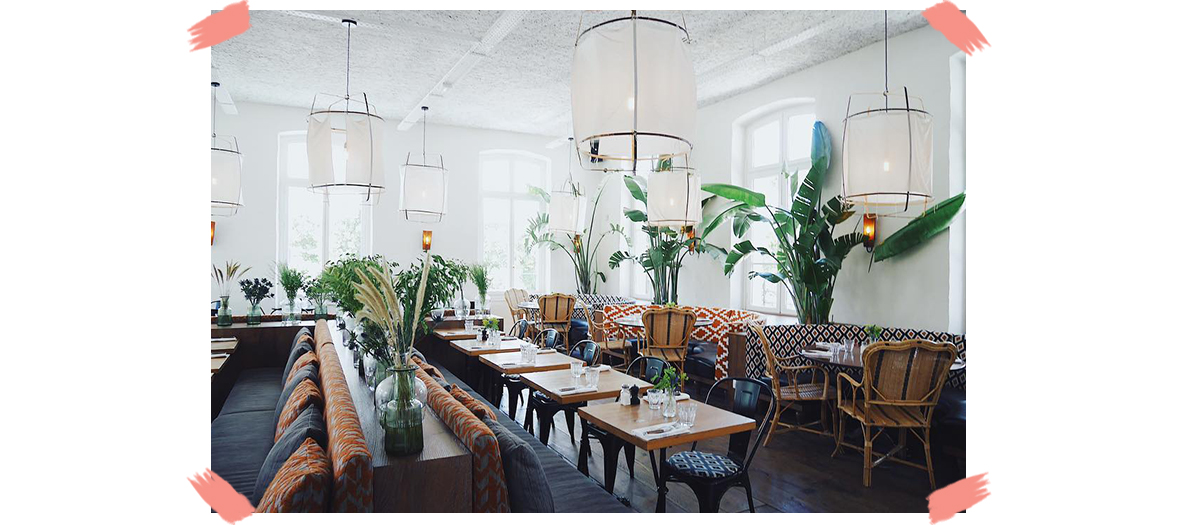 Here are the main headquarters of the golden youth in the 16th! Cocktails, pizza, BBQ and good sounds: this amazing restaurant designed by Laura Gonzalez is the ideal spot for festive fevers in any circumstance. It's the ideal venue for a XXL dinner with the gang or to celebrate your birthday.
À la carte. There is a wonderful ltalian fragrance: pizza to share (€15 €), burrata (€8.50), penne with cream of mushrooms and summer truffle (19 €), pizza calzone (€14.50 €) or strawberry cup (€10.50).
The added plus: the great rooftop and its outside bar, open summer and winter under a heater parasol.
Reservation up to 15 persons by telephone or on the site
Brasserie d'Auteuil, 78 Rue d'Auteuil, 75016 Paris - 01 40 71 11 90
Yaya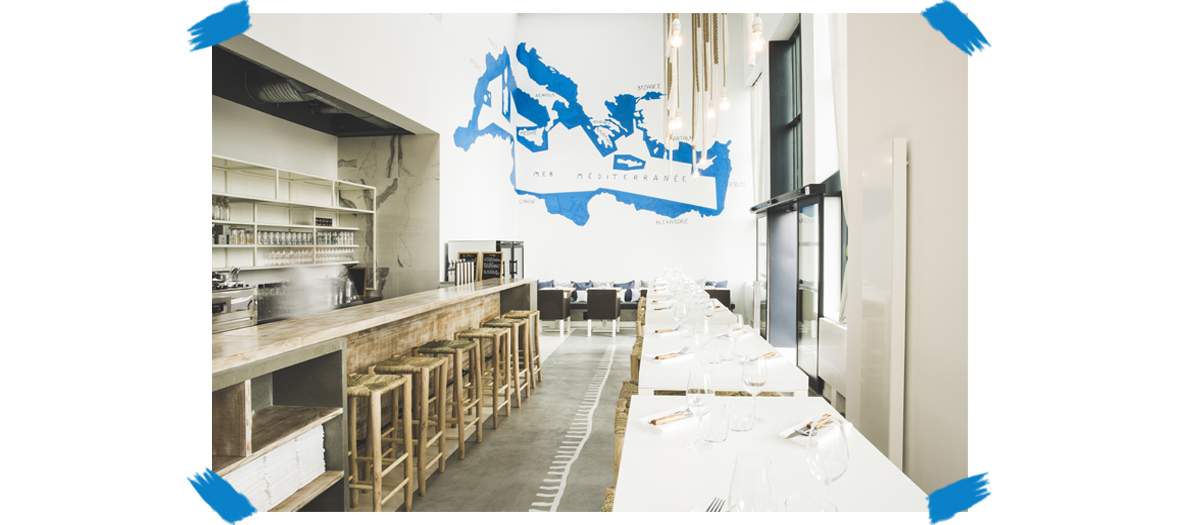 A Greek banquet, or nothing. Piloted by the founders of the Kalios oils and chef Juan Arbelaez, the trendy tavern located in the up and coming district of Saint-Ouen ( 3 minutes flat from the metro exit) stretches out on a mezzanine and two terraces.
À la carte. Recipes inspired by the yayas (grandmothers in Greek) of the Chantzios brothers. Tarama, tsatsiki, grilled squid, sandwich black pita and house fries, braised lamb, Greek salad, orange cake, Greek yogurt with olive oil and muesli.
The plus. The incredible cocktails bar and the grocery shop corner, so you can go home with a bottle of olive oil under your arm.
Reservation on line up to 10 persons. Beyond, personalized reservations on contact@yayarestaurant.com
Yaya, 8 Rue de l'Hippodrome, 93400 Saint-Ouen - 01 44 04 27 65
L'Alcazar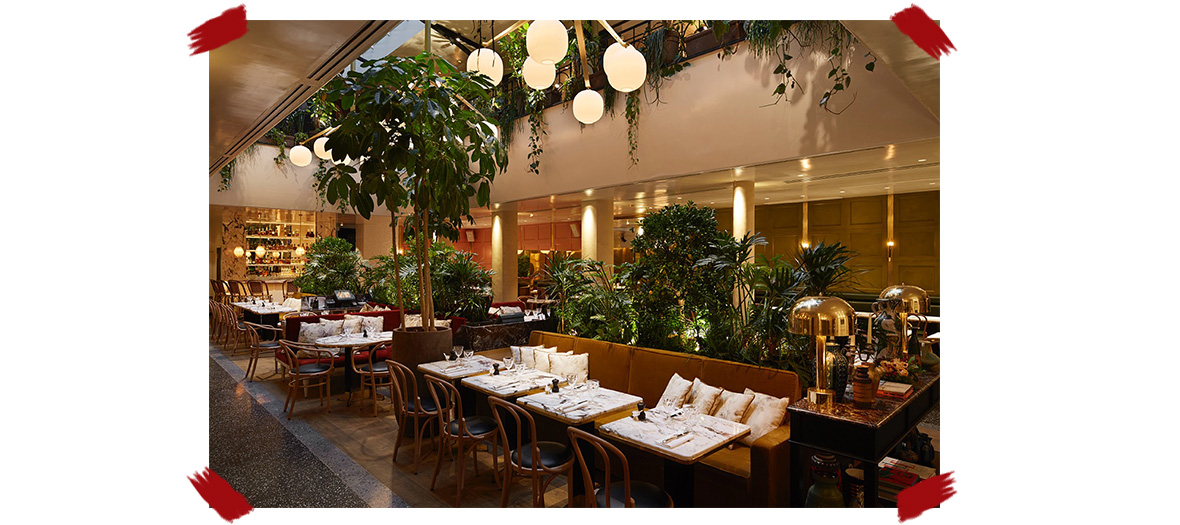 Chic and tropicool vibes guaranteed in this highly colourful decor signed Laura Gonzalez. The prettiest Parisian Winter garden is located at Odéon, for the greatest pleasure of Parisiennes looking for good vibes, chic dining rooms and other unusual spots to meet up with friends.
À la carte. Good, beautiful, and fashionable plates. Ceviche of bass (€16), chicken breasts with girolle mushrooms (€27), bowls (€26), tataki of salmon (€26), strawberries-chantilly (€13).
The added plus: the bar on the upper level to continue the evening around great pcocktails and good soud.
Reservation only by telephone.
Alcazar, 62 Rue Mazarine, 75006 Paris - 01 53 10 19 99
Liza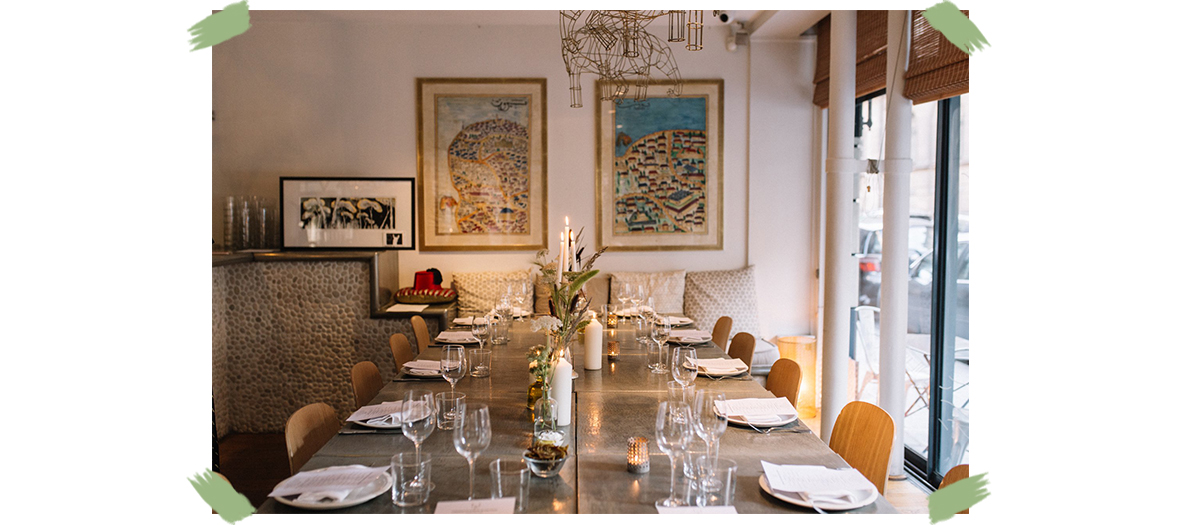 If you like houmous, falafels and running into the prettiest girls in Paris: Liza will surely be your passion. You are definitely at the heart of the best "new-age" Lebanese in Paris, kid sister of the most trendy table in Beirut. For a family dinner: a large table to feel just like a home dining room, next to the bar. The promise of a successful evening!
À la carte: a terrific Lebanese bread to accompany the most sexy mezzés in Paris with mashed chick peas with sesame paste, tartare of lamb without forgetting the brochettes, kebbés of potatoes with yogurt sauce and coriander, or the orange blossom pudding.
The added plus: a formula at €38 with a mix of 10 cold and hot mezzes along with delicious desserts. Possibility of being100 % veggie upon request without supplement.
Reservation up to 16 persons by telephone or on info@restaurant-liza.com
Restaurant Liza, 14 rue de la Banque, 75002 Paris - 01 55 35 00 66

Also discover Café Compagnon, the new favorite café of Parisiennes and Madame rêve café, the new chic brasserie that attracts all of Paris