In capsules , broth , powder or water , we love these new magic potions packed with natural vitamins and minerals that boost the brain and the complexion, slim us down, sharpen our mind and calm our stress. A brief overview of the most impressive latest borns.
Me Brain food by Magic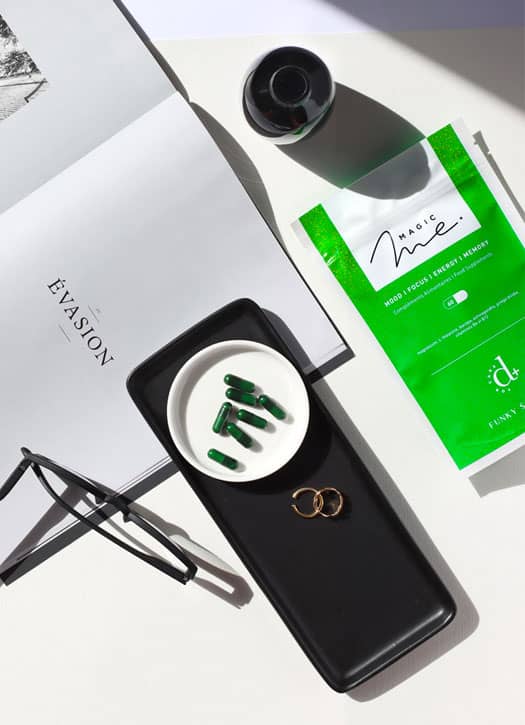 The promise: boost morale and exceed limits.
Zoom on: these small capsules packed with vitamins B6, B12, magnesium , ginkgo and other magic active ingredients. To be taken as a course of one month at the rate of two to three tablets per day, or occasionally when the need arises to stimulate his mind , exceed his cognitive limits , but also boost his energy and reduce his stress .
The result: overall well-being with energy to spare, stress at half mast and a mind on the lookout.
We like: its 100% natural, high-performance formula and its eco-responsible packaging.
Magic me, D + For Care , € 45
Combeau Skin Essentials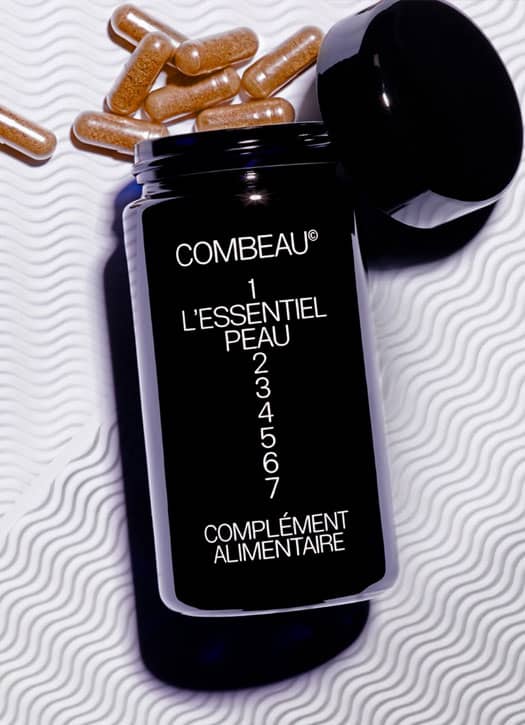 The promise: food supplements that have real results on the skin and morale.
Focus on: Combeau , the brand created by Erika Fogeiro, a former member of L'Oréal , Shiseido and L'Occitane , which combines science, innovation and naturalness. With a precise combination of 7 powerful and natural active ingredients, its formula allows a perfect assimilation of the organism and the stimulation of the regeneration mechanism of the skin while acting effectively on the main causes of skin imbalance .
Result: plumped, smoother skin with less blemishes and redness .
We like: this complete product which, with two capsules a day all year round, not only gives a sublime complexion but boosts emotional serenity and reduces stress .
L'Essentiel Skin cure one month, Combeau , € 59
Atelier Nubio's Bone Broth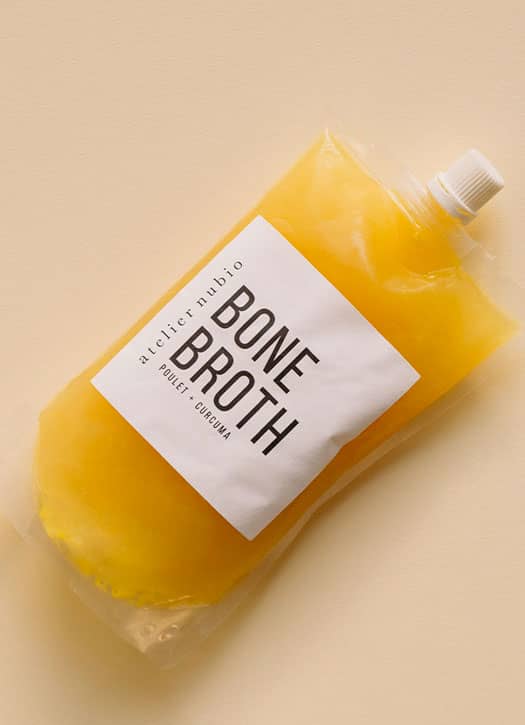 The promise: radiance and a flat stomach.
Zoom on: this naturally detox super broth made from chicken bones and organic vegetables, rich in natural collagen . It plumps the skin from the inside, facilitates digestion and restores all its radiance to the hair. Each 30cl serving contains 11g of collagen, much more than in a capsule which contains between 0.5g and 4g. It is taken daily in addition to your usual diet or to replace your dinner, as a treatment of 5 to 10 days per month.
Result: from the first day the difference is there, bye bye bloating , the skin is beautiful and plumped, the features smoother and the morale at the top!
Bone Broth, Atelier Nubio , from 48 € for 5 days
HoliBeauty Food Sleep Powder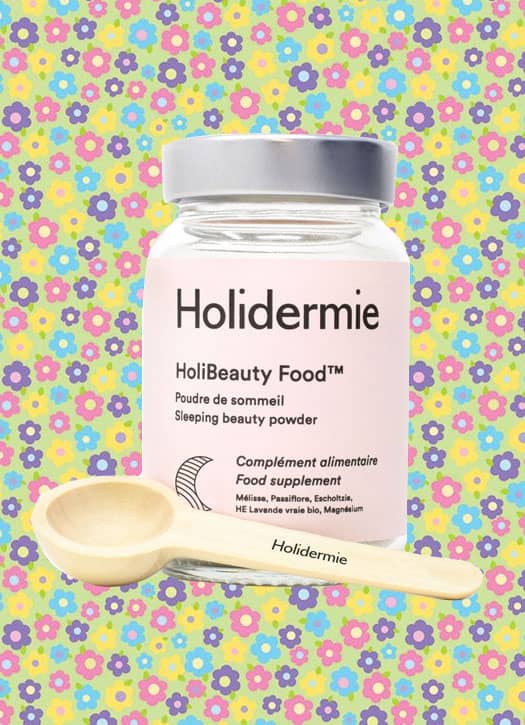 The promise: Sleeping Beauty with restful nights and a girlish complexion
Zoom on: this powder filled with relaxing plants such as lemon balm or passionflower , magnesium which reduces fatigue, organic lavender essential oil known for its soothing properties. ½ teaspoon of this magic potion 30 minutes before going to bed is enough to send us into the arms of Morpheus, provides a deep and restful sleep.
Result: a beautiful awakening and a boosted morale.
We like: its vegan, natural, gluten-free and preservative-free formulation.
HoliBeauty Food sleep powder 50g, Holidermie , 35 €, again available November 25
The functional waters of Drink Waters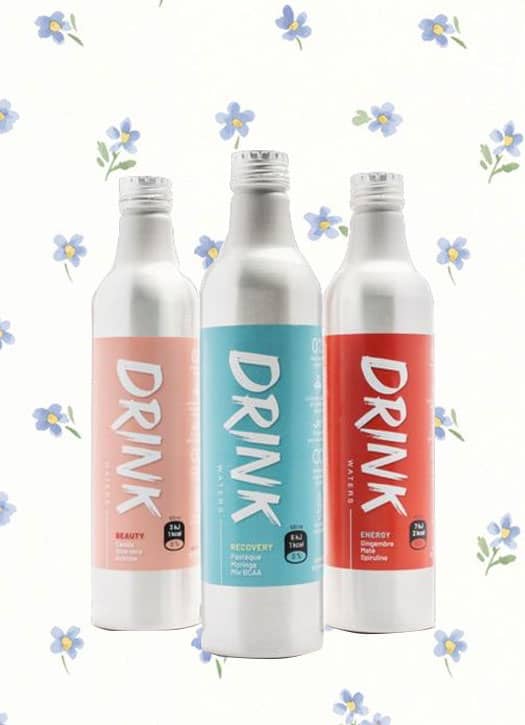 The promise: energy, recovery and beautiful skin.
Zoom on: these new natural infused waters which accompany us at the key moments of our day. For each water, a decoction made from fruits and plants, vitamins, minerals and amino acids. To each its own color. The rose for the beauty of the skin with organic aloe vera , goji berries , organic ginseng ... and many other anti-inflammatory active ingredients rich in trace elements that allow the skin to fight against aggressions Daily. Red for energy with fresh ginger juice, turmeric , spirulina , ginseng and anti-fatigue active ingredients that give tone. Blue for recovery with a composition of assets such as potassium for cramps and aches, red vine extract for circulation or organic moringa extract, super antioxidant and detoxifying.
Result: skin nourished from the inside, a body without deficiency ready for challenges.
We like: these bottles in the shape of an aluminum gourd, infinitely recyclable.
Drinks Water, Monoprix , € 2.95, available in store
Hair & Scalp Boost at Aime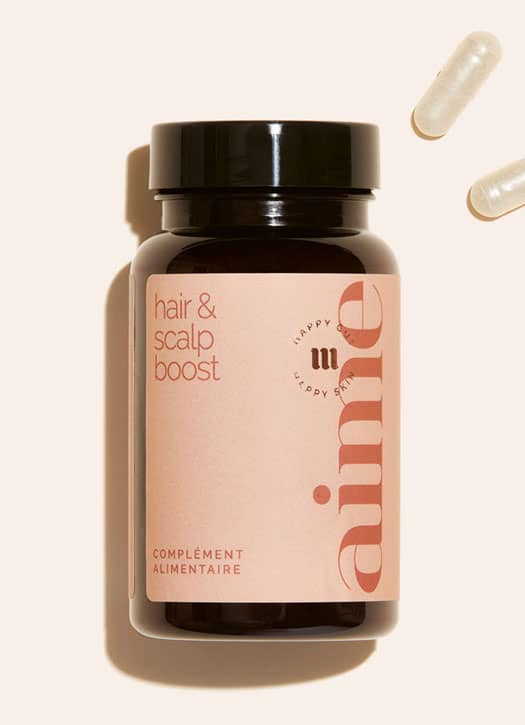 The promise: hair that grows fast and well.
Focus on: this hair supplement from the Aime brand, created by Mathilde Lacombe , a pioneer in the field of nutricosmetics , which primarily targets the scalp, which is a determining factor for good hair quality. Because fatigue, stress and hormonal changes can cause temporary hair loss. 2 capsules per day, sips of probiotics, biotin, folic acid and rice protein in cure of 3 months are enough.
Result: the most irritated scalps are calmed, growth boosted and hair strengthened.
We like: also opt for the kit with the massaging brush for the scalp.
Hair & scalp Boost 60 capsules, Aime , € 30
Also discover how to sleep like a baby and the buzzing body treatments .