Hurray, the fave label of Parisiennes has just opened l'Appartement, an IRL (In Real Life) space at the heart of the Sentier.
Translation, no more orders to send back because you don't like the cut or you hesitate between two sizes. Here, you can try on all the pieces of the collection without exception in a wildly comfy setting, designed by Morgane Sézalory herself.
A real plus for the label that remains, despite everything, exclusively sold on line. Computers are available to pass orders. « Precious» items are delivered at your door within 48h by messenger service.
Tops, a few accessories, notebooks and candles depart from the basic rule of « all online » purchases.   We really don't want you to go home empty handed …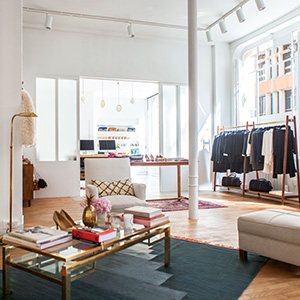 Open Wednesday to Saturday from 11am to 8pm.
Disocver other 2.0 labels: Happy Monday jewelry and Zaava, We Are Not bags and Eponyme shoes.