No restaurant, no Valentine's Day ? It was without counting on the most fancy chefs of the moment ready to do anything to maintain the most romantic dinner of the year, even at home!
Turnkey menus, baskets of products and recipes to drop or dishes to simply reheat. All you have to do is put on a sexy dress, turn on the oven, take out the pretty dishes and champagne flutes. Madame is served!
The most foodie: We Are Ona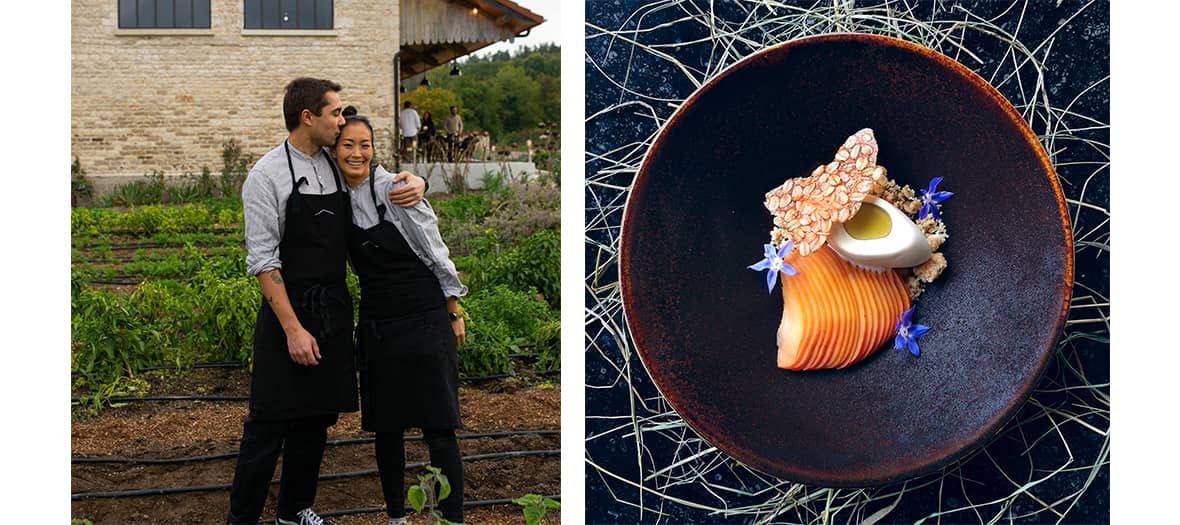 Obsessed by good products delivered in short circuits, Luka Pronzato launched ONA , incubator of the most cutting-edge food projects of the moment, from Paris to Switzerland via Lisbon. For Valentine's Day , We Are Ona offers a special delivery basket with the Sayaka and Gil couple from the restaurant Le Garde Champêtre in Gyé-Sur-Seine in Champagne-Ardenne, filled with ingredients from super producers and ready to be cooked, recipes and tutorials in support.
On the menu :
Salsify tagliatelle, whey, caviar and parsley emulsion
Dairy cow pie, chard, quince purée and red wine juice
Poached pear in red wine and spices, custard with hay and lemon balm
The added bonus: the possibility of adding a bottle of Val Frison Cuvée Champagne for € 50 more and even a bouquet of flowers for € 25.
Basket € 80. Delivery Paris 13 €, 18 € in the Parisian suburbs. Reservations on weareona.co
The most bling: Mamie & Jean x Dior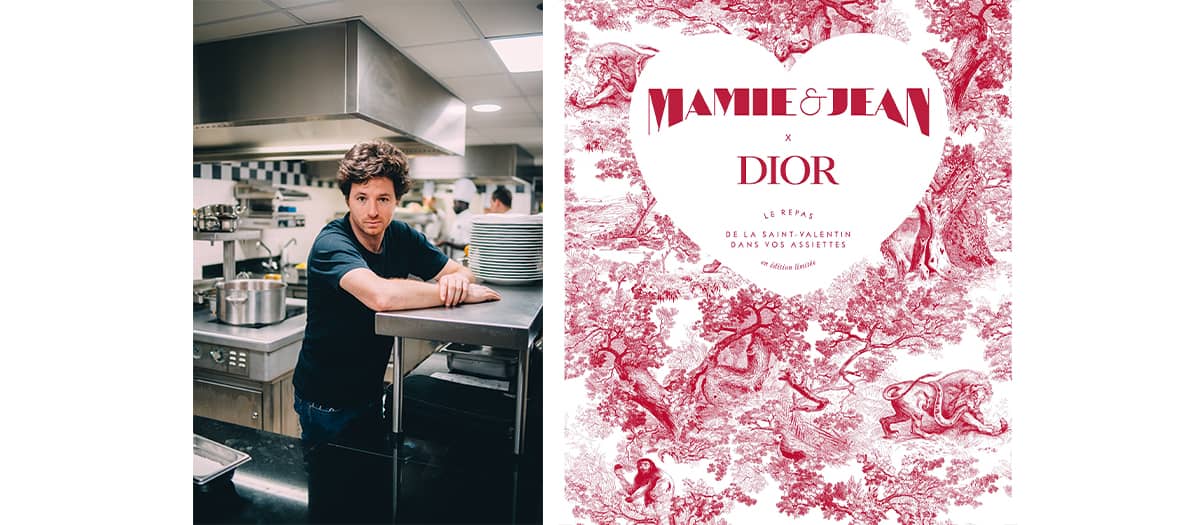 A regular at food couture events and favorite chef of international stars, Jean Imbert reiterates his last New Year's collab with the Dior house, this time for a romantic Valentine's Day dinner. In delivery or in click & collect at his restaurant Mamie, the basket for two people consists of cult dishes from his table, prepared hand in hand with committed producers and his great friends: Cédric Grolet for dessert, Patrick Roger for chocolate and Yann Couvreur with brioches. Chic as hell ...
On the menu :
Passion / Granny's foie gras & passion fruit
Ambiguity / Pretty leeks with black truffles
Comfort / Granny's sea bream gratin
Gourmandise / Roasted Bresse chicken & potato gratin
Amour / La Rose by Cédric Grolet
Excitement / Patrick Roger's chocolate candied ginger
Sensuality / The bottle of Veuve Clicquot rosé Champagne
Plaisir / Yann Couvreur's citrus brioche & natural sourdough bread
The added bonus : the bottle of Veuve Clicquot Rosé delivered fresh and included in the price with, as a bonus, two sublime collector plates signed Dior, created especially for the occasion.
€ 395 per basket for 2 people, delivered on Saturday 13 or Sunday 14 February. Reservation on mamieetjeanalamaison.com
The most mixological: Amandine Chaignot x Gray Goose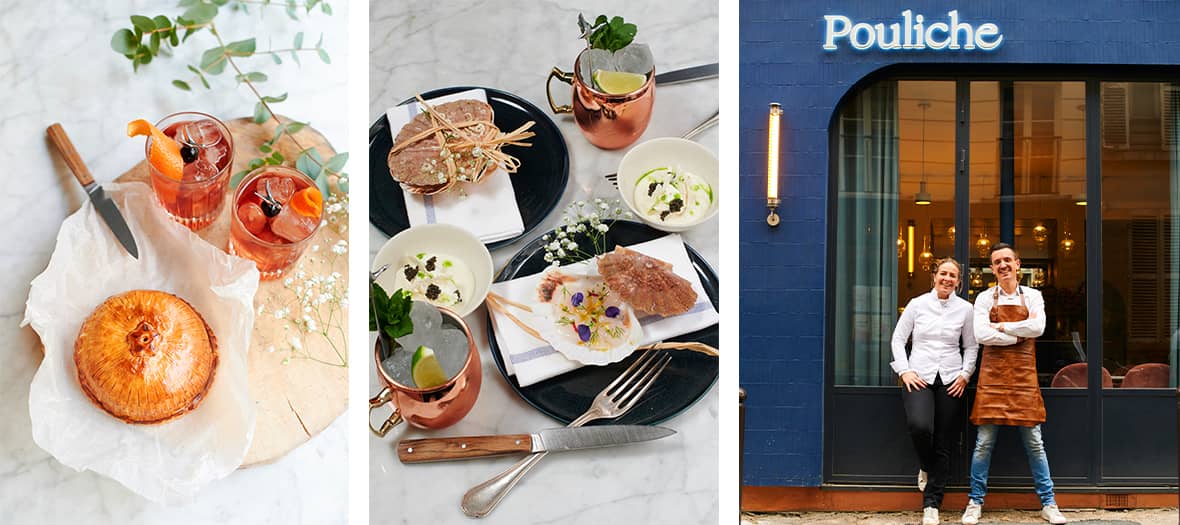 Since the start of the 2019 school year, Amandine Chaignot (formerly Raphaël and Rosewood Hotel in London ) has been delighting lovers of the beautiful product in her restaurant Pouliche . In addition to her take-out offer, the young chef has a special menu for Valentine's Day with food-cocktails pairing and enough to prepare a pretty table well presented. Very fresh starters, a melting dish to perfection and well-chilled love potions: where do we sign?
On the menu :
Starters: Gougères Truffées; Scallops Marinated with lemon hand of Buddha; Cauliflower Fontainebleau, whipped cream with Aquitaine caviar; Game bird broth, Langoustine ravioli
Main course: Puff pastry of foie gras and duck
Desserts: Creamy mascarpone, coconut dacquois, passion fruit; Small hazelnut cookie
The extra thing: the cocktails Pouliche Mule, Figuement Vôtre and Coco Câline to accompany iodized starters, pie and desserts and to serve in the pretty copper mugs provided.
130 € for two people, reserved for the first 60 orders, delivered
Sunday February 14 or available in click & collect from 3.30 p.m. to 7.30 p.m. Reservation on
© Pierre Lucet-Penato
and also...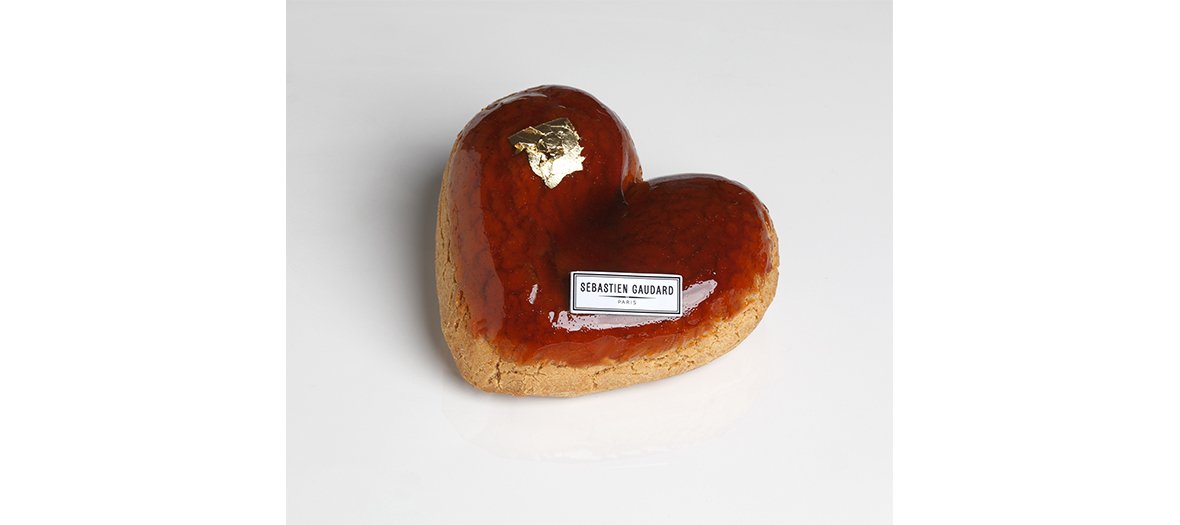 For a dessert that looks good, but not only : Sébastien Gaudard delivers "Mon chou à la crème", a delight for two to share, simply erotic. In this case, a heart-shaped, demented cabbage topped with crunchy caramel and filled with a vanilla cream as soft as a cloud. One would fall in love with it...
Available in limited edition from February 11th to February 14th 2021, for 2 people to share, 19 €, to be picked up in Sébastien Gaudard's pastries and tea rooms.
Also discover the best burgers in Paris and the new cocktail concept store everyone is talking about.