Knitting-addicts are already in the starting-blocks and we bet that others will soon be hopping on board now that long winter nights are upon us. We Are Knitters, the expert of knitting in a kit, is landing in Paris from the 6th to the 23rd of December for a totally unique creative pop-up store, accessible to all at the heart of the trendy Marais. Whip out your needles and yarns!
A very stylish yarn bar
But first of all, do you know how the We Are Knitters phenomenon was born? Maria José Marin and her boyfriend Alberto Bravo were spending their holidays in New York when they spotted a young lady busy knitting on the subway. Back in Madrid, the couple decides to dust off this Granny hobby thanks to super clever kits, comprising everything that is necessary to make one's own knitted clothing and accessories, no matter what level. Eight years later, 400,000 kits have been sold around the world—a true success-story.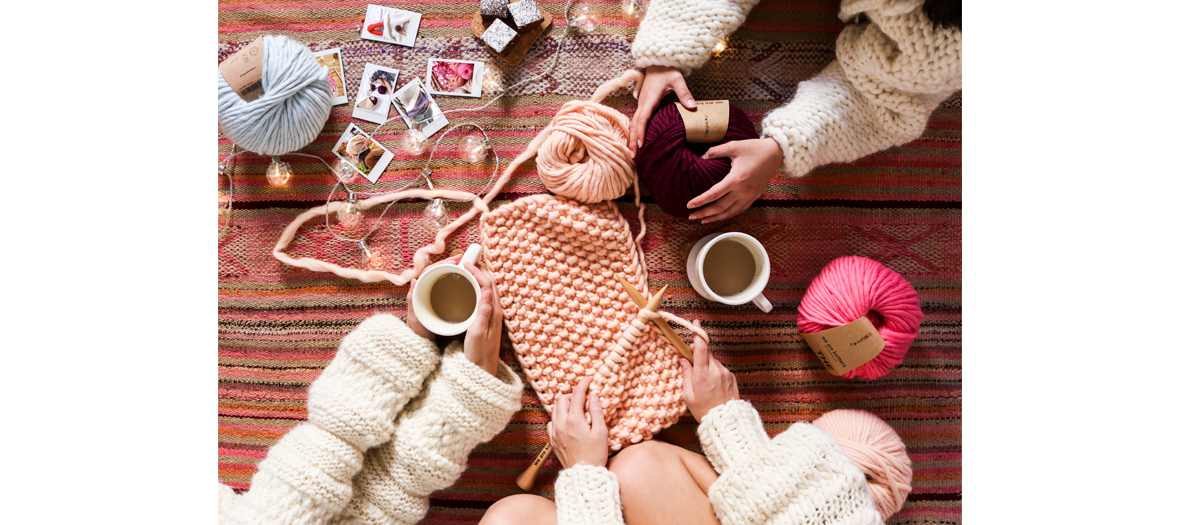 With this first ephemeral address in Paris, the Spanish label offers a total immersion in its universe by gathering, under the same roof, its main kits (cardigan, bonnet, baby blanket, sweatshirt, snood…), but also a notions store to go with a yarn bar and needles. In house, only natural fibers of great quality (fine Peruvian wool, pima cotton, baby alpaca, merinos) featured in an amazing Pantone of colours in order to make all your projects come to life.
Wildly inspiring diy workshops
And now, be ready for a hands-on session during very friendly DIY workshops, animated by pros around a Lov Organic infusion, an Innocent juice or a glass of rosé wine! To participate, it's easy—just sign up on line.
Rendezvous on the 7th of December with blogger Morgane Mathieu to create your own snood or bonnet and on the 14th of December with the team of Marie Claire Idées to produce a sweatshirt or a scarf. This will deffo give a boost to your Winter wardrobe, unless you decide to knit your Christmas gifts?
The other strong moments are the opening and closing events of the boutique: on the 4th of December, great surprises await the 50 first clients, who will be placing an order (L'Occitane, Le Mini Macaron, Soin de Soi, Lalalab) and on the 21st of December, a giant knitting-party— "Gin & Knit"— is planned starting at 6pm. Cheers!
Pop up store We Are Knitters, from the 6th to the 23rd of December 2019. Open every day from 10am to 8pm at 5 Rue des Blancs Manteaux 75004 Paris.